KODAK PROSPER Imprinting Systems – a perfect package for conventional packaging processes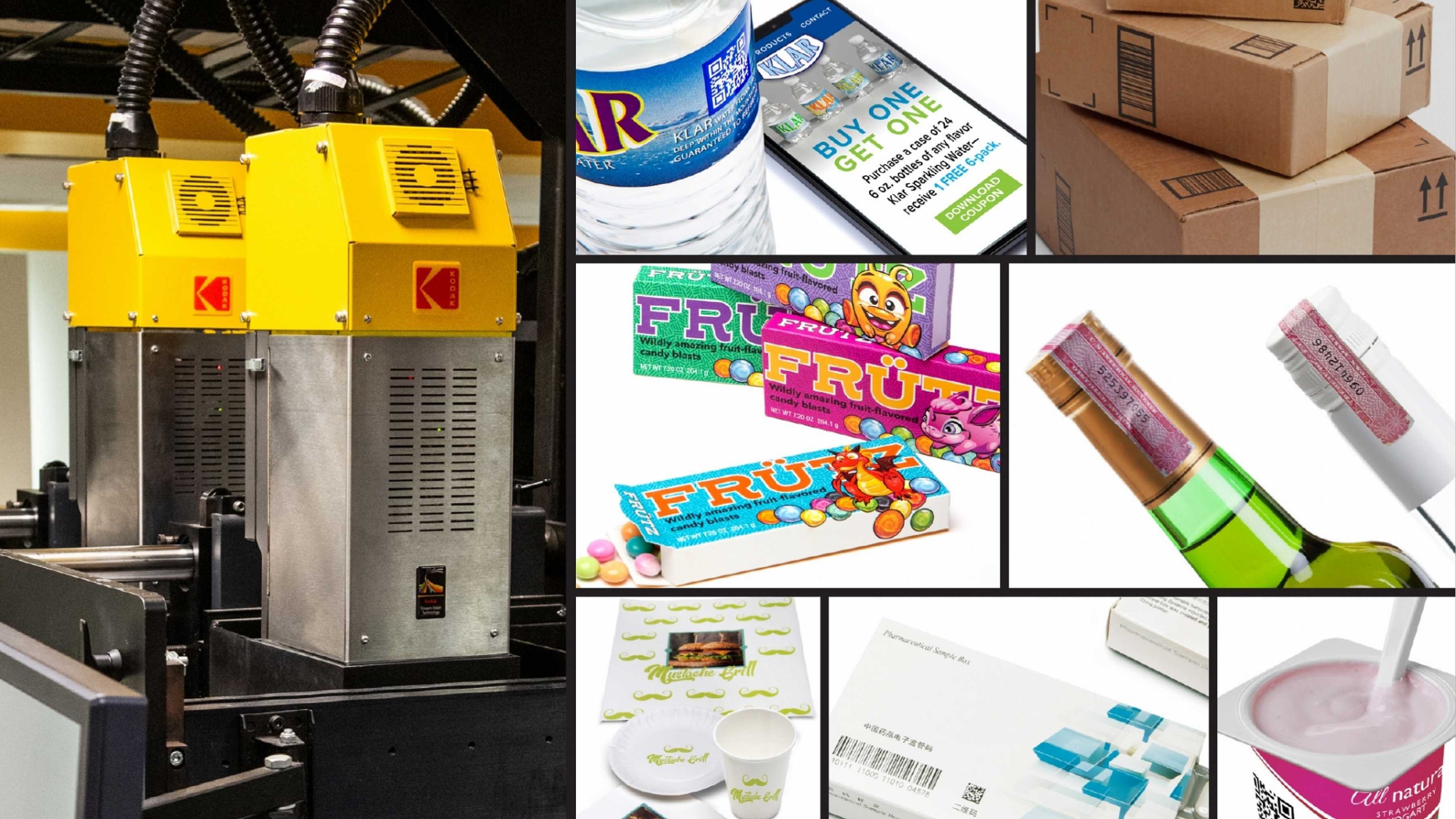 From flexible packaging and labels to folding carton and corrugated boxes, digital is rapidly gaining popularity in packaging production. Several different factors are driving this trend. Demands for increased production flexibility and shorter times to market are contributing to the spread of digital printing in packaging applications because the long lead times – and costs – for analog printing processes are eliminated. An increasing number of brand owners are now looking for solutions that support more frequent design changes and efficient short-run production, in response to the need for greater flexibility. Brands are also looking to personalization or versioning to create greater engagement with the consumer. Furthermore, by taking advantage of digital's greater flexibility and variability, packaging designers can realize eye-catching creative concepts for improved shelf appeal. For example, it comes as no surprise to learn that Smithers, the provider of consulting and market research services, has predicted that the digital packaging and labels market will grow by almost 13% annually during the period from 2017 to 2022.[1]
All-digital presses for a wide range of packaging applications are available today on the market. Among the leading options for flexible packaging are the highly productive UTECO Sapphire EVO W and Sapphire EVO M Presses developed jointly by Kodak and the Uteco Group. These high-speed digital presses, which provide maximum web widths of 1370 or 650 mm, utilize Kodak's continuous inkjet technologies and Kodak water-based inks.
Digital versatility for conventional processes in packaging production
The Kodak portfolio also includes solutions which allow packaging printers to enhance traditional printing or packaging converting processes with the flexibility of digital. The KODAK PROSPER Plus and PROSPER S-Series Imprinting Systems were designed for integration into offset, flexo or gravure presses and finishing lines such as folding or gluing systems. They add digital flexibility to analog printing processes and enable modern, hybrid production scenarios, with no sacrifice in throughput. These versatile imprinting solutions are suitable for corrugated, folding carton, label, and flexible packaging applications.
"Post-COVID 19 the importance of supply chain security, avoiding empty shelves in-store and being able to react to fast changing demand patterns is more important for brands and retailers. Anything that can increase responsiveness and agility will be useful," explained Sean Smyth of Smithers. "The ability to print at different stages in the packaging process can help, allowing the final decision on all artwork to be taken later, closer to the end consumer. This late-stage customization can help reduce time to market for packaging, which is increasingly important. A high-quality imprinting solution allows part of the final pack to be printed on demand. This could be for a variety of SKUs, different language packs or to add some unique identifier to a pack."
KODAK PROSPER Imprinting Systems make it easy to add security features such as serialized codes for supply chain tracking, or regional regulatory content to packaging. Similarly, variable design and marketing elements such as variable codes for lottery or gaming campaigns and connected or smart packaging applications can be integrated into packaging designs. The PROSPER S10 Imprinting Systems deployed by British American Tobacco in Asia are one good example of this kind of application. The systems are used for printing unique QR codes and variable data on packaging for the Japanese market. After signing up on a website, consumers can use the QR codes to collect loyalty points, which will later allow them to participate in a prize lottery. The consumer data gathered in this way helps the company analyze its products' reach and develop better targeted marketing campaigns.
Hybrid packaging printing with a digital turbo
KODAK PROSPER Imprinting Systems use KODAK Stream Continuous Inkjet Technology, which enables the highest print quality at stunning speeds.
PROSPER Plus Systems provide up to 600 x 900 dpi resolution and are available in two different speed and width versions. With their exceptionally fast speeds of up to 600 mpm, these systems rule out any impairment to analog press productivity as a result of the digital component. The print width in the narrow configuration is 105 mm; CMYK color prints are possible if four of these inkjet modules are cascaded. The wider version ("W configuration") uses two inkjet modules which print seamlessly, allowing a 210 mm wide zone in the packaging design to be enriched with digital content.
"Because of the impact that channel fog and channel fatigue are having on digital communication channels, print has become the medium that leads the consumer to that secure and relevant digital experience," said Marc Mascara of Keypoint Intelligence (InfoTrends), commenting on the impact of these capabilities in today's market environment. "Personalized codes, and to an extent AR codes, not only on regionalized packaging but also on personalized packaging drive consumers to a digital augmented reality that is directly born out of first touch by paper-based communications. By adding imprinting solutions, packaging printers can not only extend the life of their existing investments in analog equipment; they can capture the wave of consumer communication preference for personalized and relevant content that lends itself to the packaging space."
"While there have been numerous new inkjet press entries in flexible packaging, folding carton and corrugated, the deep investment that printers and converters have in their analog solutions makes customized inkjet imprinting solutions very attractive", added Elizabeth Gooding from Inkjet Insight. "Packaging printers who enhance their offerings with dynamic, full-color inkjet capabilities can provide their customers with the ability to economically respond to regional packaging regulations that require versioning, support packaging variations for in-store and e-commerce delivery and even deliver on-package cross-selling and advertising with localized variations."
The importance of inks and fluids
The ink properties are a decisive factor for the versatility, color quality and cost-effectiveness of digital imprinting. KODAK PROSPER Imprinting Systems employ water-based nanoparticulate pigment inks developed and manufactured by Kodak, which dry fast owing to their chemical composition. Kodak's proprietary ink pigment milling process means the inks enable the PROSPER Imprinting Systems to output vivid images with vibrant colors, match brand colors and exceed the expectations of brand owners.
Kodak's inkjet imprinting systems also benefit from water-based ink-receptive primers that are optimized for the water-based pigment inks. These printable primers, known as 'optimizer agents,' enable substrate-independent print quality at high speed. Kodak has developed a range of optimizer agents for packaging applications on paper, board, and flexible film substrates.
One particularly important aspect as far as packaging production is concerned is that, when used as intended, Kodak's inks are fully compliant with the latest directives for compostability as well as indirect food contact including the:
US Federal Food, Drug, and Cosmetic Act and applicable food additive regulations (21 C.F.R. Parts 170 et. seq.)
Canadian Food and Drug Act and the Canadian Food and Drug Regulations (C.R.C., c. 870 Part B, Division 23)
Good Manufacturing Practices (GMP) of the European Union, EU Regulation No. 2023 / 2006
Annex VI of the Swiss Ordinance on Materials and Articles in Contact with Food (SR 817.023.21
A complete digital package for enhancing the capabilities of print
KODAK PROSPER Plus and PROSPER S-Series Imprinting Systems are comprised of printheads, data and fluid controllers, and inks. Custom engineered solutions are available to enable practically any digital packaging application.

"KODAK PROSPER Imprinting Systems are highly flexible, and they're ideal wherever traditional printing processes come up against limits", said Randy Vandagriff, Senior Vice President of Print at Kodak. "With our imprinting solutions, it's a simple matter for packaging printers to implement their digital strategy by systematically upgrading their existing production equipment. This investment allows them to offer their customers variable printing options and swiftly expand into high-growth, high margin segments."

Contact our sales team for more information about printing solutions for digital packaging.
Kodak and PROSPER are trademarks of Eastman Kodak Company. Uteco und Sapphire are trademarks of the Uteco Group (Uteco Converting S.p.A.).