Print Perspectives
A revolutionary intersection of quality and productivity in offset print
Interview with Randy Vandagriff, Senior VP of Print, on the KODAK PROSPER ULTRA 520 Press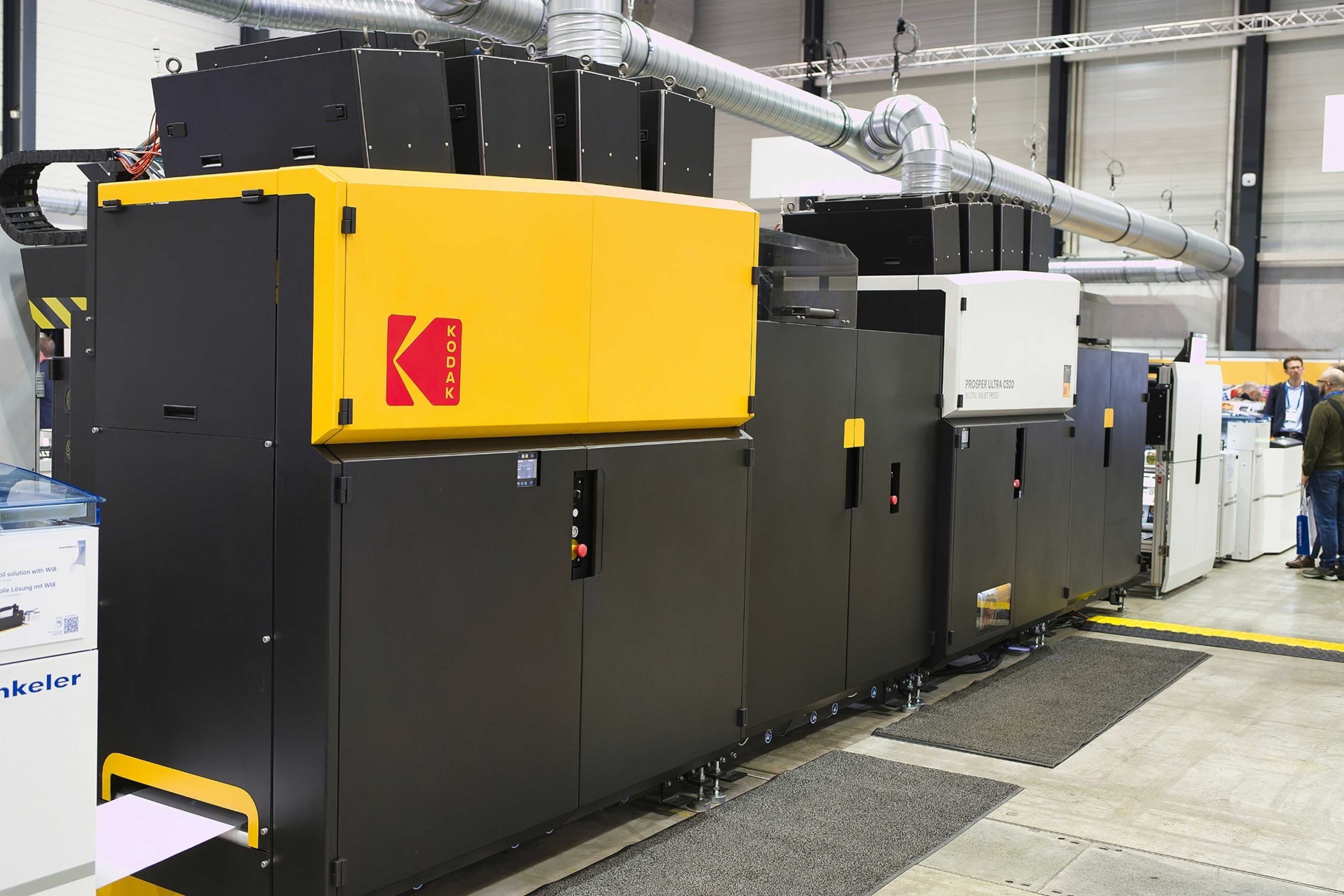 Why is the KODAK PROSPER ULTRA 520 Press the right solution for the challenges facing the printing industry today?
A number of current market trends make the PROSPER ULTRA 520 Press a perfect solution for shifting more jobs from offset to digital. The press delivers offset quality at a speed of 152 mpm (500 fpm), can print on glossy papers with high ink coverage at top speed, and achieves a higher run-length cross-over with offset for low-cost production. As offset print volumes are in decline and press runs have become more targeted, traditional offset struggles to economically print small quantities. These jobs are now increasingly being considered for digital printing and PROSPER ULTRA 520 is excellent for printing such jobs – and many more.
In view of rising raw material and energy costs and ongoing supply chain issues surrounding aluminum and printing plates, the transition to digital from offset can help printers avoid these supply issues and thus mitigate business risks. The PROSPER ULTRA 520 Press enables printers to make this transition efficiently and profitably.
In addition, the press furthers the printing industry's quest for sustainability. Unlike offset, it does not require printing plates, which take huge amounts of energy to manufacture and distribute. What's more, plates require processing which involves the use of water, electricity and chemicals. All of this is eliminated with digital production on the PROSPER ULTRA 520 Press. Moreover, it uses Kodak's water-based KODACHROME Inks which are more sustainable than conventional solvent-based inks.

For what types of applications is the PROSPER ULTRA 520 Press a perfect choice?
PROSPER ULTRA 520 is ideal for a wide array of static and variable content printing applications. It is available in two versions: PROSPER ULTRA P520 is targeted at transpromotional print, publishing applications and commercial print with moderate ink coverage. The P520 has two proprietary near-infrared (NIR) drying units per side of the web. PROSPER ULTRA C520 is perfect for highly customized direct mail, inserts, catalogs, promotional brochures and color books – especially those with high ink coverage on coated papers. That's why the C520 has four NIR dryers per side of the web.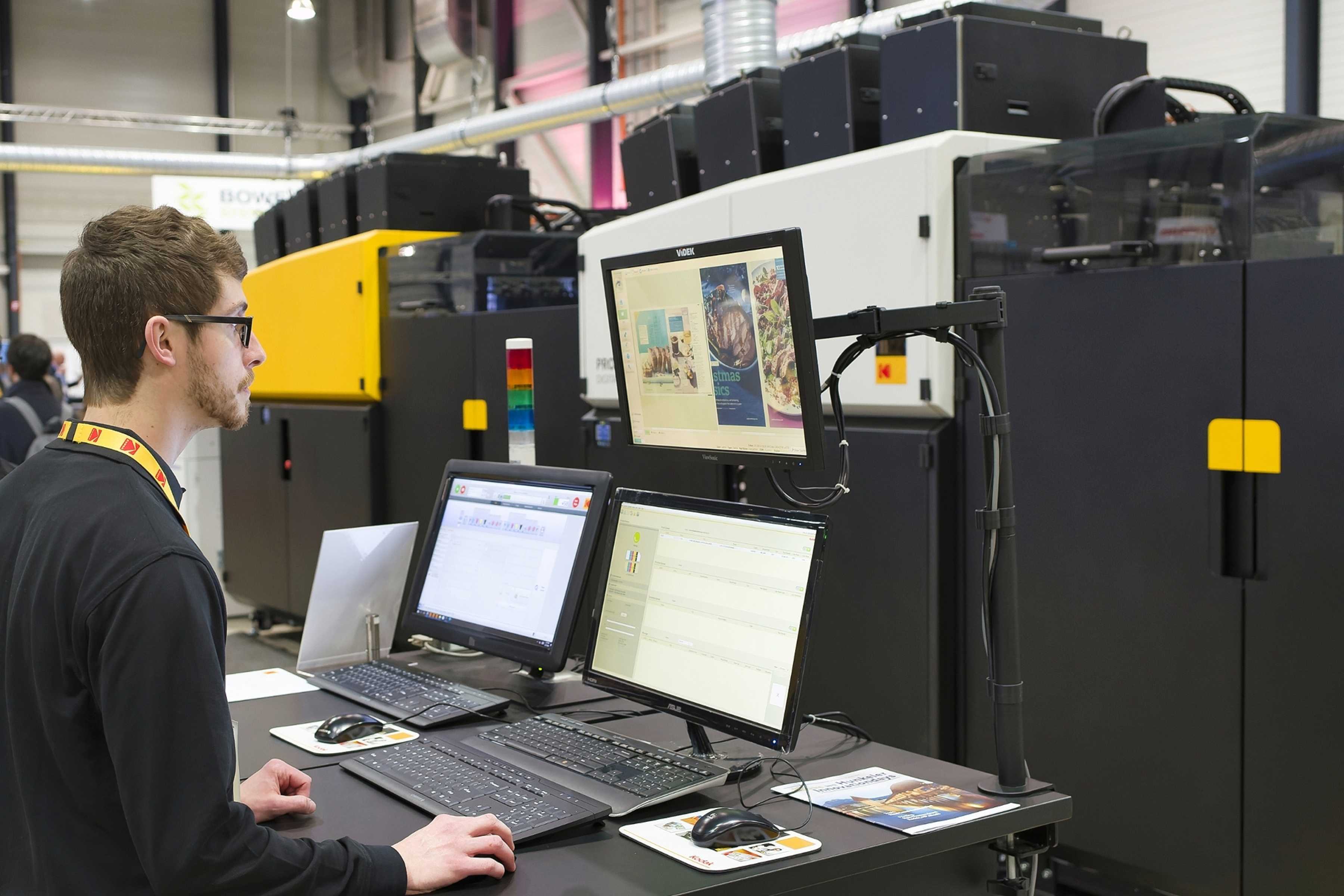 The web-fed digital press category is characterized by heavy competition. What makes the PROSPER ULTRA 520 Press stand out here?
What's unique with PROSPER ULTRA 520 is its capability to provide the highest image quality by utilizing ULTRASTREAM Inkjet Technology, comparable to 200 lpi offset screening, but at an affordable cost. The press is able to do this in a production environment with a speed of 152 mpm (500 fpm) or more than 2,000 A4 pages per minute and high ink coverage on glossy substrates. That's something no one else in the marketplace can offer, so PROSPER ULTRA 520 has excellent prospects in the competitive environment.
How do the overall print quality and the color gamut that can be reproduced with KODACHROME Inks on PROSPER ULTRA 520 compare with offset?
PROSPER ULTRA 520 uses KODACHROME Inks - one reasonably priced CMYK ink set for all papers, even glossy. Kodak's proprietary ink pigment milling process means the press delivers 1.4 times larger gamut than GRACoL and Fogra and can match 93% of Pantone colors (within 4 dE). This enables PROSPER ULTRA 520 to print vivid images with vibrant colors, reliably render the CMYK offset gamut, match brand colors and exceed customer expectations in virtually all applications, with less ink laydown.
PROSPER ULTRA 520 is Kodak's first digital press to employ ULTRASTREAM Inkjet Technology. What advantages does ULTRASTREAM have for printers?
ULTRASTREAM takes our core continuous inkjet technology to the next level, enhancing the quality by increasing the resolution to 600 by 1,800 dpi, but also decreasing the ink drop size to just 3.75 pL (picoliter). The result is an image quality that's equivalent to offset at 200 lpi, 100% digital but running at production speeds. What adds to that is the capability of KODACHROME Inks. The water-based nanoparticulate pigment inks have the smallest and most uniform distribution with low humectant levels to offer an exceptionally large color gamut and optimum drying efficiency.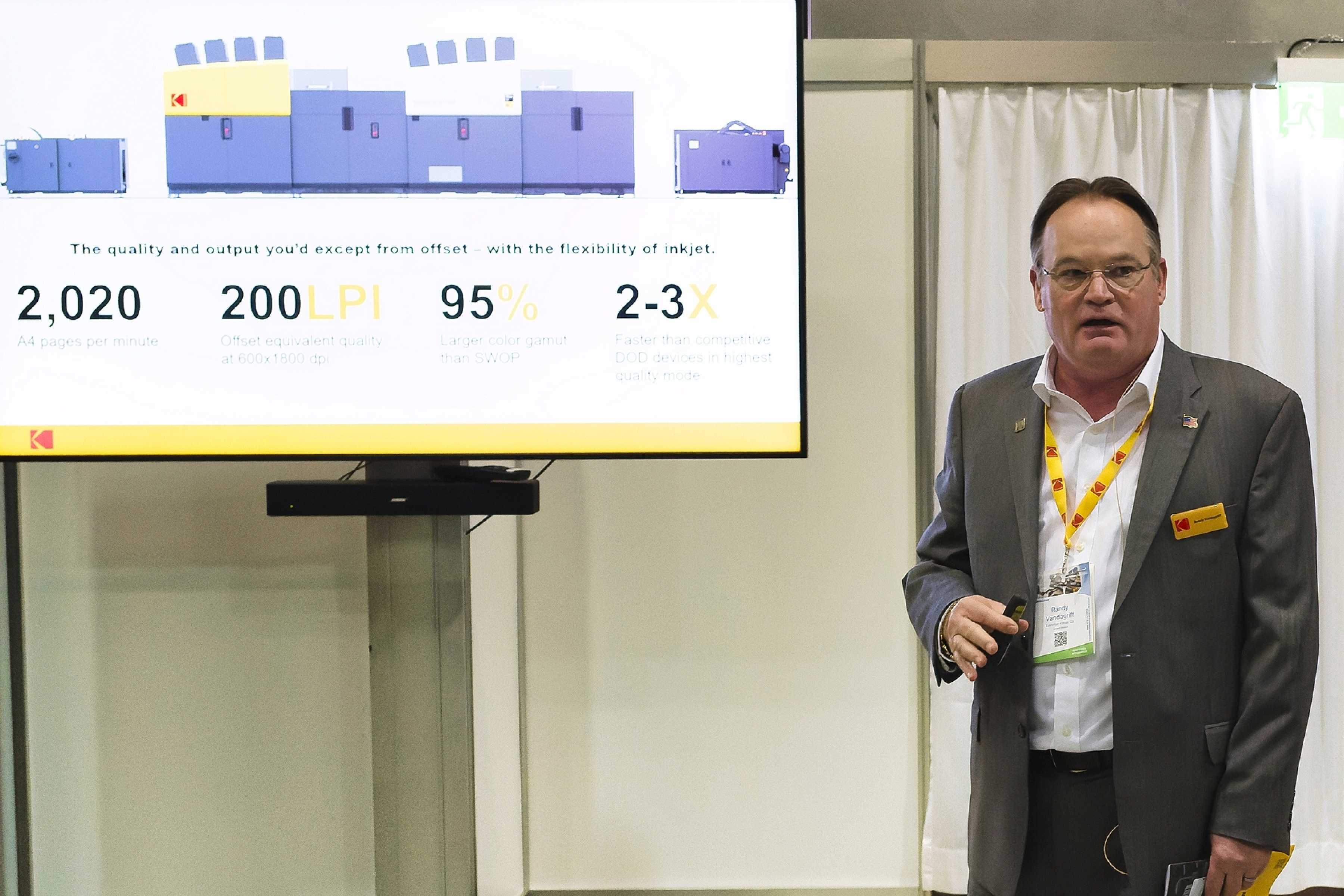 In what ways is ULTRASTREAM superior to other technologies like Drop-On-Demand (DOD) in high-speed applications?
KODAK ULTRASTREAM provides the ultimate in line straightness, highlights, detail and color fidelity as well as consistency over long runs. Ink drops are created faster than DOD inkjet and this allows just one array of print heads to print the full 520 mm width at 152 mpm or 500 fpm, unlike DOD systems that must slow down and/or add extra print heads. Drops travel to the paper faster than DOD and this targets them exactly for better quality. Moreover, drops are round and precise, unlike DOD that creates misshapen drops and extra satellite drops, leading to jagged edges on text and lines and less sharp images. And unlike a number of rival presses, PROSPER ULTRA 520 does not need to print spit bars and color lines between jobs for avoiding nozzle clogging, which reduces waste and increases efficiency.
Why do your inkjet solutions rely on water-based inks? Don't they make drying more difficult, particularly with high ink coverage applications?
Kodak's inks have lower levels of humectants than the competition. That means faster drying, even with high ink coverage on coated and glossy papers. Correspondingly, PROSPER ULTRA 520 features a proprietary intelligent drying system using near-infrared technology. This drying solution combined with our low humectant KODACHROME Inks are the key to printing heavy ink coverage on glossy papers at top speed.
Why did you design PROSPER ULTRA 520 for a maximum print width of 520 mm? After all, larger widths would also be possible with ULTRASTREAM.
The print width of 520 mm (20.5 inches) allows for a wide variety of imposition formats consistent with traditional offset presses. That ensures seamless compatibility with sheetfed offset presses in B2 and B1 sizes as well as with post-processing equipment that printers already have installed. This print width also plays a part in PROSPER ULTRA 520's compact design and small footprint and, not least, contributes to its competitive investment costs.
Paper is the largest variable cost in any print job, and this has been reinforced by the recent enormous paper price increases. How does PROSPER ULTRA 520 help printers keep paper costs under control?
The PROSPER ULTRA 520 Press offers various features that help printers keep their paper costs low. It can print on inkjet-compatible substrates at full speeds. Cost-effective standard offset papers can also be run on the press with an optional inline pre-coater, which applies one of our dedicated optimizer agents.
As the press does not need to print spit bars and color lines between jobs to exercise the print heads, there is no paper and ink waste from printhead maintenance. Furthermore, PROSPER ULTRA 520 employs Kodak's Intelligent Print System, which continuously monitors and optimizes stitching, color-to-color and front-to-back registration. This also helps avoid costly paper waste.
High-speed digital presses, which are typically expected to print a large number of smaller, segmented or VDP jobs, place special demands on the digital front end's performance. What does PROSPER ULTRA 520 offer in this respect?
Press controls and job management are handled by the KODAK 900 Print Manager, which is based on compact yet extremely powerful hardware. The digital front end employs the ADOBE APPE 5 RIP and runs the press at peak performance with easy set-up, make-ready, and a sophisticated job queuing system. It accepts all the leading file formats such as PDF, PDF/VT, and AFP and supports connectivity to JDF/JMF compatible prepress and finishing systems. Unlike rival systems that require costly options and add-ons, the KODAK 900 Print Manager comes fully configured to run the most complex variable data jobs from day one. Furthermore, an optimized interface with KODAK PRINERGY Workflow maximizes production efficiency and data security. These features ensure optimum integration of the PROSPER ULTRA 520 Press in today's production environments.
Kodak, Kodachrome, Prosper, Prosper Ultra, Prinergy and Ultrastream are trademarks of Eastman Kodak Company.