Print Perspectives
KODAK PROSPER 7000 Turbo Press: High-speed inkjet in a class of its own
High-speed inkjet is considered a technology that can drive print's transformation from traditional analog processes – notably offset – to digital production, even far beyond short-run production. There is currently no other press on the market to which the term high-speed inkjet applies as much as the KODAK PROSPER 7000 Turbo Press. With printing speeds of up to 410 mpm (1,345 fpm), it is the world's fastest web-fed inkjet press for CMYK production printing and the perfect solution whenever bigger jobs need to be migrated from offset to digital. Kodak has designed the PROSPER 7000 Turbo Press for high-volume production in several fields of application.

Turbo speed and flexibility
The PROSPER 7000 Turbo Press's wide range of possible uses is largely due to its three print modes. They enable the press to print different applications with an optimal combination of speed and quality.
Turbo Mode, with a maximum speed of 410 mpm (1,345 fpm), is appropriate for low ink coverage applications, such as transactional documents, direct mail solicitation letters and trade books. In this mode, the PROSPER 7000 Turbo Press is capable of reliably printing 34,835 B2 sheets per hour, perfected in full color – nearly 35% faster than its nearest competitor. This means printers can achieve a correspondingly greater turnover with the press day after day.
Performance Mode offers higher resolution and speeds of 300 mpm (1,000 fpm), making it ideal for textbooks, direct mail and other medium ink coverage applications.
Quality Mode delivers the highest resolution, the equivalent of 175 lpi (70 l/cm) offset, at the no less impressive speed of 200 mpm (650 fpm) and is just right for full color commercial jobs like direct mail self-mailers, brochures, catalogs and magazines.
Thanks to its tremendous productivity in all three print modes, the PROSPER 7000 Turbo Press delivers an excellent return on investment.
Operationally it is easy to change over the press from one print mode to another. After an initial setup for each mode, it is just a click on the press controller, the KODAK 800 Print Manager (PDF). This simple and fast switch is particularly advantageous for printers who frequently have to produce very different applications. The PROSPER 7000 Turbo Press integrates seamlessly with PDF workflows, such as the KODAK PRINERGY Platform, for maximum efficiency. With Kodak's color expertise, the 800 Print Manager makes it easy to achieve superb color and image quality right out of the box. An advanced object-oriented color engine offers sophisticated color control options, ICC profile support, object-independent screening options and text enhancement.


Two workhorses – same stable but a different focus
Naturally, the question of how the PROSPER 7000 Turbo Press compares to the recently launched PROSPER ULTRA 520 Press in Kodak's inkjet portfolio and what the key differences are between the presses is of interest. Both are based on a Kodak continuous inkjet (CIJ) technology that generates a non-stop curtain of ink drops. The printing drops go directly onto the substrate and the non-printing drops are deflected and recirculated for reuse. Kodak's continuous drop generation virtually eliminates clogged jetting modules and maximizes uptime and productivity of the presses. Other benefits of CIJ include that drops travel to the substrate faster than with Drop-On-Demand (DOD) technology, which targets them exactly for better quality.
PROSPER 7000 Turbo Press was designed for high-volume direct mail, commercial, transactional, and book printing, compared to the PROSPER ULTRA 520 Press which was designed for the highest quality applications such as brochures, catalogs, magazines, and full color photobooks.
The PROSPER 7000 Turbo Press utilizes KODAK Stream Inkjet Technology, which accounts for its exceptionally high speeds. The advantages of Stream result from the technology's ability to control placement and dot uniformity extremely accurately at very high speeds. The PROSPER ULTRA 520 Press, on the other hand, uses the higher-resolution KODAK ULTRASTREAM Inkjet Technology which allows the press to print with a quality on par with 200 lpi (80 l/cm) offset at speeds up to 152 mpm (500 fpm).

Flexibility in substrate types and sizes
The PROSPER 7000 Turbo Press can print on a wide range of substrates from 42 to 270 gsm including uncoated papers, lightweight publishing grades and matte, glossy or silk coated papers. The machine's versatility and productivity are further enhanced by its ability to make optimum use of the available substrate size. For example, thanks to its maximum web width of 648 mm and print width of 621 mm, it can print A4 textbook pages in 3-up (3 copies side by side). Alternatively, the web width can also be used highly efficiently for 2-up production of A4 full bleed pages in short-grain format.
The PROSPER 7000 Turbo Press's eight intelligent near infrared (NIR) dryers – four for each side of the web – facilitate reliable high-speed production of jobs with high ink coverage on coated papers. The dryers are arranged in an interstation configuration and can be adjusted according to the ink coverage. Together with Kodak's low-humectant pigment inks, this proprietary drying concept ensures efficient drying of the images even at high ink coverage and web speeds.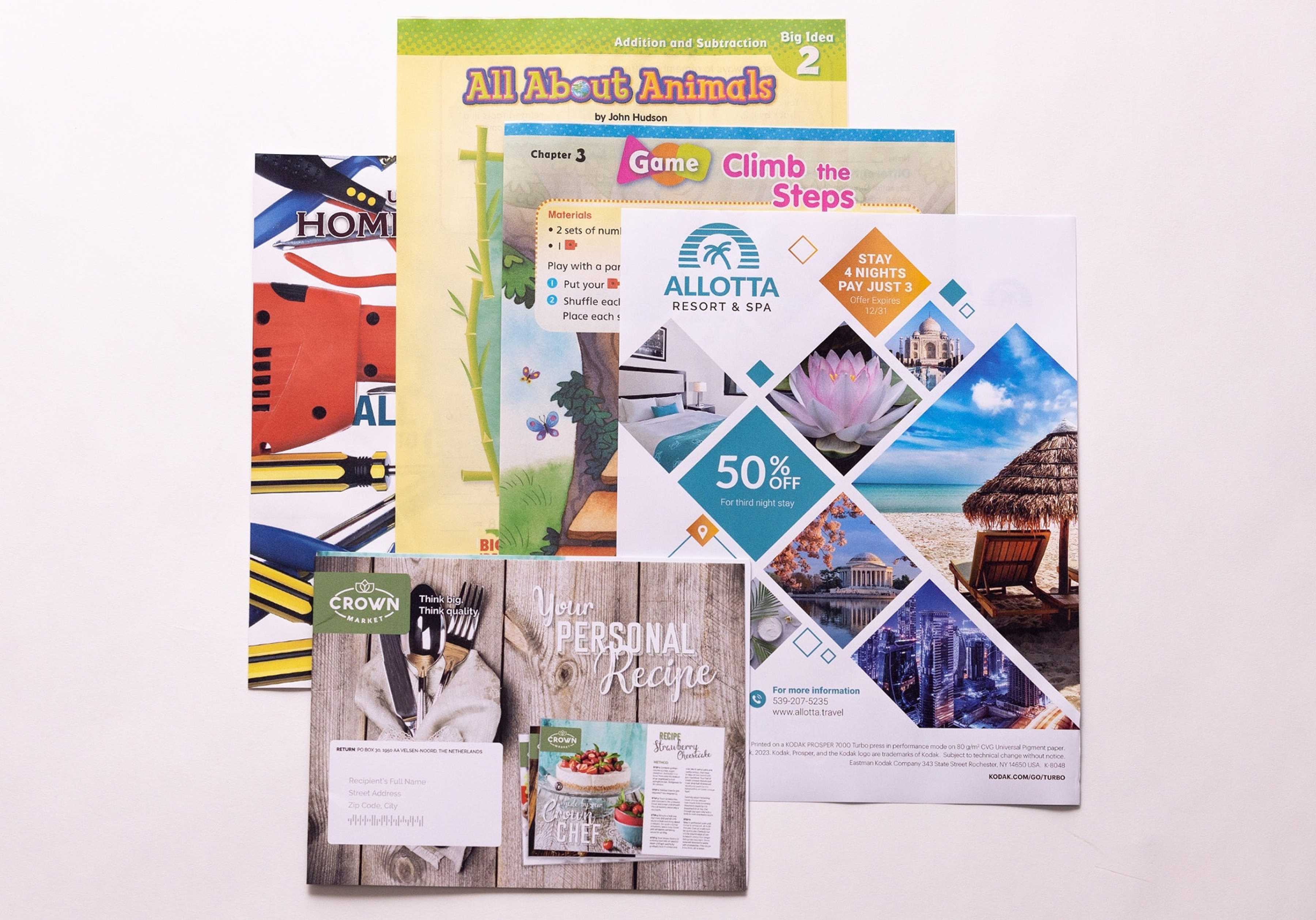 Lean operation, smart quality optimization
Among other things, a press's cost-effectiveness depends on how many staff are required to operate it. The PROSPER 7000 Turbo requires just one operator, who is mainly called on to start and monitor print jobs. Kodak's patented, camera-aided KODAK Intelligent Print System (IPS) supports them here. IPS ensures peak output by continuously monitoring and evaluating system operation. It measures and optimizes stitching, color-to-color and front-to-back registration, making up to five real-time adjustments to the image data on every printed page, and providing a visual monitoring system for operator inspection. As a result, the press offers reliable production with consistently high quality and minimal waste.

Free choice of pre- and post-processing options
To enable fast and reliable production of print products, a digital press should integrate as seamlessly as possible with the print finishing stage. The PROSPER 7000 Turbo Press hosts an open architecture for pre- and post-processing options. Therefore, customers can work with a variety of vendors for unwinders/splicers, pre-coating and post-coating units, rewinders and finishing equipment.
Whether a printer chooses an inline or nearline finishing solution depends on their individual requirements, job structure and the throughput capabilities of the available finishing equipment. As an inline configuration always carries the risk that printing will have to be stopped in the event of a technical issue in the finishing section, roll-to-roll production and utilizing offline or nearline finishing will maximize press productivity.

Decades of production inkjet experience ensures excellent start-up aid
Printers who have never previously used high-speed inkjet may need some assistance getting started. Kodak draws on more than 55 years of experience installing and commissioning inkjet systems for many customers transitioning to digital for the first time. More than 1,600 KODAK PROSPER Inkjet systems are being used successfully by printers around the world, which is why the company has vast experience with the use of its technology by customers in different industry segments. Kodak's expertise in technology extends to service and training as well. A comprehensive learning and development plan is available to all PROSPER Press printers.
With smooth installation, efficient integration into a customer's operational infrastructure and thorough operator training, Kodak's service and support teams ensure that printers can rev up a profitable digital business with the PROSPER 7000 Turbo Press right away.

Contact a Kodak representative to learn more about the PROSPER 700 Turbo Press.
© Kodak, 2023. Kodak, Prosper, Prosper Ultra and Ultrastream are trademarks of Eastman Kodak Company.