Print Perspectives
Kodak solutions help todayart consistently deliver superior print quality to Korea's demanding K-Pop industry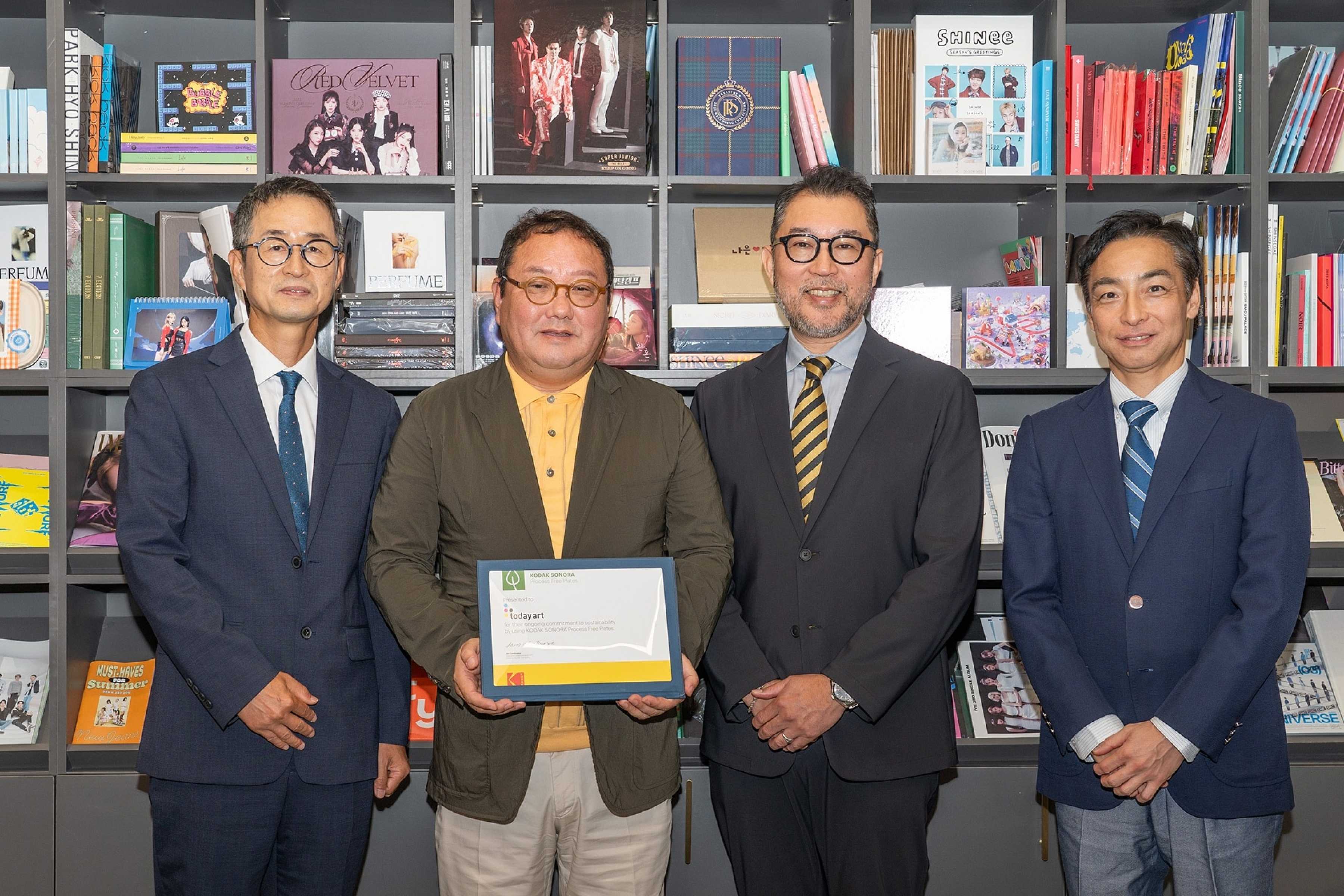 todayart Co., Ltd., a high-quality Korean print service provider, is focused on delivering service, design, and technology innovation in the advertising and commercial printing market. Established in 1997, todayart has been producing high-end advertising and printed products such as albums and related packaging, books, brochures and other printed band merchandise for Korea's hugely successful K-Pop scene for many years. In order to meet the high quality and performance requirements of this fast-moving, dynamic industry, todayart has relied on computer-to-plate, workflow and printing plate solutions from Kodak since 2007.
Highly automated KODAK CTP trio in action
todayart has always been committed to using cutting-edge prepress, press and postpress technologies to develop value-added product offerings for its demanding K-Pop industry customers. Today, the printer operates a KODAK MAGNUS Q800 Platesetter at each of its three production sites for high-quality plate imaging. Thanks to KODAK SQUARESPOT Imaging Technology, which provides unmatched stability, accuracy and quality avoiding plate remakes, the MAGNUS Q800 Platesetters provide a perfect solution to meet the high demands of todayart's customers from the entertainment industry.
todayart has chosen different automation options for its platesetters, which KODAK PRINERGY Connect Workflow supplies with imaging data, to minimize the need for operator intervention and ensure a continuous CTP process. While the MAGNUS Q800 at the company's headquarters is equipped with a Multi-Cassette Unit, the platesetters at the two Paju sites are supplied with plates by a Multi-Pallet Loader.
"The KODAK CTPs reliably output superbly imaged plates that enable our state-of-the-art sheetfed offset presses to consistently deliver the quality and productivity excellence our clients expect. Kodak's innovative CTP and workflow technology is a solid foundation that makes it easy for us to bring new commercial print products and K-Pop-related items to market," said Jang-Sun Park, CEO and owner of todayart.
KODAK SONORA XTRA Plates – a sound choice for the environment and the business
In a move to bolster its sustainability efforts and to make printing more eco-friendly, todayart has switched all three printing sites from traditional processed offset plates to KODAK SONORA XTRA Process Free Plates. todayart has successfully completed this transition with dedicated and continuous support from Kodak's Channel Partner Todaytech Co., Ltd. The introduction of Kodak's process free plates enabled todayart to do away with plate processing equipment, thus completely eliminating the consumption of electricity, water, developer, replenisher and gumming solution associated with conventional plate processing.
"In general, Korean printing companies and their employees are somewhat hesitant when it comes to embracing change. However, it was important to me to set an example by switching to process free plates and to show that our industry can noticeably improve its environmental performance by making a relatively simple change – without having to compromise on print quality or press performance. In addition, with this change we have created a safer and healthier working environment for our employees," commented Jang-Sun Park.
Regarding the cost-effectiveness of printing with SONORA XTRA Process Free Plates, the owner of todayart adds: "While it is true that Kodak's process free plates have a price premium compared to plates from competitors, SONORA XTRA Plates deliver clear cost benefits in the long term in prepress and especially in the pressroom that outweigh the price premium. The benefits of using SONORA XTRA Plates are obvious, and the transition went really smoothly. We have printed very sophisticated K-Pop albums with SONORA XTRA Plates without any problems and the possibilities these plates offer help us to expand our market."