Print Perspectives
Kodak's inkjet press portfolio provides more options for a successful transition to digital to mitigate business risks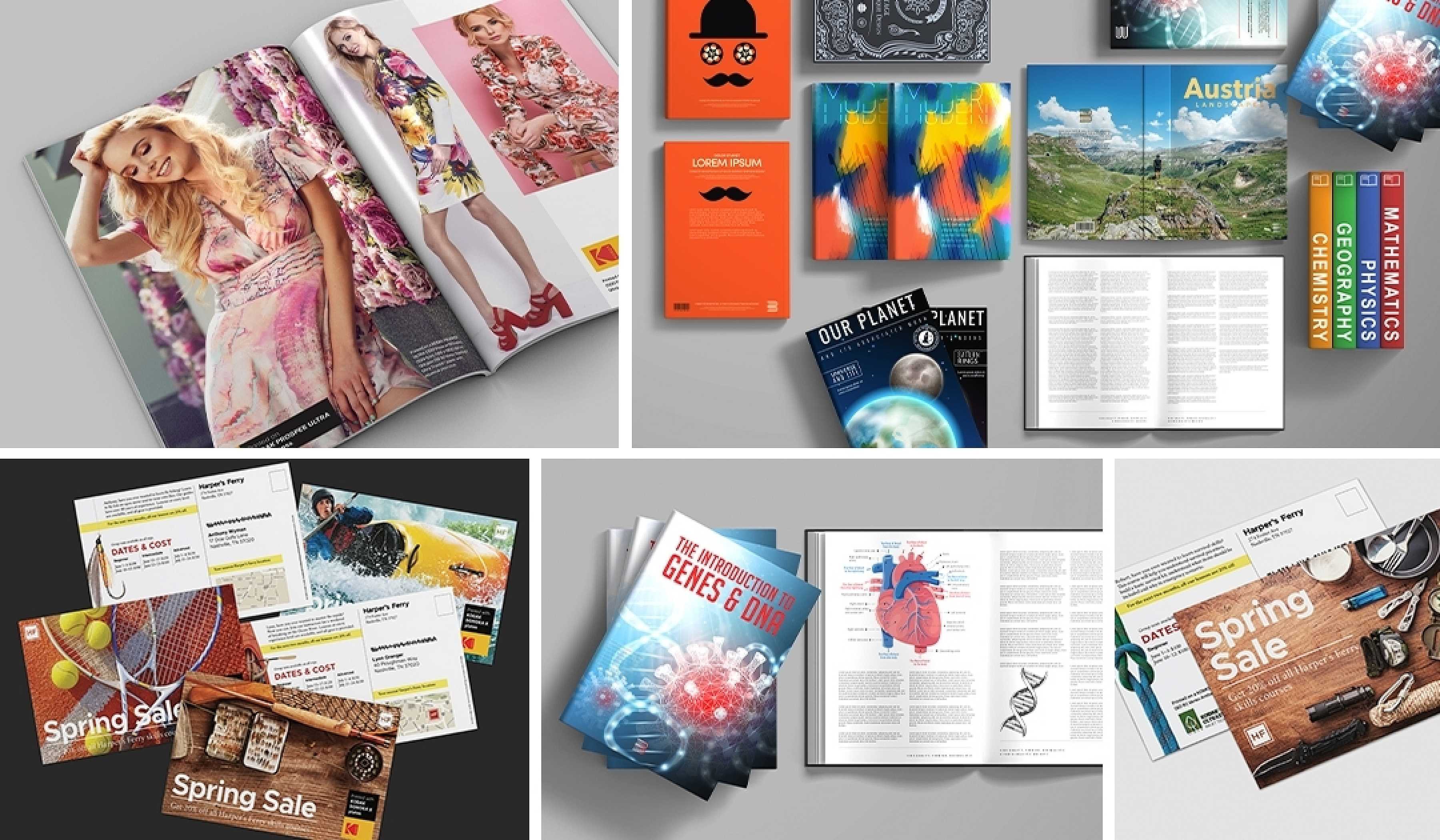 Kodak recently introduced the KODAK PROSPER 7000 Turbo Press. This new addition has expanded the company's portfolio of high-speed inkjet web presses for an almost infinite range of commercial applications. Kodak is thus following its strategy of providing innovative printing solutions that enable customers to take advantage of diverse business opportunities in the commercial printing market, improve profitability and shift more jobs from traditional offset to digital.
In view of rising raw material costs, ongoing supply chain issues and the global trend toward greater sustainability, one aspect comes into focus: The transition to digital from offset can help printers avoid today's aluminum supply issues and thus mitigate business risks. Unlike offset presses, PROSPER Digital Presses do not require printing plates, which are mainly made of high-quality aluminum – a valuable resource produced in an energy-intensive process. Likewise, the complex production as well as the transport and storage of printing plates are eliminated. Also, PROSPER Presses use water-based inks, eliminating oil-based inks as well as printing chemicals with problematic ingredients, chemical dampening additives or solvent-based ink train and blanket cleaning agents. This means the switch to digital brings sustainability improvements in addition to risk reduction.
With market trends towards shorter runs and tighter deadlines, KODAK PROSPER Presses require no lead time for platemaking, can start production with virtually no makeready, and provide advantages over offset in many applications. Furthermore, PROSPER's streamlined press operation means fewer operators when compared to offset, resulting in tangible labor savings and enhanced productivity. And compared to sheetfed offset, PROSPER Presses score additional points in that they do not use paper sheets, but rather more cost-effective roll paper.
With some of the lowest operating costs and the fastest speeds on the market, KODAK PROSPER Presses are much more cost-effective and quicker to run than other digital presses, especially at larger volumes and high ink coverage.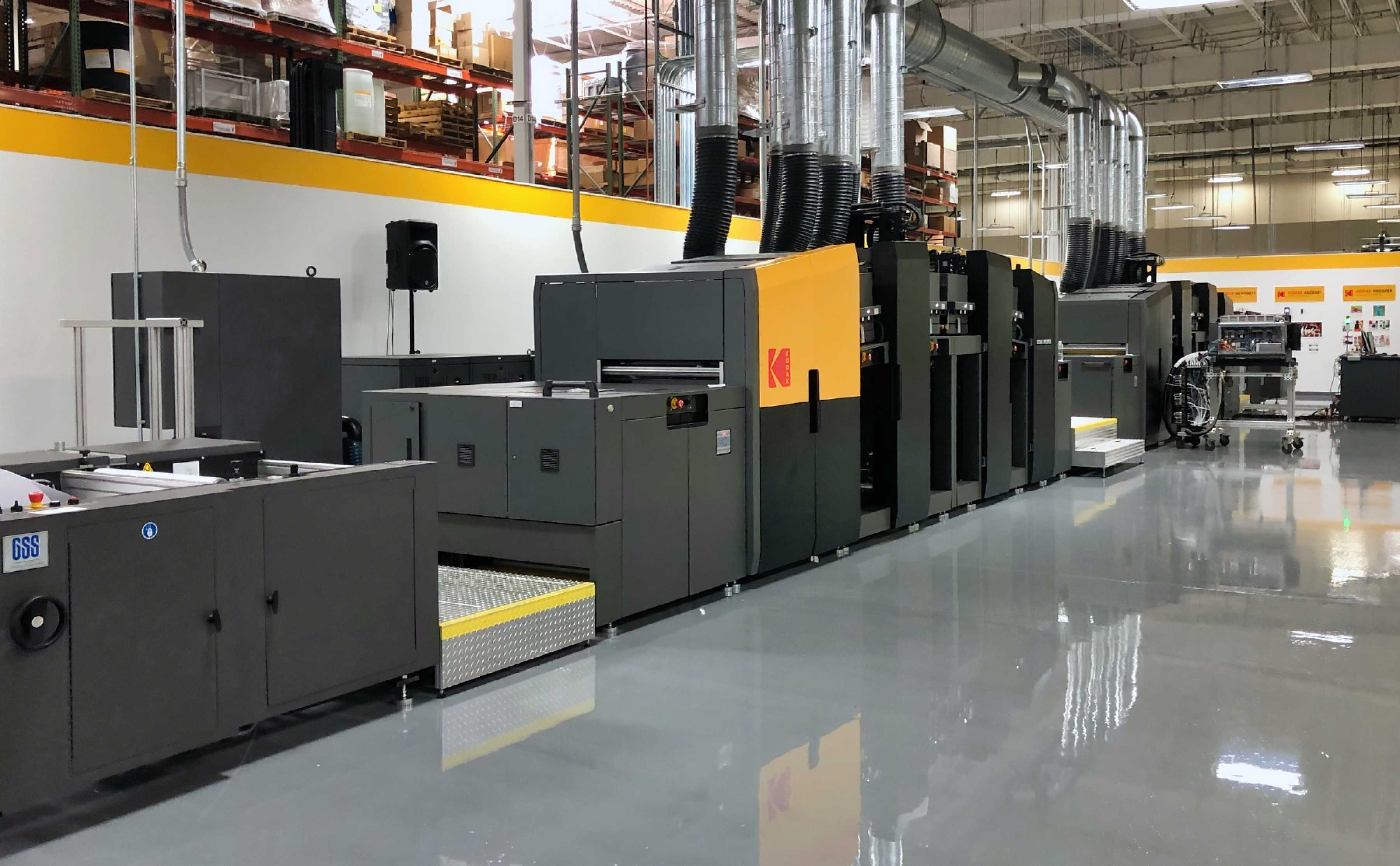 Continuous inkjet technology from Kodak makes all the difference
All PROSPER Presses use Kodak's continuous inkjet (CIJ) technology which provides high-quality, high-speed color printing with eco-friendly, water-based inks. The advantages of CIJ result from the technology's ability to control placement and dot uniformity extremely accurately at very high speeds. CIJ printheads produce a non-stop curtain of ink drops. The printing drops go directly onto the paper and the non-printing drops are deflected and recirculated for reuse.
Kodak's continuous drop generation practically eliminates clogged jetting modules and maximizes uptime and productivity of the press. Other benefits of CIJ include that drops travel to the substrate faster than with Drop-On-Demand (DOD) technology, which targets them exactly for better quality. Moreover, CIJ drops are round and precise, unlike DOD that creates misshapen drops and actually undesirable satellite drops, leading to jagged edges on text and lines and less sharp images.
KODAK ULTRASTREAM Inkjet Technology is Kodak's latest generation of continuous inkjet technology. It provides the ultimate in line straightness, highlights, detail and color fidelity as well as consistency over long runs. ULTRASTREAM works by electrostatically charging and deflecting the non-printing drops, creating tiny 3.75 picoliter (pL) drops that enable a high print resolution.
In contrast, the new PROSPER 7000 Turbo Press and the PROSPER 6000 C (Commercial) and P (Publishing) Presses are powered by KODAK Stream Inkjet Technology. Stream uses air deflection of the non-print drops, generates 9 pL drops for printing and lays the foundation for the extremely high productivity of the presses.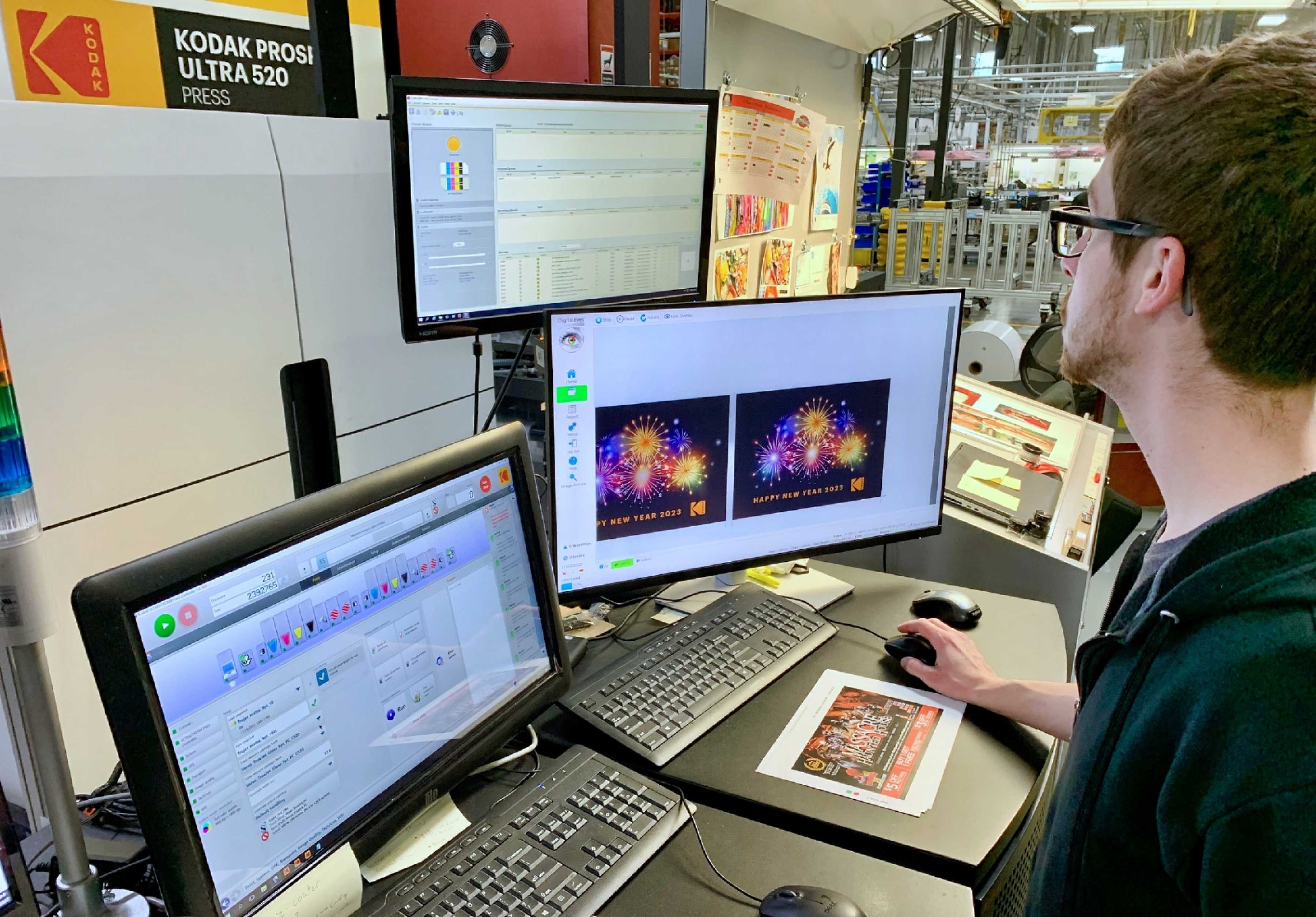 Universal water-based pigment inks
The properties of the inks used are a decisive factor for the versatility, productivity, color quality and cost-effectiveness of an inkjet press. Kodak's approach is to supply just one CMYK ink set for all presses and papers. Kodak utilizes proprietary micro-milling technology to manufacture all of its inkjet inks. The water-based nanoparticulate pigment inks are optimized for maximum efficiency with ULTRASTREAM and Stream Inkjet Technology.
Kodak's pigment milling process means the presses deliver a much larger gamut than heatset web offset and sheetfed offset and can match 93% of Pantone colors (within 4 dE). This enables PROSPER Presses to print vivid images with vibrant colors, reliably render the CMYK offset gamut, match brand colors and exceed customer expectations.
In addition, PROSPER inks have lower levels of humectants than inks from competitors. That translates into faster drying, even with high ink coverage on coated and glossy papers. The low humectant inks, together with interstation near-infrared (NIR) drying which is adjustable depending on volume and ink coverage are enablers for printing heavy ink coverage on coated and glossy papers at top speeds. This combination of fast-drying inks and efficient drying technology ensures that PROSPER Presses manage with comparatively low energy requirements for drying and thus lower energy costs, even at their highest speeds.

Optimizer Agents – the key to simple ink concept and substrate diversity
To offer commercial printers independence from expensive pre-treated inkjet papers and the ability to print on a wide range of substrates with the uniform ink set, Kodak supplies various ink-receptive primers known as Optimizer Agents, that have been optimized for PROSPER aqueous pigment inks. For example an Enhanced Optimizer Agent for coated papers and a Standard Optimizer Agent for uncoated papers are available. Precoating substrates with Optimizer Agents does not affect ink runability on press and ensures the best print quality in every application.
Precoating paper with Optimizer Agent, which can be done inline in the press or nearline, is a much more cost-effective option than printing on standard offset papers with so-called enhanced – and more expensive – ink sets, as promoted by some press manufacturers. And thanks to the unique nature and properties of KODAK inks, PROSPER Press users can achieve acceptable results in some applications on conventional offset papers even without a precoat.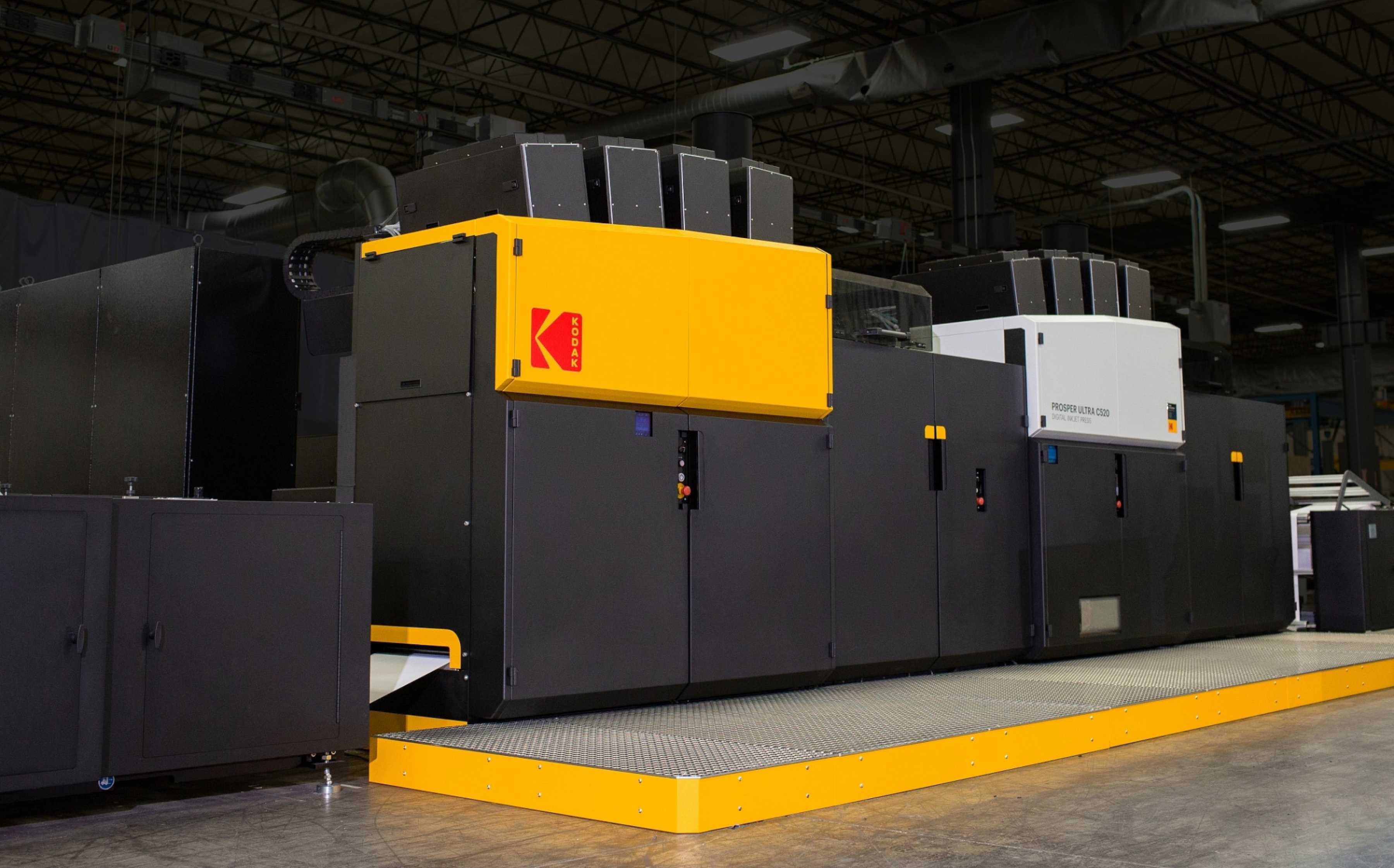 Top quality with maximum speed for all applications
Kodak's PROSPER Press portfolio offers solutions across a broad range of applications from high end commercial work to publishing and also newspapers. The specific press a customer would be interested in will depend on their print volume, quality, and width requirements (see the table for some key specifications).
KODAK PROSPER Inkjet Presses – some key specifications

PROSPER ULTRA 520

PROSPER 7000 Turbo

PROSPER 6000 C/P

Speed

500 fpm (152 mpm)

Turbo: 1,345 fpm (410 mpm)
Performance: 1,000 fpm (300 mpm)
Quality: 650 fpm (200 mpm)

up to 1,000 fpm (300 mpm)

Pages per minute

2,148 US letter /
2,020 A4

up to 5,523 A4

up to 4,364 A4

Resolution

600 x 1,800 dpi

Turbo: 600 x 450 dpi
Performance: 600 x 600 dpi
Quality: 600 x 900 dpi

6000 C: 600 x 900 dpi, 600 x 600 dpi
6000 P: 600 x 600 dpi

Offset equivalent

200 lpi (80 l/cm)

Turbo: 85-100 lpi (34-40 l/cm)
Performance: 133 lpi (52 l/cm)
Quality: 200 lpi (80 l/cm)

approaching 200 lpi at 650 fpm (200 mpm)

Max. web width

533 mm

648 mm

648 mm

Taking full advantage of KODAK ULTRASTREAM Inkjet Technology, the KODAK PROSPER ULTRA 520 Press delivers outstanding, offset-quality print at speeds faster than competitive solutions. It is aimed at the mid-volume market segment and printers that would have production volumes around 10 million A4 images per month. Operating at top speed for all supported paper weights and grades, PROSPER ULTRA 520 provides the highest image quality.
It is available in two versions: PROSPER ULTRA P520 with two driers per side of the web is designed for transactional and transpromotional printing, publishing applications and commercial print up to moderate ink coverage. PROSPER ULTRA C520 (four dryers per side of the web) is the perfect choice for applications such as direct mailings, inserts, catalogs, promotional brochures and books – even those with high ink coverage on coated and glossy papers.

Turbo speed and flexibility
The brand-new PROSPER 7000 Turbo Press and the PROSPER 6000 C (Commercial) and P (Publishing) Presses are powered by KODAK Stream Inkjet Technology. PROSPER 7000 Turbo offers unmatched flexibility to move between high quality applications and turbo speed productivity and anything in between. In addition to its Turbo mode, which is suitable for low ink coverage applications, the press offers Performance and Quality print modes to produce any application with the optimal combination of speed and resolution. Performance is ideal for textbooks, fiction books and other medium ink coverage applications while PROSPER 7000 Turbo's Quality mode is perfect for direct mailings, brochures, catalogs and magazines.
One thing has become very clear: Today there are more arguments than ever for savvy commercial printers to base their production on a future-oriented platform with a PROSPER Press and to prosper with Kodak's inkjet technology in the long term.

© Kodak, 2022. Kodak, Prosper, Prosper Ultra and Ultrastream are trademarks of Eastman Kodak Company.