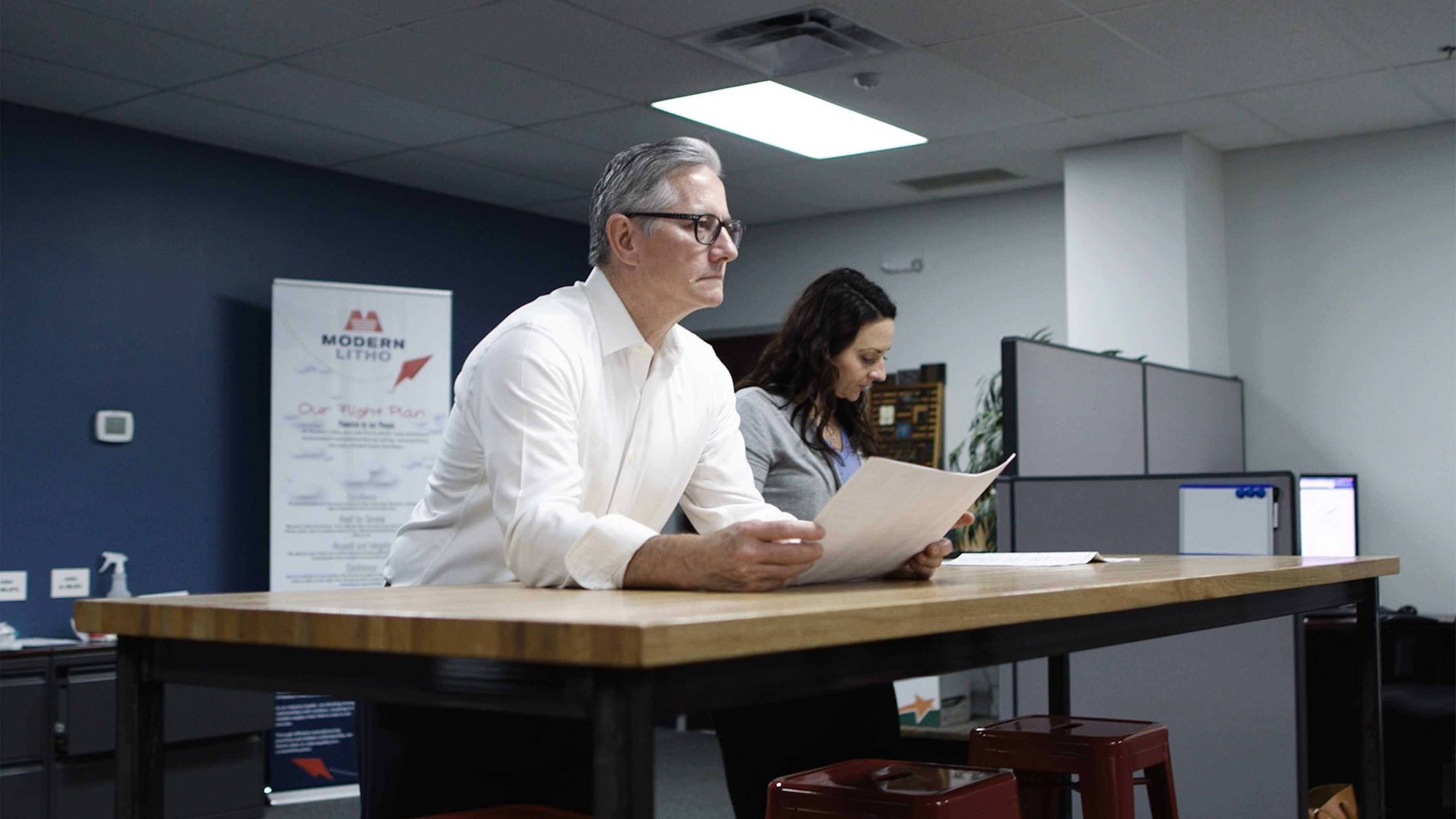 Modern Litho lives up to its name every day, using state-of-the-art technologies to deliver world-class printing to its growing number of customers. They rely on technology for production efficiency and position their team to take on tasks requiring human intervention. They search for the best tools for every aspect of the business to ensure that every job is touched by the fewest number of people and produced at the highest quality. That mindset is built into every process and every acquisition.
Jim Tomblinson, VP of Operations for Modern Litho, tells the story:
"We bought a company in St. Louis called James Mulligan Printing. As we were moving that company into our location, I saw this hammer sitting in the toolbox. No dates, no names. It was handmade at some point. I can't tell you how many hands have touched this hammer, but I can tell you that it's over a hundred years old and that the owners of Mulligan had their hands on it. You can see it's worn more heavily over on one side. It's been used; it's squished. You don't know all the scenarios, but it does make you feel good that we're going to carry on and showcase this hammer.
There's a lot of history in these tools. Whether it's a hammer or an ink knife, I love to collect things like this that have made companies and helped companies grow."
Tomblinson points out that Modern Litho has grown from mechanical processes to new automation-enabled technologies, made possible by knowing their history. He knows that to stay efficient, the company must know where they lose money and where they make money and when to replace the hammer with new technology.
Building the Solution Culture
Jeff Davidson, VP of Corporate Strategy, leads the team that looks for the solutions to keep the Modern Litho infrastructure innovative, quality-focused, and productive. He says that anyone can raise their hand and say they have the best quality and service in the market, but at Modern Litho, they walk the talk by carrying a specific set of corporate values through every department. And, when they bring a new company into the fold, they bring their spirit of optimism and continuous improvement to the new team members to maintain their market differentiation.
As Davidson began looking at their systems, he concluded that it was time for a course correction. Tomblinson added: "Our technology was losing its ability to sustain us for the future. Over the last couple of years, the technology evolved and changed. And we know the last year, especially, what we've seen caused us to rethink our business. We realized that we can't do business today the same as we've always done it. It has become too risky."
Modern Litho wanted to re-invent customer acquisition and pre-press to re-align with what customers expect today. They want easy access, self-service, and the ability to track jobs without making phone calls or sending emails. They needed a solution to give them a tighter connection to their customers and a partner to help them tie the pieces together into a modern, seamless workflow.
Leveraging an Essential Partnership
Partners are an essential part of the process because they bring a broad understanding of the market and technologies that help Modern Litho maintain its growth strategy. Those partner relationships must be win-win, according to Darrell Moore, president of Modern Litho. To bring the best capabilities to market requires an efficient infrastructure that can keep work moving, even when there are supply chain shortages and other market disruptions. As he worked with the team to review their current PrintMIS and supporting workflow, he concluded: "Our MIS system worked fine when we adopted it, and it grew with us, but it felt stale. The innovation wasn't there. The platform was built on old technology, so our ability to get data out of it was not easy. Gathering information for marketing wasn't easy. We were waiting for technology to come along to take us forward for the next decade or two." He knew that to meet the new customer expectations, a change was needed.
As a Kodak shop, they had already changed the dynamics of the company with PRINERGY and INSITE. From Auto Trapping to fine color management, PRINERGY opened the door for Modern Litho to break out of the local print market and become part of the national print conversation. INSITE PrePress Portal empowered customers to see the work they ordered and keep track of all the work in process. The power of rules-based automation (RBA) coupled with customer self-service for many inquiries spurred their growth.
Tomblinson says, "We wouldn't be where we are today without rules-based automation. Kodak has provided a way for us to do the work of 10 people with three people." He says that while many printers set up RBA for automating archiving, the software has the potential for so much more. Today, every job at Modern Litho goes through RBA for ripping, trapping, imposition, and posting to INSITE. They can do jobs without ever touching them for many clients.
Happily Moving to the Cloud
As regular attendees to the Kodak Graphic Users Association (GUA) user group meetings, they had been following the introduction of PRINERGY On Demand, Kodak's cloud-based version of PRINERGY, and became a user more than a year ago. Any concerns about the safety of their data and their ability to control their workflow when they moved to cloud services were completely resolved during their implementation.
They began by learning what was possible. Their new solution provided more storage options, server capabilities, and access to a secure network that eliminated their existing hub and spoke approach to moving data between facilities. With Kodak, Modern Litho has a technology partnership that made them comfortable with cloud services. Kodak's partnership with Microsoft that helped Modern Litho make the decision to move to PRINERGY On Demand Business Solutions.
With the proven partnerships that Kodak integrated into PRINERGY On Demand Business Solutions, Modern Litho says that their team operates with the strongest platform in the history of print manufacturing. No more hammers, just smooth sailing in the cloud.
Learn more about PRINERGY On Demand