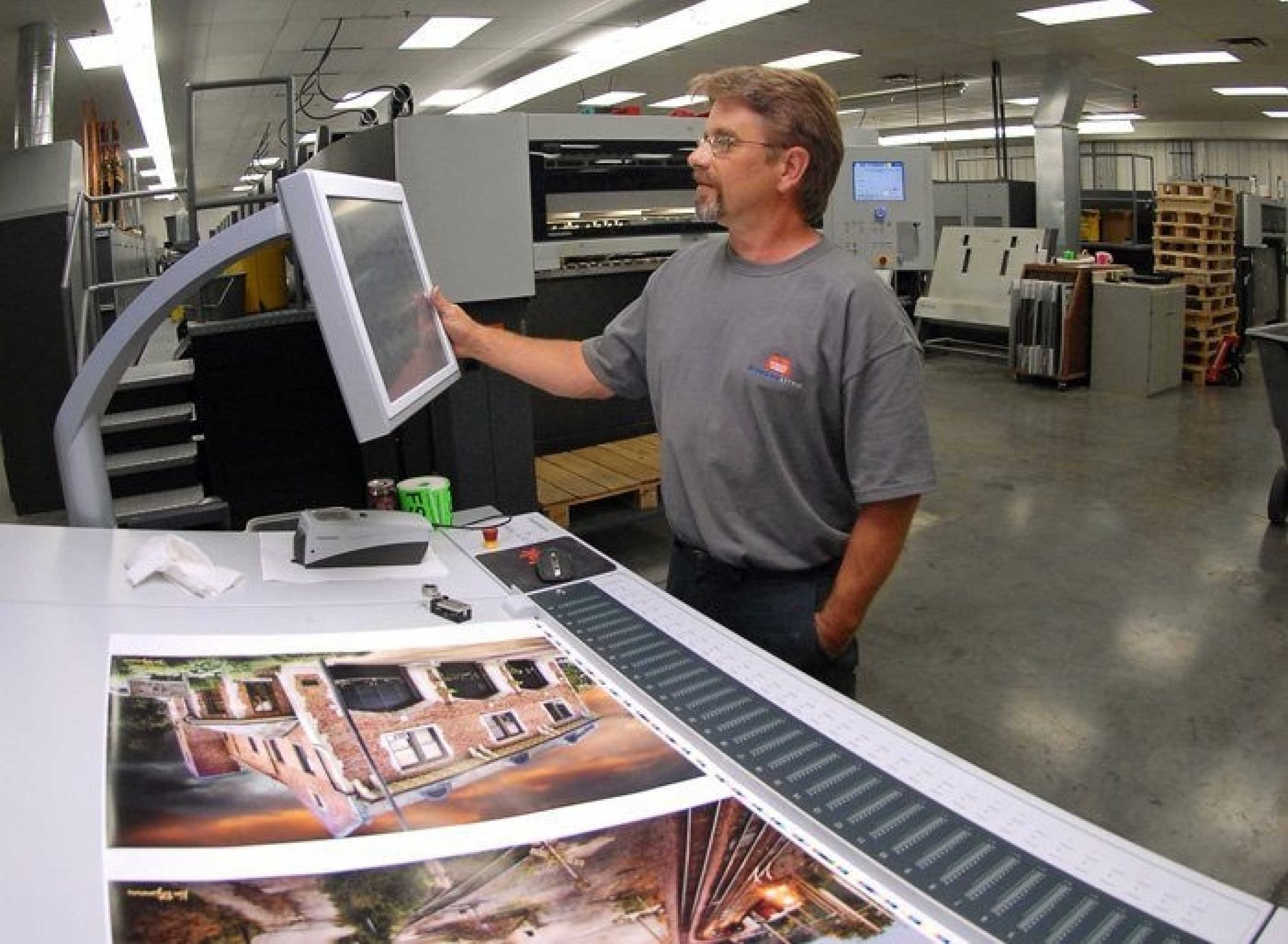 Over the years Kodak has developed very strong bonds with their customers. Considering their long history supporting print providers with consumables and digital process solutions to enhance their businesses, it makes perfect sense.
A great example is Modern Litho. Modern Litho is an 84-year-old commercial printer with locations in St. Louis, Kansas City, and two in Jefferson City, Missouri. Magazine publication and book production make up their largest service sector, although they provide sign and display services as well. Like most printers, they have been complementing and transitioning their analog offset work to digital. Although, in the case of Modern Litho, while the nature of much of their work still lends itself to offset, "automation is one of the biggest drivers of their success," according to Jim Tomblinson, VP of Operations.
Jim has been with Modern for 40 years and during that time has led the focus on optimizing their operations. "What's probably different about us is that our company size allows us to quickly and easily adopt the latest and greatest solutions from our partners if we feel it could offer benefits to our operation. Unlike some companies, we don't have to over analyze what we want to test." One of their strongest partners over the years has been Kodak. As a trusted partner, Modern has many different Kodak hardware solutions in their plants, including KODAK MAGNUS Q800 Platesetters for their offset work and a KODAK NEXPRESS Digital Press installed in their Jefferson City digital plant.
All of Modern's production, both digital and offset in all of their facilities, has been running through KODAK PRINERGY workflow for years. Until recently, they have been using a hub and spoke arrangement with 6 virtual servers that support all of the plants. Three years ago, Todd Bigger, Vice President of Kodak's Software, Service and Support Business, reached out to Jim to discuss KODAK PRINERGY On Demand, their new cloud-based solution. While Jim was initially skeptical of implementing a cloud-based solution, he recognized "that with their current hub and spoke arrangement, if the hub went down, all four plants went down." He understood the benefits of moving to PRINERGY On Demand but needed to work through any new challenges that it would bring, specifically the potential for a lag in plate file transfer. Working with Kodak he realized that with today's faster internet speeds, moving processing to the cloud was a very workable solution.
Through testing and investment in a gigabit speed service, they were able to validate the decision. Additionally, the ROI was really attractive since they no longer had to invest in servers and the corresponding support infrastructure. Modern has been very successfully using PRINERGY On Demand for several months now and haven't looked back. The hub and spoke arrangement with the local servers that were on premise is gone and other than straight computers to front end, the various printing, proofing and plating devices, all of the heavy lifting is done in the cloud. They are even rasterizing their plate files in the cloud and sending 1-bit TIFFs directly to their KODAK MAGNUS Platesetters. According to Tomblinson, "what's amazing about it is when you have virtual servers like we did, and you send the files from that virtual server to the platesetter, it took about four minutes to get that file completed, and that's exactly what we're seeing from the cloud." Using a cloud solution during the recent pandemic provided Modern with an additional benefit, with many of their employees able to access the production systems and continue to work remotely.
The PRINERGY On Demand workflow is tightly integrated with EFI Monarch ERP system, providing them with a complete business and production system. Using the EFI Digital Storefront, they set up each of their customers with what could be 50 products, or it could be a thousand, it doesn't really matter. Each product is set up with a workflow including the target device. That workflow means that as soon as that client places an order online, they system is going to provide a proof for approval using the KODAK INSITE PrePress Portal. Once approved, it automatically drops into a queue and generates a job ticket with the information that tells that operator what to expect. The job is also tied to a PRINERGY job template that was developed using Rules Based Automation (RBA), PRINERGY's rules-based pipeline automation software which automates the processing for that specific product. "Nobody is touching the jobs once the processes and templates are set up," and according to Tomblinson, "you can trust it, when it works once it works a thousand times and it always works the same way." As a result of the automation, they actually have the same number of people they had 15 years ago doing 10 times the work.
Modern Litho is very conscious of their environmental responsibilities as well as their operating costs. They beta tested the first-generation SONORA Process Free Plates about five years ago, and while they were impressed, at the time they couldn't justify the higher price compared with their existing KODAK TRILLIAN SP Plates. With the release of the SONORA X Process Free Plate, upgrading to process free made sense. Along with the obvious elimination of the plate processor, chemicals, and other costs of processing, the feature improvements of SONORA X Plates over SONORA XP Plates, include increased run length capability and greater dot stability. This provides them support for longer runs and produces more consistent high-quality print. According to Tomblinson, "the quality control is just so much tighter and better," and it has also allowed them to raise their default line screen from 175 lpi to 240 lpi, and even up to 300 lpi when the image quality and detail requires it. What also impressed Tomblinson is that they can just mount the plate on their press and it's ready in about 10 sheets. Modern Litho is now running SONORA X Plates in all four plants across the company. In addition, to get the most out of their work, they run with stochastic screening and ensure their color with KODAK COLORFLOW Software. To date, they have run over 8,000 of the newest Sonora plates without one scratch, and according to Tomblinson "that is a really big deal!"
As Modern Litho grows and continues to digitize their processes to increase productivity and quality, their special partnership with Kodak remains strong. "Kodak has an exceptional platform with proven solutions that a year ago I would have never thought possible," concluded Tomblinson. "They are making bold moves and it's paying off."