Press Releases
Innovative KODACHROME Inks enable KODAK ULTRASTREAM Inkjet Technology to deliver offset-level performance
ROCHESTER, N.Y.
June 07, 2023
Kodak sets new standards in inks for inkjet production printing with its new KODACHROME Inks. These inks enable presses using KODAK ULTRASTREAM Continuous Inkjet Technology to achieve the highest levels of color rendition, image stability, and detail. KODACHROME Inks play a major role in helping the recently launched KODAK PROSPER ULTRA 520 Press, which utilizes ULTRASTREAM Technology, deliver outstanding offset-quality print at high speeds covering a broad range of applications.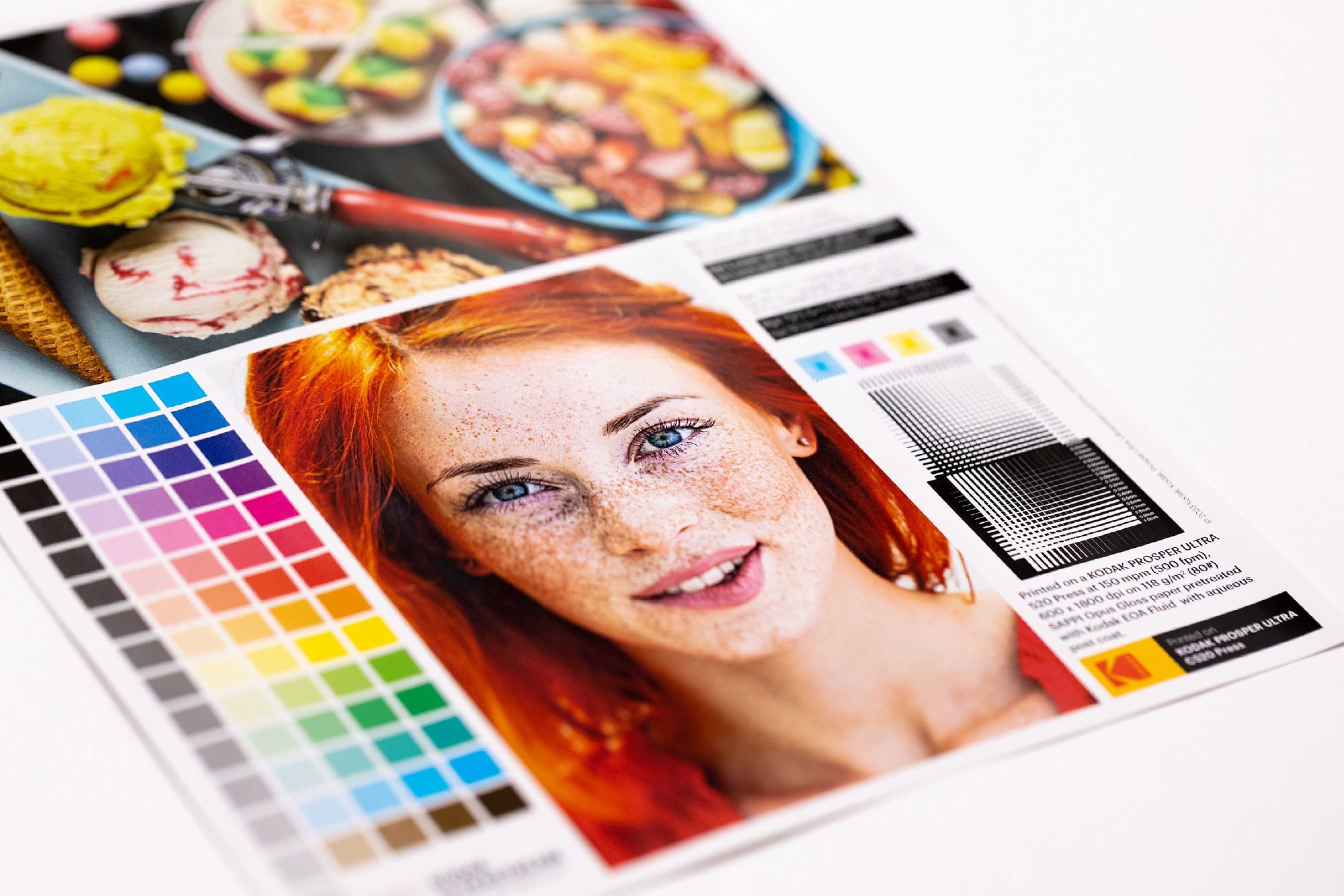 KODACHROME Inks provide exceptional vibrancy and color consistency on a wide range of substrates. The secret lies in Kodak's proprietary pigment micro-milling process, which creates pigment particles that are typically less than 50 nanometers with a very narrow size distribution. Competitive pigment milling processes cannot approach these levels.
The finer pigments created by this unique process result in faster ink drying times and very thin dried ink layers. This means less scattering of light, richer and purer colors with extraordinary vibrancy, and an exceptionally wide color gamut without sacrificing image permanence. KODACHROME Inks produce a 95% larger gamut volume than SWOP (web offset) and a 39% larger gamut than GRACoL (sheet fed offset). Because these properties mean the inks require less lay down to achieve outstanding colors, they help reduce the running costs of the inkjet press.
The water-based, low-humectant KODACHROME Inks are more sustainable than conventional solvent-based inks. They do not contain PVC or phthalates, making them safer for people and the environment. Together with Kodak's proprietary range of printable water-based optimizer agents (primers), KODACHROME Inks can be used for printing on practically any substrate. The optimizer agents improve ink receptivity, ink adhesion, rub resistance, and image quality on most types of paper, plastic, and film.
"Kodak has been pioneering inkjet production printing for 56 years, and our new KODACHROME Inks are designed to deliver outstanding print results and maximize productivity and value for our customers," said Jim Continenza, Executive Chairman and Chief Executive Officer, Kodak. "KODACHROME Inks, together with our high-speed ULTRASTREAM Inkjet Technology and optimizer agents, create efficient digital solutions for cost-effective printing of a broad range of applications. This enables customers to shift more work from traditional printing processes such as offset to digital, opening up new opportunities for increased revenue and profits."
© Kodak, 2023. Kodak, Kodachrome, Prosper, Prosper Ultra and Ultrastream are trademarks of Eastman Kodak Company.
About Kodak
Kodak (NYSE: KODK) is a leading global manufacturer focused on commercial print and advanced materials & chemicals. With 79,000 worldwide patents earned over 130 years of R&D, we believe in the power of technology and science to enhance what the world sees and creates. Our innovative, award-winning products, combined with our customer-first approach, make us the partner of choice for commercial printers worldwide. Kodak is committed to environmental stewardship, including industry leadership in developing sustainable solutions for print. For additional information on Kodak, visit us at Kodak.com or follow us on LinkedIn Kodak Print.
Media Contact
Gill Beard
Worldwide Public Relations Manager, Eastman Kodak Company
gillian.beard@kodak.com
+44 (0) 1923 652727