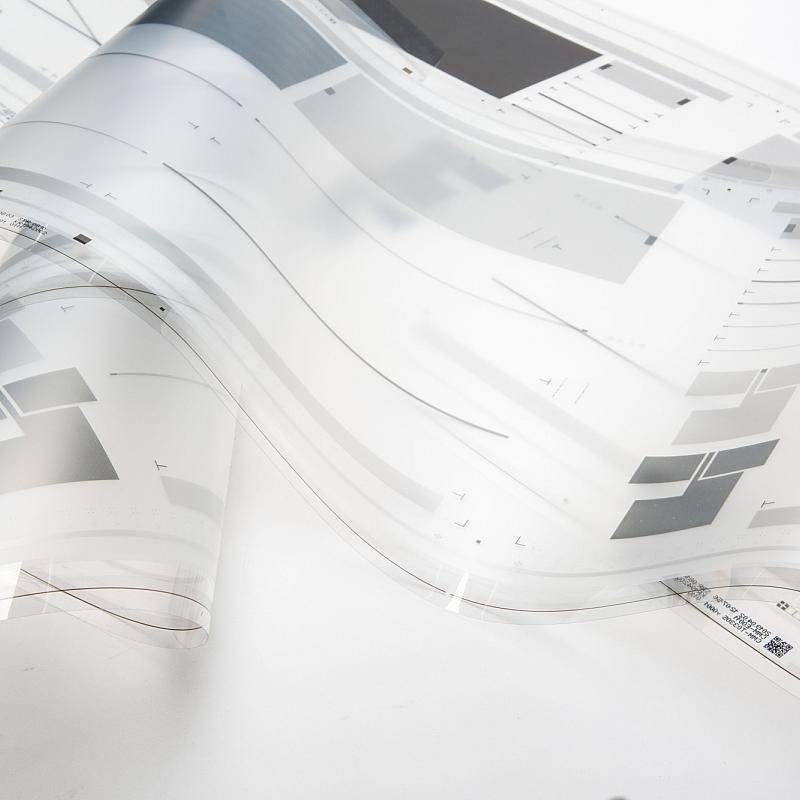 KODAK Flexible Printed Electronics
Contract Manufacturing and Metal Mesh TCF
Let us make your vision real
Sharing our expertise
At Kodak, we've spent years developing our expertise and assets in the design and manufacture of fully additive, transparent, flexible electronics. And now we're sharing them with you. You may be looking to develop your own proof of concept or cost-effective prototypes. You may even be ready for full-scale production. Whatever your vision, our contract manufacturing services offer our groundbreaking EKTAFLEX Functional Printing Solutions — plus our world-class cleanroom facility — to propel you on your path, without you having to risk major capital investment.
We can support you in producing
Conductive traces
Active circuitry
Surface heating
Capacitive sensing
Antennas, RFID, IoT
RF shielding
PV/solar cleaning
Other micro-wire applications
Working on something else? Surprise us.
What we'll do
We'll image your designs in ultra-high resolution to flexographically produce features that simply aren't possible with screen or inkjet printing — in production quantities. We'll even do this on both sides of a substrate simultaneously.
How we do it
KODAK EKTAFLEX Plates can be used to print ultra-high-resolution features that can be finer than a human hair, on a wide range of substrates, from paper and plastic to metal foils, film and glass. This is the technology we've proven in our own manufacturing operations.
We use a highly productive, cost-effective roll-to-roll process to create conductive copper and non-conductive patterns on flexible substrates that can integrate into your products. Our extremely high resolution imager creates patterns at 12,800 dpi. We use a customized flexographic press to reproduce the patterns on flexible films, and we electroless plate the patterned films with copper and a neutral color passivation layer.
Our contract manufacturing team is here to make sure you get the most out of our experience and assets — turning your electronics design into a fully realized, remarkable, functional product.

If you have your own printing facility, consider using our EKTAFLEX technology in your own operations. Click here to see how Kodak can enable you to print ultra-high resolution for your printed electronics and security applications.
KODAK's Copper Micro-Wires for Transparent RF Applications
Kodak has developed a new manufacturing process for creating highly transparent radio frequency (RF) devices, such as antennas, RF filters, and electromagnet interference (EMI) shields, on flexible substrates. The process also allows for the covert placement of devices without impacting functional performance. Learn more in our white paper.
Transparent Multiband Antenna
Learn how Kodak and HRL Laboratories, with General Motors' initiative in transparent antennas for automotive applications, have advanced transparent antenna technologies through an HRL designed 4G LTE applique antenna, which was fabricated using Kodak's state-of-the-art copper micro-wire manufacturing capability.