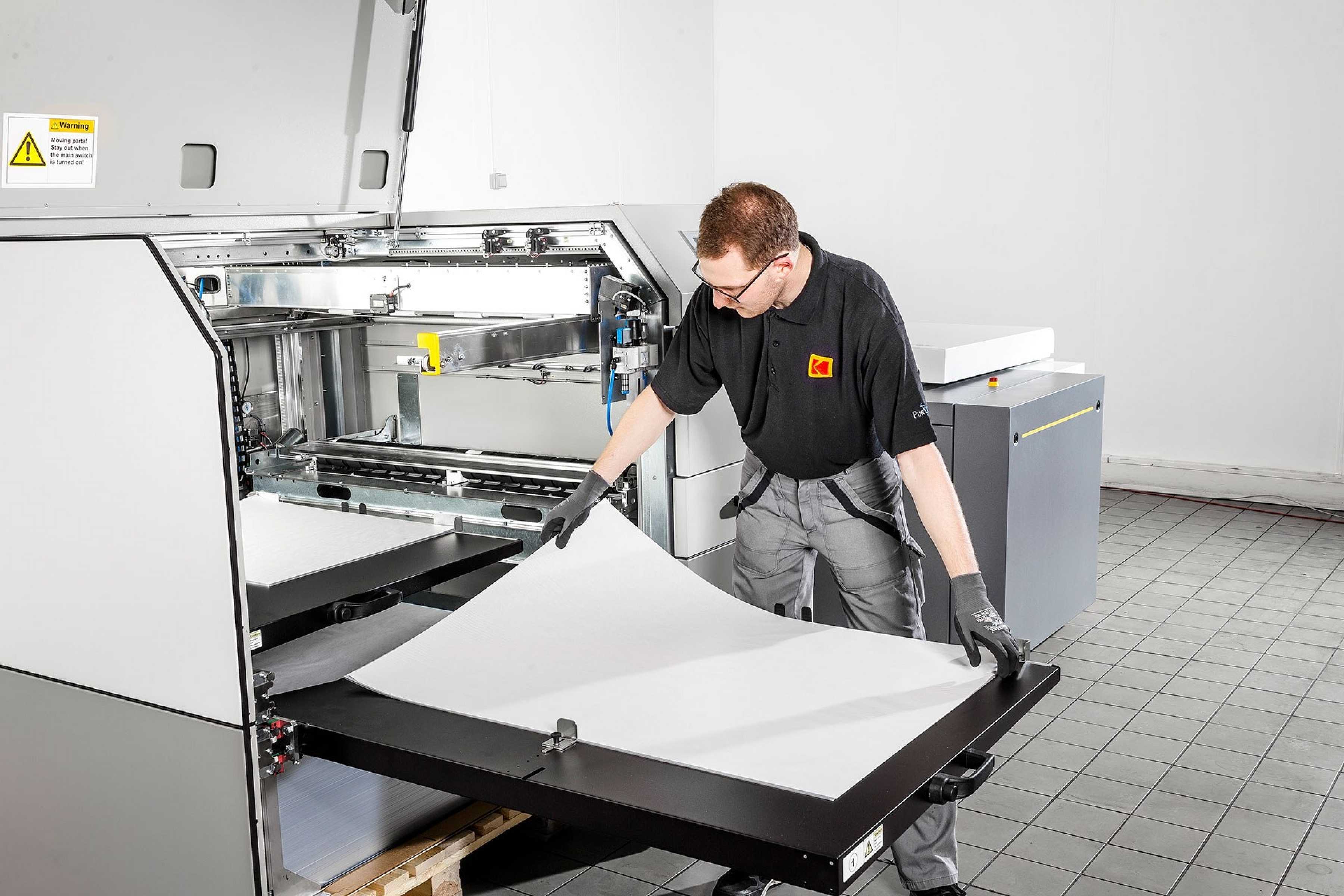 With T-Speed Plus, the name says everything. The 8-up CTP speed option for the KODAK MAGNUS Q800 Platesetter is not only the world's fastest, but it also boasts a vast range of extra features that may revolutionize your offset workflow.
If you're looking to get even greater productivity from your offset workflow, the competitiveness you can get from increasing your computer-to-plate (CTP) throughput with T-speed Plus is worth a look. The KODAK MAGNUS Q800 with T-Speed Plus is the world's fastest 8-up computer-to-plate (CTP) system, and it boasts the kind of performance that's incredibly hard to ignore.
T-Speed Plus was introduced in late 2022 to boost the speed of the high-performance KODAK MAGNUS Q800. It now offers a throughput of up to 84 B1 or 8-up plates per hour (pph). That's equivalent to one plate every 42.9 seconds.
T-Speed Plus is Kodak's third speed upgrade for the MAGNUS Q800 in four years, and with it comes a number of advantages over previous models. For starters, T-Speed Plus is 40% faster than the Z-Speed generation of Kodak platesetters introduced in 2018. This increase in speed is 20% faster than the speed of the closest two competitors, so you can produce more plates in less time, cut costs, and meet tighter deadlines with T-Speed Plus than other CTP devices.
Also noteworthy is that T-speed Plus is supported by all levels of automation, including the newly-updated Multi-Pallet Loader (MPL), which can hold up to 3,200 plates in up to four formats, and comes with several other automated features that can help to reduce human error.

Higher output for higher profit
Increasing your speed enables you to achieve greater output, which can have a positive impact on your business in many ways. An increase in print output may mean more revenue, which can help your business grow and pursue a broader range of opportunities. It can also mean you reduce costs per job produced, which has a further positive impact on your profits.
The enhancements introduced with T-Speed Plus will also benefit your customers. By consistently meeting print deadlines, no matter how demanding, you invite loyalty with existing customers, and send out an incredibly compelling message to new customers seeking dependable quality. And with the increased flexibility you get from greater output, you prove you're able to complete a wider range of customer requests. By meeting a broad range of needs, you can win new clients and expand your customer base. This has the potential to strengthen your reputation and keep you ahead of the competition.
Automating prepress production helps reduce waste and costly errors while optimizing throughput and efficiency. With T-Speed Plus for the MAGNUS Q800, Kodak has managed to make the world's fastest CTP system even faster — helping you become more efficient, more productive, more accurate, and potentially more competitive and profitable, too.
Download the KODAK MAGNUS Q800 Brochure to learn more about the KODAK T-Speed
To get more information from a Kodak Sales Rep, provide your contact details to receive a call.