Print Perspectives
Sustainability Benefits for Everyone: KODAK SONORA X Process Free Plates adds Real Value to La Papelera's Strategy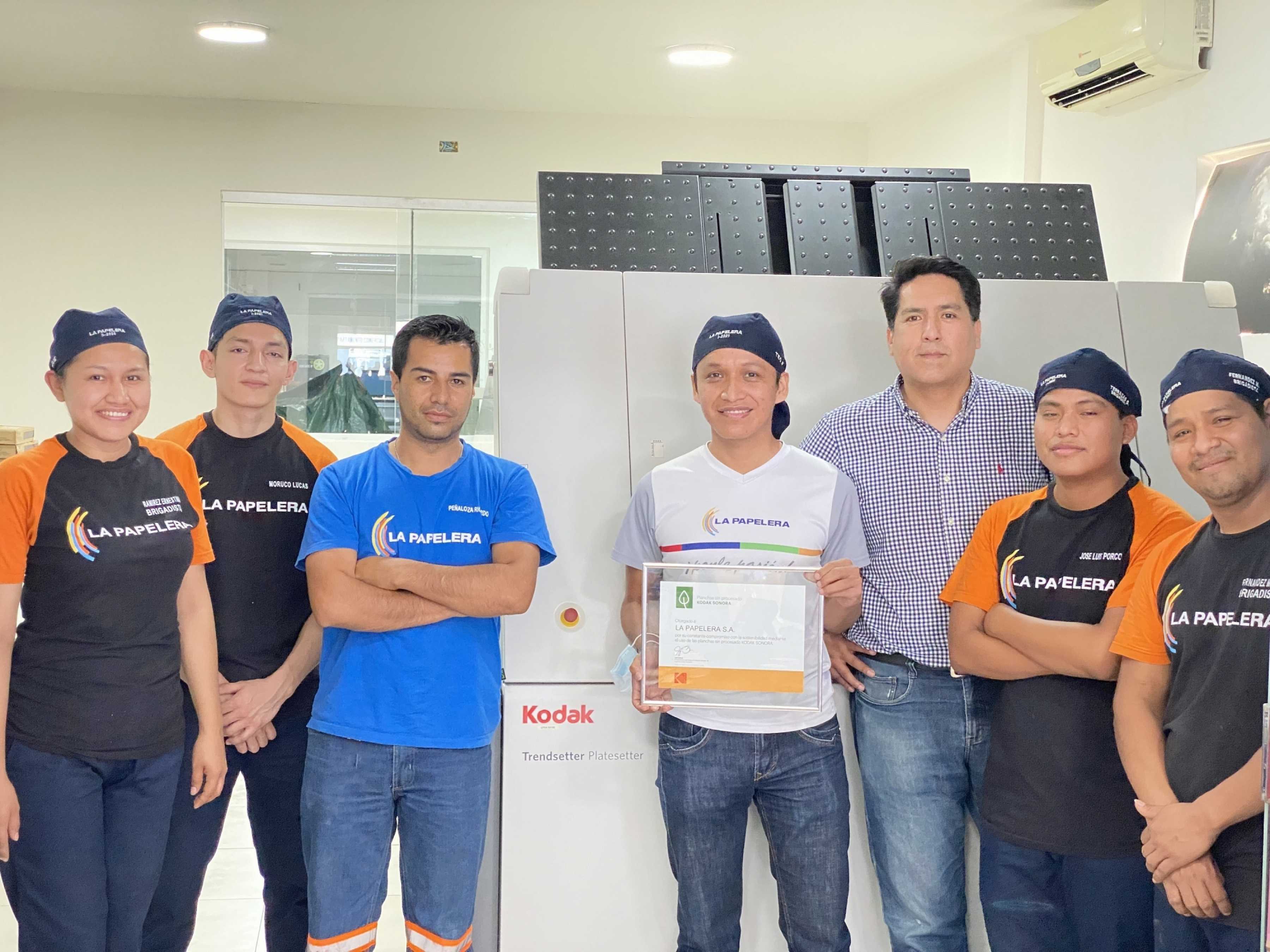 KODAK SONORA Process Free plates have been accumulating success stories with more than 5,000 customers across five continents. Kodak's technology helps companies adapt to new market trends and meet their customers' expectations of sustainable business practices.
One such case is La Papelera, whose more than 90 years in the Bolivian printing market demonstrates a successful trajectory in the production segments of corrugated cardboard, bags, paper bags and offset printing for packaging, mainly in the pharmaceutical and food categories.
In addition to being a pioneer and leader for its products, La Papelera's corporate strategy also includes community engagement with a focus on environmental responsibility. As a result of their sustainability efforts, La Papelera has consequently been recognized with a SONORA Green Leaf Certificate.
"The world and the market is increasingly oriented towards an approach to environmental care. This has been part of our philosophy, but now we must explore further and find the best paths to sustainable production; using SONORA X Process Free Plates is one of those steps and we consider this a significant step forward as a company," says Miguel Lucero, Operations Manager for Packaging at La Papelera.
La Papelera's corporate mission includes acting in the best interests of Bolivian society and the environment, and so choosing a sustainable solution for its print production was a natural next step.
"We see any action for a more sustainable production as an investment because we know that this will bring us benefits in the medium and long term. It is important to define a solid strategy, with clear definitions and knowledge management to implement concrete actions that allow us to reduce our impact on the environment. Using KODAK SONORA X Process Free plates is a clear example of this added value."
The positive impact of using KODAK SONORA Process Free Plates goes beyond the benefits of the production itself, such as less waste by providing high quality and stability and minimizing the need to re-image a plate. By completely eliminating the use of the processor and the chemicals and water used, SONORA X extends sustainable benefits to the environment by drastically reducing water consumption and electrical energy, and completely eliminating the use of chemicals linked to processing plates and cleaning, saving you time and money in the pressroom.
According to Lucero, addressing the sustainability theme is meeting the interests of society as a whole – that is, of the entire production chain, from brand owners to consumers in general.
"Our customers in the pharmaceutical and food sectors consider it important that printing is not harmful to consumers or their product. And, by eliminating the chemical products from the process, we can achieve this objective", he emphasizes.
"In this regard, KODAK SONORA Process Free Plates plays a fundamental role."

Kodak and SONORA are trademarks of Eastman Kodak Company.