Print Perspectives
KODAK NEXFINITY Digital Press sets a new standard at Grammlich in short-run book production for buch.one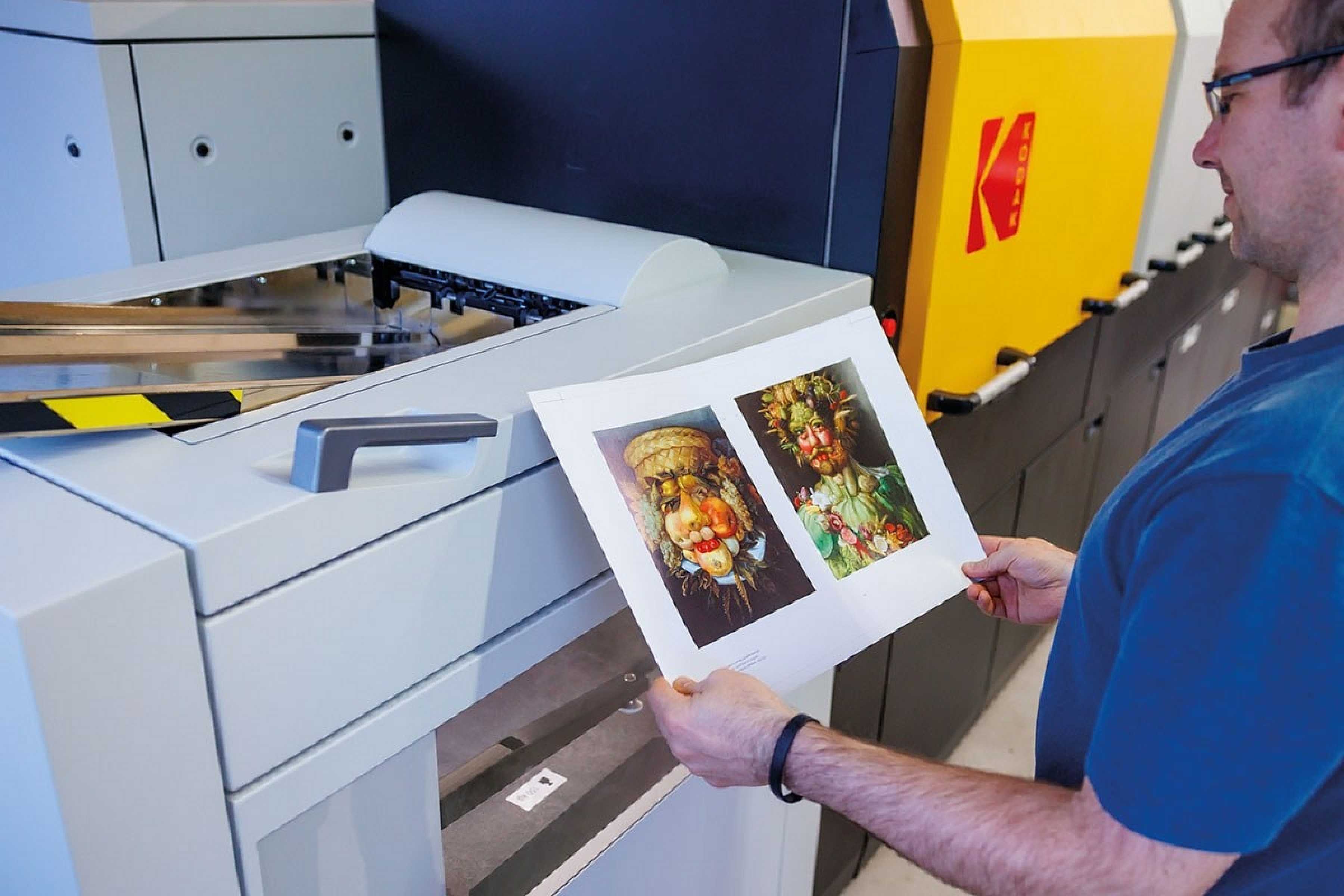 Offset printer Karl Grammlich of Pliezhausen in southwest Germany specializes in the production of high-quality books. The family-owned firm, led by the third generation of leaders Regine Grammlich and her cousin Daniel, will be celebrating its 75th anniversary this year.
A passion for books
The printer's 40 employees, including five trainees, produce exclusive, upmarket books in large-format sheetfed offset (up to 164 x 121 cm) for German and international publishers (40 and 60 percent respectively). Several decades of expertise are reflected in digital printing services launched in 2016 for made-to-measure books in short runs with a variety of paper, binding and enhancement options. Grammlich markets these services via the online portal buch.one. Apart from publishers and book designers, the digital service's client base is comprised of marketing departments, museums, institutions, resellers and private individuals.
Ever since buch.one launched, two digital printing systems were used for digital book production. "For us, the ability to offer made-to-measure – and frequently lavish – books with custom options in small to medium volumes goes hand in hand with a commitment not just to diversity but also to lead with premium quality. That's why it's imperative that we stay permanently at the cutting edge of technology," the company's management explains. The consequence was the replacement of the previously used digital printing technology with a KODAK NEXFINITY Digital Press, which went into operation at the beginning of 2022.
Exquisite digital production technology for exquisite short-run books
Grammlich has been a Kodak customer for many years now and utilizes a large-format KODAK MAGNUS Platesetter with MCU automation as well as KODAK PRINERGY Workflow and KODAK TRILLIAN SP Plates. As they were looking to take the next step in digital printing technology, the investment in the NEXFINITY Digital Press was by no means a foregone conclusion. On the contrary, the two Managing Directors were, for a while, toying with the idea of an inkjet press instead. Several different currently available presses – both inkjet and toner – were therefore subjected to close scrutiny by one of their employees who has vast knowledge and experience in digital print. They also had test prints of their own files made on a number of digital press models. Daniel Grammlich's verdict was clear: "Although we're in no doubt that the future lies in inkjet, the sheetfed inkjet presses on offer right now weren't entirely convincing. The proof is in the details. And we ruled out alternative toner printing systems because either they don't support the sheet formats we need for thread-stitched books or the print quality was inferior." Regine Grammlich adds, "We eventually opted for the NEXFINITY Press as, in our opinion, it's the best press in the market, which also won us over with its low printing costs and wide selection of substrates."
Technology with added value
Grammlich chose the NEXFINITY Digital Press in the Ultra configuration, featuring an imaging system that works with 1200 x 1200 dpi. The exceptional quality is principally due to the color depth of up to 8 bit for 256 levels of exposure at this higher resolution. The NEXFINITY Digital Press is equipped with a long sheet feeder for a maximum sheet length of one meter, which Grammlich will use first and foremost for dust jackets and soft covers with flaps. In addition to Light Black KODAK HD Dry Ink, which ships with the Fifth NEXFINITY Imaging Unit as standard, the book printer also came down in favor of the Opaque White Dry Ink as well as the Clear Dry Ink. "Graphic artists and book designers love white because they can use it to achieve special design effects. And we were more impressed by Kodak's white than was the case with solutions from other suppliers. You can't get whiter than that," Regine Grammlich comments.
As well as printing orders for books received via the online store buch.one, the NEXFINITY Digital Press will also be used for book samples and advance copies where the main runs will later be produced in offset. The first few runs have confirmed Daniel Grammlich's feeling that the quality of the results is "worlds apart" from anything else his company has come up with to date using digital technology. "The NEXFINITY Press delivers a quality that we have to work hard to achieve and maintain in sheetfed offset," he observes, and his cousin Regine remarks in conclusion that, "Thanks to opaque white and clear coating, we're now in a position to offer new digital options, reduce our delivery times through higher productivity, and excite our customers more than ever with NEXFINITY Press's outstanding print quality."
Kodak, 2022. Kodak, Magnus, Nexfinity, Prinergy and Trillian are trademarks of Kodak.