Print Perspectives
Medienmacher AG Accelerates Business with KODAK NEXPRESS Digital Press
The digital press prints personalized and non-personalized jobs, typically mailshots, flyers, brochures, corporate stationery and business cards.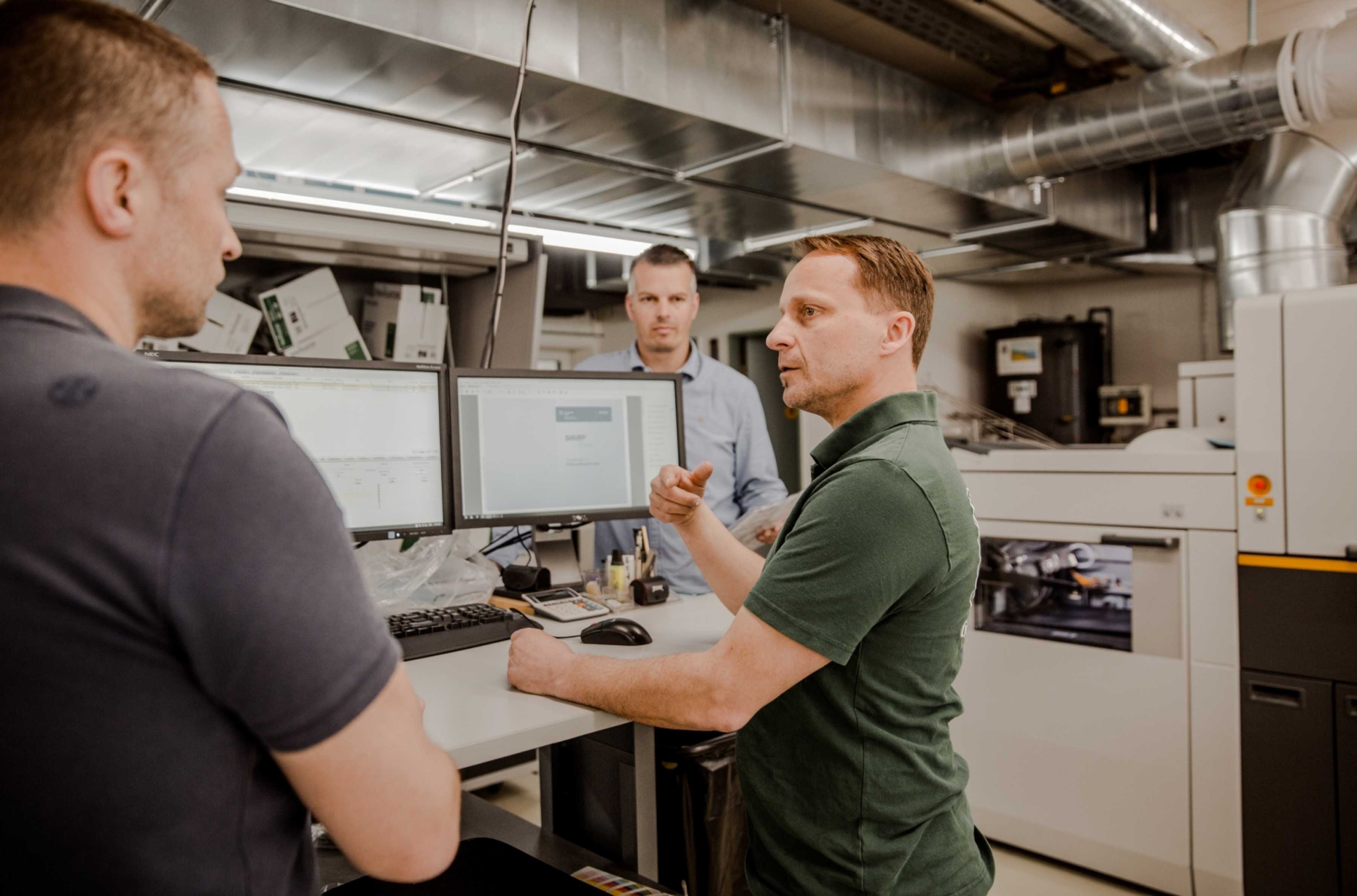 The desire to clearly differentiate its portfolio of print services from those of its competitors is one of the key reasons cited by Medienmacher AG of Muttenz, near Basel in northwest Switzerland, for the investment in a KODAK NEXPRESS ZX3900 Digital Press. Another was the transformation from being a classic "print first" to a "content first" provider, which makes simultaneous use of multiple media channels for its customers.
This transformation is closely linked to the reorganization which accompanied the merger of Schwabe AG's Print, Media Production and IT divisions under the Medienmacher umbrella on January 1, 2019. In addition to numerous small and medium-sized businesses in the Basel region, the print and media service provider's clients include leading players in the pharmaceutical and medtech industries as well as in the health sector.
More than 530 years of tradition on course for the future
The firm's origins in the printing trade go back to the year 1488. Today, Medienmacher – with 86 employees assigned to four different teams for commercial products, websites & apps, publishing solutions and marketing – offers overarching competencies in print, digital applications and cross-media. Digital printing occupies an increasingly important role here. This is due, on the one hand, to the general trend toward greater personalization, and on the other, to the implementation of the new "content first" strategy, leading to smaller and more strongly focused print runs.
The company's offset and digital production activities were restructured as part of the transformation process. A new, five-color sheetfed offset press in 750 x 1060 mm format with coater was installed in summer 2018, followed by the NEXPRESS ZX3900 Digital Press in September. The digital sheetfed press from Kodak was acquired to expand digital business, which began in 2011.
Kuno Reinhard, a member of the Medienmacher Strategy Team and Senior Business Manager responsible for publishing solutions, explains: "We wanted to invest in new digital printing technology that would allow us to set ourselves apart from competitors in the market with additional enhancement options. Digital CMYK alone is no longer an adequate differentiator. We were also hoping to extend our value chain with this investment. In the old days, we had no option but to outsource much of our print embellishment work."
Synthesis of high-quality printing and high quality in-line print enhancement
The decision for the NEXPRESS ZX3900 Press was swayed by the high print quality and, in particular, the multiple options that are opened up by the fifth imaging unit. "Thanks to the Fifth Imaging Unit Solutions, we can deliver more attractive products that add value. At the same time, designers have more freedom to surprise customers with attention-grabbing effects," says Reinhard. "Another thing we like about the NEXPRESS Press is the general sustainability aspect. Advances in technology don't automatically mean a new investment is inevitable; instead, we can simply exchange or add individual components. That way, we can plan longer term for the press without being excluded from technological progress."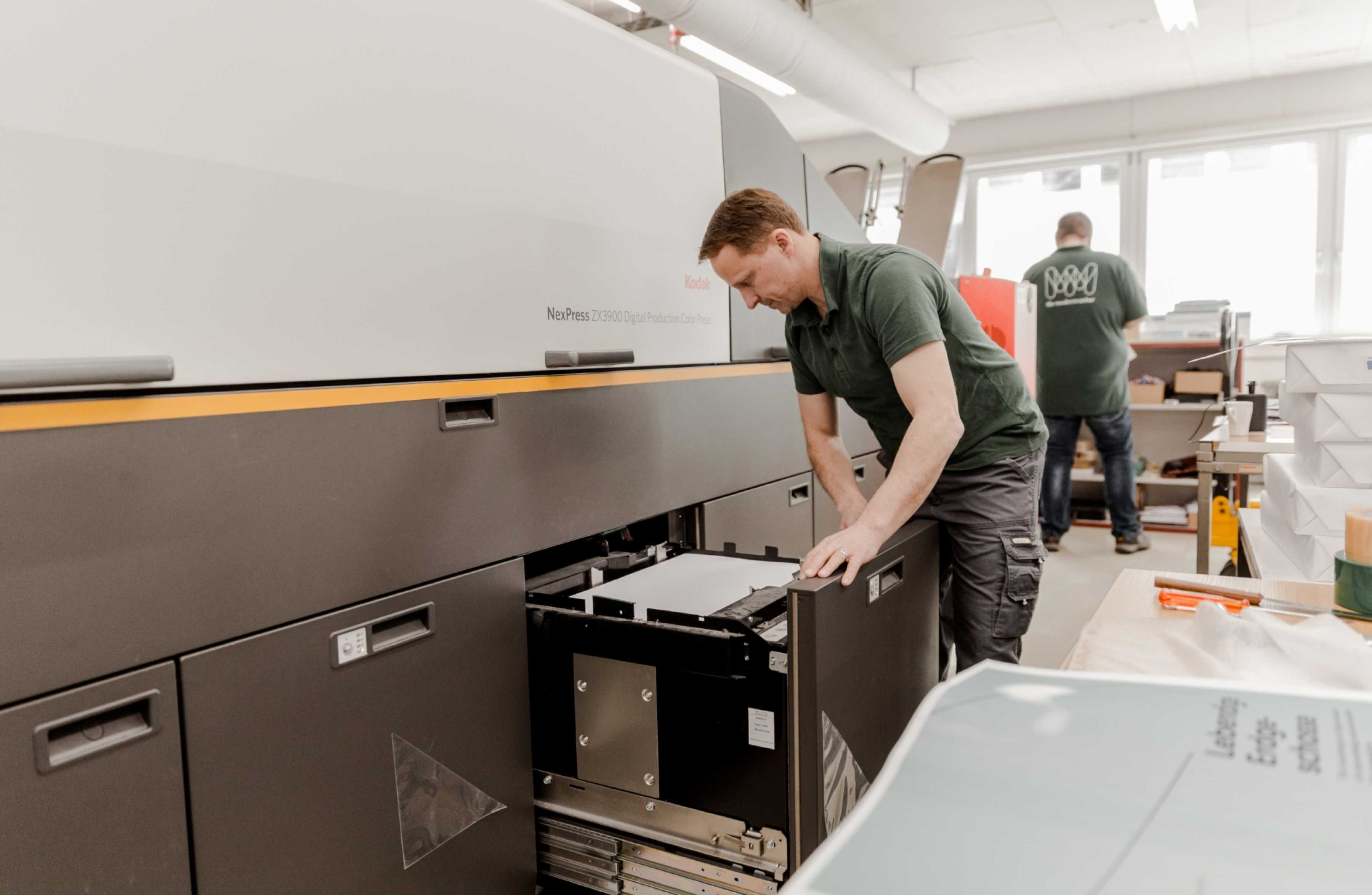 When choosing from the KODAK Fifth Imaging Unit Solutions, the management were influenced by concrete orders which had already been produced by Medienmacher according to similar specifications. Red, green and blue are available as additional colors, for instance, alongside:
Light Black HD Dry Ink for expanding the color gamut and simulating spot colors,
White Dry Ink for maximum opacity on dark or colored substrates,
Clear Dry Ink to give a fully or partially transparent topcoat to the printed sheets or add watermarks,
Dimensional Clear Dry Ink for tactile dimensional printing
and Gold Dry Ink for attractive gold shades and metallic effects.
The Muttenz firm has also upgraded its NEXPRESS ZX3900 Press with the KODAK Substrate Expansion Kit for paper thicknesses of up to 0.61 mm as well as the optional matte fuser roller, which ensures a uniformly matte look. "We're noticing a certain trend toward uncoated papers right now. Thanks to the matte fuser roller, we can guarantee an offset-like look and feel, which to many customers is very important," Reinhard continues. "And talking of offset-like, when we had our new offset press swissPSO-certified based on ISO 12467, we also compared the offset prints with equivalents from the NEXPRESS. It was plain that the results with digital are every bit as good as offset."
Expectations met in every respect
The digital press is used for both personalized and non-personalized jobs, typically mailshots, flyers, brochures, corporate stationery and business cards. Since Medienmacher's NEXPRESS ZX3900 Press is also equipped with the long sheet deep pile feeder, it can print sheets of any size up to 356 x 1000 mm. This format is especially popular for six or eight-page products, folder files or gatefolds.
After six months in production, Kuno Reinhard confirms that the NEXPRESS ZX3900 Press meets the expectations placed in it in every respect: "Its versatility helps us respond faster and more flexibly to customer requirements. We're very happy with the quality we get from the press and also with the ease of handling. Last but not least, there's the good support from Kodak."