Print Perspectives
Got Questions about Going Process-Free? We Have Answers.
Your top questions answered when considering the switch to Kodak's process free plates. Learn how Kodak helps you eliminate waste and increase profits.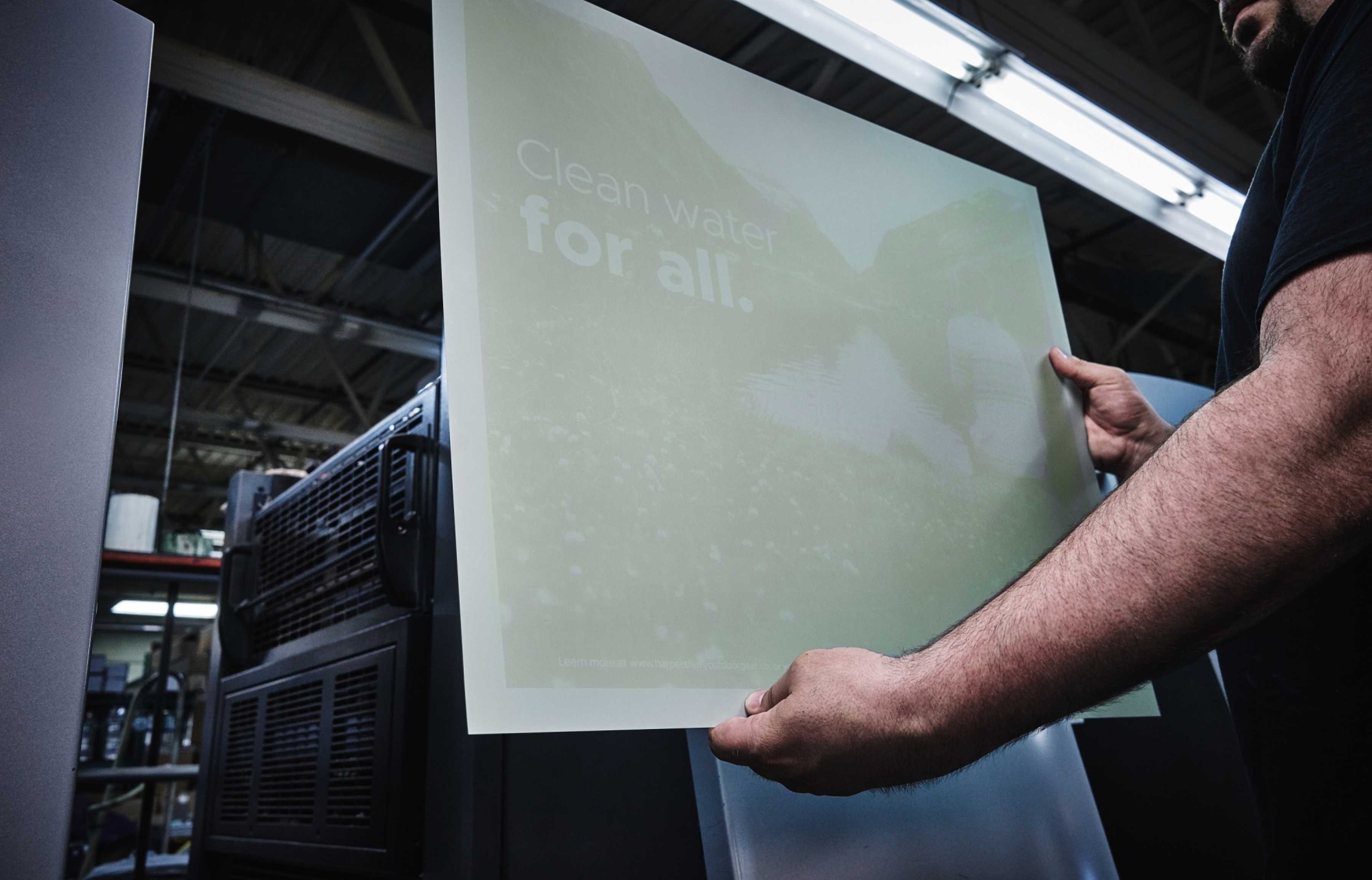 When a new technology passes the early adoption phase in terms of performance and cost to implement, acceptance rates evolve quickly – especially when economic drivers change, or pain points increase.
Today, the Print industry is experiencing rapid change and new challenges that are accelerating the shift to new innovative technologies that eliminate waste and increase profitability.
With the launch of KODAK SONORA X Process Free Plates, the benefits of process free plates became widely accessible to most printers around the world, allowing more of the industry to eliminate all the costs, waste and variability of processing.

Before the launch of SONORA X Process Free Plates in 2018, however, process free wasn't for everyone. With the new technology behind SONORA X Plates, the situation has changed. Because these plates offer longer run lengths (for web and UV) and better FM capability than previous generations of process free plates, they are suitable for a larger range of customers, including:
Packaging
UV
VLF
Newspapers
Small, medium, and large commercial printers
Both sheetfed and web applications
Printers today are transitioning to SONORA X Plates at a rapid pace. Kodak expects one out of every three plates it sells to be process free by the end of 2019, and this number will continue to grow as more and more printers switch to SONORA Plates.
Now the industry is well past the adoption phase, and printers who haven't yet converted to process free plates are becoming educated on the technology and its potential fit within their existing infrastructure and processes. Many more printers are now looking at process free plates as the next logical step forward.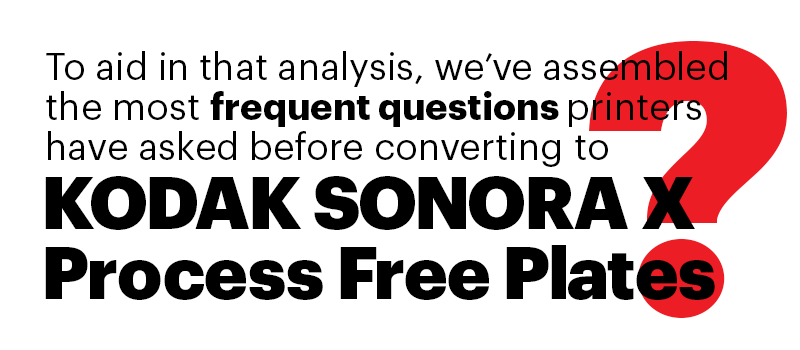 Q: What's special about SONORA X Plates compared with other process free plates?
A: A new breakthrough in technology has made SONORA X Plates comparable to most unbaked processed plates in terms of performance, so they offer long run lengths, fast imaging speeds, excellent resolution capabilities, good scratch resistance, and UV capability.
Q: Will I need to buy any new equipment, such as a new platesetter?
A: SONORA X Plates are qualified on all KODAK Platesetters and many third-party platesetters. They deliver maximum throughput capabilities on all but the fastest platesetters and work with both manual and fully-automated CTP systems, so they can keep up with fast-paced production environments.
Q: What is the maximum line screen achievable with SONORA Plates? Also, can I use SONORA Plates to image stochastic screening?
A: SONORA X Plates are rated for 1 to 99% @ 200 lpi, and up to 450 lpi is possible, dependent upon the capability of the imaging device. The consistent and durable nature of the SONORA Plate coating was specifically engineered to handle the rigors of high-resolution screening on a daily basis and can image 20-micron stochastic screening, dependent upon screening algorithms and device. For optimum FM performance, Kodak recommends KODAK STACCATO Screening on devices with KODAK SQUARESPOT Imaging Technology.
Q: How does SONORA X stack up in plate handling?
A: SONORA X Plates were designed to resist handling damage as well as most unbaked wet processed plates. All plates are susceptible to scratching, so following best practices to avoid scratching is important for any plate.
Q: What about image contrast and image contrast stability?
A: The image contrast for SONORA X allows the printer to read 10-pt type and make a visual plate identification. The image contrast stability for this plate is: 2 hours in office light, 16 hours in C20 UV-cut safelight, and 48 hours in G10 yellow safelights.
Q: What are the main benefits I will see in the pressroom when switching to SONORA X Plates?
A: The quality of plates coming out of prepress will be more consistent, now that the variability of processing is gone. The plate is no longer a variable you have to worry about when running the press. Many customers benefit from savings through shorter makeready and fewer remakes. Because of the increased stability of process free plates compared to processed plates, many printers are also seeing more consistent and accurate colors in the final print output.
Q: Are SONORA Plates compatible with sheetfed presses and web presses? What about UV?
A: Yes. They work with both sheetfed and web presses. SONORA X Plates are qualified for up to 400,000 impressions for heatset and 200,000 for sheetfed applications, as well as 75,000 impressions with UV applications (including conventional UV, low-energy UV and LED-UV).
Q: Will I need to change any of my other materials, such as inks, fountain solutions, substrates, or press chemicals?
A: SONORA Plates are compatible with a wide range of inks, fountain solutions, substrates, and press chemicals.
Q: What about DOP and ink receptivity?
A: With fast DOP and excellent ink receptivity, SONORA X is faster to make ready than many wet processed plates and superior to most process free plates in the market.
Q: Is it difficult to transition to SONORA X Plates?
A: Not at all. Kodak's Technical Sales and Service Teams work with customers around the world to guide them through switching to SONORA X Plates across a multitude of press conditions, workflows and infrastructures. Sheetfed, web, newspaper, packaging and even UV printers can now switch to SONORA with relative ease and peace of mind.
Q: What plate sizes and gauges are available for SONORA X?
A: SONORA X comes in all common sizes and gauges, including 0.40 mm gauge and VLF plate sizes.
If you're interested in learning more about SONORA X Plates and how they can benefit your printing operation, visit www.kodak.com/go/sonora or fill out the form below to connect with a Kodak representative.