Print Perspectives
Drukkerij VD chooses KODAK SONORA X Process Free Plates
KODAK SONORA X Process Free Plates provide environmental benefits including no waste water, no volatile organic compounds, and reduced energy consumption.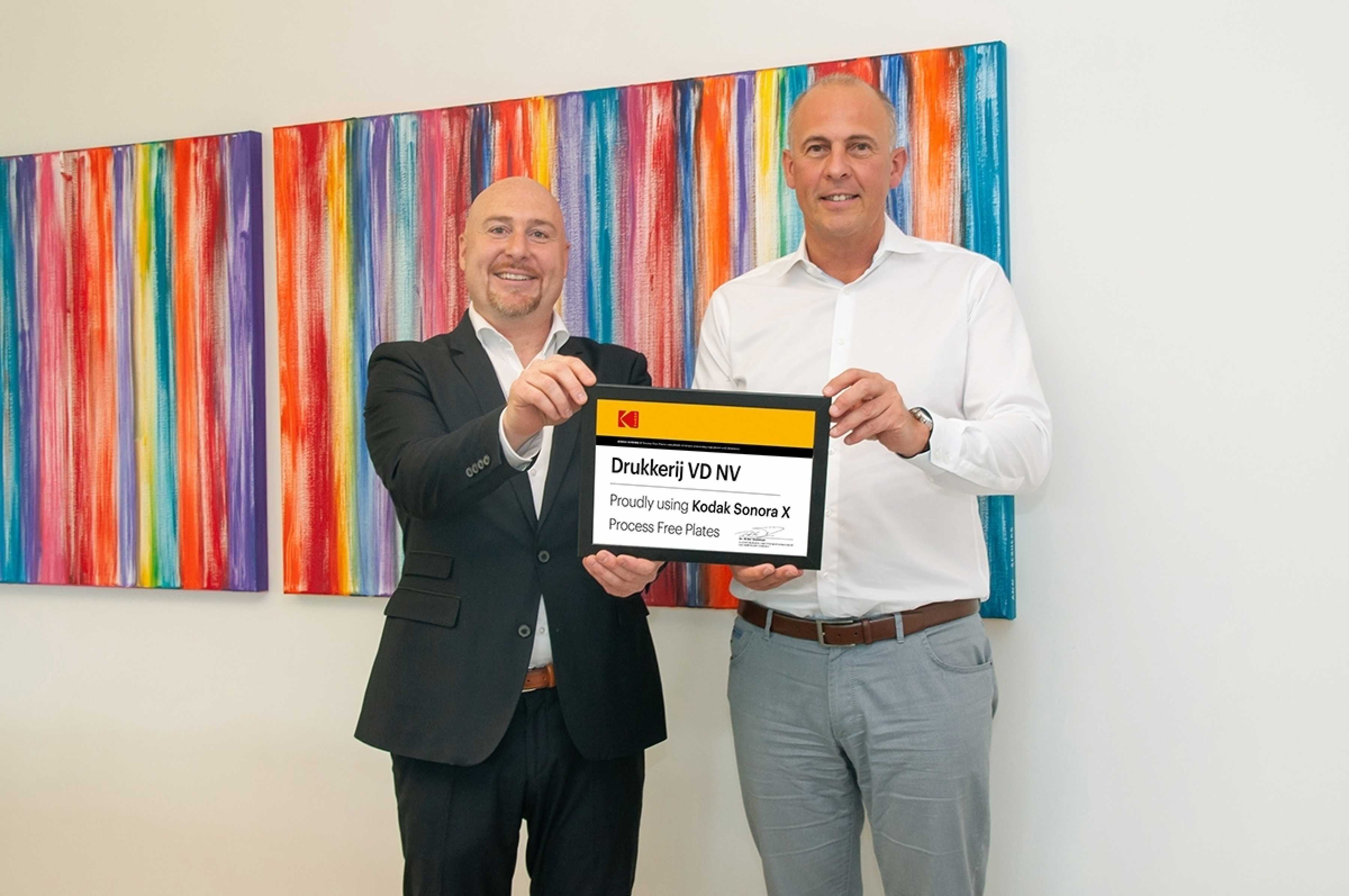 Drukkerij VD in Temse, a commercial printer based in Belgium, has switched completely from conventionally processed printing plates to KODAK SONORA X Process Free Plates. "It was quite a step, we didn't take it lightly," says Managing Director Marco de Ridder. "Before we switched to KODAK SONORA X, we were already working with conventional KODAK plates. Our PRINERGY workflow solution is also from the same brand. We've been working with this for a long time and we're very satisfied with it. Of course, as a printing company today, you can't do without this. You need a good workflow to process all incoming digital files automatically. PRINERGY excels in this field and guarantees complete process control."
Discovering the benefits of process free
Marco de Ridder: "When switching to process-free plates was discussed here, we had to be persuaded. We did our research to determine if process-free plates were a good fit for us by means of extensive testing and also by exchanging information with fellow printers, who were already using process free plates. We were primarily motivated by the environmental benefits of SONORA Plates. The plates need no chemistry. That's not only good for the environment, but for our employees. Also, developing conventional plates requires a lot of water, while SONORA Plates don't require any water.
We're now used to the KODAK SONORA X process-free plates, and like them very much. We've said goodbye to our plate processor, which has definitely saved us money In addition, the periodic maintenance required extra hours, which we can now use in the production process. When we were making the decision to switch, we also noted that SONORA Plates would have other environmental benefits, such as no waste water, no volatile organic compounds, and reduced energy consumption."
Environmental benefits
"The transition to 'process-free' is a completely different way of working," says Marco de Ridder. "After exposure on the CTP device, the plates go directly to the press where they are then mounted. The switchover to imaging, mounting and printing was made without any problems. For the optimisation of the printing presses, we called on the prepress specialists from AtéCé Graphic Products. They helped us tremendously, so that the changeover took place almost without any loss of production. However, our people have had to get used to the fact that process-free plates behave slightly differently on the press at start-up. Looking back, I can only say that the changeover went well and we have no regrets. In addition to the economic benefits, we attach particular importance to the environmental benefits. At Drukkerij VD, sustainability is second nature. We're happy to commit ourselves to this, and process-free offset plate production with KODAK SONORA X fits in well."