Print Perspectives
Three things you need to know about CTP remote monitoring
Need to meet demands around the clock? Apps are helping to drive a revolution in fully flexible printing. Here's how…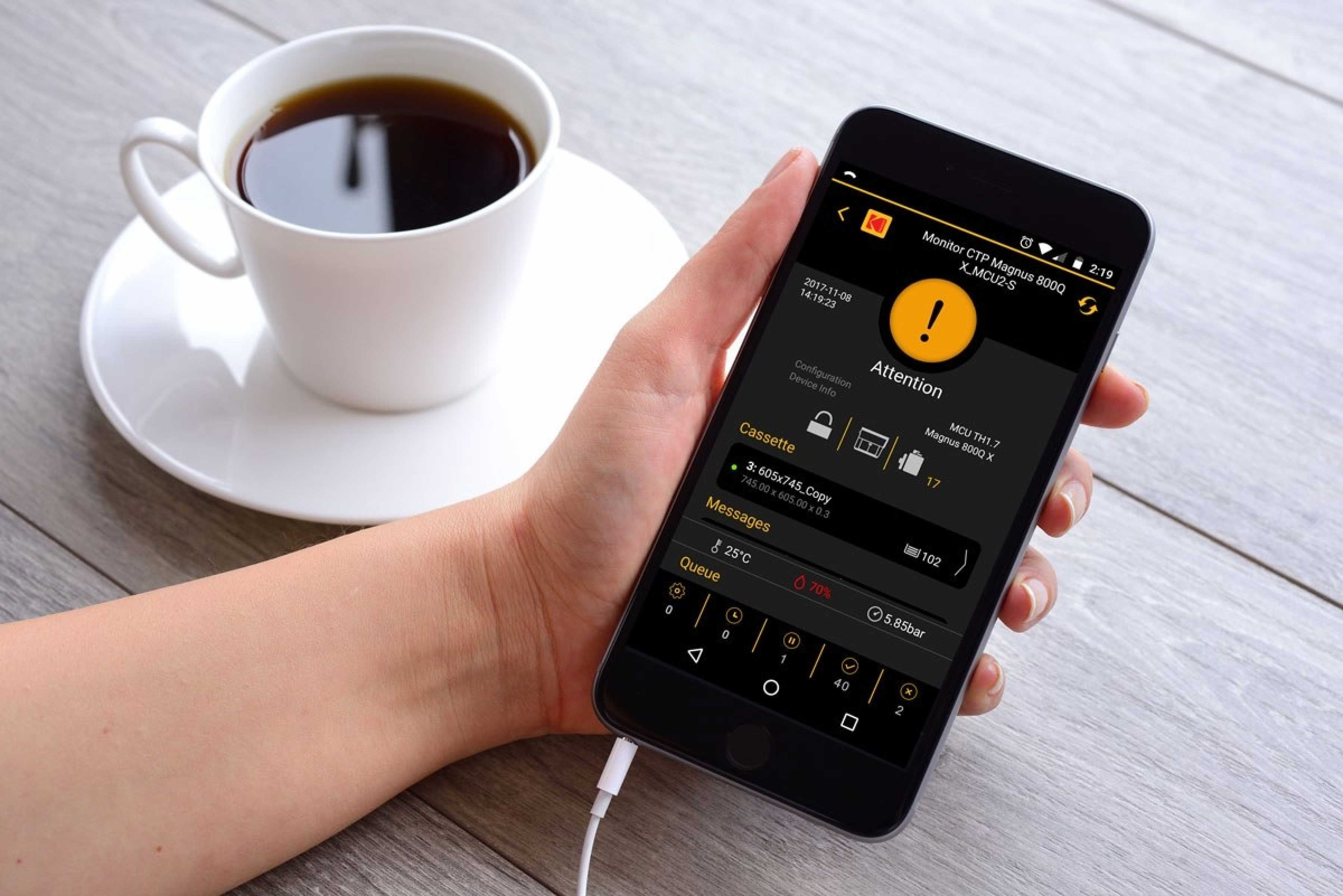 With today's clients demanding greater speed, consistency, and quality of print — often to even tighter deadlines — print shops may find themselves operating for longer hours, potentially even printing 24/7. This can stretch critical parts of the printing process, like plate making, which can sometimes be managed with the help of remote monitoring.
The unique KODAK Mobile CTP Control App offers the latest in remote monitoring technology, designed to help you streamline and empower your plate making operation. It puts a suite of dynamic controls in your hand, to make your computer-to-plate (CTP) process truly flexible. Data dashboards give you a comprehensive picture of your jobs, both current and historical, while push notifications alert you when issues need your attention.
This is the next level of CTP management, built for a fully flexible age. With the KODAK Mobile CTP Control App in your hand, your machines will be running more efficiently, helping your business meet your clients' changing needs. And it will free your team to focus on other tasks, potentially bringing even more revenue to your business.
Here are three key things you need to know about CTP remote monitoring.
1. It lets you troubleshoot issues before scheduling an appointment
Efficiency is a critical factor in print today, so it's paramount to maximize the amount of time that machines are operational. The more they're producing high-quality print, the more they're making you money.
Kodak has built an industry-leading team of remote service Specialists. With our team of Specialists solving issues remotely, 45% of customer issues are typically resolved without having to visit the printers in person, minimizing any potential downtime as issues are resolved immediately.
But the best solution is to proactively identify issues before the need to call for support. This happens with the KODAK Mobile CTP Control App, which can monitor up to 10 Kodak CTP devices and sends you a push notification to alert you as soon as a device needs attention. So, no matter where you are, you can know immediately that something has gone wrong, investigate any issues, and potentially solve them, before calling on us to help.
Proactive troubleshooting keeps your presses up and running even longer.

2. It gives you insight into your operation even when you're on the move
In addition to showing whether a CTP device is running or stopped for any reason, the KODAK Mobile CTP Control App lets you check the status of your print jobs, with just a glance at your mobile device. This helps reduce the amount of wasted time – either because people are hanging around waiting to load plates, or because the machine is sitting idle, waiting for them. Everything can happen just when it needs to, and that frees your team up to focus on adding value to the business in other ways, whether that's working other jobs, or following up on new opportunities.
The KODAK Mobile CTP Control App gives you a comprehensive real-time picture of your plate making operation, with detailed information on current jobs, jobs in the queue, plate usage, environmental conditions, and more.
And that detail extends to the bigger picture, too. With the Mobile CTP Control App, you can access customizable reports on current and historical performance. This helps you make informed decisions that will further increase your plate making productivity and efficiency. For example, you can use the data to see how long each job is taking to print, which can help you to optimize your workflow.
3. It keeps getting better
Kodak is and has always been at the forefront of print innovation, and we're committed to providing the best possible user experience. As well as being easy to use, the Kodak CTP Mobile Control App comes loaded with features to help you streamline your plate making operation, all with a clean and intuitive user interface. It also includes a variety of helpful tutorials and support resources that make it easy to get started.
But we're not finished there. The KODAK Mobile CTP Control App is going to keep improving, with new features and developments to keep it current, improving the user experience and boosting its functionality even further. These include superior reporting capabilities, and enhanced security features to ensure your users' data remains protected.
While the KODAK Mobile CTP Control App is currently compatible with KODAK MAGNUS, KODAK ACHIEVE, KODAK GENERATION NEWS, and KODAK TRENDSETTER Platesetters, it is also accessible through upgraded software solutions available on legacy KODAK CTP devices, as well. The entire KODAK CTP portfolio is supported by the KODAK Mobile CTP Control App, so despite the age or model of your equipment you have instant visibility that allows you to be proactive and responsive.
Get access to the app: KODAK Mobile CTP Control App
Learn more about KODAK Mobile CTP Control App, watch this video explaining what it can do for you: