Print Perspectives
CTP Automation in the Extreme
Frankfurt printer Zarbock invests in a KODAK MAGNUS Q800 Platesetter and KODAK Automatic Pallet Loader in a highly automated CTP and plate logistics line.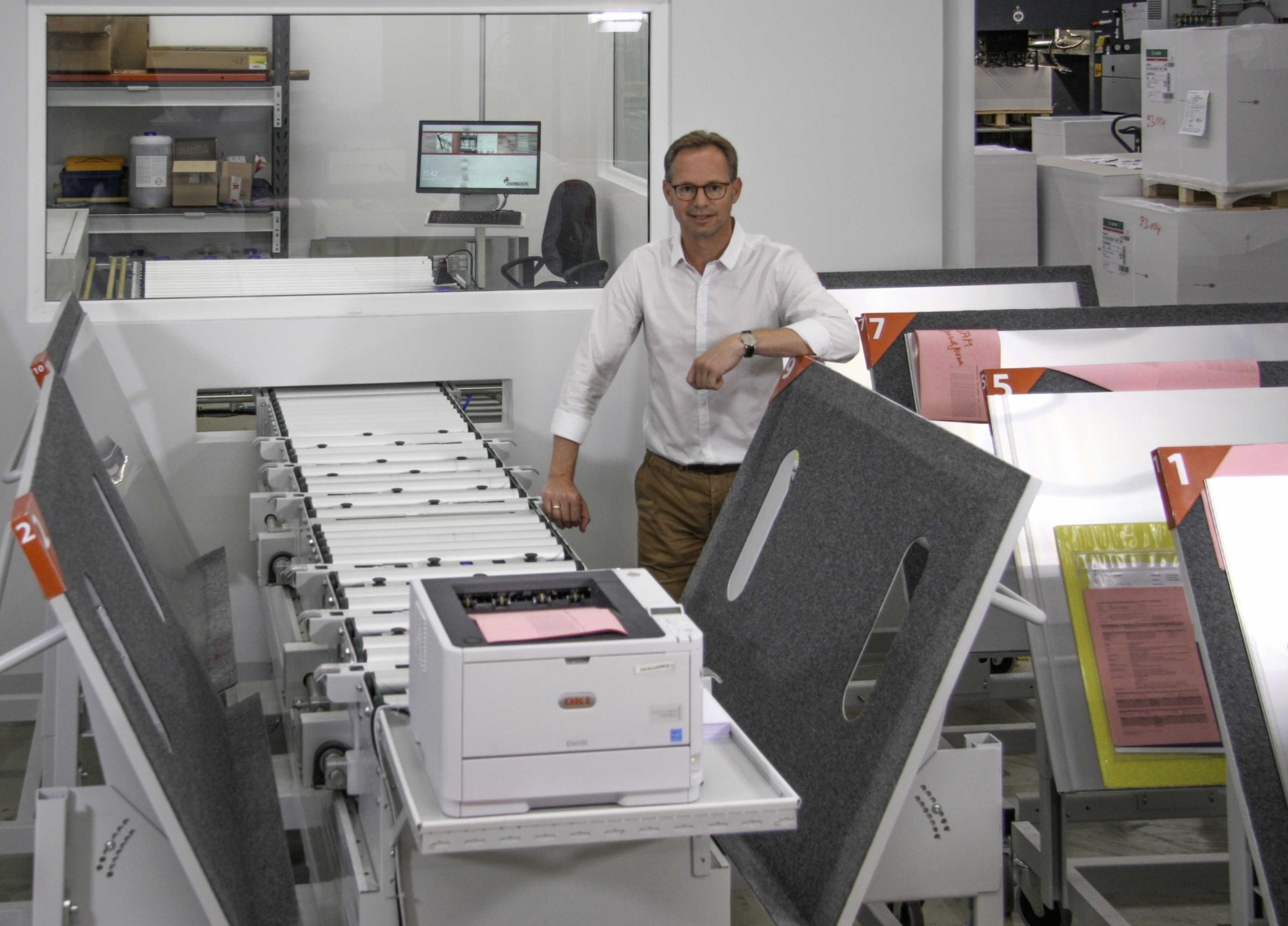 Zarbock, a printing and publishing house in Frankfurt, Germany, has red as its corporate color, yet the company is a model of green printing. Managing Director Ralf Zarbock and his 54 employees have been committed to ecological business principles since shortly after the turn of the millennium. Optimized production processes, resource conservation, recycled materials, and sustainable energy use have been top of the agenda for a decade and a half now. In the meantime, Zarbock has received numerous certifications and awards for production using eco-friendly materials, energy saving and recovery, carbon neutral printing, and special achievements in addressing the challenges of environmental protection.
High performance commercial printer
Established in 1924, Zarbock is today specialized in magazines, brochures, financial reports, catalogs, books, folders, flyers, posters, mailshots and other types of advertising material. Without exception, these products are created exclusively on the premises – in many cases with complicated print enhancement options. Apart from industrial firms and public authorities, the customer base also includes leading providers of financial and insurance services as well as trade associations.
Zarbock produces in two shifts on sheetfed offset and toner based digital presses. Compliance with high quality standards – the Offset Printing ProcessStandard (PSO; ISO 12647-2) and the Digital Printing ProcessStandard (ISO 12647-8) – is certified for both of these printing processes, and adherence to the PSO criteria is additionally monitored internally on a regular basis. Offset production takes place on two manroland DirectDrive presses in 740 x 1040 mm format: one five-color with a coating module and one ten-color with perfecting option. Only a single plate format is in use throughout the company, in other words. Economical production is possible in offset upward of 200 copies. According to Robertus Hässler, Operations Manager, this is due to Zarbock's intensive digital networking as well as press options to reduce makeready time, and ultra-efficient job preparation and planning.
The daily plate consumption is around 250 on average, with up to 400 plates required on some days. Broadly speaking, this was the capability specified for the new platemaking technology. Action was urgently needed because the plates were imaged on a ten year-old thermal CTP system. The manufacturer had already discontinued various electronic components for this particular platesetter, so that there was likely to be a shortage of spare parts if ever repairs were necessary. The Zarbock management therefore decided to invest in new CTP technology offering the highest possible degree of automation along with automated plate logistics from prepress to pressroom.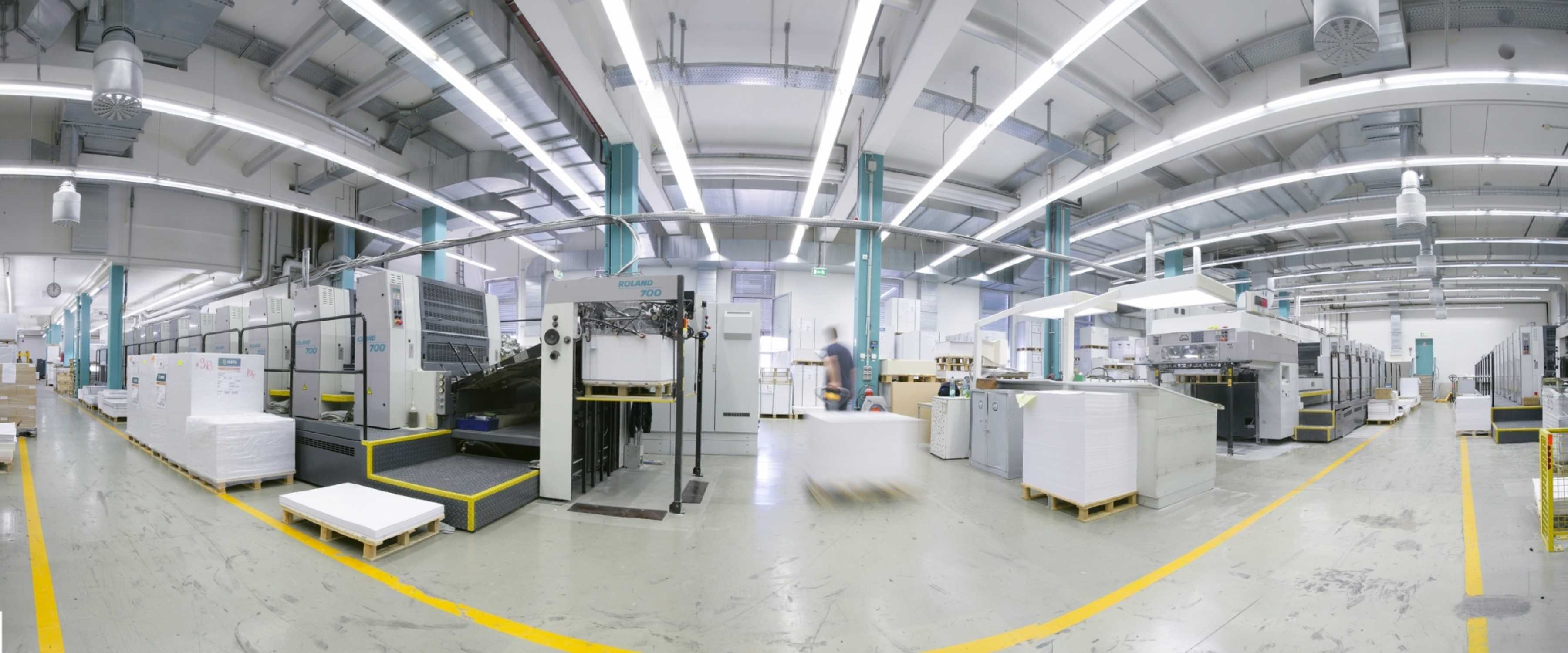 KODAK MAGNUS Q800 Platesetter with APL is part of a new CTP line
They opted for a KODAK MAGNUS Q800 Platesetter, which utilizes KODAK SQUARESPOT Imaging Technology. The X speed model of this platesetter has a throughput of up to 45 plates per hour. A KODAK Automatic Pallet Loader (APL) feeds the CTP system with plates from the pallet. The APL can hold pallets of up to 650 plates including slip sheets; it monitors the number of plates on a pallet by automatically determining the pile height.
"High CTP imaging quality is a given nowadays but speed, footprint, automation options, and of course the overall investment costs were other important arguments that influenced our decision," says Hässler. "We chose the APL for the MAGNUS Q800 Platesetter because the ability to load 650 plates directly means we can produce for about a day and a half – or theoretically for more than 14 hours nonstop – without anyone having to replenish the online plate stock. What's more, we always have sufficient reserves to leave the CTP system running overnight unattended." The new CTP line went into operation in June 2019.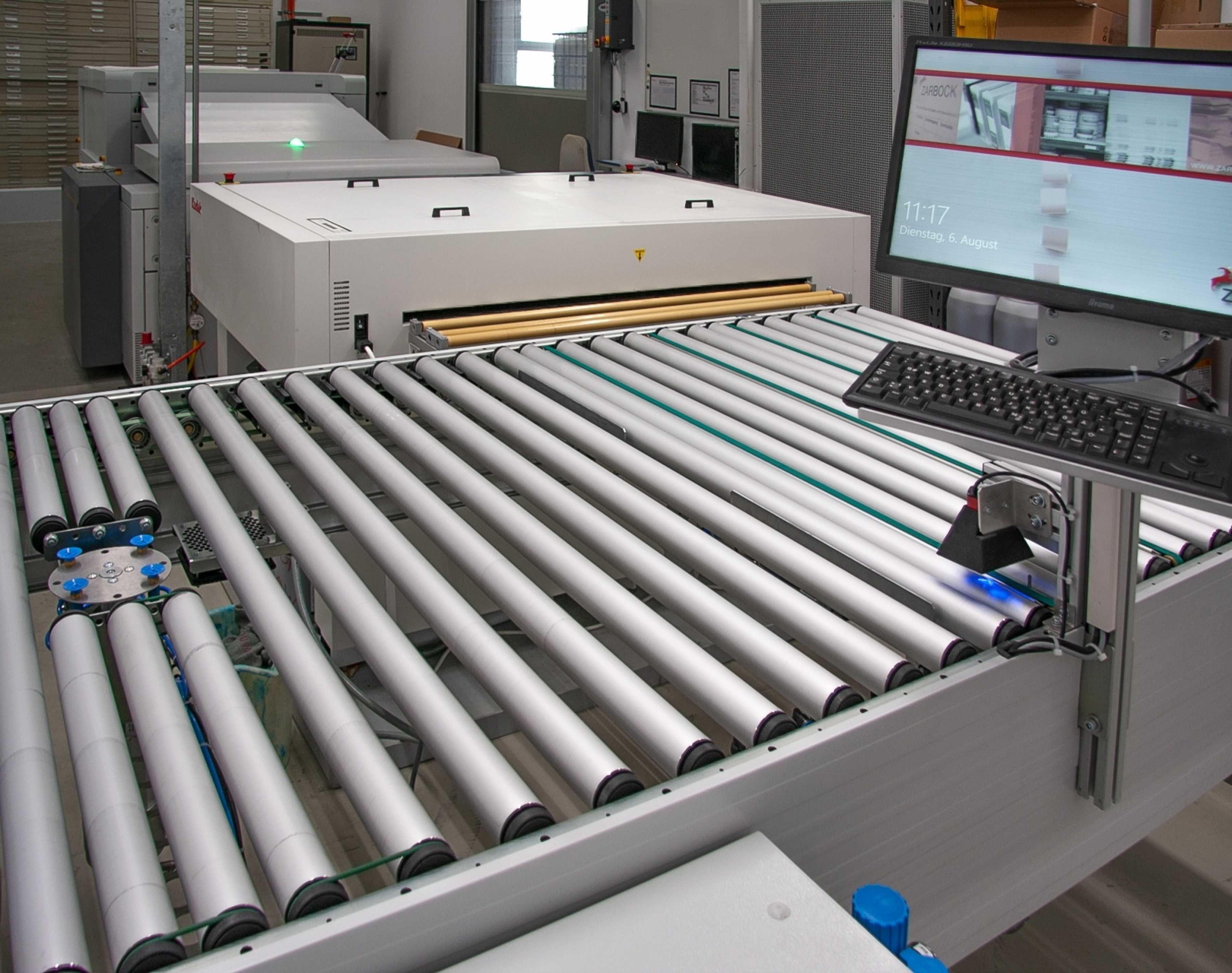 Platemaking workflow now automated from pallet to pressroom
The MAGNUS Q800 Platesetter with the APL and the plate processor were installed in a separate, air conditioned room adjacent to the pressroom and hooked up to an automatic plate conveyor and sorting system from Nela. To enable faster processing, imaged plates enter the processor in landscape orientation and are deposited on a table belonging to the Nela system, where a QR code with stored job data is machine-read in preparation for automatic sorting of the plates according to job and color. The plates are then transferred through an opening in the wall into the pressroom, sorted and stacked on trolleys before traveling the short distance to the presses. The system has four docking stations, so that four of Zarbock's twelve plate trolleys can be loaded with new plates at a time. A large monitor in the pressroom and a printed list for each trolley show the printers at a glance which plates are loaded where.

Massive increase in CTP productivity, reduced workload for operators
Hässler is prompted to sum up what has changed as a result: "The new CTP line with the MAGNUS Q800 Platesetter has roughly doubled our plate throughput compared to the previous setup. Our operator's workload has also been significantly reduced because with the old technology a lot of things – including the plate logistics and sorting – had to be done by hand, often involving physical effort. Today, the only really manual task is delivering the pallets with the stacked plates to the KODAK APL. In fact, our staff don't touch the plates at all until they reach the press." Since Zarbock keeps a timesheet for every job, the Operations Manager can quantify the rationalization effect of the automatic CTP line exactly:

"In the past, between one and one-and-a-quarter people's time was dedicated entirely to plate logistics. That time has been cut by ninety percent. Put simply, nearly one whole person has been freed up for other, more important activities."
On the quality side, after the MAGNUS Q800 Platesetter was up and running, the Frankfurt printer added the much finer 300 lpi linescreen to the traditional 150, 175, and 200 lpi. Zarbock has printed with the KODAK TRILLIAN SP Thermal Plate, a very robust, low-chemistry plate that is ideal for demanding applications, since 2015. In view of the company's strong environmental commitment, it is only logical to ask why they haven't yet gone over to a process free plate like the KODAK SONORA X Process Free Plate, which would eliminate the energy, water and chemical costs associated with conventional processing. "We obviously discussed that aspect in the course of our CTP project, and we also took a look at how process free plates are used at other printers. But we thought it might be a bit much switching to two new technologies at once," Hässler explains. "We're keeping a very close watch on the market. As soon as process free plates are able to satisfy one or two special requirements arising from our workflows, it's a step we may well consider in the future."