Filmmaker Stories
Captured on Kodak 35mm, 65mm and IMAX 65mm film formats, 'Wonder Woman 1984' delivers a vivid action experience
Shot on Kodak 35mm, 65mm and IMAX film formats, Wonder Woman 1984 soars through the consumerist excesses of Cold War America, radiating the warmth, love and innate goodness of lasso-wielding Amazonian warrior-goddess Diana.

The vivid, action-packed adventure is the sequel to 2017's First World War-set Wonder Woman, which was directed by Patty Jenkins, shot on 35mm celluloid by DP Matthew Jensen ASC, and returned an impressive $821 million at the box office.
Jenkins and Jensen teamed up once again for the new production, with Gal Gadot reprising her role as Diana Prince/Wonder Woman. Also starring Chris Pine, Kristen Wiig, Pedro Pascal, Robin Wright and Connie Nielsen, Wonder Woman 1984 earned over $150 million in the first three weeks after its release on large and small screens. And Warner Bros. has already advanced plans for a third film in the series.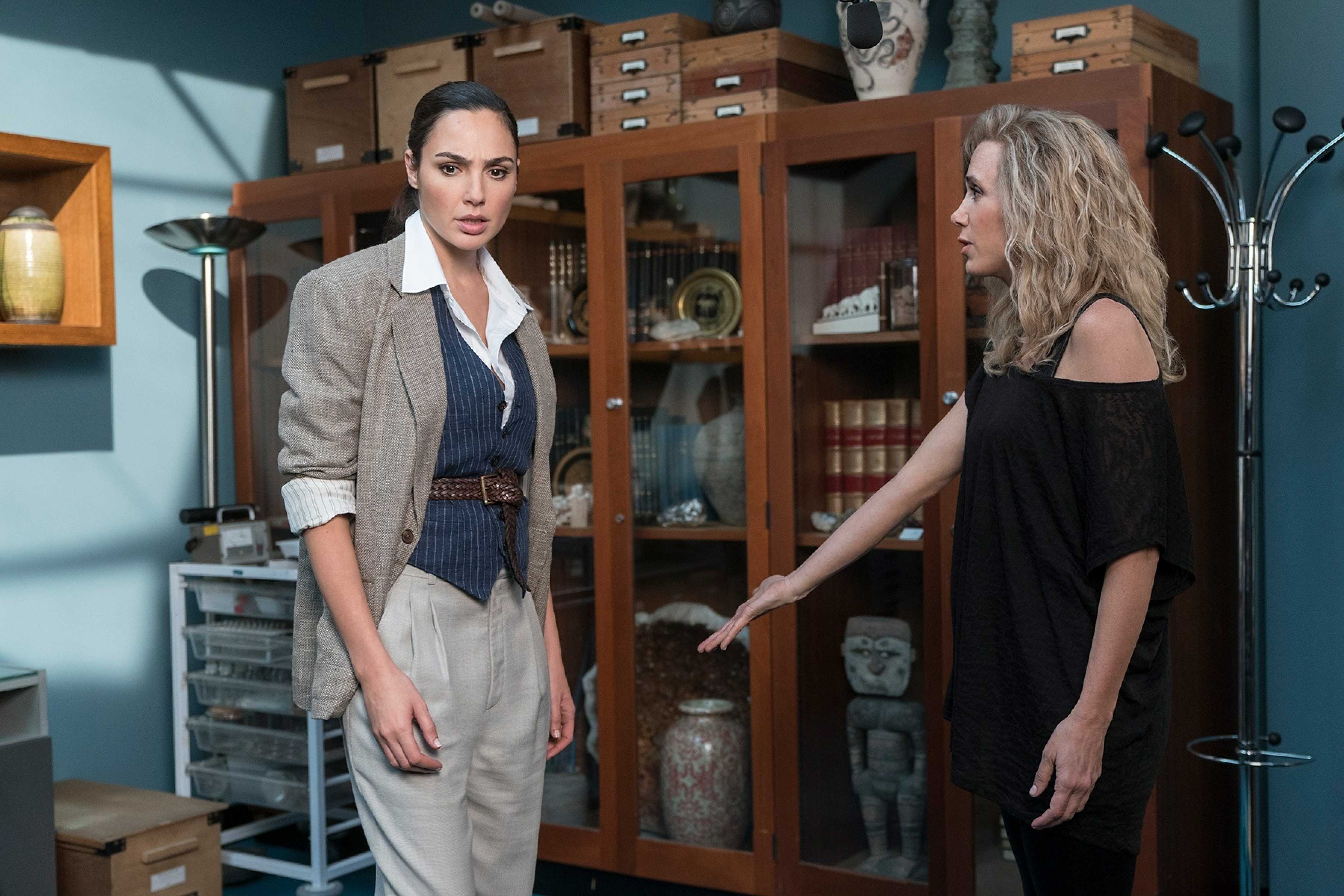 Set in 1984, Diana Prince is living a low-profile life, working as an anthropologist at the Smithsonian Institute in Washington DC, while inconspicuously fighting crime incognito as Wonder Woman.

However, she has to muster her inner-strength, wisdom and courage to stop a scheme that threatens global thermonuclear catastrophe, while also battling the savage villainess Cheetah. Into the mix, there's something Diana never expected – the surprise return of her long-dead lover, Steve Trevor, the WWI super-spy who was seemingly blown-up at the end of the first movie.
Like the original movie, Wonder Woman 1984 was captured entirely on 35mm celluloid but, for even greater epic effect, is bookended with two stunning sequences shot on 65mm 15-perf IMAX – an exhilarating, opening action sequence set on the legendary island of Themyscira, Diana's idyllic childhood home, and a concluding winter coda.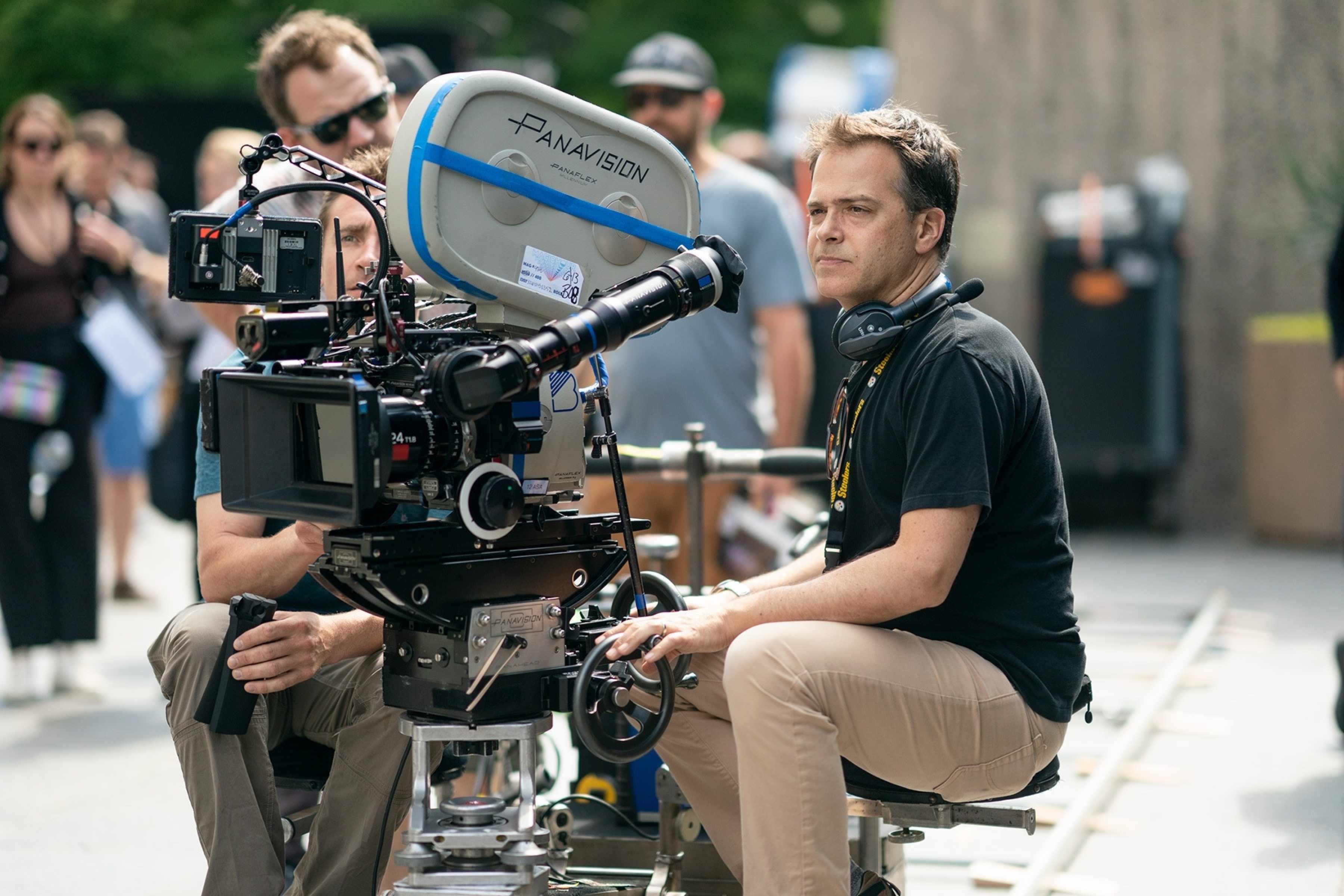 "It was thrilling, and quite extraordinary, to see Wonder Woman become such a big commercial success," says Jensen, who originally caught Jenkins' eye with his work on the 35mm-originated Filth (2013, dir. Jon S.Baird).

"But beyond the box office figures, the cultural impact of that first film, and the way it resonated with people emotionally, was the most eye-opening and pleasant surprise. This was something Patty and I definitely took into our reckoning for Wonder Woman 1984."
Jensen continues, "From the outset, Patty made it clear that while she wanted to hold firm to the epic scope and intrinsic ethos of Wonder Woman being a bastion of truth and honesty. She wanted the aesthetic to look and feel quite different – to produce something very uncynical and not aware of itself in the manner that many big action movies are these days. She wanted something colorful and gleeful – a fun experience, like those sort of blockbuster movies were in 1970s and early 1980s."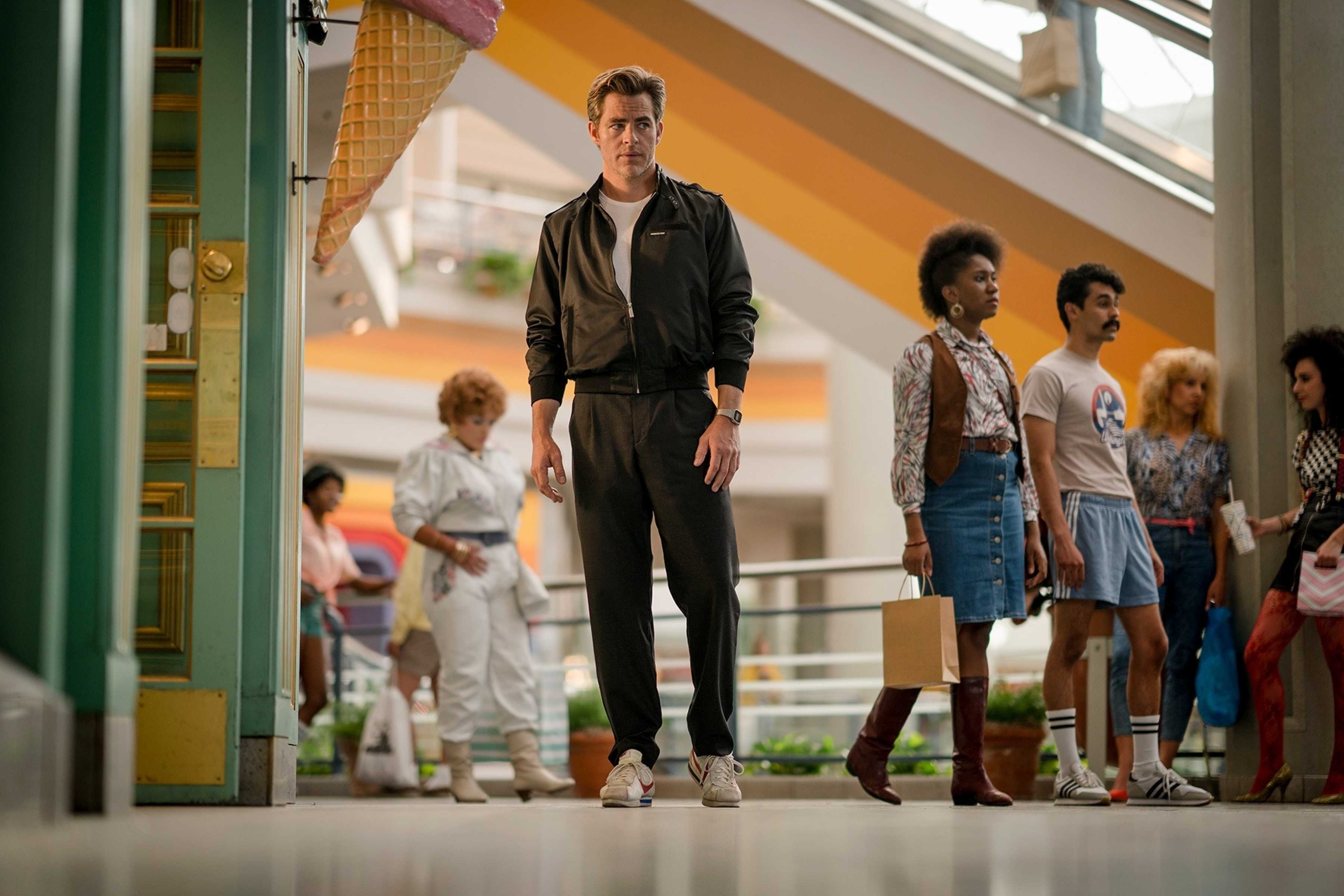 For inspiration, Jensen referenced motion pictures from that period, including many Steven Spielberg features, and films such as 9 To 5, (1980, dir. Colin Higgins, DP Raymond Villalobos ASC) and Heaven Can Wait (1978, dirs. Warren Beatty/Buck Henry, DP William A. Fraker ASC).

Additionally, Jensen and Jenkins, together with production designer Aline Bonetto and costume designer Lindy Hemming, both also making a return from the original movie, examined contemporary and modern fashion photography, "images that had rich, neon-infused palettes to see how those kinds of looks could work for us from a color standpoint," says Jensen.
"On the first feature, the task was very much about maintaining a cooler, desaturated look, and sometimes I had to fight to push color into that movie through my lighting and then in the final grade," he remarks. "But this time around it was quite the opposite. Aline and Lindy are both such talented people, with great taste and great eyes. I very much followed their leads, complementing the bright, poppy textures and materials in their set and wardrobe designs, with bright and colorful background illumination, that was quite often integrated into the lighting set-ups at our different locations and stages.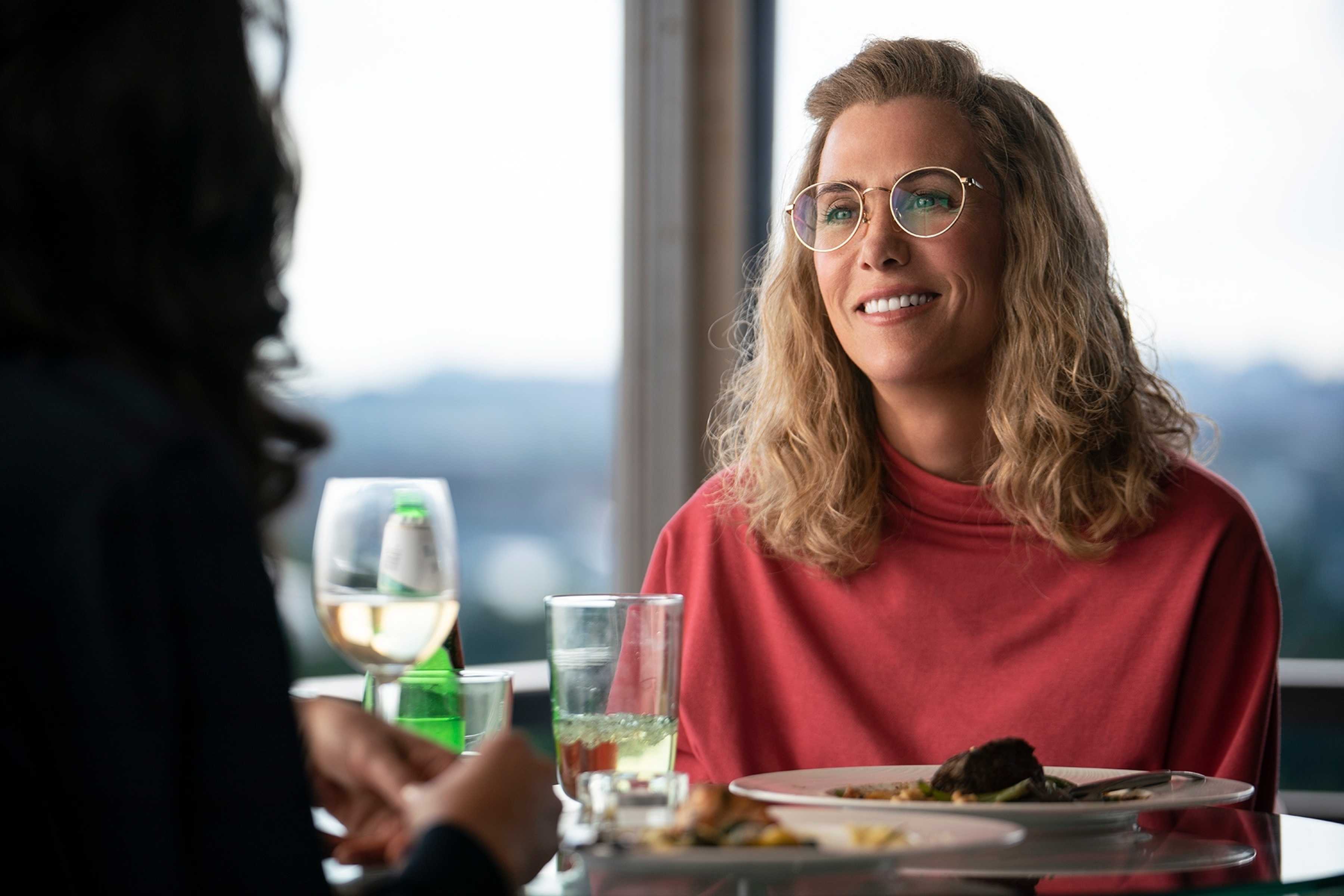 "In fact, letting the color in the backgrounds and the wardrobe come through, allowed me to focus on the beauty lighting our stars – to make them look as glamorous a possible. Although, believe me, that's not hard to do when you have leads who are as naturally stunning as Gal and Kristen."
Principal 35mm photography on Wonder Woman 1984 commenced on June 13, 2018, with a four-week shoot around Washington D.C., and the Landmark Mall in Alexandria, Northern Virginia, a defunct shopping precinct due for demolition, which saw now fewer that 62 stores brought back to period life.
By mid-July, production moved across the Atlantic for a four-week stint on sets constructed at Warner Bros. Studios Leavesden, as well as London locations. During September and October 2018, filming also took place at Almería, in southern Spain, plus Fuerteventura and Tenerife in the Canary Islands where movie's opening action-sequence set in Themyscira was shot using IMAX 65mm.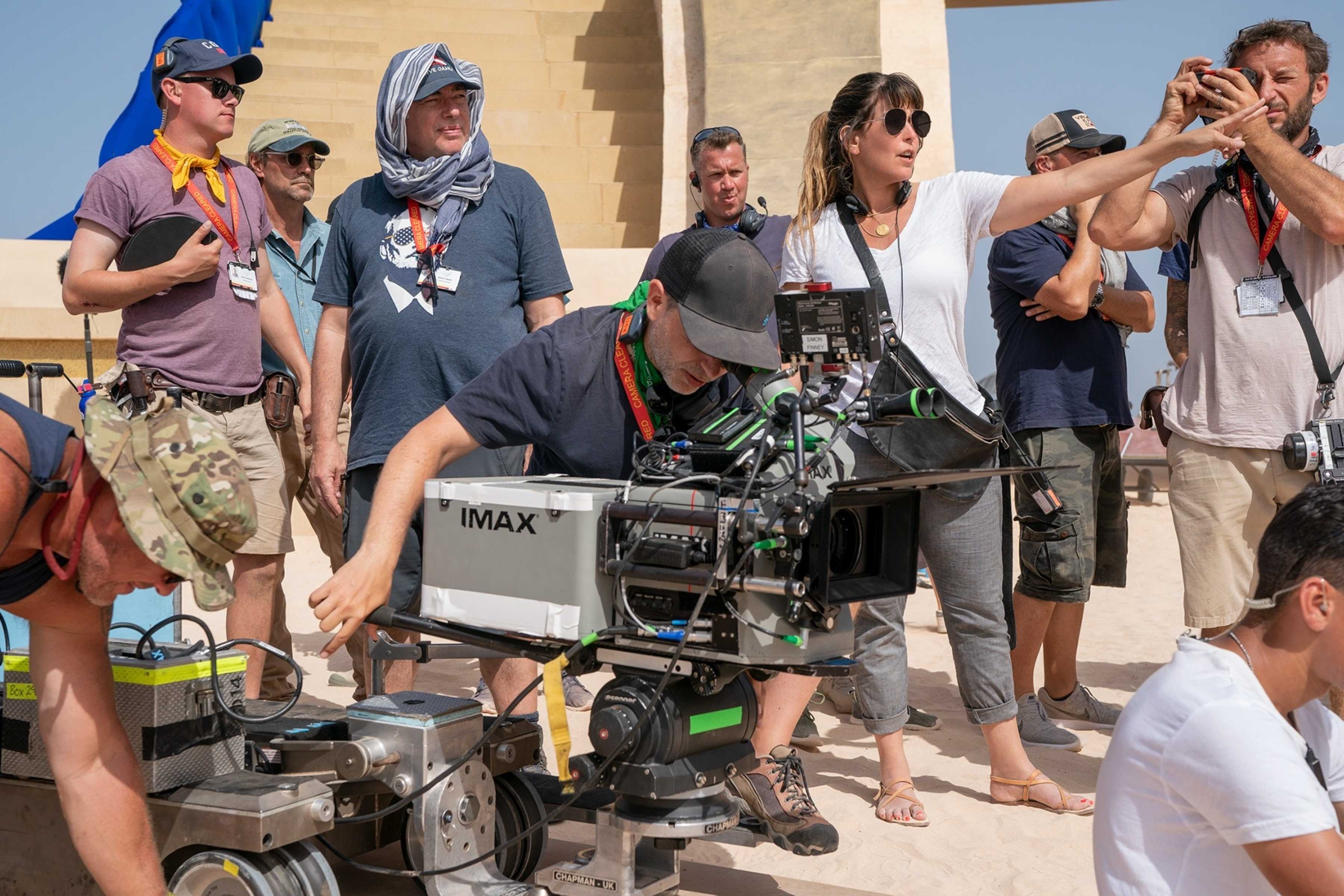 "It was always a dead cert that Wonder Woman 1984 would be an analog film production, no question about that," Jensen declares. "Patty believes in film. It remains a powerful medium with incredible texture. Film looks glamorous, actors look better on celluloid, and it lends itself so much better to period films than digital.
"There's no doubt that widescreen 35mm delivers a grand visual impact. But how we came to raise the bar by also incorporating IMAX 65mm film was part of an evolutionary process. On Wonder Woman we made 70mm prints, in part to prime cinemas for Dunkirk (2017, dir. Christopher Nolan), which Hoyte van Hoytema FSF NSC ASC filmed using IMAX 65mm (15-perf) and 65mm (5-perf) large format film cameras.
"Looking back at the 70mm print results we achieved from a 35mm DI grade on the first movie, Patty and I felt it would be interesting to shoot Wonder Woman 1984 in a larger film format, and considered shooting the whole movie in 65mm 5-perf.
"But, given the logistical complexity of shooting at so many different locations in different countries, and the fact that we would be vying for the small number of existing 65mm film cameras, which were already being shared between Hoyte on Tenet and Linus Sandgren FSF ASC on 007 No Time to Die, meant that shooting a whole movie using large format film was not going to work for us."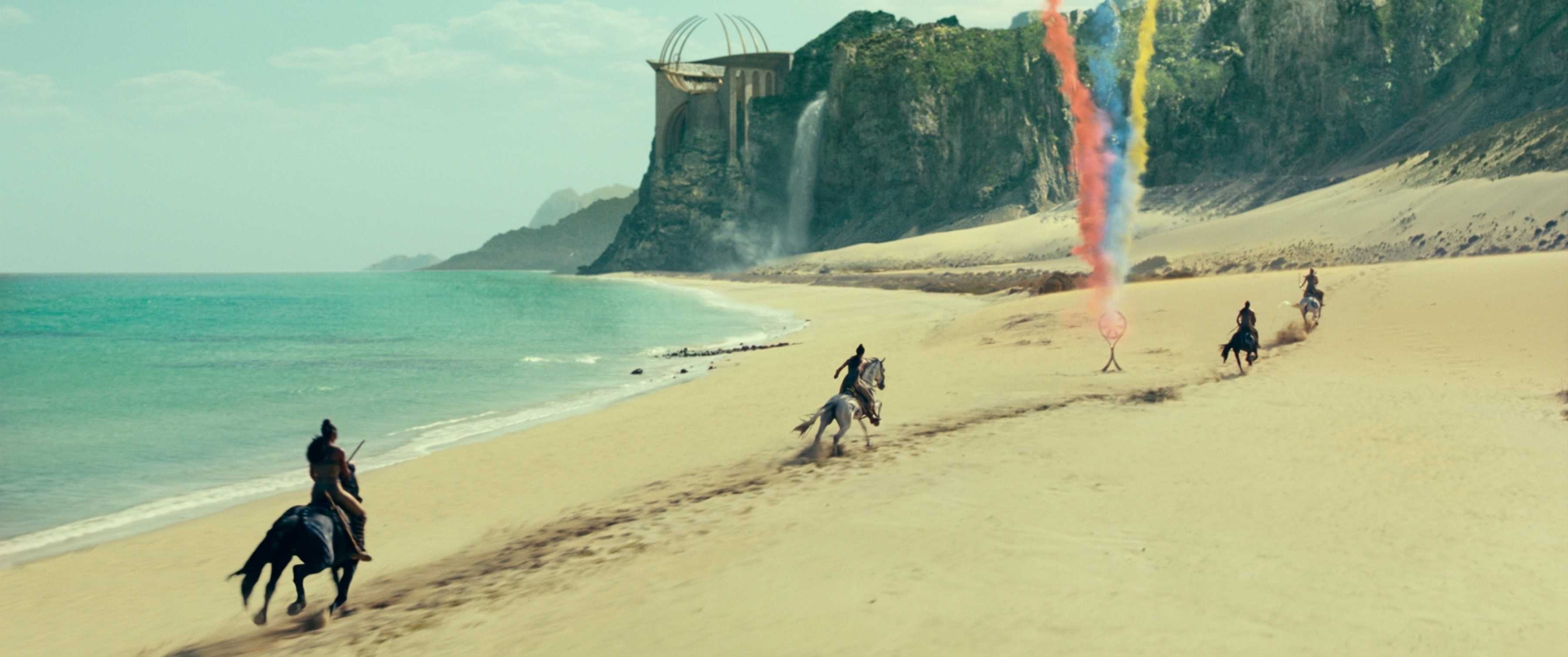 However, an alternative suggestion was at hand, as Jensen explains. "Our producer, Chuck Roven, who suggested we try shooting some of the movie in IMAX 65mm 15-perf. He had a good relationship with the folks at IMAX Corporation, having previously worked on The Dark Knight (2008) and The Dark Knight Rises (2012) (both shot using IMAX by Wally Pfister ASC). So we filmed tests in IMAX on the backlot at Warner Bros. Studios in LA. The results looked so epic and stunning, that we set about isolating the scenes we wanted to shoot in the IMAX format."
The upshot of this creative and collaborative synthesis led to Jensen and Jenkins to capture the action-packed Themyscira opening and closing winter coda sequences of Wonder Woman 1984 in IMAX 65mm, 1.90:1 aspect ratio, with the rest of the story in shot widescreen 2.39:1 on 35mm.
IMAX MSM 9802 cameras, plus a range of proprietary lenses, including Jensen's workhorse 50mm and 80mm primes, were supplied by IMAX Corps. Panavision provided its Panaflex Millennium XL2 cameras and a range of Primo glass for the film's 35mm segment, with Jensen using 27mm, 40mm and 65mm as his main lenses. Panavision also provided Jensen with 65mm 5-perf cameras, fitted with Panavision Sphero 65 lenses for dialogue portions within the IMAX sequences. Panavision lens guru, Dan Sasaki, tuned each of the three sets of lenses to ensure a homogenous look and feel.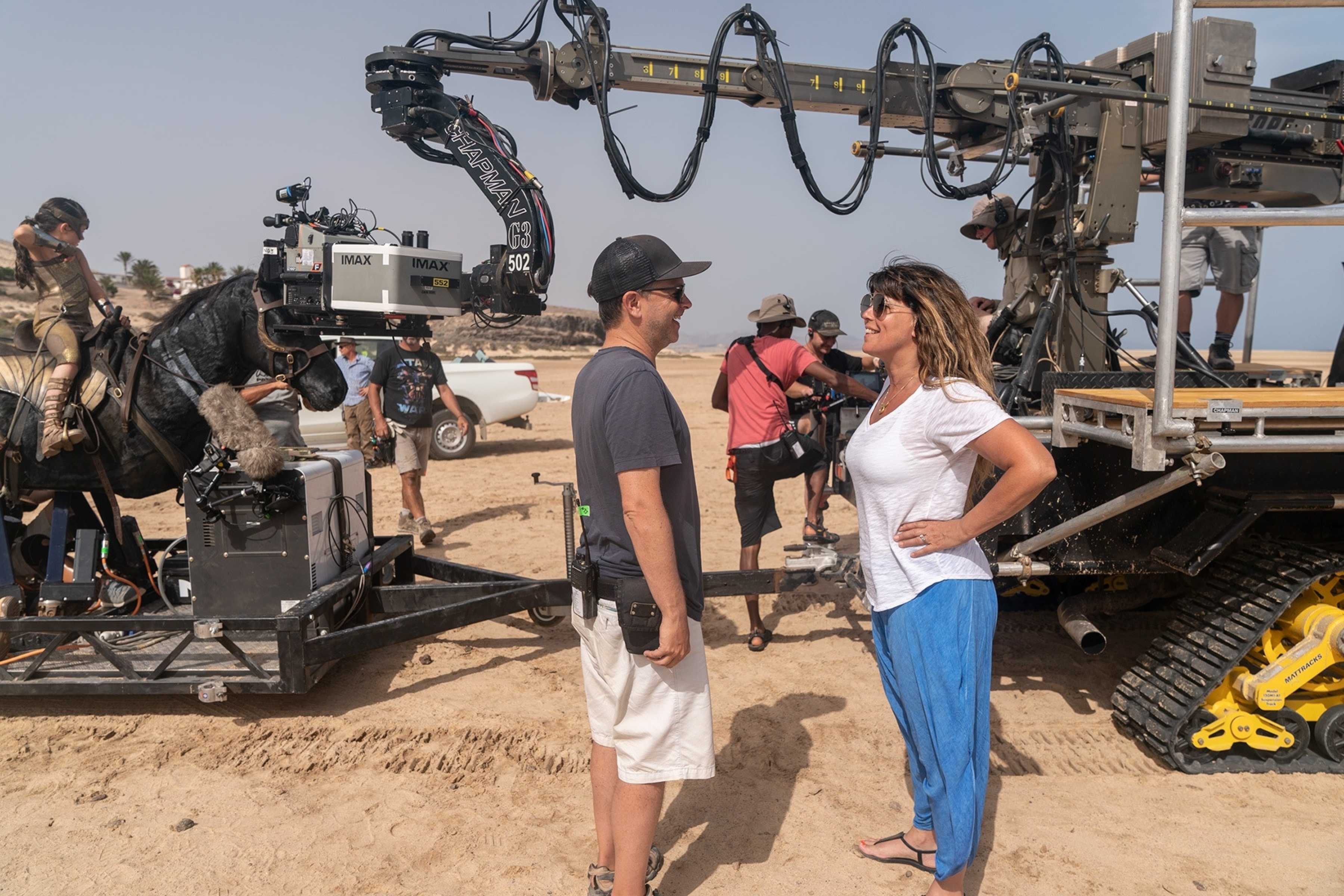 "I had never shot IMAX before, and it was a steep learning curve," admits Jensen. "Along with extensive conversations with the team at IMAX, I also spoke to Larry Fong ASC, plus Zach and Debbie Snyder, about their experiences of using IMAX film on Batman v Superman: Dawn of Justice (2016). Also, Hoyte was kind enough to dispense his thoughts about shooting in IMAX 65mm – such as how best to move the weighty cameras, the short run-time of the magazines, various tricky technical issues, and his favorite lenses. He also advised me to not even think about shooting any synch-sound sequences, as the IMAX MSM cameras can clatter like sewing machines, and that 65mm 5-perf would be better for those dialogue moments."
When it came to selecting the celluloid emulsions, Jensen harnessed the same trio of KODAK VISION3 film stocks that he had used on Wonder Woman.
"I really like the textural quality of film, and it is easier to shoot actors faces – it's more forgiving than digital," he says. "I captured most of the darker interiors, and all of the night exteriors, on KODAK VISION3 5219 500T color negative, as it is fast and its dynamic range offers a lot of flexibility. The 500T also delivers a lovely rendition on skin tones and has an overall warm vibrancy of color saturation. For the daytime sequences I split between Kodak's two daylight stocks – the KODAK VISION3 5203 50D and KODAK VISION3 5207 250D."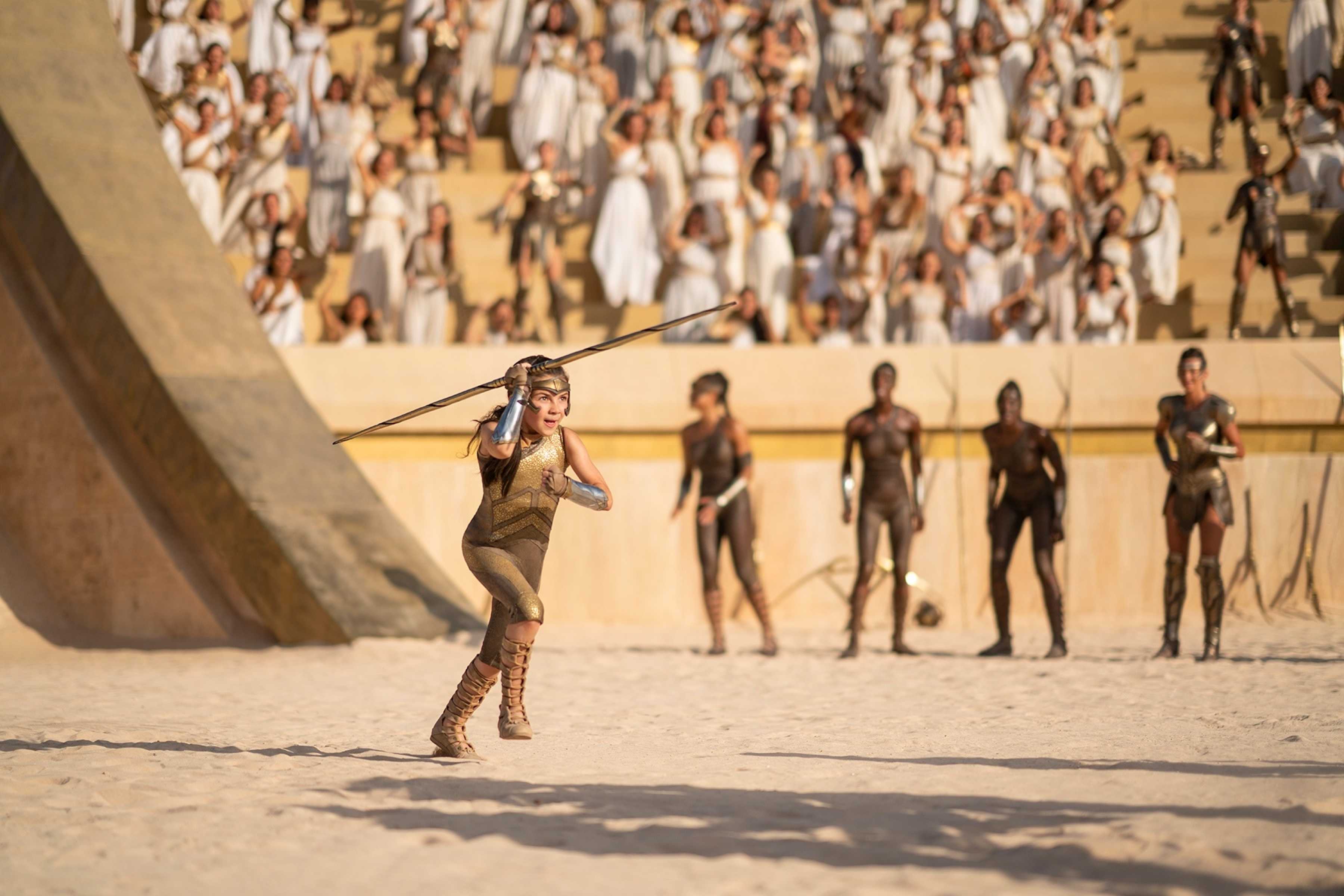 Jensen says he particularly looked to the qualities of the 50D for the IMAX 65mm sequence in Diana's Themyscira homeland that opens the movie. "I wanted this scenario to be bold and colorful, with beautiful flesh tones, and to make full use of the natural sunlight in Fuerteventura. With its fine grain and rich color, the 5203 50D in IMAX really delivered a vivid and gorgeous image. Also, with the 50D being a slower-speed stock, it meant I could reduce the number of instances the assistants might need to fiddle around fitting ND filters, and thereby lower the risk of the IMAX cameras developing any mechanical issues.
"The 5207 250D, because it is a faster stock, helped me get out of jail on occasions, such as when the sky was grey and overcast during our UK exterior shoots, or when I needed to extend the shooting day before we wrapped. Like the 50D, the 250D loves color, it responds well to both HMI and Tungsten illumination in the frame. It performed just great, and I was very pleased with the results."
Cinelab, based in Slough, UK, looked after the 35mm negative processing, with Company3 providing 4K scans and graded dailies. Processing of the IMAX 65mm 15-perf and 65mm 5-perf material was done at FotoKem in Los Angeles. The initial 2K dailies scanning of that IMAX film footage, and the subsequent 8K scanning of selects, were split between FotoKem and IMAX Corps due to the volume of material.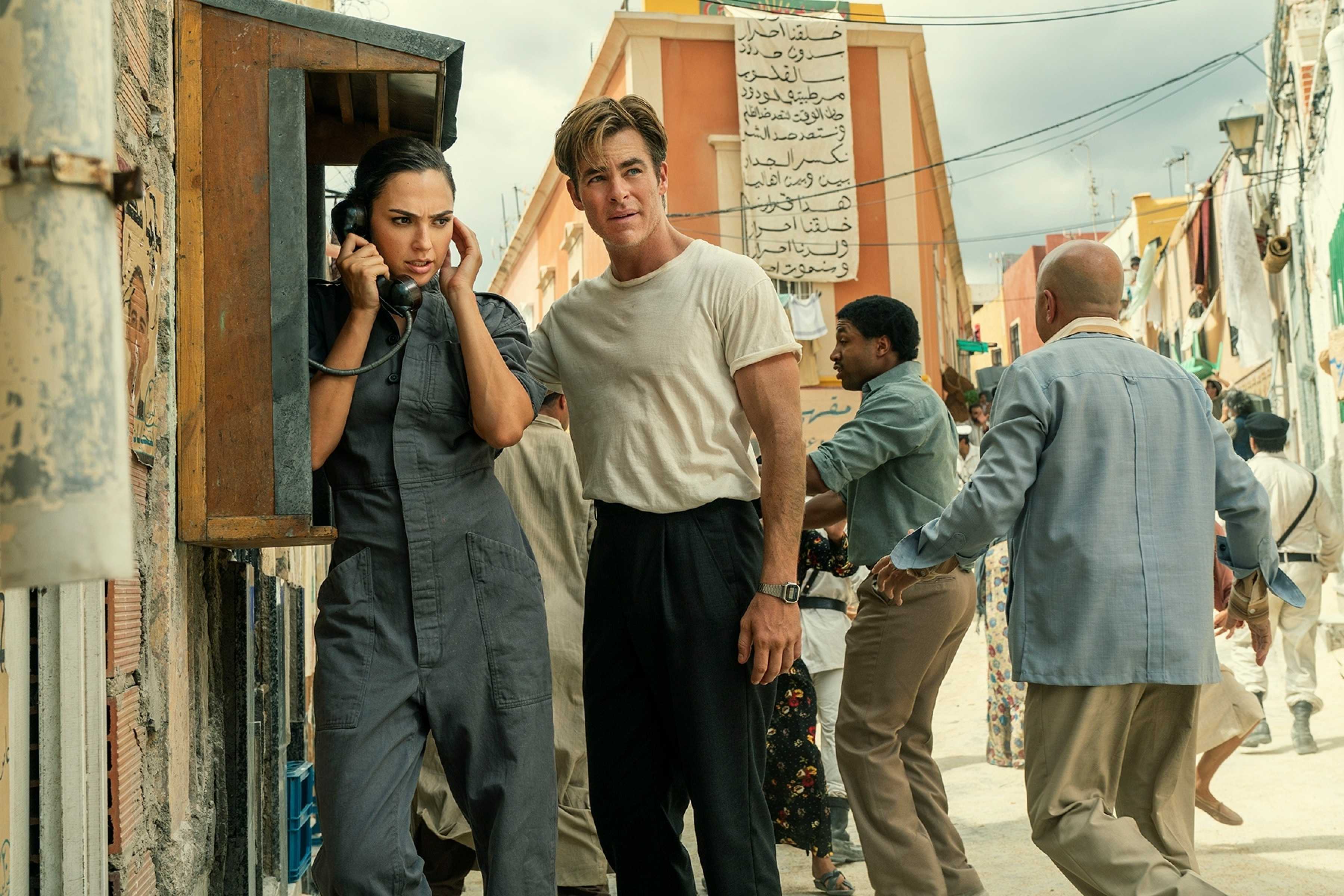 peaking about the experience of analog film production, Jensen says, "I enjoy shooting on film because of the discipline it enforces on set. There is a sense that that the film running through the camera is as precious as gold. So everybody is on their A-game. From the crew to the cast there is a special focus that happens when the camera rolls. You shoot the take, have a break, reset and go at it again if needs be. To my mind, digital has created some sloppy work habits on set where the camera just rolls, and I don't believe that leads to better work.

"Also, I like to assess how a scene is lit with my eye, and enjoy lighting through the lens, rather than judging things on a monitor that is often removed from the set. On digital shoots, despite my very best efforts, I find myself inevitably running back to the monitor or the video village. I feel more present on set and connected to the process when I'm shooting on film."
When asked about his greatest challenge on the film, Jensen declares, "The sheer scope of it all. The long schedule, across four countries, the vagaries of the IMAX cameras, and the back-end workflow. The entire movie was a challenge.
"There was a lot at stake on this as a sequel, and everyone knew we had to go one better this time around. But we had a lot of fun, and I love the on-screen result. When the next movie gets greenlit, I would love to make it three out of three."