Filmmaker Stories
DP Lol Crawley BSC uses KODAK 35mm to take a trip back to the '80s for Noah Baumbach's absurdist satire 'White Noise'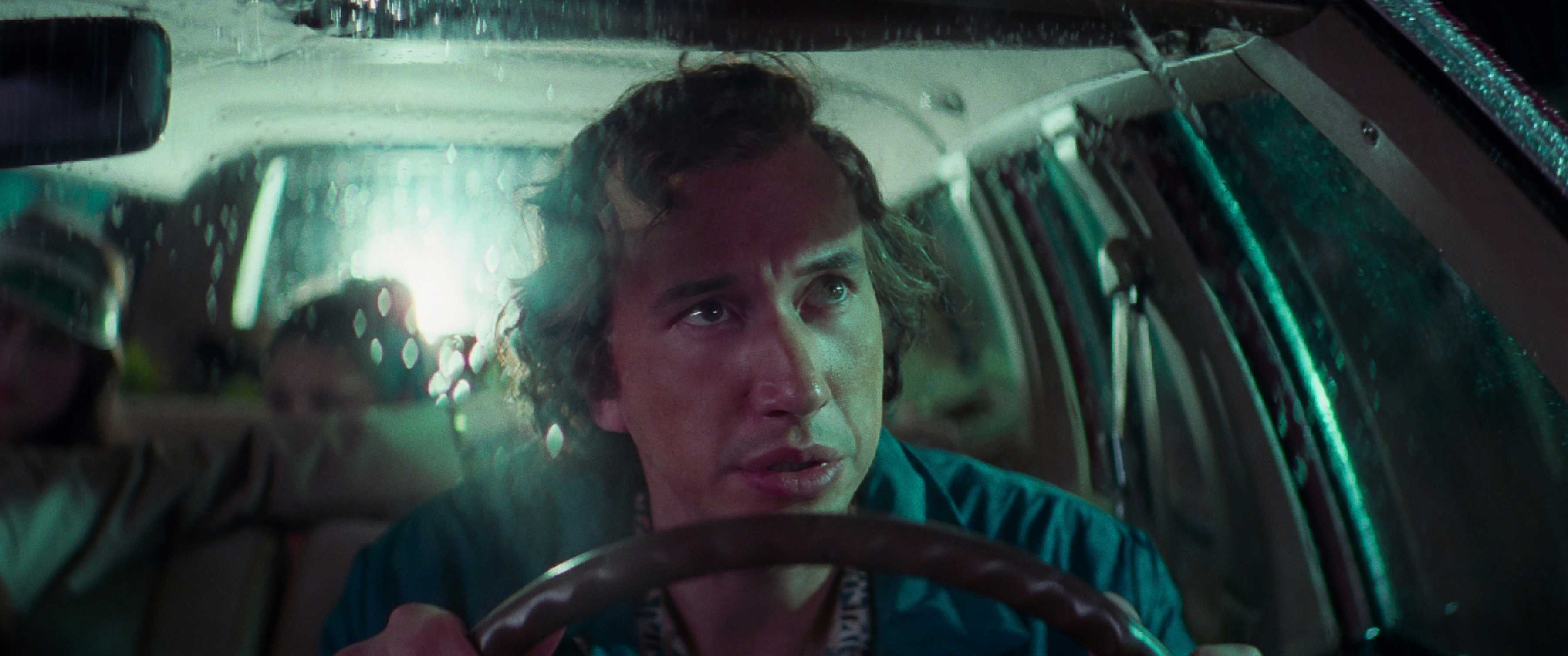 Death, and how to avoid thinking about it in an uncertain world, is a central theme of director Noah Baumbach's playfully absurd, existential satire White Noise – whether that distraction comes through idol worship, popping pills or simply going shopping at a huge supermarket.
The film was adapted by Baumbach from author Don DeLillo's 1985 cult novel of the same name, a tome that was considered unfilmable for decades, and marks the first time he has directed an adaptation rather than an original story of his own. Laid out in a three-act structure – part domestic/campus drama, part action/adventure/disaster movie, part noir horror – and frequently featuring whimsical cross-dialogue between characters, the script was brought to the screen with considerable panache by British DP Lol Crawley BSC, now based in Los Angeles, using Kodak 35mm film stocks.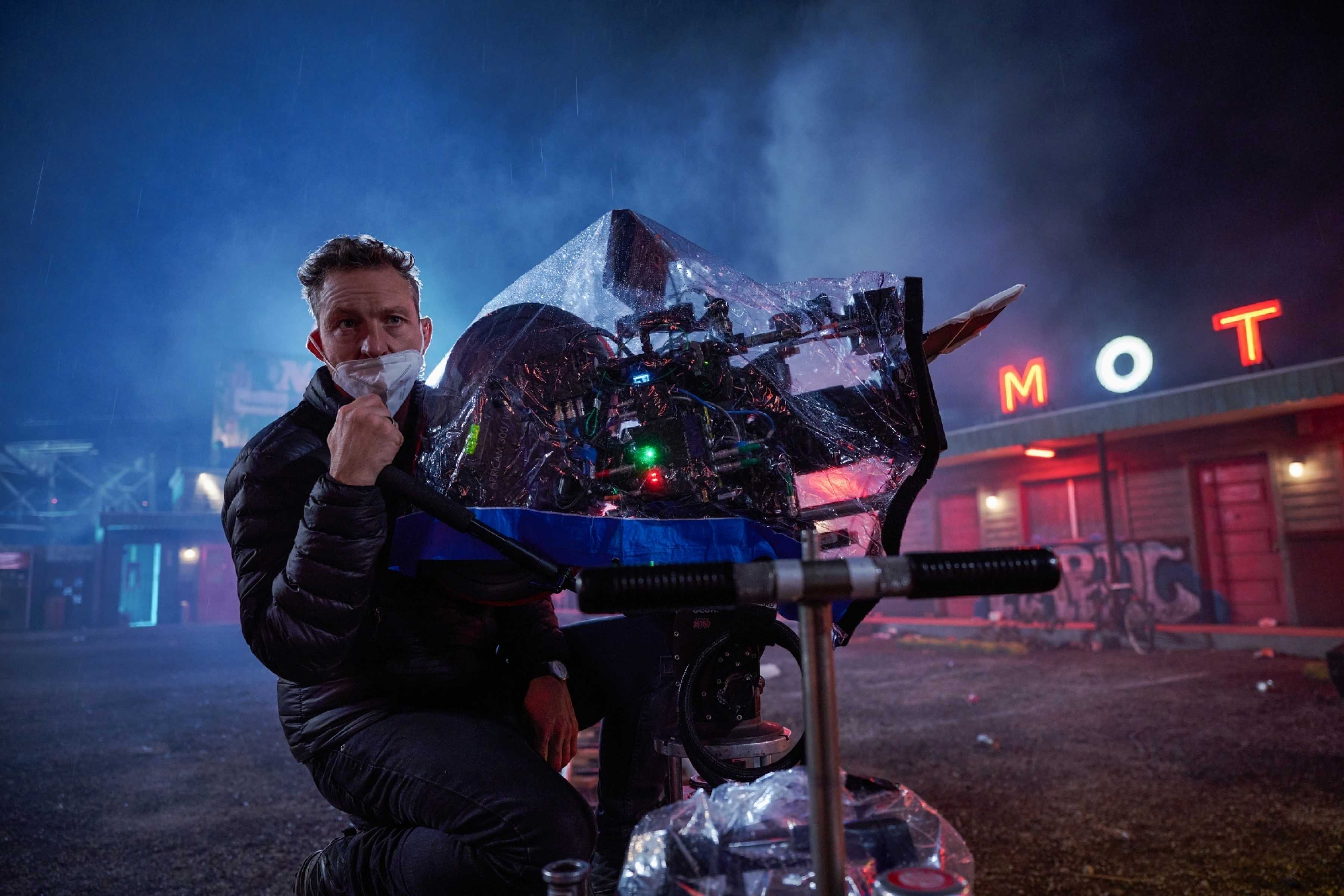 Set during the 1980s in the fictional midwestern university town of Blacksmith, the action follows Jack Gladney (Adam Driver), a professor at the College-on-the-Hill and a pioneer in the field of Hitler studies. Jack has been married multiple times and has a brood of children from those different unions, including a two-year old with his current spouse, Babette (Greta Gerwig). Jack and Babette worry about the inevitability of death, and frequently wonder who will be the first to shuffle off this mortal coil, while Jack endures disturbing nightmares.
One day a calamitous train crash on the outskirts of the town unleashes an 'Airborne Toxic Event,' of poisonous black smoke, and the family are forced to confront their own mortalities amid the chaos of station wagons on the rainy freeway during a mass evacuation. When Jack discovers Babette has been cheating on him with a man named 'Mr. Gray,' in order to gain access to Dylar, an experimental drug designed to treat the terror of death, he grabs a gun and tracks down the peddler in a dingy motel room.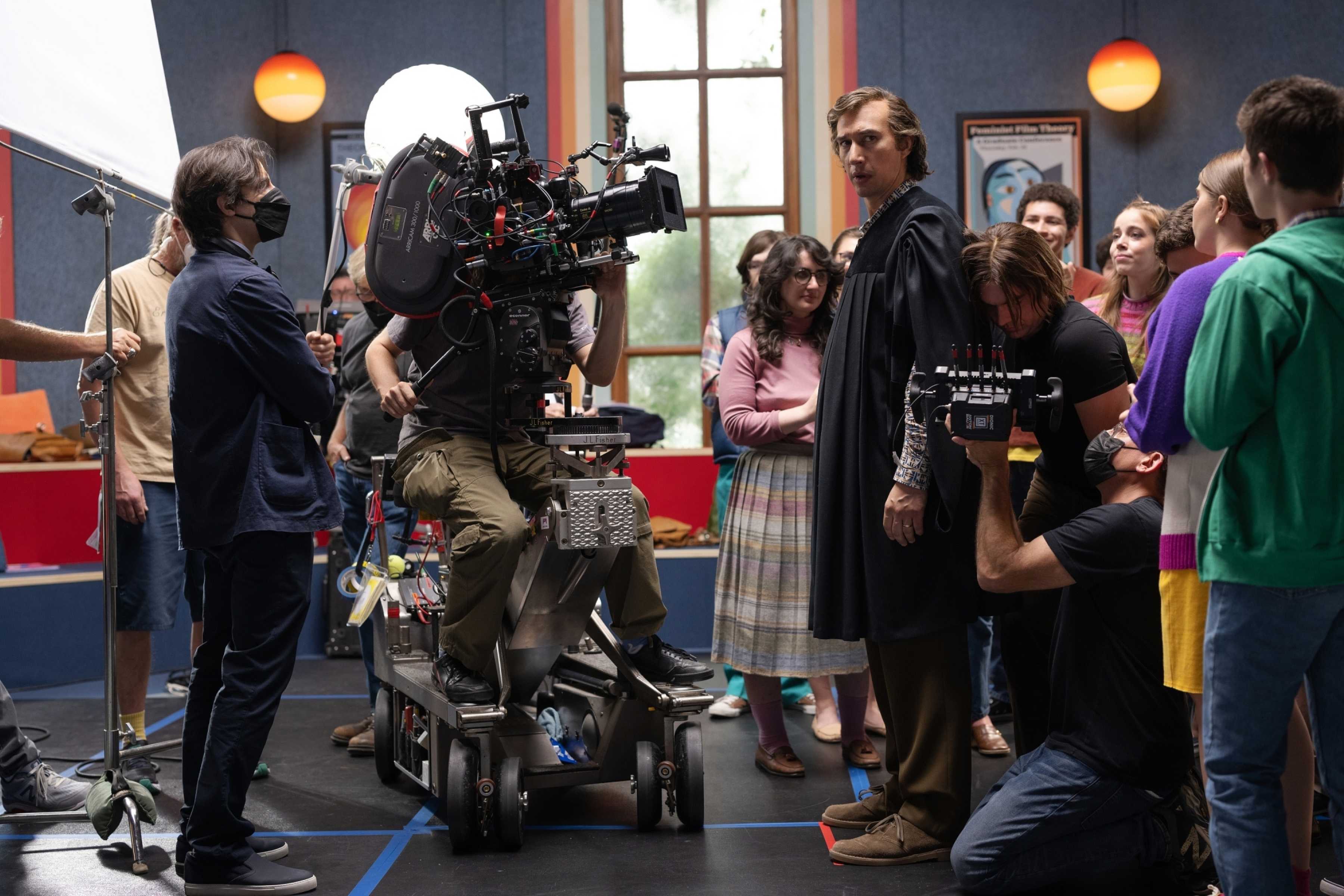 The $100 million production had its world premiere at the 2022 Venice Film Festival, followed by a limited theatrical release in cinemas, before streaming on Netflix. It has enjoyed positive reviews for Baumbach's direction, central performances, and Crawley's enterprising and prismatic cinematography.
Filming took place over 60 shooting days, between June and November 2021, at a variety of rural and urban locations around Cleveland, Ohio. The catastrophic rail crash was filmed on location in Georgia by the second unit crew over a two-week period.

"I love shooting on film and have been fortunate that the decision to shoot on film has often been made by the director and producers before I come on board, and this was the case with White Noise," says Crawley, whose previous film credits include Ballast (2008), The Childhood of a Leader (2015), Vox Lux (2018) and The Devil All the Time (2020).
"I've been a fan of Noah's work for many years and was delighted to become acquainted with him via editor Matt Hannam, who also cut Vox Lux, and producer David Heyman, with whom I worked on The Secret Garden (2020).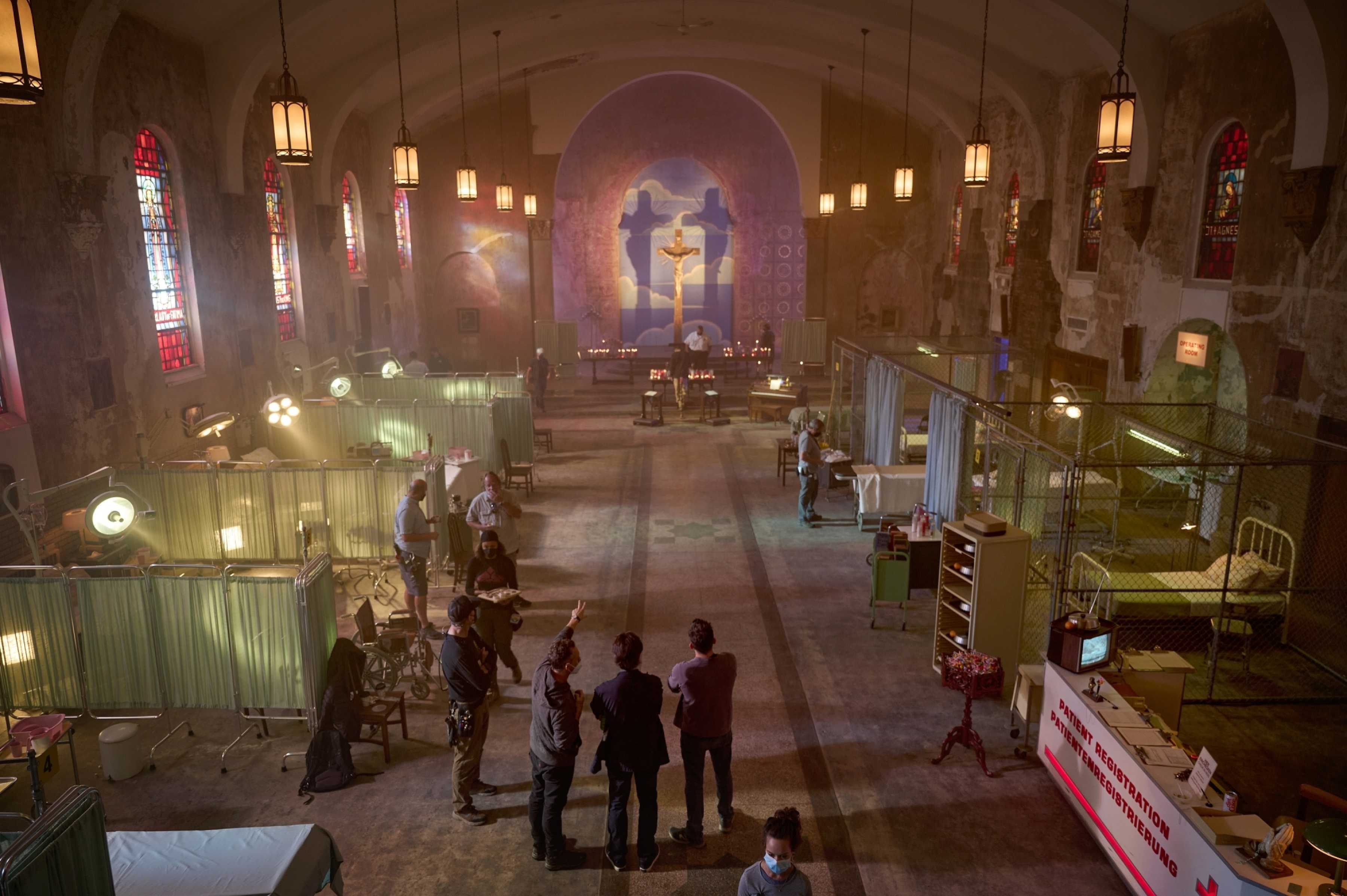 "The original novel encompasses different styles and genres, and Noah felt it was important to capture those essences in this production. We shared the aesthetic idea that this film could reference movies from the 1970s and '80s, including the sense of them having been originated on film with Anamorphic lenses. My photography in the past has been very naturalistic, so it was fun to consider bold choices, to explore a sense of the surreal with stylized visuals and lighting to underpin the absurdity of the story."
Crawley continues, "It's fair to say that the way in which we tethered the visuals around Jack and his interactions in the first act was a nod to filmmakers such as Woody Allen, whose films have a lot of interior scenes with lots of dialogue, and also to Robert Altman's technique of using a highly-mobile camera to shoot overlapping dialogue from multiple actors, all for a naturalistic and dynamic experience for the viewer.
"But, this was also a highly technical and visually-ambitious film, and we were referencing big Hollywood entertainment, like Steven Spielberg's Close Encounters of the Third Kind (1977, DP Vilmos Zsigmond ASC HSC), in the way the camera sweeps and observes the toxic train crash and the mass evacuation of families in station wagons in the rain the second act of the movie, as well as stylistic lighting choices for our night sequences that you will find in films such as Manhunter (1986, DP Dante Spinotti AIC ASC).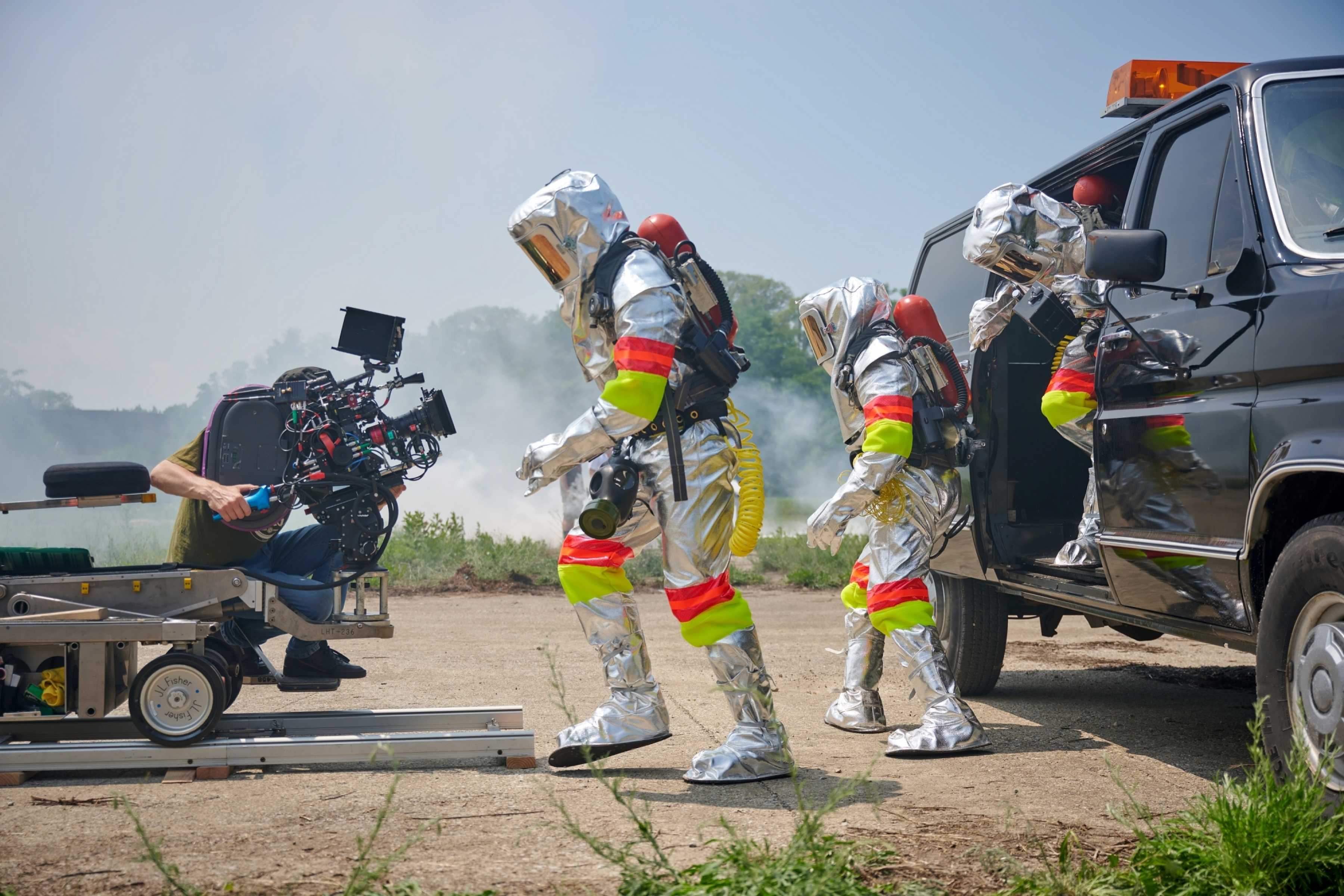 "Additionally, debating things with Noah, we had this idea for a noir aesthetic at the end of the movie, and we leant into references such as Paris, Texas (1984, DP Robby Müller) to create a heightened, slightly woozy look, containing strong, rich and contrasting colors for the seedy motel scene."
In further pursuit of creative looks for White Noise, Crawley says he was inspired by two notable modern still photographers: Gregory Crewdson, whose dramatic and cinematic images of homes and neighborhoods in small town America frequently involve disturbing and surreal events; and Todd Hido, whose long-exposure photographs of urban and suburban housing at nighttime have an ethereal, ghostly aesthetic.
Crawley shot White Noise using ARRICAM LT and ARRIFLEX 235 35mm cameras fitted with Cooke Anamorphic/i SF Lenses. For a dramatic widescreen experience, VistaVision cameras, shooting 35mm film in horizontal 8-perf format, were used to capture the train crash and the deadly chemical explosion. The camera package was provided by ARRI in New Jersey.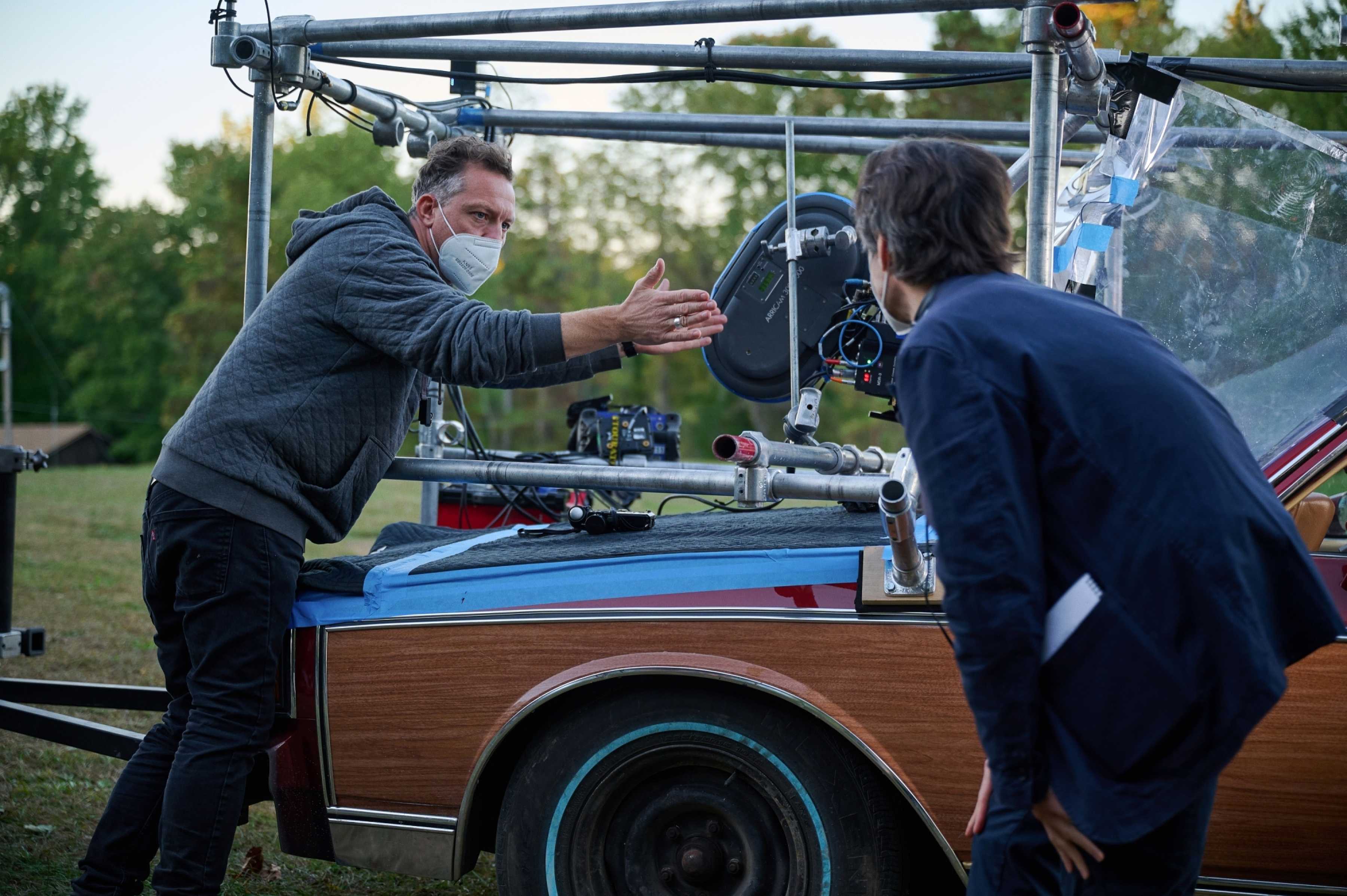 "In recreating an '80s aesthetic, we felt there was enough saturated color in the production design by Jess Gonchor, the set decoration and Ann Roth's costumes to conjure up that time period without needing to push this further in the grade," he says. "The Cooke Anamorphics have a beautiful look. They don't distort so much at the edges of frame as other Anamorphics, and that was another big appeal when it came to shooting on in tight spaces."
Crawley's go-to emulsions were KODAK VISION3 250D Color Negative Film 5207 for day interiors/exteriors and KODAK VISION3 500T Color Negative Film 5219 for low-light and night sequences. "I know both stocks very well – they match beautifully together and proved great all-rounders for the variety of situations faced. I also knew both stocks would have enough grain in the picture to convey that this film was shot on film."
The exposed negative was processed at FotoKem in Los Angeles under the supervision of Mark Van Horne and dailies colorist Scott Cross, with rushes scanned to 4K for the DI by final colorist Peter Doyle.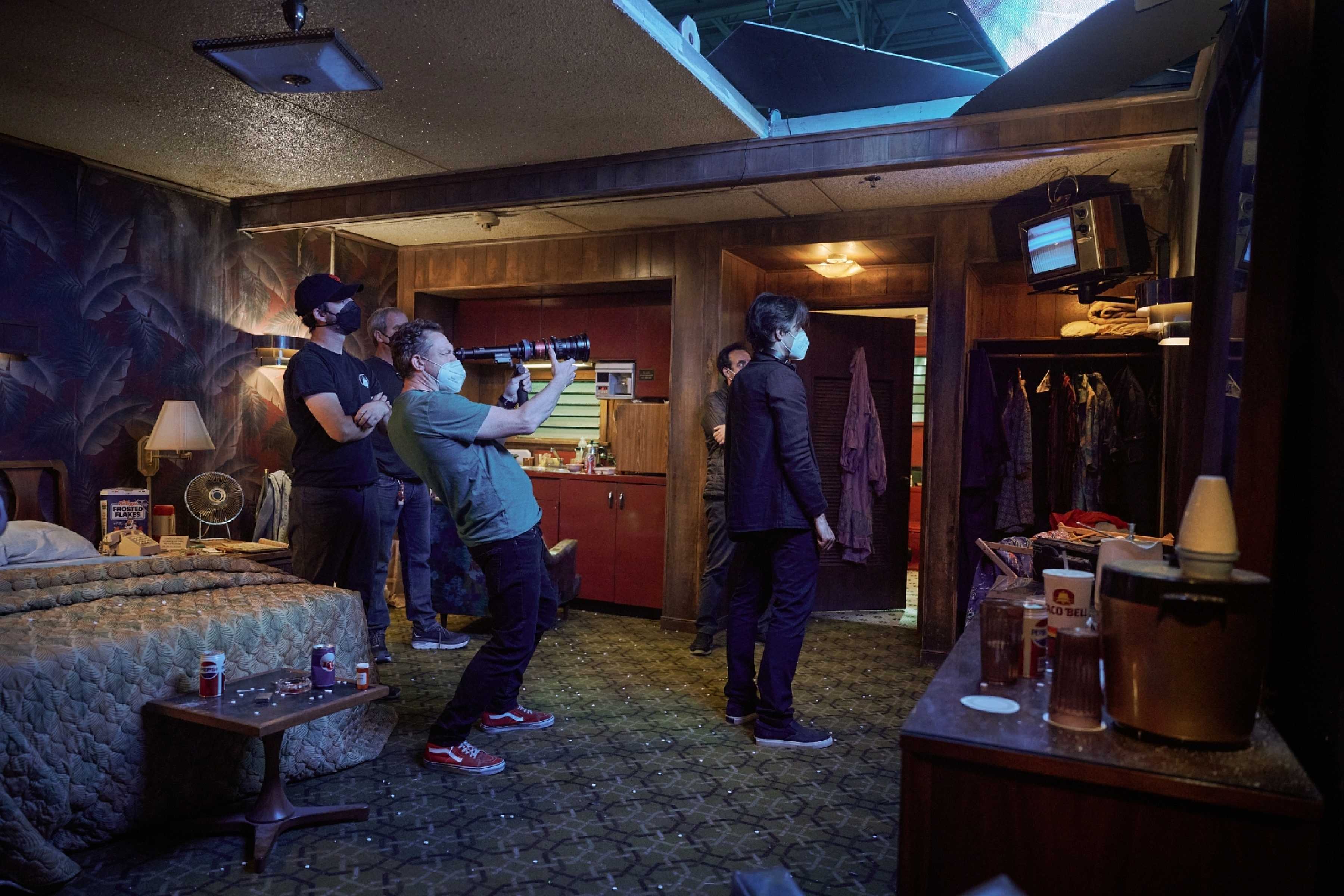 "I worked very closely with the team at FotoKem during the shoot, and this collaboration was especially helpful on our night interior sequences," Crawley reveals. "They would process and assess a roll with printer lights, and then call to give me advice about the overall exposure of a scene or how the skin tones were looking. This might include the suggestion that they push-process by half or a full stop to keep things looking their absolute best."
Crawley says that of all the technical challenges the movie presented, the most difficult proved to be the sequence in which Jack evacuates his family in the station wagon along the freeway at night. Crawley initially considered the classic approach of filming the vehicle and its occupants on a process trailer from a tracking camera car, but he quickly realized this was not conducive to the proximity Baumbach prefers when interacting with the performers and was restricted by the hours the younger actors were allowed to work.

The only way to do this was via what the DP calls "an optical illusion" on a soundstage. Working inside a cavernous, former warehouse/distribution center in the Cleveland suburbs, Sam Nicholson and his team at LA-based Stargate Studios custom-built an LED wall, around 100 ft long and 25 ft tall, on to which footage of rural roadsides, captured using multi-camera arrays, was displayed as a background plate. The hero car, with the actors inside, was placed around 30 to 40 ft from the LED wall and remained static while other real cars in the picture were pulled backwards and forwards on a silent electric pulley system.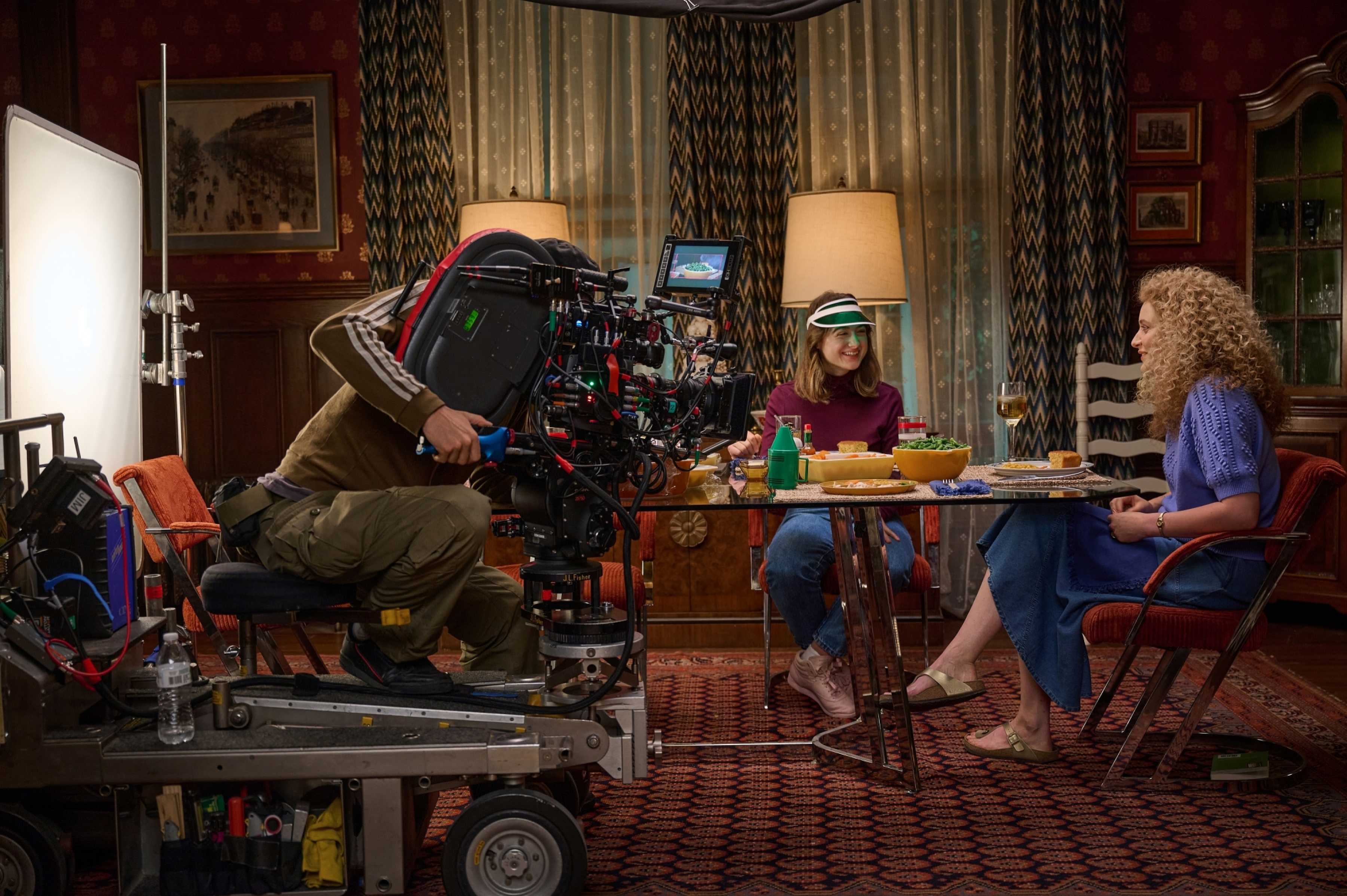 "When we filmed theses sequences, with the background footage, our hero and picture cars, camera moves, lighting changes and rain, all choreographed together, the illusion looked perfect," he says. "It also gave Noah the environment he wanted to direct the actors and met the constraints of shooting with the younger members of the cast."
A further headscratcher came with Baumbach's desire to film a 360-degree shot of the family in the car. The answer turned out to be a specialist hero car, driven using a remote steering system on top of the vehicle, with a hole in its roof enabling the camera and lens to be positioned vertically downwards to which a 45-degree mirror was then attached to view the interior of the car. The camera was mounted on two sliders, allowing two axes of movement – side-to-side and up-and-down – and could revolve and be manoeuvred for the desired result. Lighting around the vehicle was adjusted to give the impression of movement.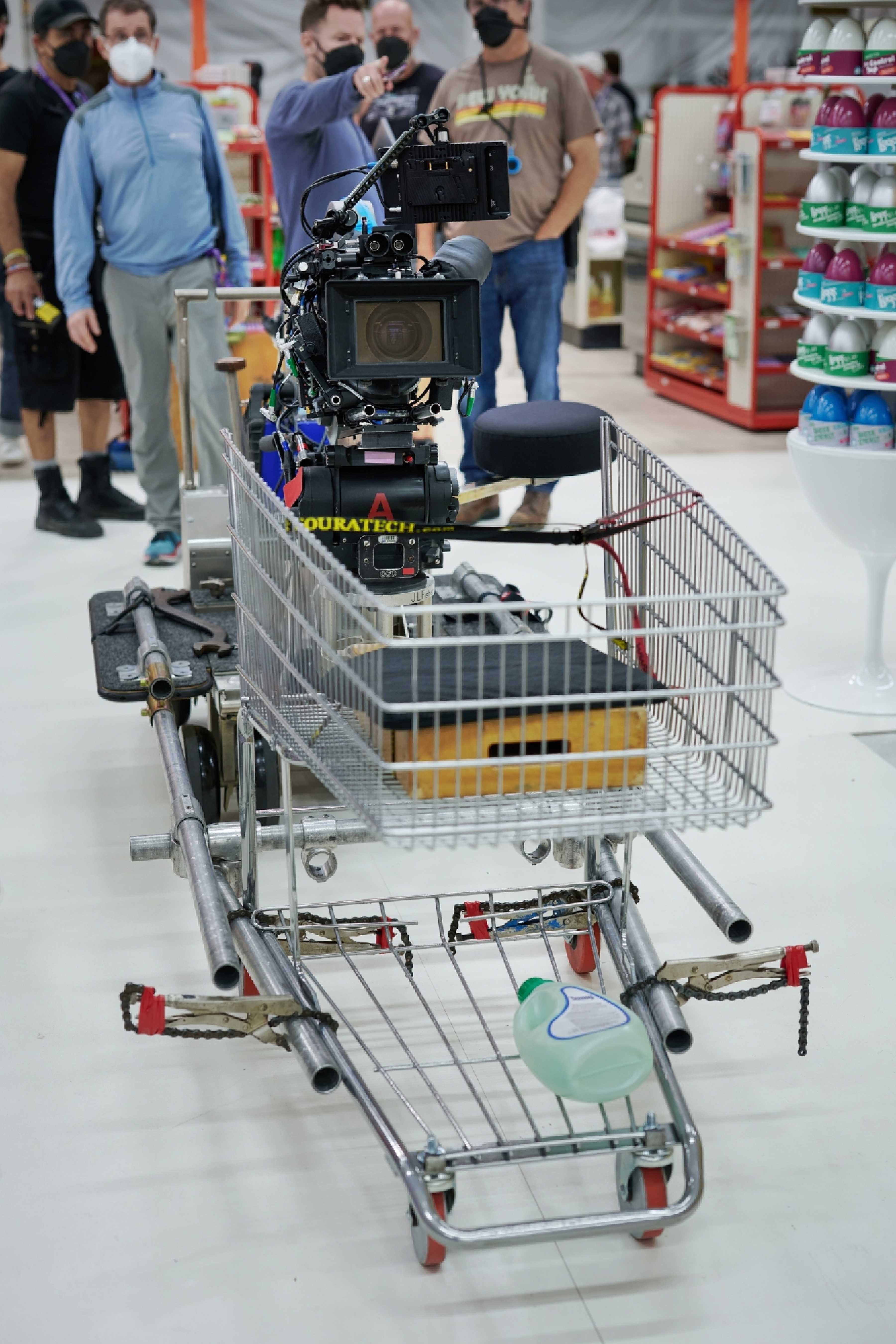 "Shooting this movie on film was something that Noah had established with Netflix before I was attached to the project," says Crawley. "Other than the 4K deliverable, I don't recall any stipulations about such things as film stocks, labs and processing. I felt very respected and that we had the mandate to shoot the movie the way we wanted using film.
"It's a tribute to Netflix that they support filmmakers, auteur storytellers, wanting to use film as their format of choice, and I think it helps make for a distinctive and visually engaging final product."