Filmmaker Stories
DP John Schwartzman ASC on lensing 'Jurassic World Dominion' on 35mm during the pandemic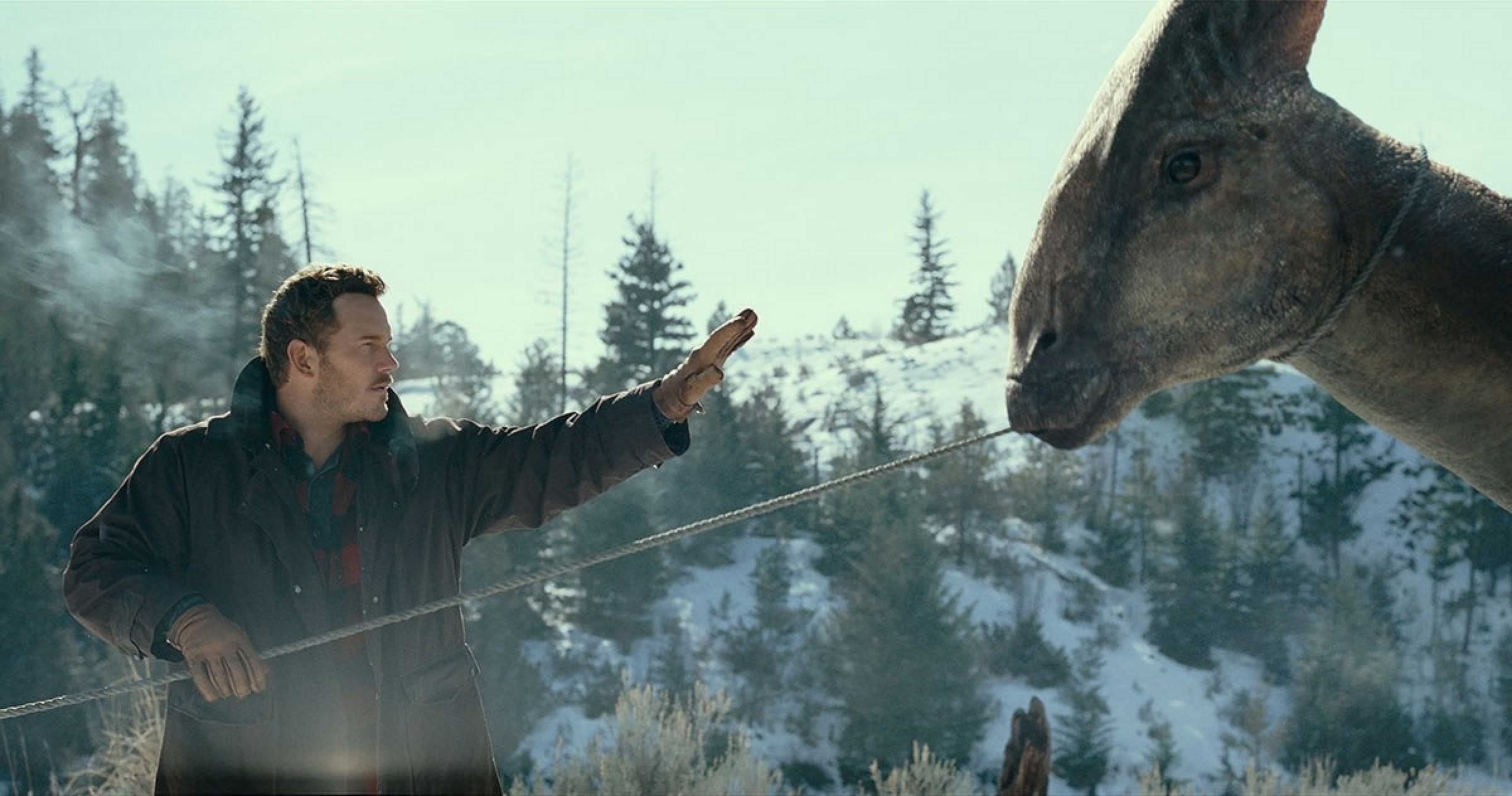 Closing any epic saga is no mean feat, but Jurassic Park Dominion reunites cast members old and new to go out on a high. Cinematographer John Schwartzman ASC explains his lensing choices and challenges of being part of the first major studio film to go back into production during the pandemic.
"There's not an easy shot in this movie!" remarks John Schwartzman ASC, referring to Jurassic World Dominion. The conclusion to the Jurassic World trilogy, co-written and directed by Colin Trevorrow, it's exactly as the title suggests: a globe-trotting blockbuster in which dinosaurs now finally walk among us. But for Schwartzman, lensing the film would involve multiple challenges – everything from a crunched pre-production to capturing action scenes to being the first major Hollywood production to navigate the global pandemic.
For the millions of Jurassic fans, Dominion not only draws to a close the story begun by Trevorrow in 2015's Jurassic World, but also reunites three principal characters for the first time since Steven Spielberg's landmark 1993 film Jurassic Park. Sam Neill (as palaeontologist Dr. Alan Grant) Laura Dern (paleobotanist Dr. Ellie Sattler) and Jeff Goldblum (chaos theorist Dr. Ian Malcolm) all return in an epic story tackling corporate greed, ecological catastrophe, and mankind's desire to play creator.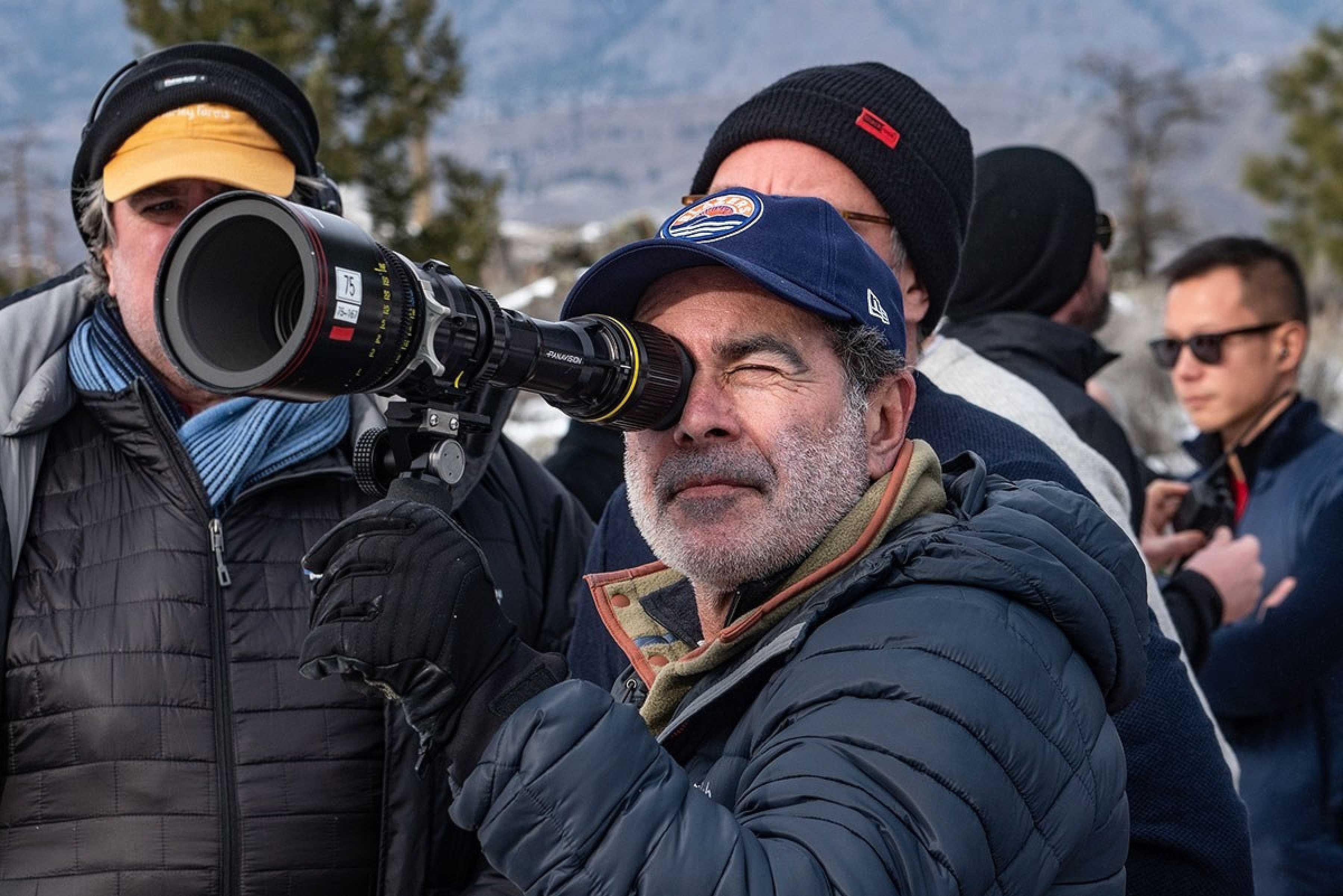 The focus is Biosyn, a leading bioengineering company where Malcolm now works that has its own spectacular dinosaur preserve called Biosyn Valley. Reunited, Sattler and Grant head there to find evidence of dangerous experiments that threaten the global food chain. Meanwhile, Jurassic World's former Raptor trainer Owen Grady (Chris Pratt) and dinosaur activist Claire Dearing (Bryce Dallas Howard) are hunting for their kidnapped adopted daughter Maisie – a search that will eventually bring them to Biosyn.
Schwartzman had previously shot Jurassic World with Trevorrow, although both took a backseat for 2018's Jurassic World: Fallen Kingdom, which was directed by Spanish filmmaker J.A. Bayona and lensed by his regular collaborator Óscar Faura AEC. As soon as Trevorrow agreed to complete the trilogy with Dominion, it was a given that Schwartzman would return. "Then the question was just when," he says. "Obviously, it's about negotiating schedules. I didn't have as much prep time on Jurassic as you normally would on a picture of this size."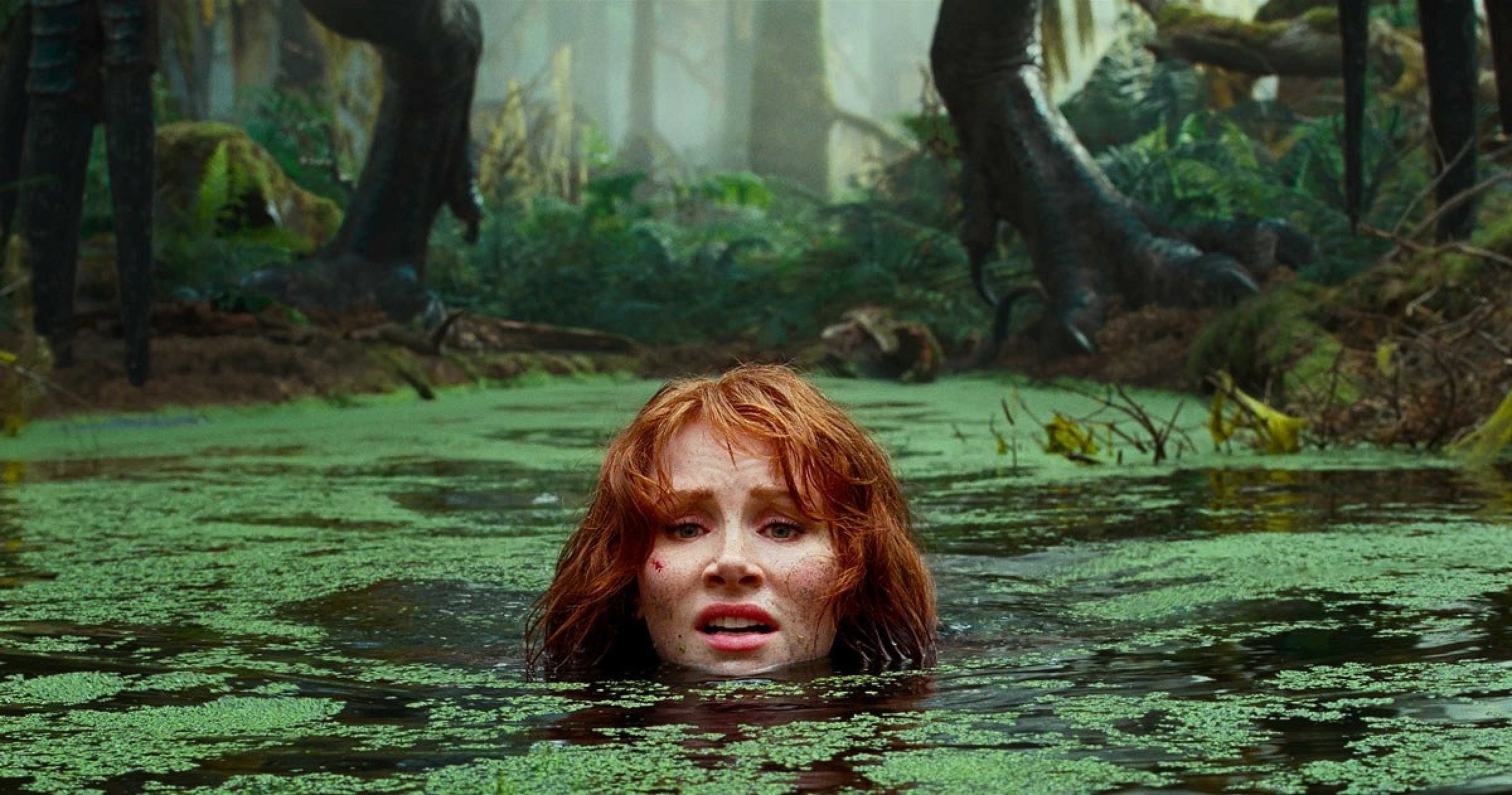 Already, he was committed to shooting The Little Things, John Lee Hancock's serial killer thriller, until December 2019. "Three days after I wrapped that, I got on a plane and flew to England," he explains. It meant, with the impending Christmas break, there was nine weeks of preparation before the Dominion shoot began in Canada, "which is not a lot of time for a movie like that", he adds.
The Dominion machine was already well underway by this point, with production designer Kevin Jenkins and visual effects supervisor David Vickery already deep into prep. For Schwartzman, the heartbeat of his team included first assistant camera operator Ryan Taggart, gaffer Lee Walters, and key grips Dave Mack and Mike Kirilenko, for the Canadian leg, and Alex Coverley, for when the production moved to England's Pinewood Studios.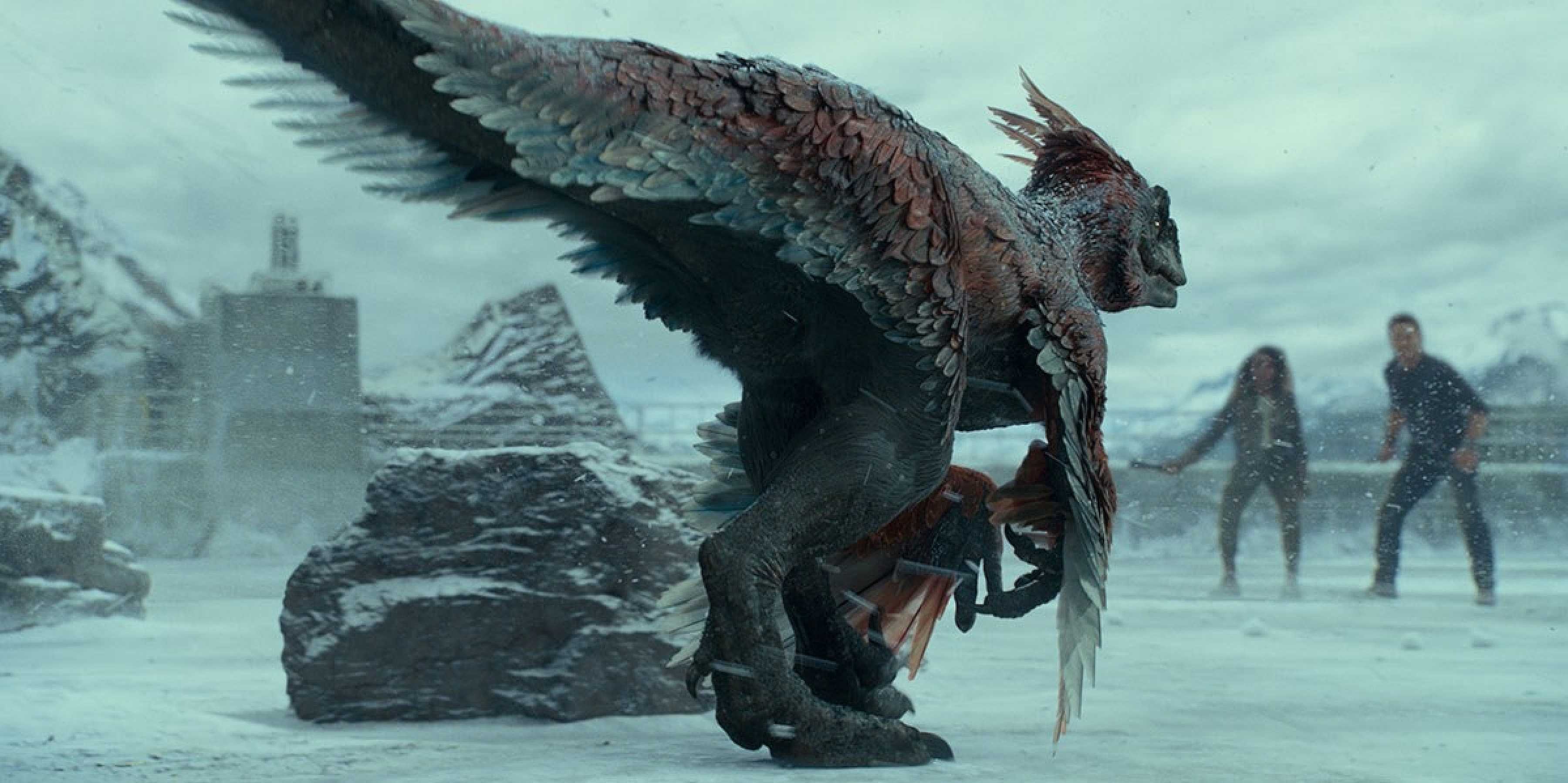 Merits of film
While Fallen Kingdom had been shot by Faura using digital cameras, Dominion would be primarily captured using film, shooting on KODAK VISION3 500T 5219 and VISION3 250D 5207. "Colin's very much a lover of film," says Schwartzman. "All the Jurassic films prior to [Fallen Kingdom] were done on film. This being the last one of the series, he wanted to shoot it on film, and as much of it on large format film as he possibly could." With the movie's settings ranging from snowy Sierra Nevada mountain vistas to Malta's dusty environs, the benefits of using film were clear.
Immediately, Schwartzman settled upon shooting on 65mm, using the Panavision 65mm bodies and Sphero lenses. Also used were Beaumont VistaVision cameras, excellent for dramatic outdoor action scenes. "They're incredibly great little cameras," he notes. "And you're running the film sideways through the camera, which is a VistaVision format. So again, it gives you that larger field of view."
The 35mm and 65mm packages were the same from the first Jurassic World. The 4-perf 35mm sequences were captured on the Panavision Platinum 452 and using two Panavision Millennium DXL2s with Primo lenses.
"The only times we shot digital was strictly because we needed the speed of the digital cameras, which are basically a stop and a half, if not two stops faster," says Schwartzman, who elected to use the Panavision Millennium DXL2 with the H Series and Sphero lenses for digital capture. This was primarily for a scene shot at Pinewood when Grant and Sattler are in the amber mines beneath Biosyn Valley, facing some hostile Dimetrodons in the subterranean gloom.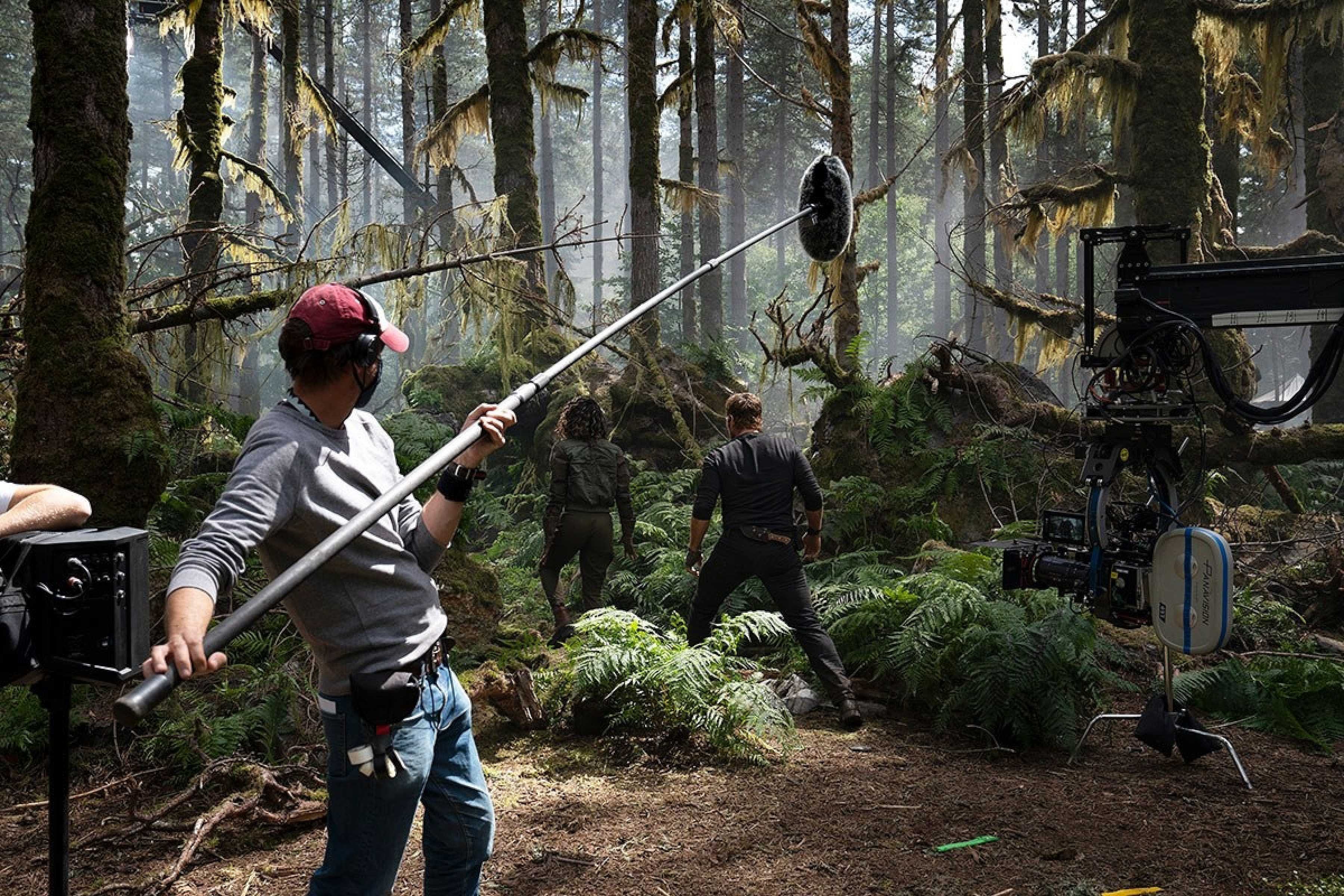 "We were using real flambeau torches to light the scene. And I just said to Colin, if you really want that feeling that these torches are the only light source, it's tough to do on film, because of just the speed of the film...I'm going to have to hide lights. But if you just want to do it with the torches, we can do that digitally." Using digital even allowed for a moment where Grant lights a match, the only source of illumination in the darkness.
Following Jurassic tradition, Dominion was shot 2:1. "Colin likes the 2:1 aspect ratio. So does Steven," says Schwartzman. "I wanted to shoot the original Jurassic World widescreen [2.39:1]. But Steven said the dinosaurs didn't look good in a wide horizontal format. And I'm not about to argue with Steven! So that was what we came up with, which is a format that can be released in a conventional 1.85 container but gives you a little more width. And you use spherical lenses as opposed to anamorphic lenses."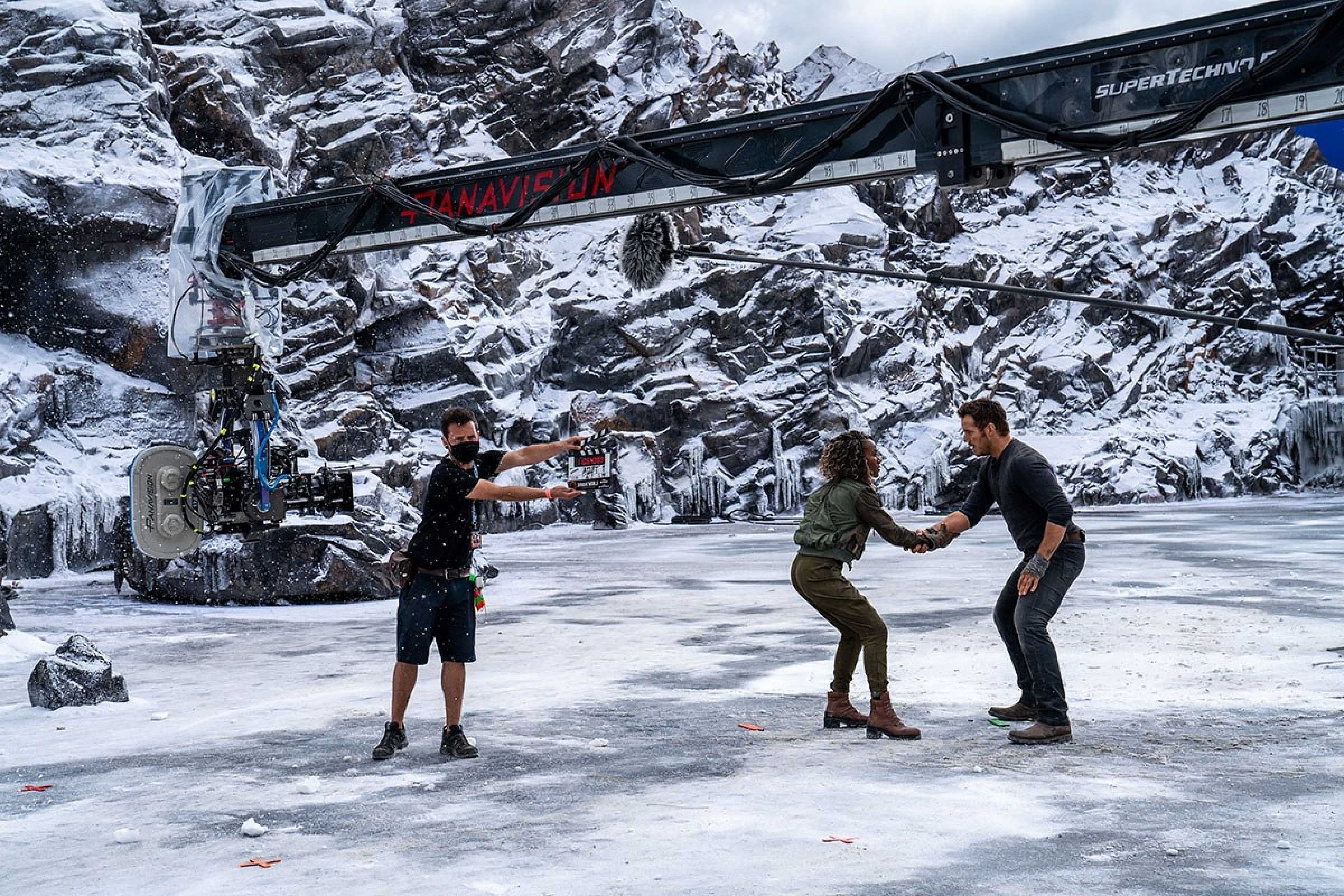 The choice of lenses was necessarily complex on a film as vast as Dominion. "The VistaVision cameras used Leica R lenses; all the 65 cameras used 65mm Spiro lenses," Schwartzman explains. "And then the 35mm was my set of lenses from the first Jurassic World, which was just a set of Primo lenses. But they had been reworked at Panavision by Dan Sasaki to give me a look that I was looking for. We made everything try to feel of the same family of lenses even though we, boy, must have had 50 lenses on this movie."
With a shortened pre-production, there was little time for camera tests, although "due diligence" was done at Panavision to ensure equipment would cope with the harsh conditions in Canada. "The 65mm cameras that we were using, both those bodies were on Lawrence of Arabia. So we're talking about some equipment that's a little long in the tooth. Panavision has a cold room, basically a room that's like a freezer. We went in there, we set the temperature below what we thought it was going to be in Canada, ran all the gear."
Unplanned hiatus
After scenes were successfully shot in and around Kamloops and Merritt, the production moved to England. But by mid-March 2020, Dominion was forced to shutter due to the spread of COVID-19. When the filming resumed in July, Dominion was the canary in the mine for Hollywood productions. Rigorous daily testing was employed, with crew members – depending on your task – only allowed on set at certain times.
Inevitably, this was a logistical nightmare. "The level of complexity went up when suddenly the painters, who are on a different testing protocol than the riggers, can't be on the stage at the same time," says Schwartzman. It meant the construction team had to leave the stage, which needed to be aired out for three hours, before it could be pre-lit. "It was a very complicated dance to get everything ready."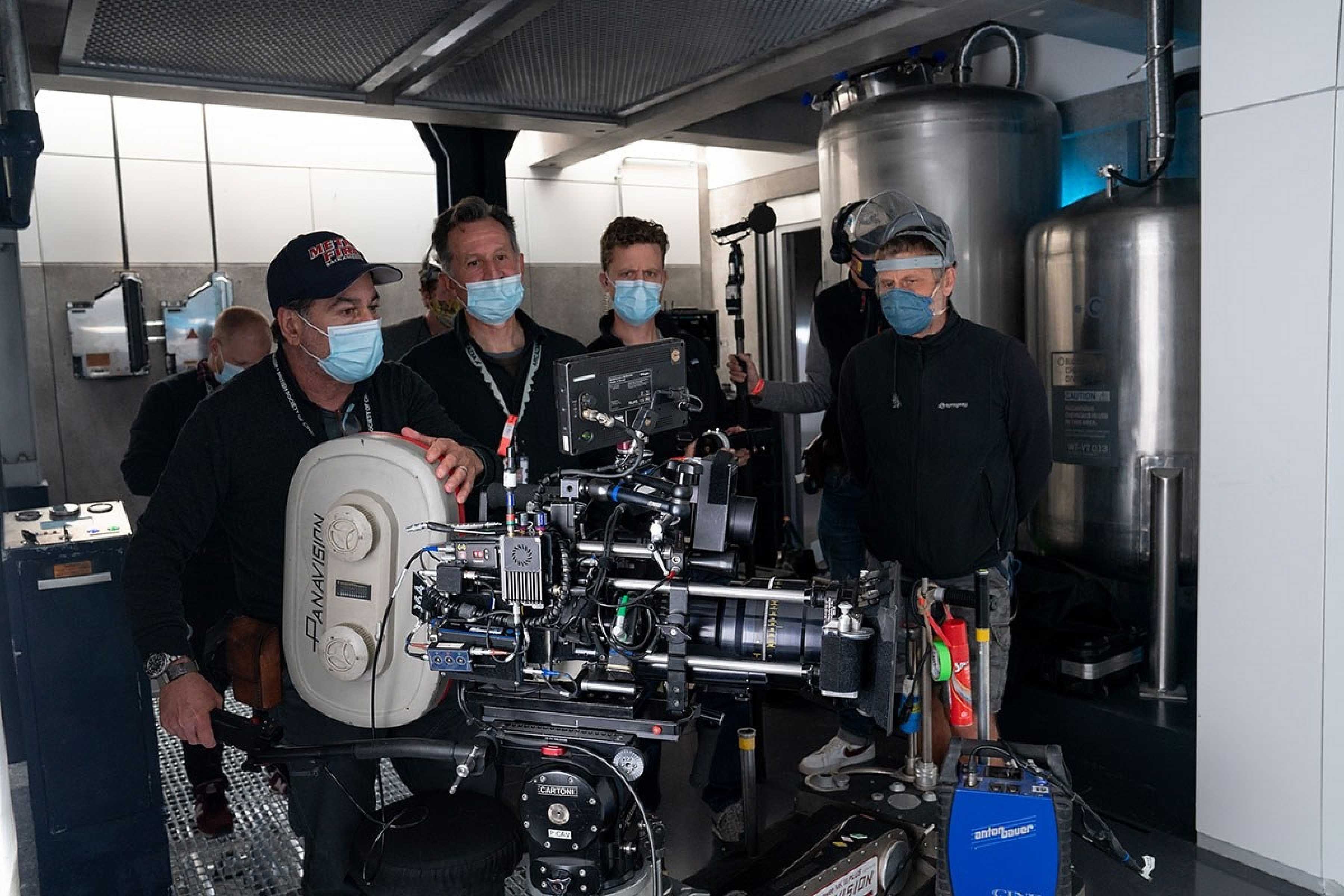 Even more of a headache were the scenes in Malta, where Claire and Owen first look for Maisie, including a dramatic chase as our heroes are pursued by deadly Atrociraptors. The pandemic meant the main unit could no longer travel to the Mediterranean island, although fortunately before lockdown it had been scouted extensively by Schwartzman, Trevorrow, Second Unit director Dan Bradley and Second Unit DP Patrick Loungway.
The Second Unit team were dispatched to Malta to shoot footage for the chase. Close-up footage was shot in Pinewood, where much of the film was now being staged – including Malta's underground dinosaur market. While VFX remained a primary tool, it was one of several scenes where animatronic dinosaurs – designed by British outfit John Nolan Studio – were deployed.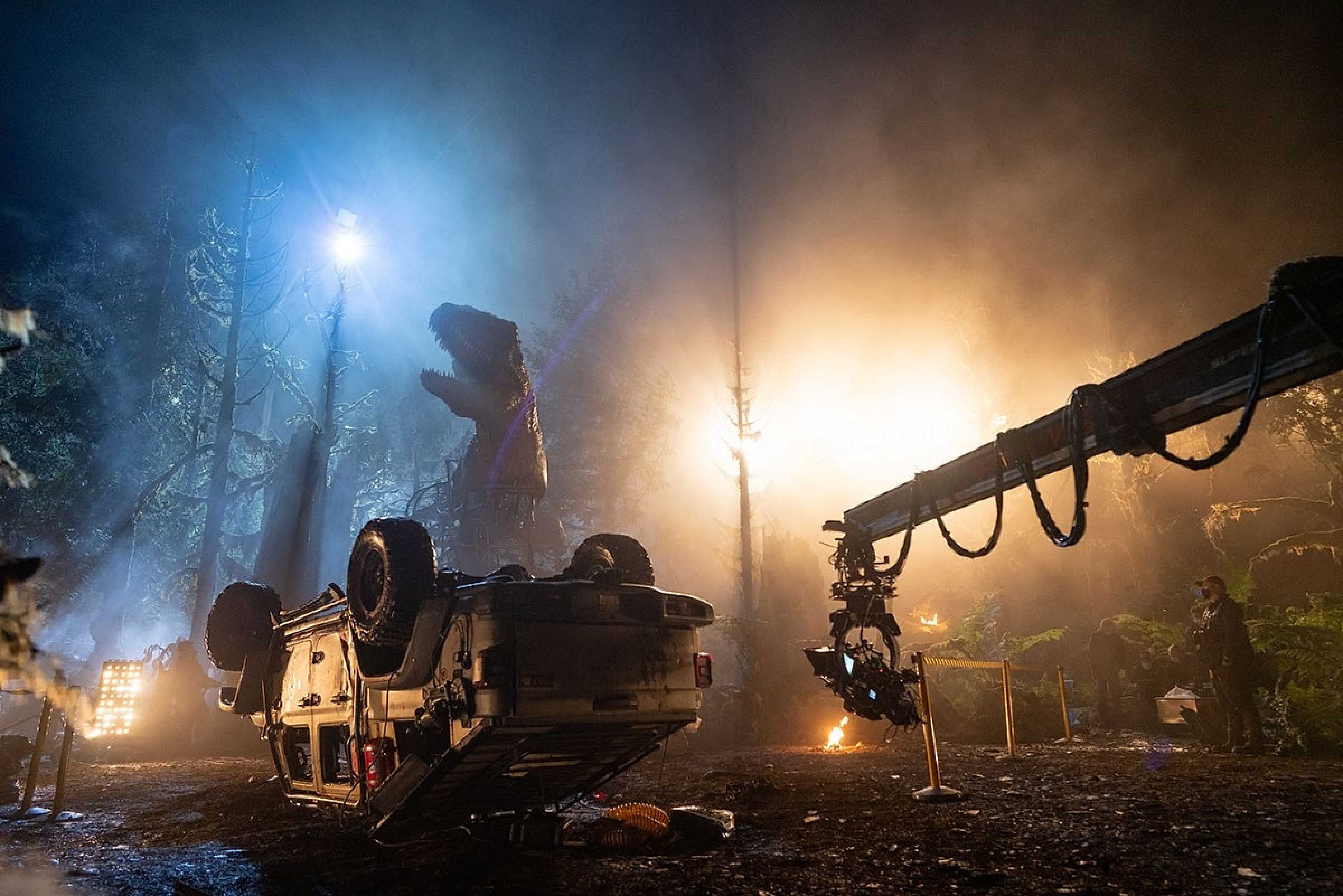 Lighting the scene was complex, not least because the cavernous market interior contained holes in the roof letting direct sunlight in. "Most motion picture lights, you can't burn them straight down," says Schwartzman. "The lenses explode…and the last thing you want is a 24-inch Fresnel exploding and falling on top of people. So Lee [Walters] and I figured out a way to create what looks like hard sunlight coming through those holes in the roof, by utilising Par 64s." With "120 lights smashed as tight as we could" in concentric circles – Schwartzman dubbed it "the circle of death" – this unique rig was raised some thirty feet above set. "It gave you one solid shadow and a hard shaft of light."
When it came to filming the action, Trevorrow was looking to keep Dominion in synch with the earlier Jurassic movies. "Colin [wanted] to emulate Steven's style...very long, complicated moving masters that go from a wide to a close to an over, back to a wide," reports Schwartzman. "If Colin didn't have to shoot any coverage at all, he wouldn't. He's trying to design masters that tell ninety percent of the story, which is exciting and very challenging at the same time."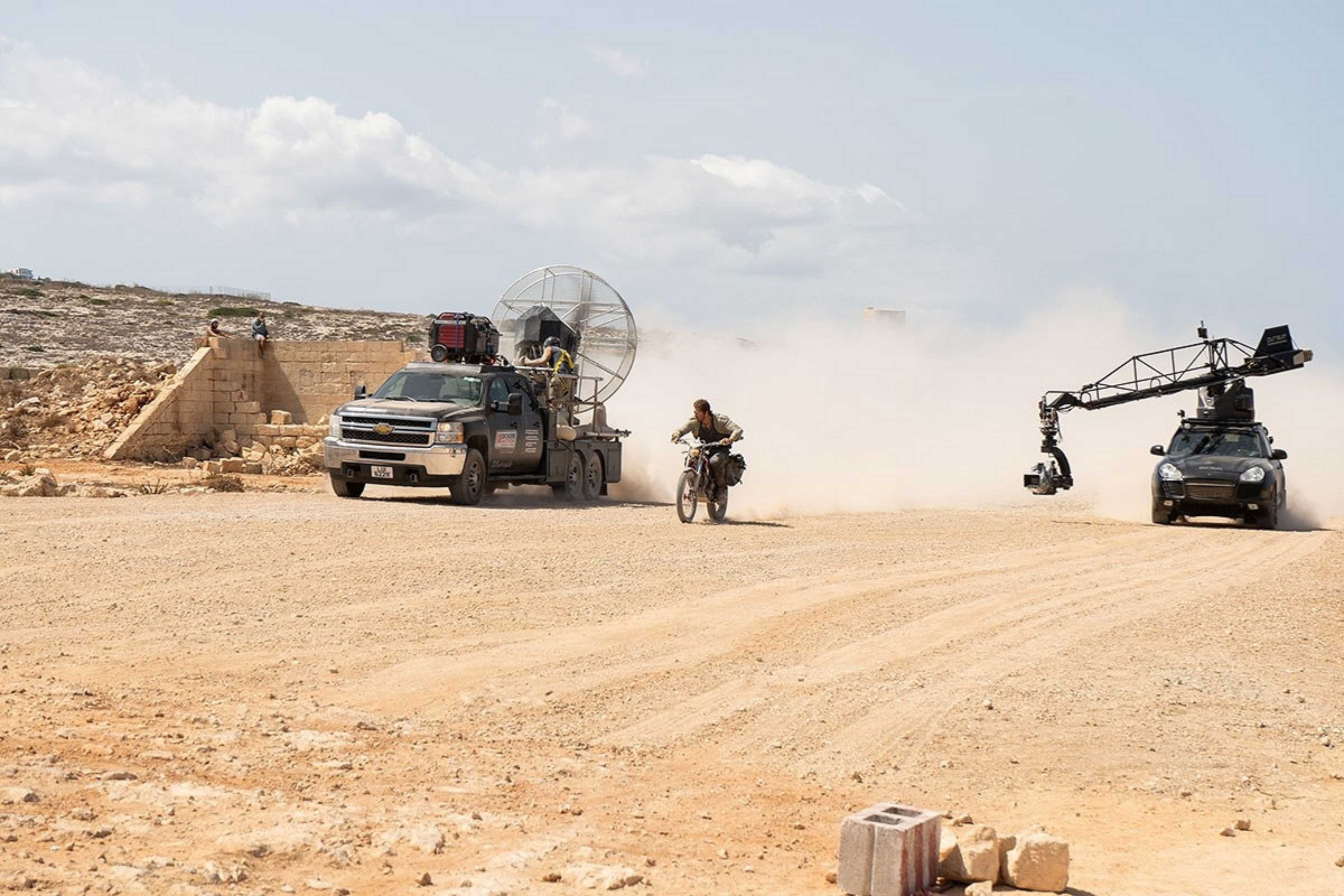 To help, Schwartzman deployed three different Technocranes – 50', 30' and 17' – to capture dynamic shots. "Colin likes a very mobile camera," he adds. What he's less keen on was multiple cameras. "He would never throw a second camera in just to get a cutaway of somebody," says Schwartzman. "He would say, 'No, they get their shot. It's an A camera shot. This is how we're doing it.'" Only occasionally – such as the underground market and the finale, where the characters face off with the enormous Giganotosaurus in Biosyn Valley – saw more than one camera used.
A team from Helicopter Film Services, led by aerial DP and camera operator Jeremy Braben, shot dramatic aerial sequences in Switzerland and the UK. "We used our specialist 6-camera aerial array, the Typhon, mounted on the Shotover K1 gimbal rigged with 6 Red Helium and 21mm Zeiss CP.3 XD lenses in order to give a massive field of vision - ideal for use in VFX driven productions," Braben says. "We then swapped from the Typhon 6-camera array to our custom 6-camera 360 array also mounted on the Shotover K1 stabilised gimbal, using the same cameras and lenses."
After the shoot wrapped in November 2020, Schwartzman went to the American-founded post-production house Company 3 for picture grading. "Working with Colin is a very straight ahead process and I don't ever try to re-light the movie in the grading," he says. "What you see is how the movie is going to look. In a nice way, we actually had a very well graded movie, before we even got into the final DI [Digital intermediate] process." It was a satisfying end for not only an epic film – but a saga stretching across three decades.
Words: James Mottram. This article first appeared in British Cinematographer magazine.