Filmmaker Stories
DP Andrew Dunn harnessed Kodak film to bring an inviting look and emotional connection to The United States vs. Billie Holiday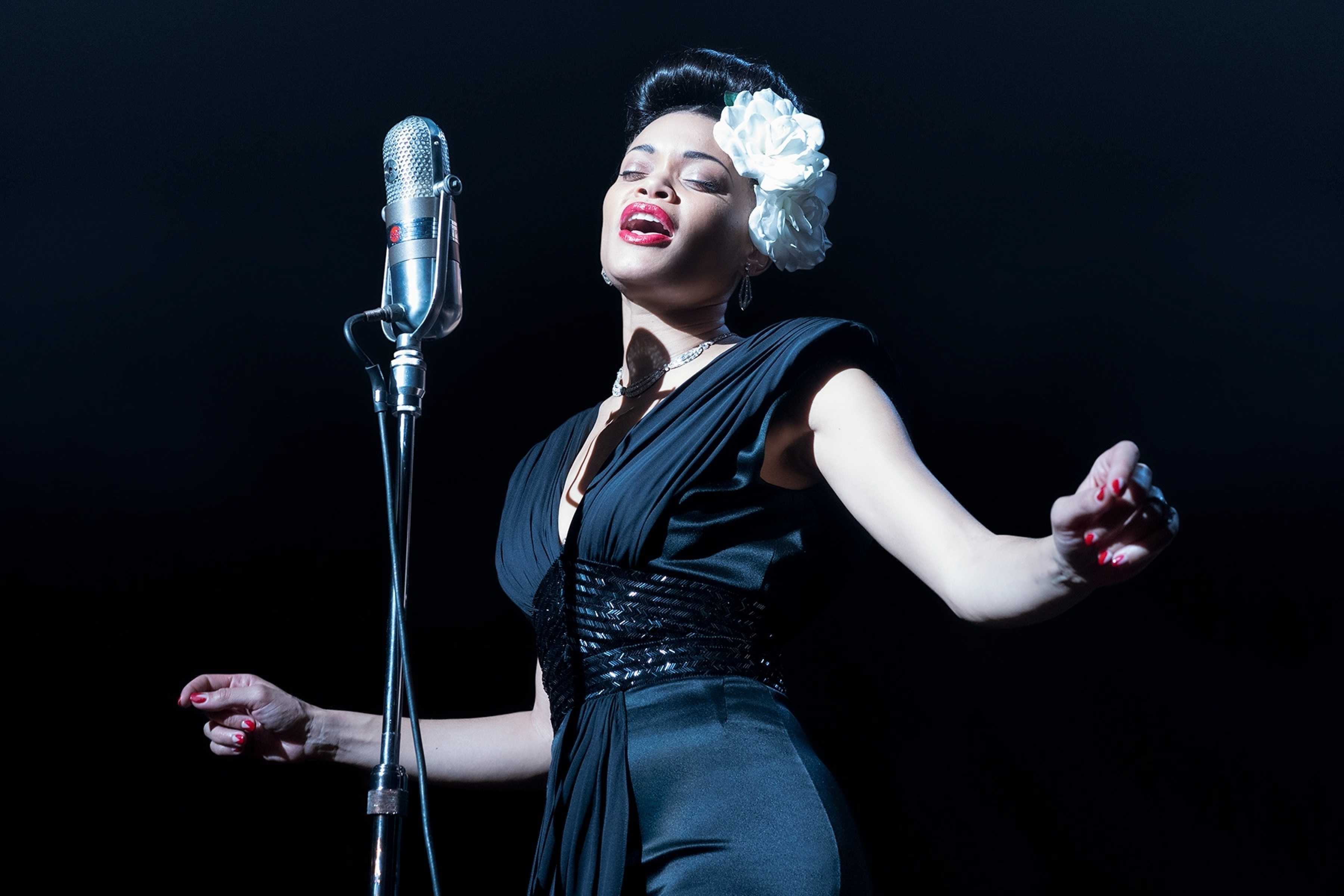 The resonance of the past can be a very powerful thing. It certainly proved a major lure to British cinematographer Andrew Dunn BSC when it came to shooting The United States vs. Billie Holiday, and finding himself very much in tune with its director Lee Daniels and titular star Andra Day. For connective emotional and period effect, the cinematographer captured the story on Kodak celluloid film using vintage Anamorphic lenses.
"On Sunday mornings I distinctly recall my father playing Billie Holiday records, and I was brought up as a youngster with the magical sound of her voice wafting through the house in North London," Dunn remembers. "It was very intriguing to me who this person was. I spent a lot of time listening to her songs, looking at the album covers, and wanting to lean more.
"So when Lee first mentioned five years ago that we might do a film about Billie Holiday, I fondly thought of my father, who had passed, and the prospect of shooting this story on film made me wonder whether I was dreaming."
An independent production, bought by Paramount and streaming on Hulu and Sky Cinema, The United States vs. Billie Holiday follows the legendary Holiday, one of the greatest jazz musicians of all time, who throughout her career was adored by fans across the globe. Beginning in the 1940s and mainly set in New York City, it is a dramatic and emotional retelling of how the federal government targeted her in a growing effort to escalate and racialize the war on drugs, and its particular vendetta to stop Holiday from singing her controversial and heart-wrenching ballad, 'Strange Fruit.' Holiday's defiance through music would help usher in the civil rights movement.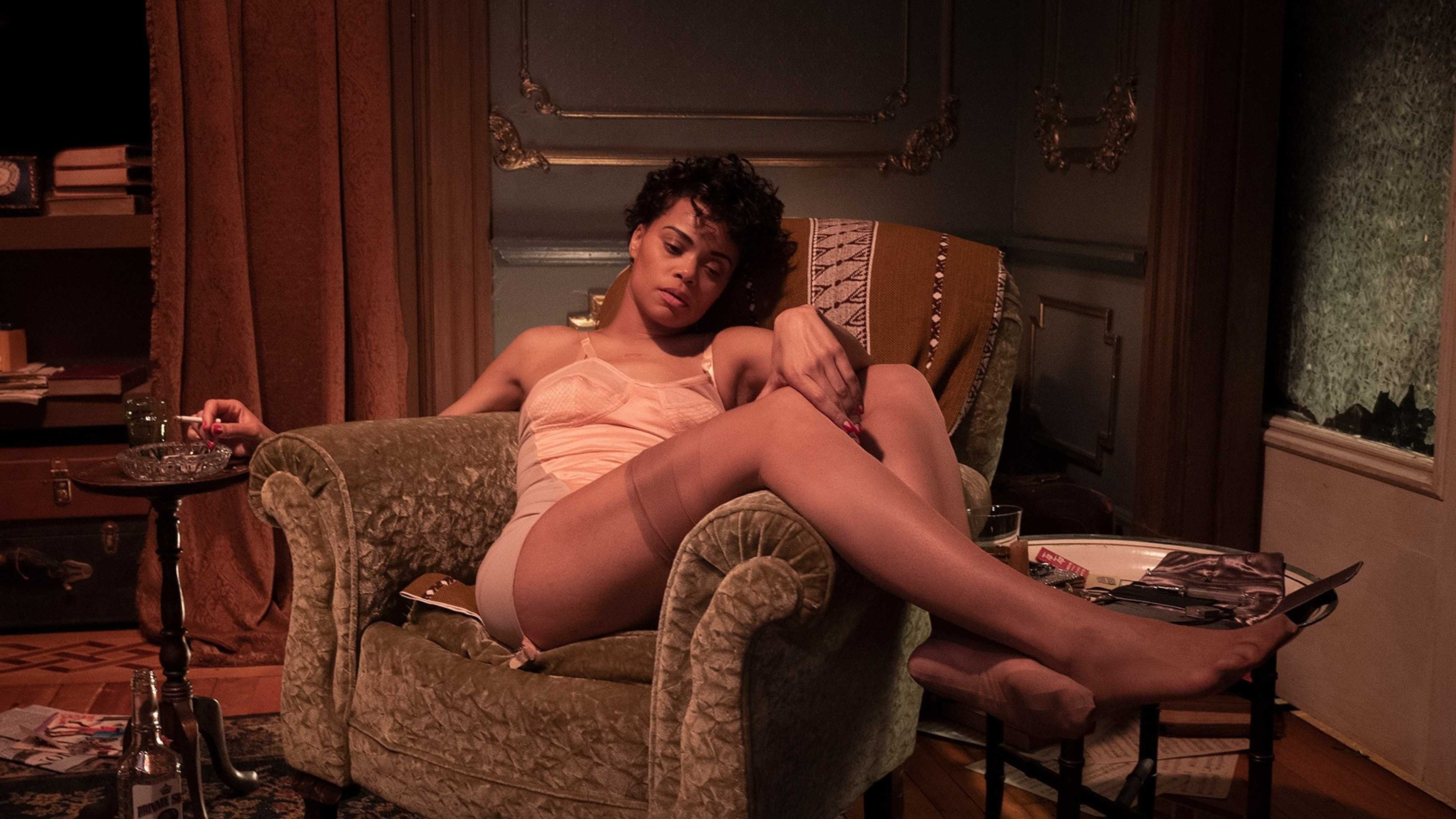 The screenplay by Pulitzer-winning playwright Suzan-Lori Parks interweaves the story of Holiday's troubled and turbulent life amongst glittering performances of some of her most famous hits. It originated from a single chapter in Johann Hari's 2015 book Chasing the Scream: The First and Last Days of the War on Drugs. Andra Day, who made her acting debut in the film, became the first Black best drama actress winner at the Golden Globes in 35 years, and stars opposite Trevante Rhodes, Garrett Hedlund, Tyler James Williams and Da'Vine Joy Randolph.
Dunn has served as the DP on nearly 60 feature-length films, including L.A. Story (1991), The Madness of King George (1994), Gosford Park (2001), The History Boys (2006), Crazy, Stupid, Love (2011) and The Perks of Being a Wallflower (2012). The United States vs. Billie Holiday represents his fourth collaboration with Daniels, after their work together on Precious (2009), The Butler (2013) and the pilot episodes of the Sky series Empire.
Dunn says working with Daniels is "a symbiosis of understanding, in which Lee gives hints and ideas and allows me, along with the other collaborators on the film, the room to translate those into cinematic images.
"On this project in particular, Lee's main goal was to take the audience on a journey back in time, to anchor the film around Andra's performance as Billie, and to have an intimate connection with the subject. The intention was not to look at Billie but to be with her and her emotions.
"So, long before we started production, I made a point of learning about Billie and her life as much as I possibly could through books, documentaries and films, including the biopic Lady Sings the Blues (1972, dir. Sidney J. Furie, DP John Alonzo ASC), starring Diana Ross, which was one of the first films I saw growing up."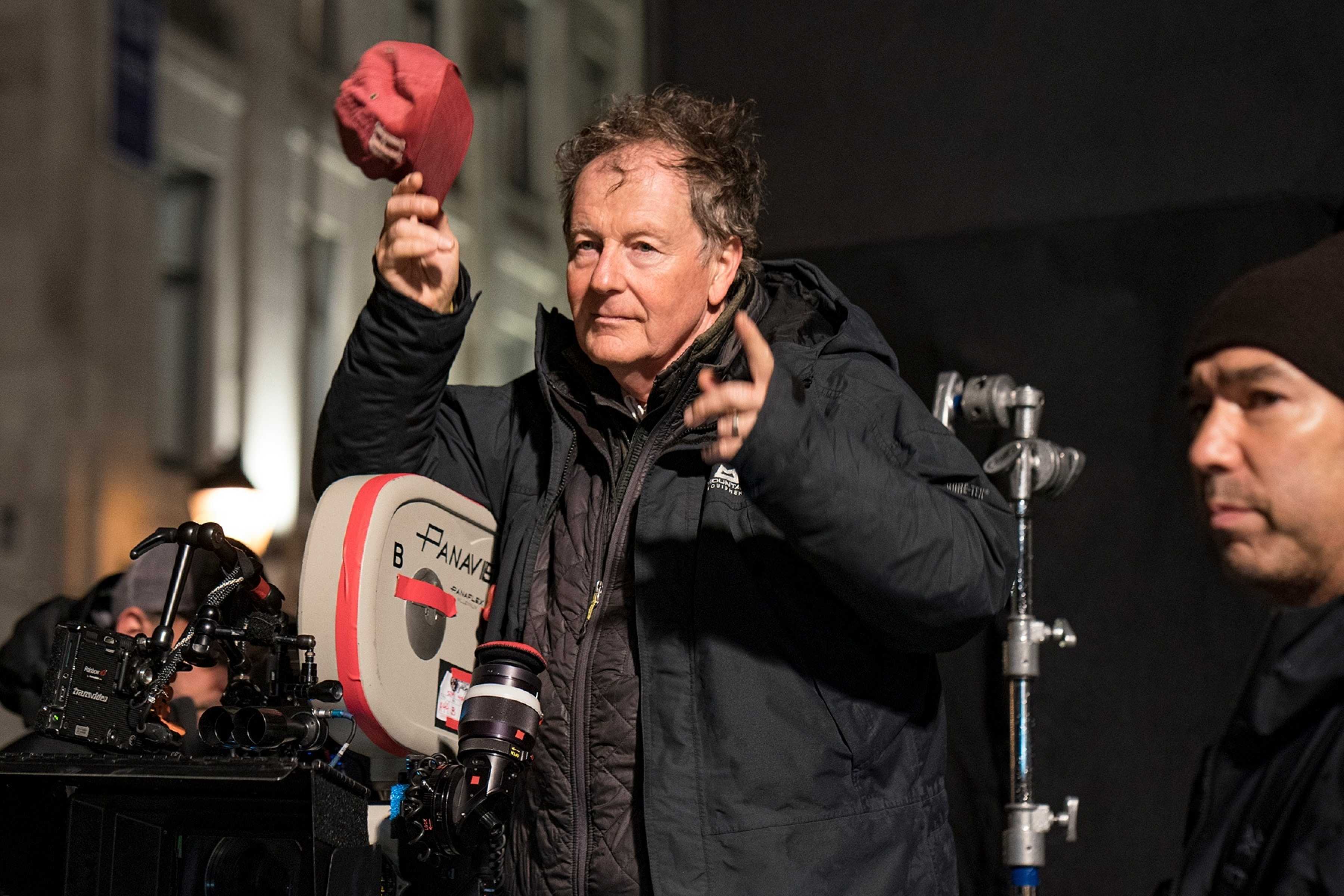 The United States vs. Billie Holiday was shot in Montreal, Canada, with city streets doubling for period New York, and rural locations for different parts of the US. Based out of Mels Studios, near Montreal's downtown area, filming began in October 2019 concluding seven weeks later in December.
"In the run-up to production, there was quite a bit of discussion about whether we might shoot in Glasgow, Liverpool, New Orleans, Atlanta or Philadelphia, which can all stand-in for New York," says Dunn.
"But Montreal turned out to be perfectly good. Being based at Mels Studios meant we were well-situated to film in the countryside, in the city – where existing theatres could be easily dressed and digitally manipulated to replicate places such as Carnegie Hall – or on the stage sets themselves, which was where we built Café Society. We also used the lab at Mels to develop the film negatives and deliver DVD rushes."
The cinematographer reports that while production was a five-day-a-week affair, some days could be extremely long, often concluding in the wee small hours of the morning, due to multiple changes in wardrobe, hair and make-up.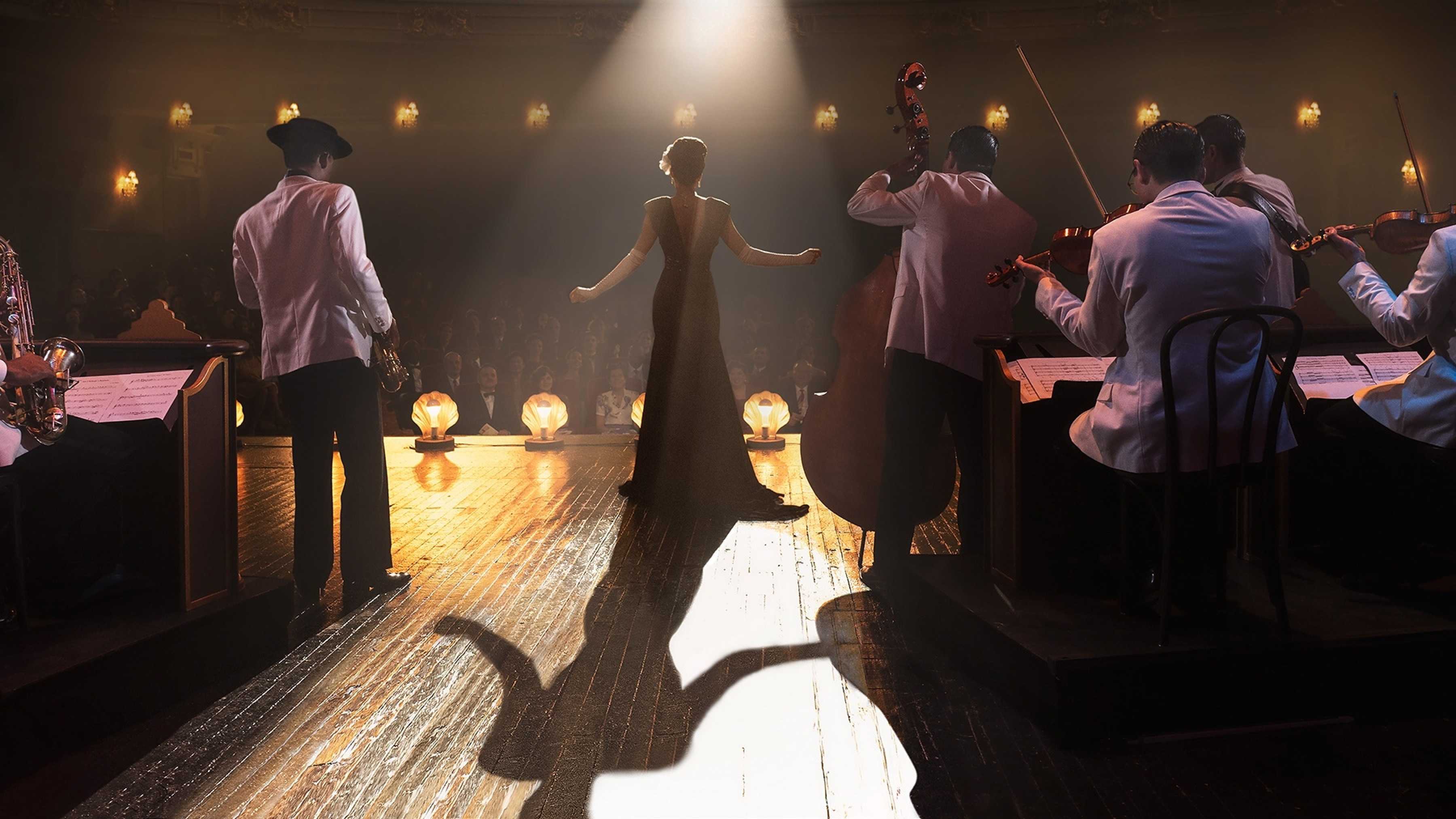 Dunn says he and Daniels took visual cues for the production from a wide range of sources – footage and stills of the legendary performer, photographic images of period New York, as well as frames from music performance films. These included features such as Funny Girl (1968, dir. William Wyler, DP Harry Stradling Sr. ASC) starring Barbara Streisand and Victor/Victoria (1982, dir. Blake Edwards, DP Dick Bush BSC) with Julie Andrews.
A technique in La Vie en Rose (2007, dir. Olivier Dahan, DP Tetsuo Nagata AFC), in which Marion Cotillard plays the French chanteuse Édith Piaf, helped show them how they could shift time periods within a single take, for one idea they had planned. And for a scene in Club Ebony, where Holiday returns to live performing after losing her cabaret license, they also considered Faces (1968, dir. John Cassavetes, DP Al Ruban) for its handheld style.
Dunn lensed the movie on Kodak 35mm in 4-perf, using vintage Panavision C-series and E-series Anamorphic lenses, and shooting with up to three cameras at a time for some of the musical performances. The cinematographer also used a clockwork Bolex 16mm camera, harnessing its juddering roll-up-to-speed, to depict some of the darker and more troubled moments in Holiday's life and psyche.
The cameras and sets of Anamorphic lenses, tweaked for visual consistency across the different focal lengths, were provided by what Dunn calls, "the Panavision family working at its best – namely Dan and Amanda Sasaki in Woodland Hills, together with Hugh Whittaker and Charlie Todman in London."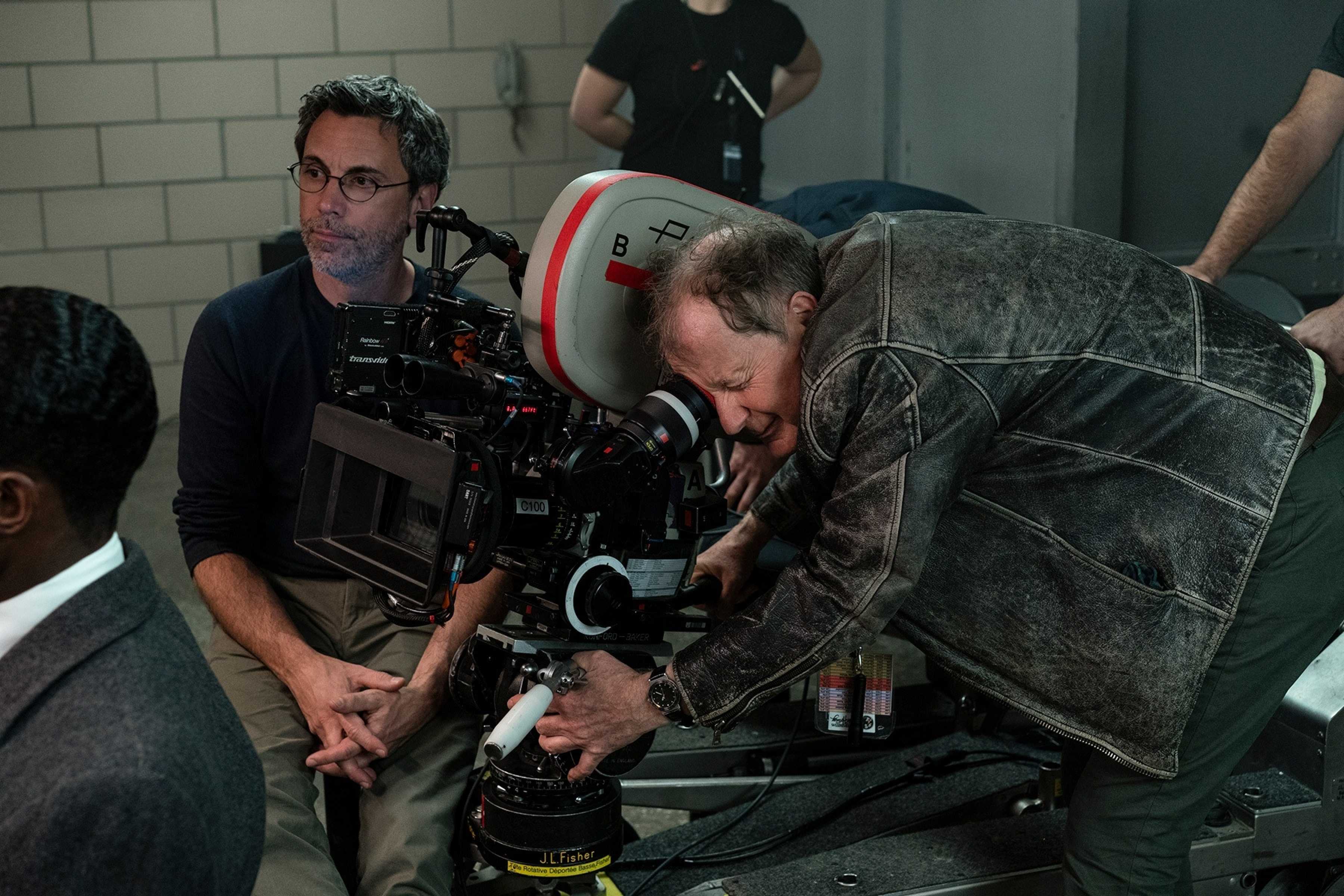 Aiming for a textural image, with a sumptuous warmth, that would be inviting to the eyes, Dunn started production using KODAK VISION3 250D Color Negative Film 5207 stock to shoot a scene featuring Holiday and Tallulah Bankhead walking through Central Park at Easter time.
"Whilst the 250D is perfectly colourful, I wanted more warmth and emotional connection in the picture," he says. "Consequently, for the rest of the production, I switched to KODAK 500T 5219 Tungsten stock, which, in combination with the finessed lenses and the lighting, was perfect for capturing Billie's world, especially at night and on stage. There is a human aspect to film in the way that the layers of emulsion marry together, along with the grain, to give a more natural looking result than digital, and this really helped to immerse the audience in Billie's space."
He also believes that the discipline, rhythm and pace that comes with shooting on film was an absolute advantage when it came to capturing the musical performances.
"There's a certain aura that comes over the set when you shoot on film, which brings a positive focus to the crew and the cast," he says. "The pauses for thought and reflection you get during mag changes were important for us all, but they also gave time for Lee to speak with Andra, and to get her ready to go again. When you keep shooting with the digital camera, things can all too easily become a frenzy of impatience.
"I have to say that Andra was so extraordinary, and just recalling her now gives me goosebumps. She really knew how to perform as Billie and gave it everything she had. Although she was oblivious to the camera, she allowed the lens, and thereby the audience, to get within her character."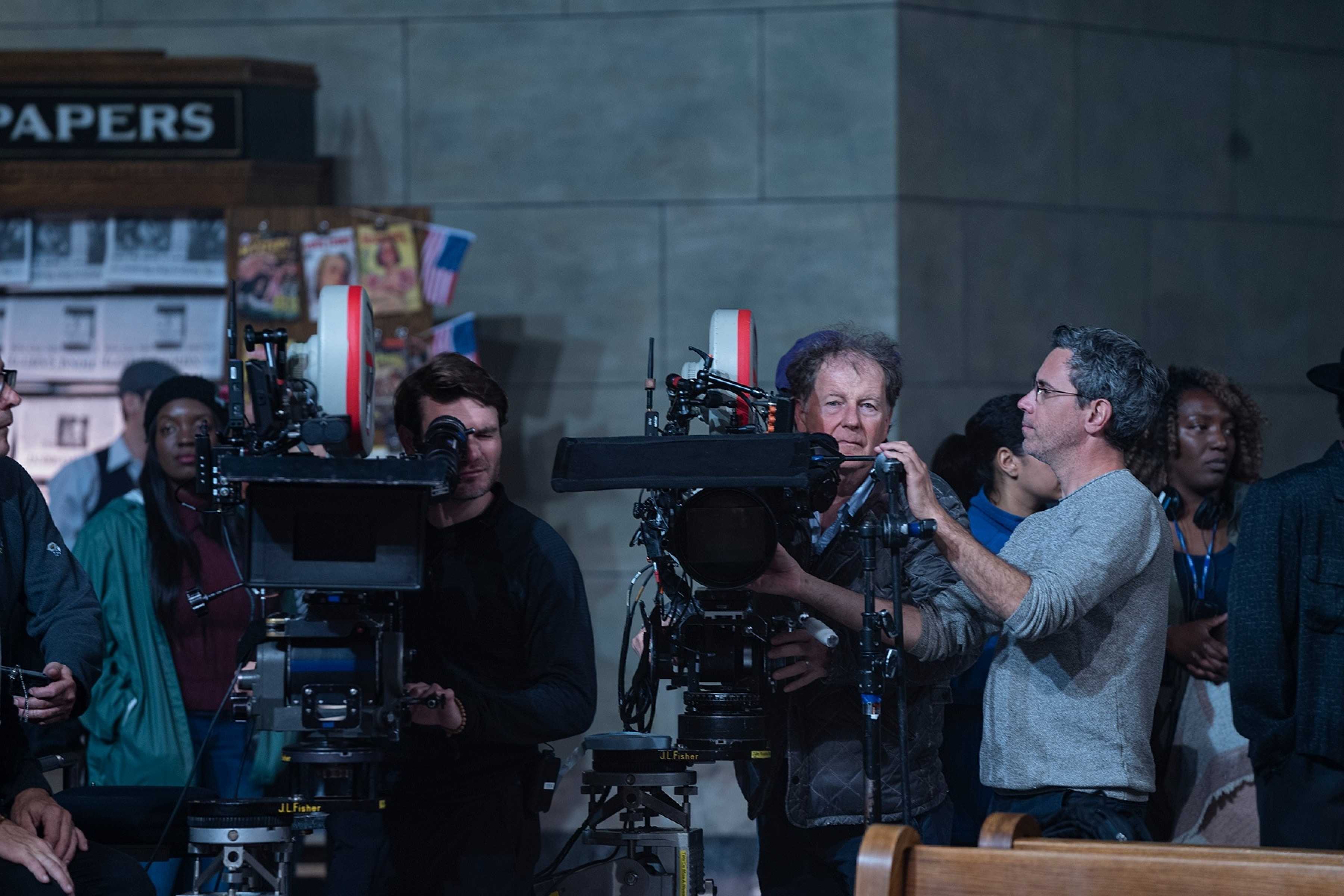 Dunn shot A-camera throughout the production. His crew included locals from the Montreal area: Dany Racine as first AC A-camera; Yoann Malnati as B-camera/Steadicam operator, assisted by Nicolas Marion; operator Sylvain Dufaux, for when a third camera was required; loaders Isabelle Lauzon and Christian Caperaa; key grip David Dinel; and gaffer Eames Gagnon.
"I had never been to Montreal before, and although I did not know any of the crew beforehand, they are real filmmakers and this project was clearly very special to them," says Dunn. "Whilst they were very supportive to me, above all, I credit them for stripping away the ego of the camera and building an environment of trust that enabled Andra to perform at her very best."
In regard to moving the camera for storytelling purposes, Dunn reveals, "I love to move the camera in empathy with what you might call 'the symphony of highs and lows' in the narrative, but it has to be well thought through. On Billie's performances, we used cranes quite a lot, which involved planning choreographed manoeuvres that searched for her over the stalls and circled around her on the stage – all whilst taking into consideration the physical dimensions of the auditorium, the background, the extras and Andra's performance. The start points were important for both the actors and audience to respond to, so we spent a good deal of time discussing where we positioned for those first shots."

One of the most striking scenes in the film, and one of the most difficult to shoot, involved a three-and-a-half-minute Steadicam shot, inspired by Cassavetes' Faces, following Holiday from her tour bus in the Deep South to the stage at Carnegie Hall. During this sequence, of real and imagined experiences, she witnesses a brutal lynching, observes traumatized children, wanders through a sharecropper's shack where, in different rooms, traumatic memories of her drug use are replayed, before she finally steps into the spotlight to sing 'Strange Fruit.'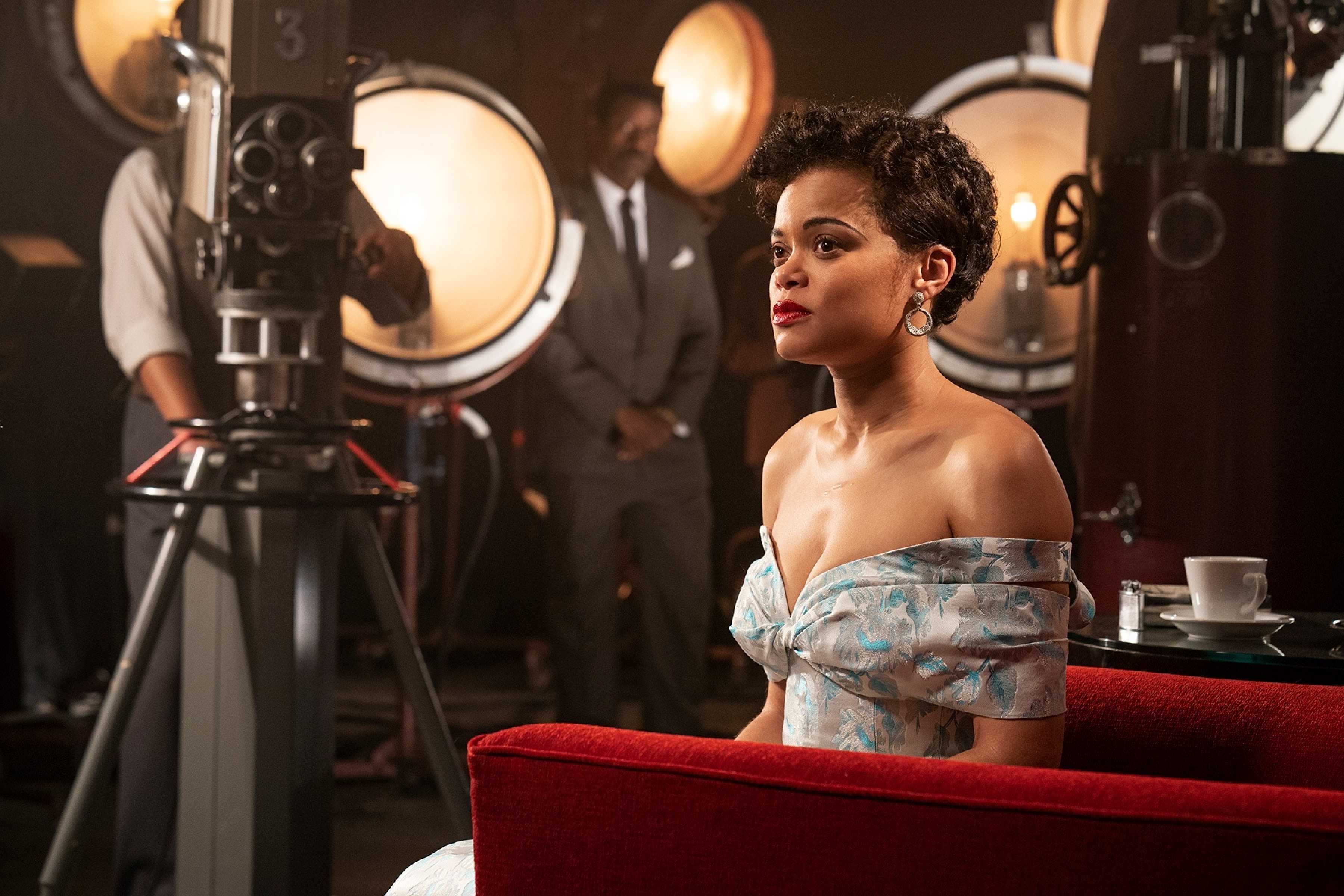 For the sequence, production designer Dan Dorrance created a set inside a wooden shack, adjacent to where the lynching was staged. Dunn says the shack itself was like a maze containing each of the different vignettes.
"It took quite a long time to find the right location, and then to work out and build the different sections within it, as each had its own particular set dressing and lighting requirements," Dunn recalls. "Although it looks quite a big and deep area in the final film, it wasn't a large space at all. Eames, my gaffer, and his team built lighting rigs on four ceilings, with alternating hard film lights and softer practicals. Dan and the set designers constructed the stage entrance at Carnegie Hall in the shack. A 2K Par provided the sharp spotlight that Billie encounters, and, with a quick edit to a separate shot of her dressed ready to perform, she steps out in front of the audience to sing her protest song."
After lighting the location, Daniels and Dunn choreographed the scene with Day and Steadicam operator Yoann Malnati. "It was a very complex shot, but after two or three takes, Yoann and Andra got themselves in complete sync, and I am very pleased with the result."
As for lighting, Dunn says, "The quality of the light was very important, and for the look of this particular film there was nothing better than the Fresnel, which we used focused or open-eyed for the different musical stage performances, together with period fixtures that you see in shot, all sourced by Eames.
"That quality of Tungsten light, passing through the lens and recorded on to the film emulsion, was fundamental in the human connection we wanted to achieve. However, I kept the level of our energy consumption very much in mind, and used LEDs where I could, such as Litepanels' Geminis and Astera tubes for fill lights. LEDs get better by the week, but issues with discontinuous spectrum can affect the look. You cannot spot this when shooting on film, of course, until you see the rushes. So you do still have to be mindful."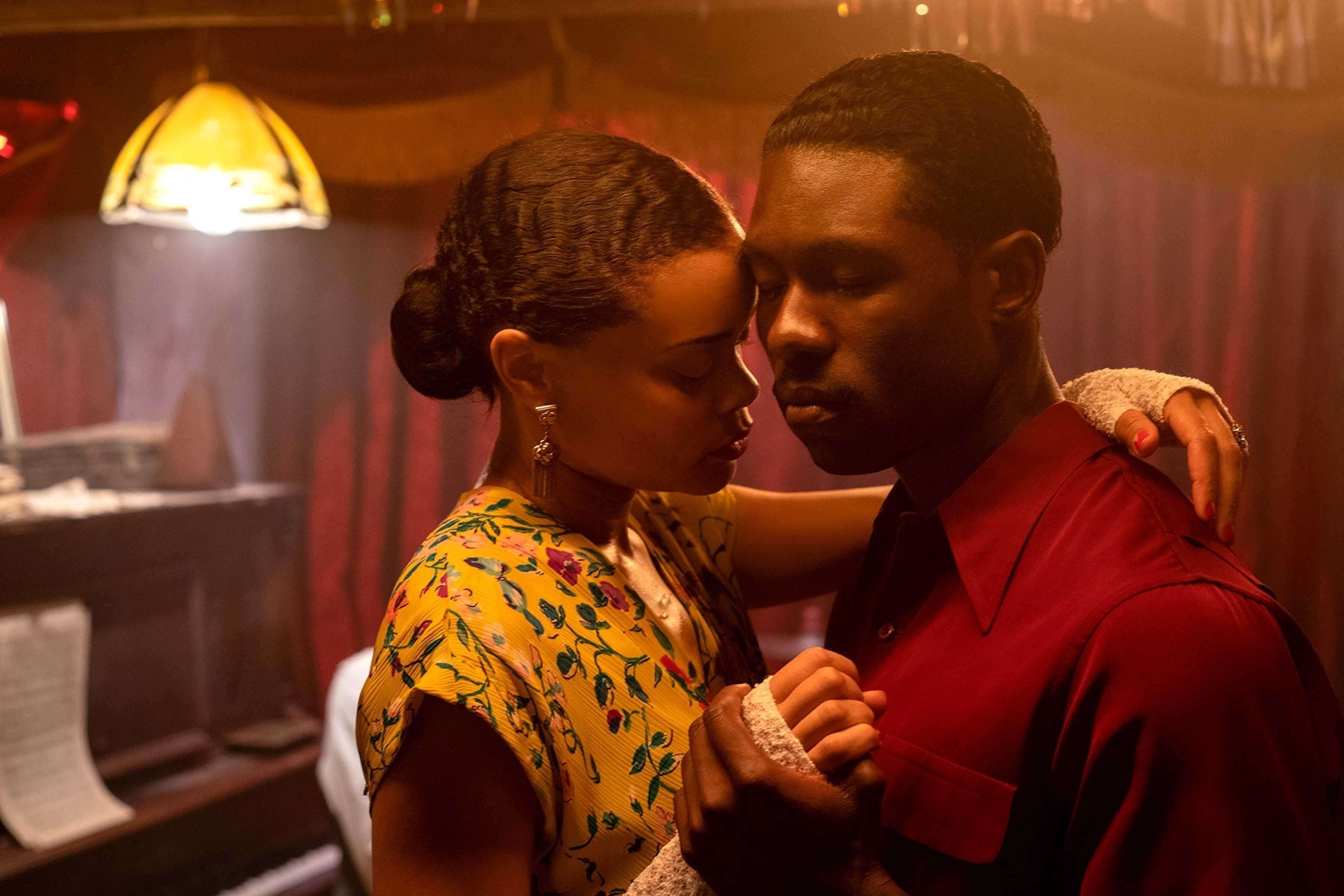 Dunn conducted the DI in the summer of 2020, working remotely from his home on the edge of Exmoor, West Somerset, UK, with colourist Tim Stipan and Company 3 in Los Angeles.
"It was a little strange occupying a darkened bedroom during the warm summer weeks, using an iPad Pro and a live voice link, but it worked really well, especially after I had the broadband supercharged." Dunn laughs. "However, I did make a point of reviewing the final colour on the big screen at Company 3 in London."
Looking back at the production, and despite some long filming days, Dunn says The United States vs. Billie Holiday proved to be a very happy and rewarding experience, in part due the the commitment of the grip, electric and camera crew, but in the main because to the spirit Daniels engenders on set.
"Lee creates a magical environment during filming, that allows everyone to do their best," Dunn remarks. "I think that has very much to do with him working closely with the actors, cajoling them about their performances and encouraging spontaneity. It meant that every day was different but always special. Lee's boldness and confidence were important, because they are reflected in the final film, and the film itself will be around forever. I'd say the stars collided in a very good way."