Filmmaker Stories
Mona Fastvold and André Chemetoff fully embrace film for 'The World to Come'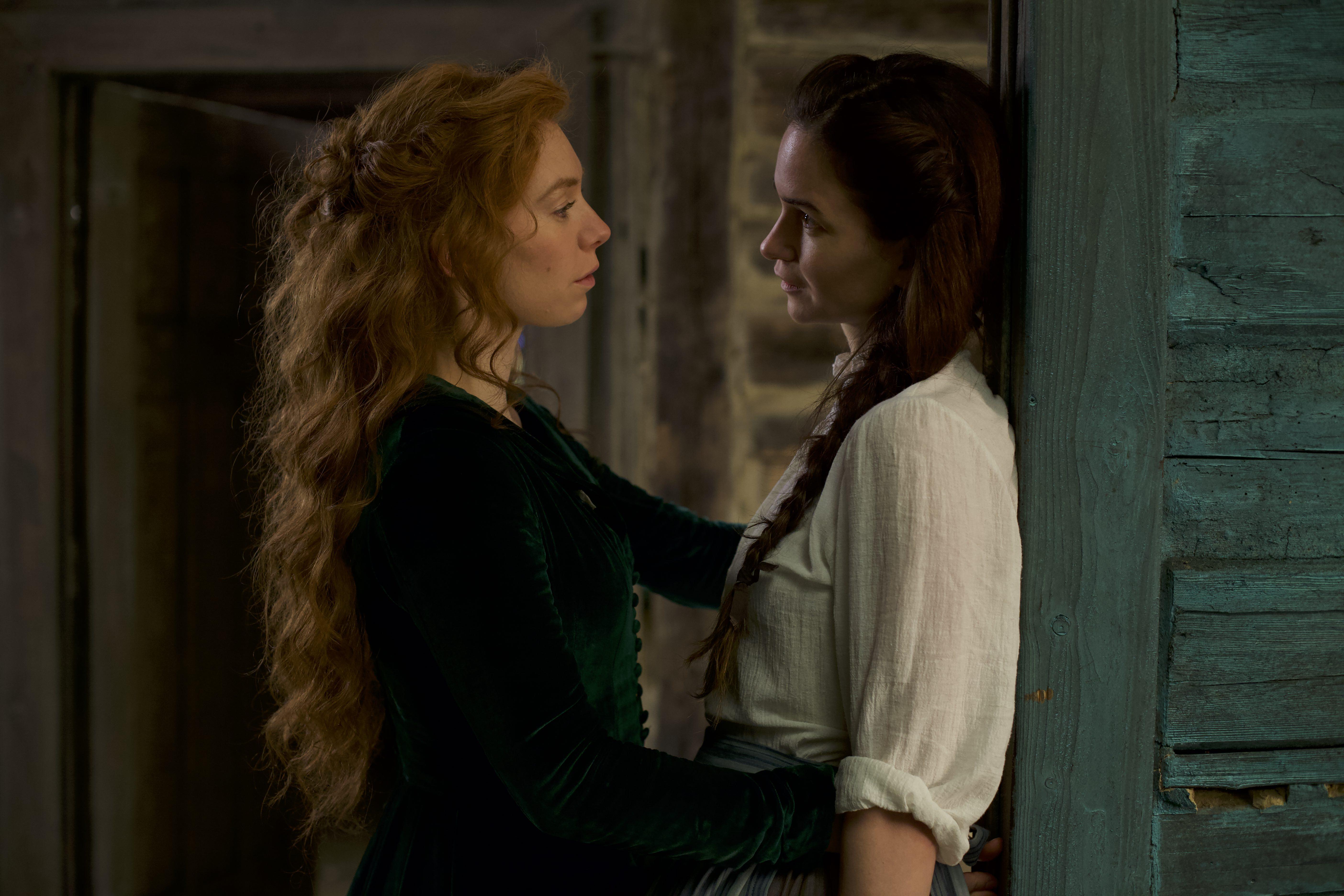 Vanessa Kirby (L) stars as Tallie and Katherine Waterston (R) stars as Abigail in Mona Fastvold's "The World to Come." Image by Toni Salabasev.
The dynamics of how couples interact with each other was first explored by Norwegian filmmaker Mona Fastvold in her directorial debut The Sleepwalker in 2014. The theme is examined further in The World to Come with the setting shifted from contemporary times to the pioneering days of mid-19th century America. The script written by Jim Shepard and Ron Hansen revolves around two married women battling hardship and isolation while falling in love with one another. The period drama, distributed by Bleeker Street, stars Katherine Waterston, Vanessa Kirby, Christopher Abbott and Casey Affleck. Capturing their performances is French cinematographer André Chemetoff (If You Saw His Heart).
"I had wanted to shoot film on The Sleepwalker but was being discouraged by people saying, 'It's so expensive and difficult,'" reveals Mona Fastvold who began her movie career as a child actress in Norway. "The films that I've grown up loving and watching were all shot on celluloid. It's a format that I found to be beautiful and fitting for the film. My DP Zack Galler [The Girlfriend Experience] and I spent a lot of time and money afterwards trying to create a more filmic and cinematic look as well in the lighting. Later on, I realized it would be just as cost-effective working on celluloid as I'd get exactly what I wanted. I decided not to make The World to Come unless I'm shooting it on film because, for me, this period piece couldn't exist in any other way. It needed to have the grain, texture, grit and painterly light that is created on 16mm."
The prospect of shooting on film was equally exciting for André Chemetoff. "I own my own Arriflex 416 camera and was brought up on film. I did 15 years of AC carrying the magazines and suddenly the minute of becoming a D, they are pushing film out of the window [for digital]. I thought, 'Are you mad?' The World to Come was my third out of 12 movies that I've made on celluloid. I was thrilled. For budgetary reasons we were drawn more towards Super 16. I wanted a soft and diffused texture and light. I tested combinations of lenses. The idea was to take quite sharp lenses to get a real nice sharp image and then break it down. I placed stockings in front of lenses and we almost made the entire movie like this."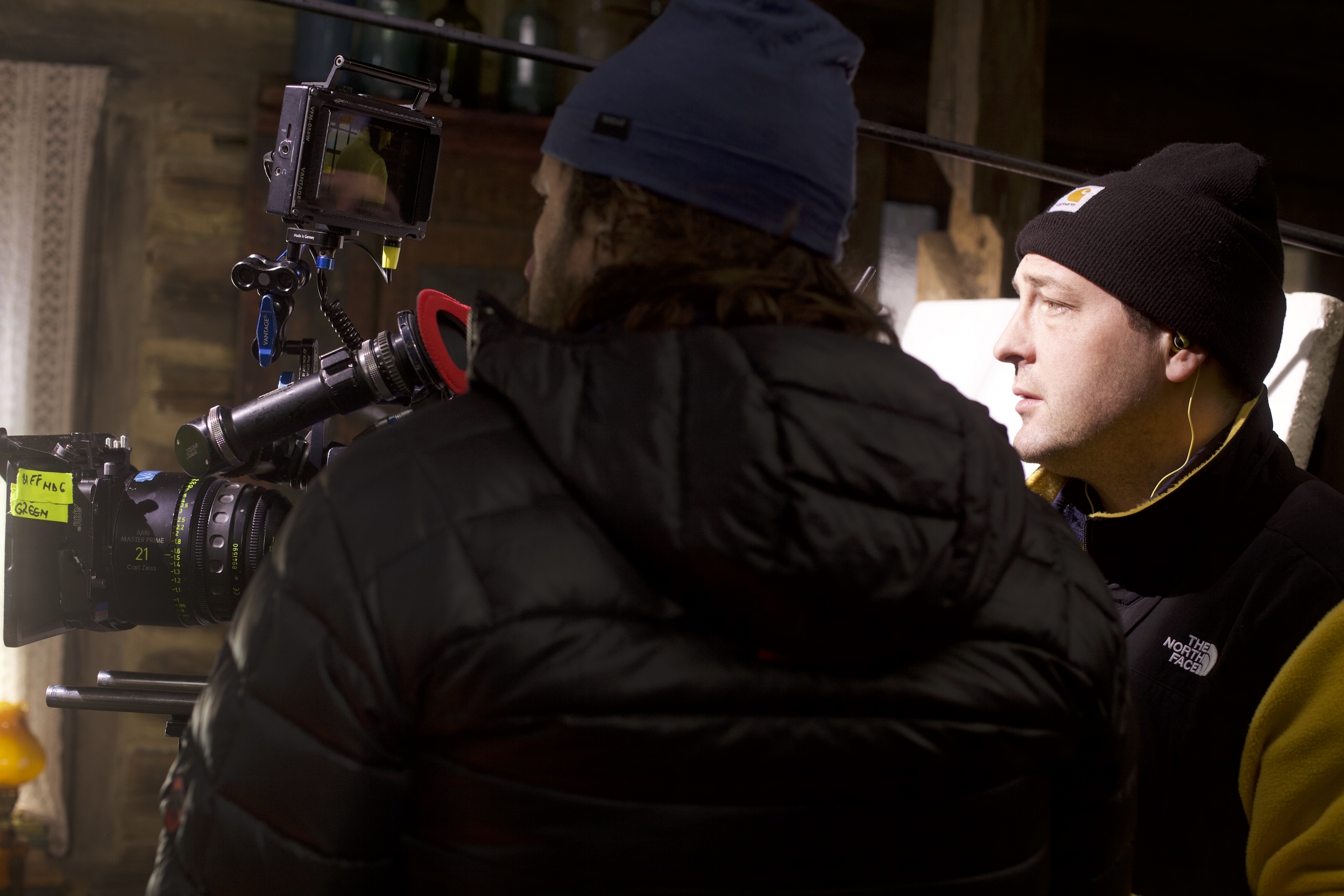 DP André Chemetoff on the set of "The World to Come," a Bleecker Street release.
"For the lenses, I chose Zeiss Master Primes to get quite a sharp image and I could use wide angles that wouldn't distort," explains Chemetoff. "We had a variety of lenses [from 18mm to 135mm], but for the inside we used a lot of 21mm." Three different film stocks were utilized. "I was shooting most of the sunny exteriors KODAK VISION3 50D Color Negative 7203. It's beautiful. I wanted the fine grain and to get the lusciousness of the exteriors. Then I used a lot of the KODAK VISION3 200T Color Negative 7213 and KODAK VISION3 500T Color Negative 7219. We shot open gate 1.66:1. It's the widest you can get on a Super 16."
Along with having a second Arriflex 416 camera, a couple of shots were taken with the Aaton A-Minima. "I had a good DP on the second camera as well, Liviu Pojoni Jr.," states Fastvold. "We ended up getting more days than we originally planned where I would shoot with two cameras because I did not have time to do another take. Sometimes you realize that the second angle is mostly not usable, so you have to try to save film because we didn't have a lot to work with. You try to weigh those two options. I am grateful that we got some extra film sent to us from Anne Hubbell [Vice President, Motion Picture at Kodak], and I used every little bit of it; that was wonderful."
Getting the dailies processed was not a problem. "The cool thing is that there is a former Kodak lab in Bucharest [which was bought by Cinelab], and I was excited by that," remarks Fastvold. "We had a person driving back to the city, which was about five hours each way, and I would get it a couple of days later. When you have a tight schedule, it can be stressful, and we had some technical issues here and there. But you can also have trouble with cards for digital cameras." Chemetoff was pleased with the end results. "Cornelia Popa [General Manager, Cinelab Romania] used to run it even with Kodak. It is a good lab and they were helpful."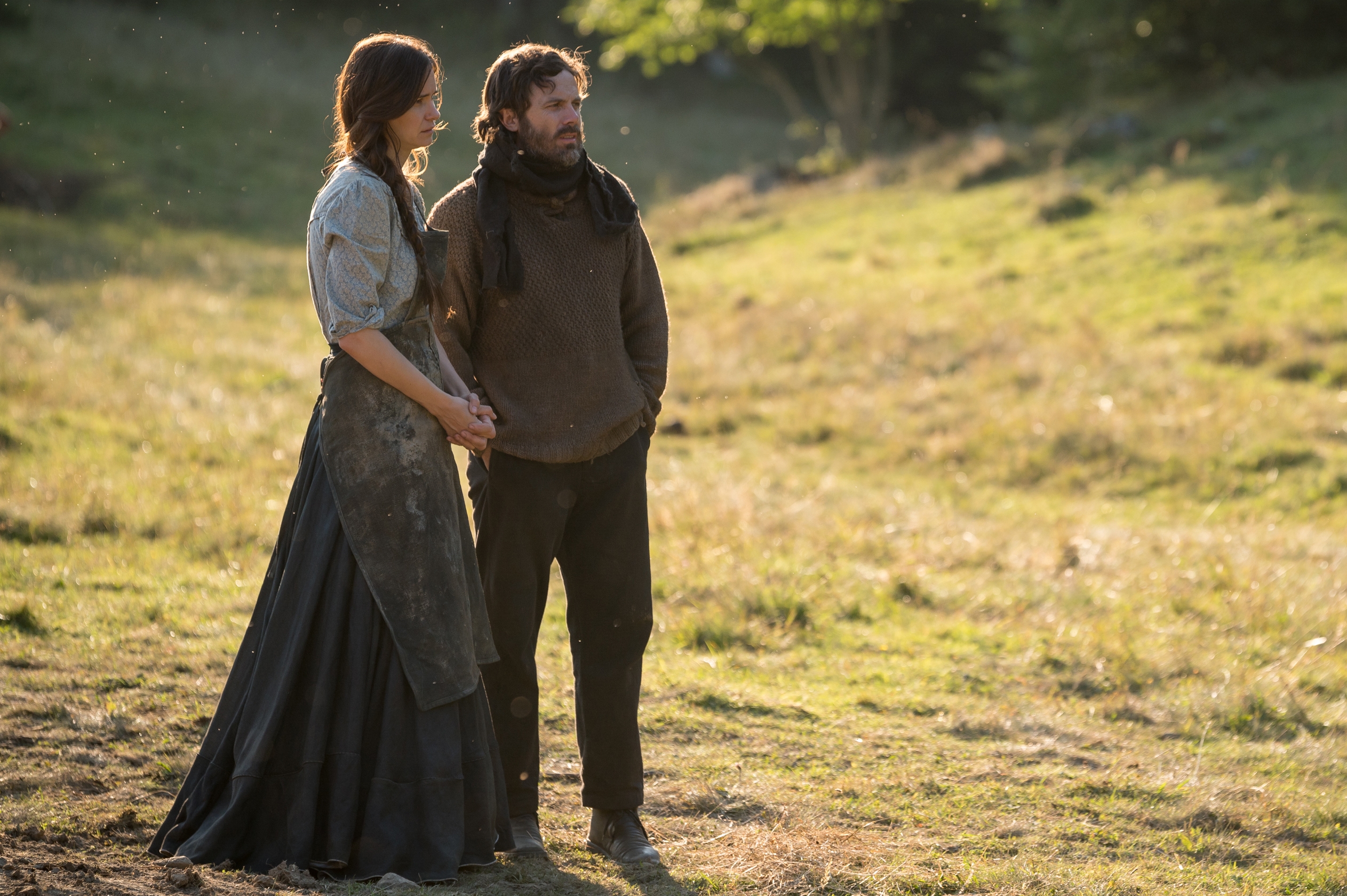 Katherine Waterston (L) stars as Abigail and Casey Affleck (R) stars as Dyer in Mona Fastvold's "The World to Come," a Bleecker Street release. Image by Vlad Cioplea.
Paintings were a major inspiration for the visual language of The World to Come. "André and my production designer Jean-Vincent Puzos [Amour] would send hundreds of paintings and images back and forth more so than films," states Fastvold. "In terms of production design and framing, we talked a lot about Danish painter Vilhelm Hammershøi, and how we would work with the solitude of the person within the frame. I also love Norwegian naturalist painter Christian Krohg. There is a series called Life and Landscape on the Norfolk Broads by British photographer P.H. Emerson that is beautiful and interesting in terms of farmers and how they dress. There is something about the light that is almost dreamlike and painterly in those earlier pictures."
A variety of lights were deployed by Chemetoff. "We had HMIs and tungsten to lift up the ambience in the cabin. We also used LEDs. The approach was to get more of a frontal lighting and to be painterly. We would nourish the image rather than trying to be dramatic. The cabins were on location. Jean-Vincent Puzos, the production designer, showed me what he had in mind. I had an opening in the roof on a couple of cabins and we made adjustments to the windows. There were many days where we had a couple of days inside and we would go outside to do another couple of scenes and then finish inside. We were constantly coming in and out."
Principal photography took place in Romania with it being divided into separate shoots. "Jean-Vincent Puzos had scouted Romania before for multiple projects that never ended up shooting there," notes Fastvold. "He also had connections with a good crew there, and we had a dream of building our sets which is costly and difficult; that was made possible by Romania having this new tax credit of 34 percent. We scouted for days until we found the perfect spot to build. We were surrounded by farms, so suddenly I would have 100 sheep walk into my shot and if I waited the time correctly the cows would do the same. I had a lot of production value in terms of that!"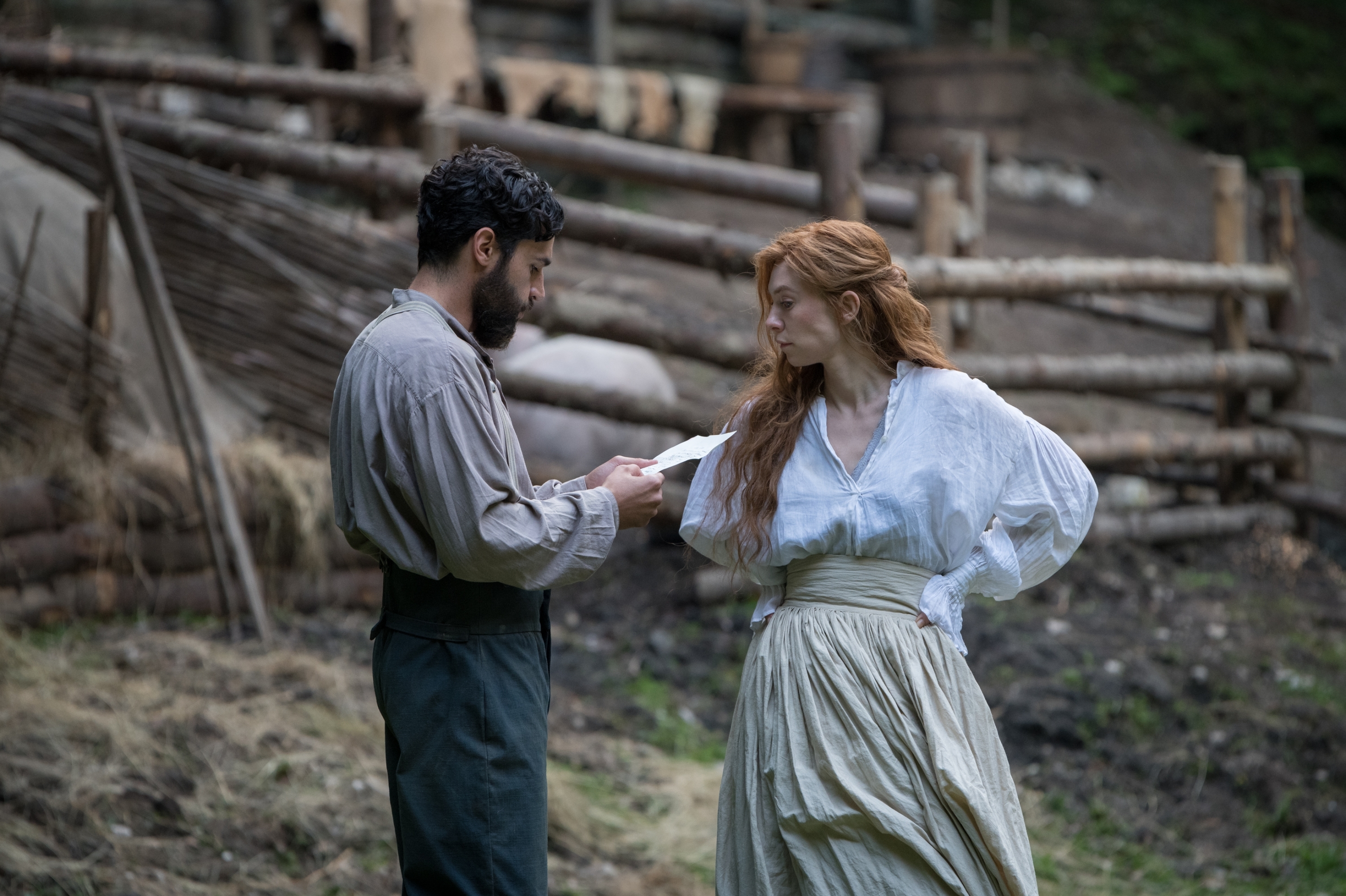 Christopher Abbott (L) stars as Finney and Vanessa Kirby (R) stars as Tallie in Mona Fastvold's "The World to Come," a Bleecker Street release. Image by Vlad Cioplea.
"My entire shoot was 24 days," states Fastvold. "The first shoot was a bit longer and for the second time, we actively shot for a bit more than a week. I did prep so we could steal some shots during the prep for the second shoot. My first shoot was in August and September and my second shoot was in November. I had a little time to edit in between, which was lovely. However, it was nerve-racking wondering what was going to happen. Were we going to come back to three feet of snow, and would the sets still be standing? We had the nearby shepherds looking after the sets after we boarded them all up when we left and waited for it to get cold. Everything was fine when we came back."
Besides having to avoid bears and wild dogs, Chemetoff had another concern. "Everything was shot out of order because of the availability of actors and the seasons. We had to cheat every interior during the summer for the winter. That was a bit of a juggle. On top of that we're on a mountain which was difficult to access and it was raining so there was mud. It was challenging in many ways for the crew and for myself. The act of make believe is a great thing. The picture I had in mind, 'It's going to be so beautiful and we're going to capture so much of the natural beauty.' But I was pressed into the contrary. You're seeing so much beauty but having to frost the windows, you have to make what is good for the movie. If you have to cheat winter in the summer, then you have to do it."
Sets were being built right up to when shooting was to commence. "It was constantly stolen the time to rehearse and work," remarks Fastvold. "The cast also had to learn how to make haystacks and milk a cow. In between all of that I had a couple of days to rehearse. Every kind of moment in between shooting was spent on rehearsing as well making sure that the blocking I was hoping to do would work. André is used to shooting fast and ambitiously. I thought that combination was great for this film. He wouldn't be scared of trying something that was impossible; that was stressful for him at times. It was fun to work with André because I had specific ideas about what I wanted visually and he would go off of that and take it to the next level which is all you wish for in a DP."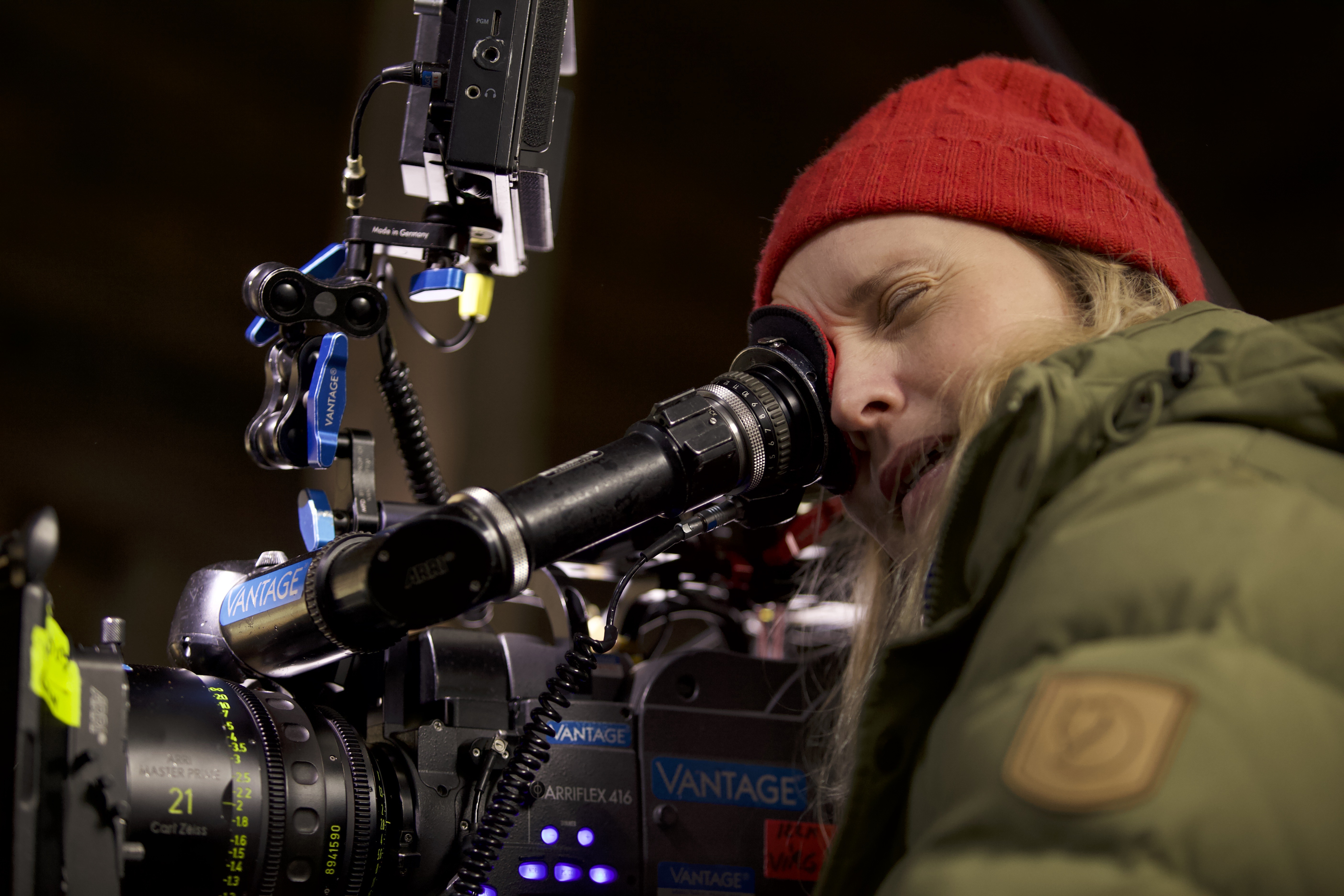 Director Mona Fastvold on the set of "The World to Come," a Bleecker Street release. Image by Toni Salabasev.
Paintings also had an impact on the color palette. "My idea was to start in a palette that was grey, brown, white and black, like how the long winters are in Norway," observes Fastvold. "There is hardly any color at all. But then there is a yellow flower that grows in Upstate New York that people were quite obsessed with drawing which turns into a blue color. During that time period so many things were colored this particular blue, like fabric and the paint on the walls. I thought that was an interesting detail to add; it also adds some creativity to who Abigail was visually. As spring comes and Tallie [Vanessa Kirby] emerges, we slowly bring in more primary colors. I wanted it to be lush and seductive. The film stock gives you a lot of beautiful colors naturally and captures that as well. I'm leaning into that 1970s feel that you have from 16mm as well where you can let the reds and greens play; it was fun to play with that."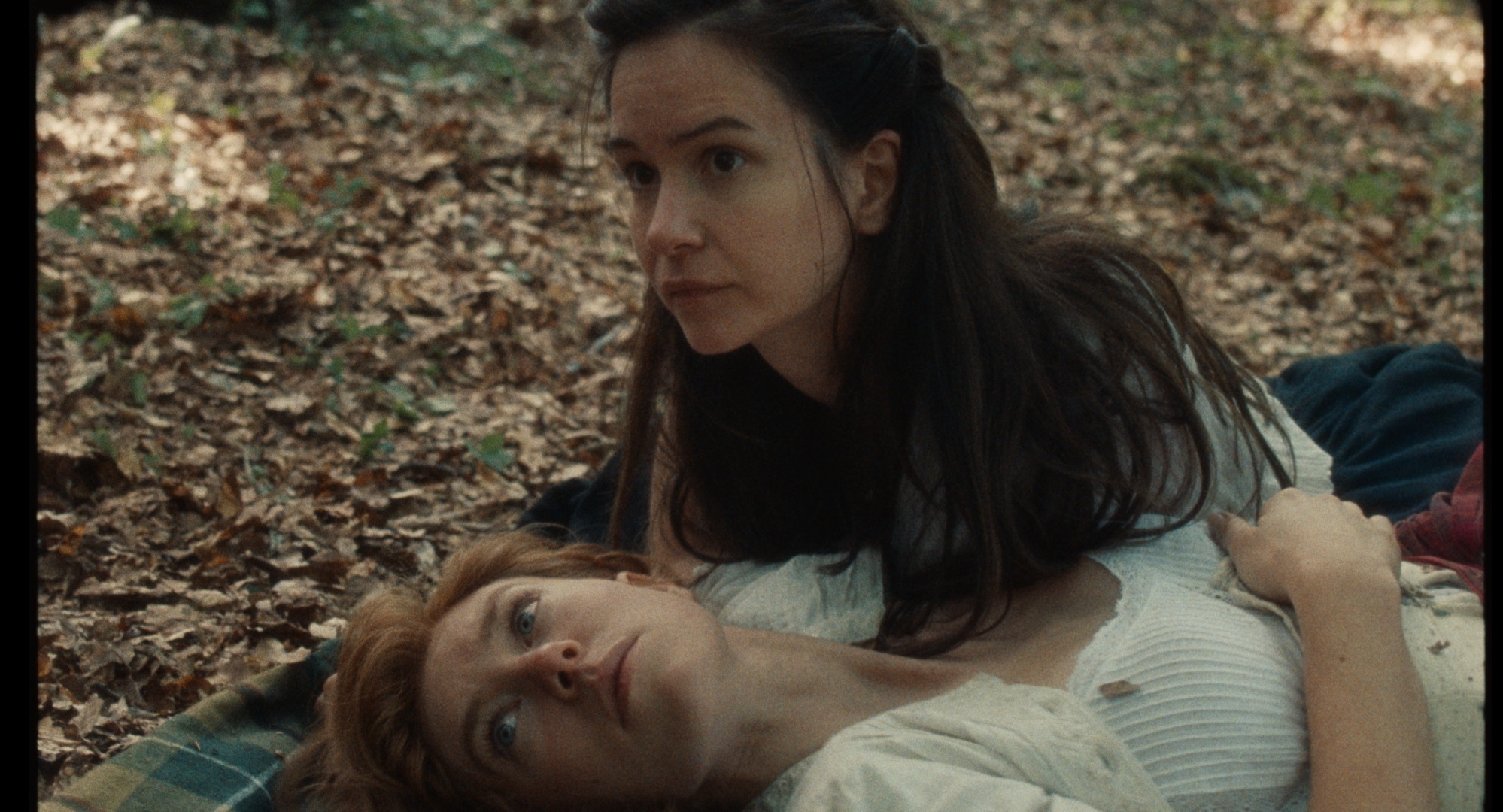 Vanessa Kirby (L) stars as Tallie and Katherine Waterston (R) stars as Abigail in Mona Fastvold's "The World to Come," a Bleecker Street release. Image by André Chemetoff.
"We worked with colorist Damien Van Der Cruyssen [at Harbor NYC] who did great work," states Chemetoff. "It's a collaboration. Most of the stuff was in camera. It's more like how you polish it. It's a fun part of the process to do the color grade. This was a little tricky with COVID-19 because we had to do it remotely. I was in a movie theatre and they control it overseas." Fastvold was pleased with the DI. "Damien's work is subtle and beautiful. We definitely did not mess around with the image too much as we had great production design and the footage was beautifully shot." Other key members were gaffer Octavian Andreescu and camera operator Liviu Pojoni Jr. "You do a movie for a few months which are really intense and then you move on," notes Chemetoff. "Those two guys helped me a lot."
There are fundamental challenges for each project. "It's always a combination of what the director has in mind and time," believes Chemetoff. "Time is the key, the schedule was tricky, it was shot out of order. You always have to push for the gear that you want and push for more crew. It is always a hassle with the producer, but we made it happen. There is a certain natural simplicity to the way it was shot that shows which I'm proud of." Everything was difficult from raising funds to the tight production schedule. "Doing a split shoot is hard to pull off as well because it is difficult to get actors to come back and there are continuity issues" reflects Fastvold. "It is a small miracle that we got to make the film and I got to make it the way I wanted to. I don't even know how that happened almost! The most complicated sequence to create was the snowstorm. I had to put a lot of planning into it and test it a ton to try to figure out how to create that in a realistic and exciting way. I'm excited for people to see and hear it because the score in that sequence is great as well."