Filmmaker Stories
DP Linus Sandgren ASC FSC delivers a piece of art for Emerald Fennell's surprising dark satire 'Saltburn' using Kodak 35mm film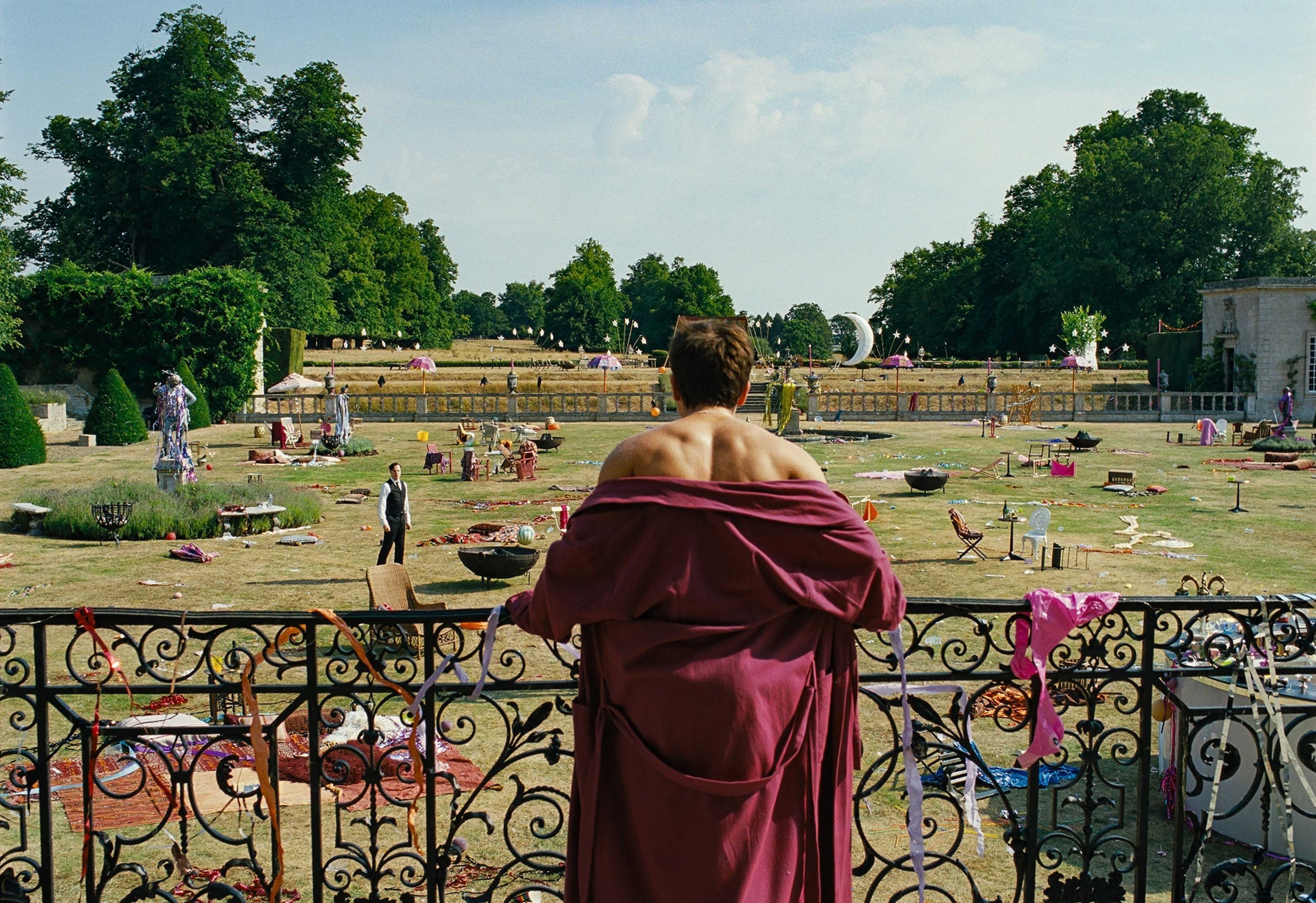 Directed by Emerald Fennell and captured on Kodak 35mm film by cinematographer Linus Sandgren ASC FSC, Saltburn is a pitch-black satire about obsession and desire, power and privilege, wealth and class. Fennel has described it as "visceral and surprising and dark and sexy."
Set in the mid 2000s, the film follows Oliver Quick, a new student struggling to find his place in university life at Oxford. Oliver becomes obsessed by Felix Catton, his charming, aristocratic and stupidly sexy classmate, and spends a summer at the eccentric Catton family's Saltburn estate. The vacation soon descends into debased debauchery and carnal desire.
Fennell, winner of the Best Original Screenplay Oscar for Promising Young Woman (2020, DP Benjamin Kračun), wrote, directed and produced Saltburn, which stars Barry Keoghan, Jacob Elordi, Rosamund Pike, Richard E. Grant, Alison Oliver and Archie Madekwe.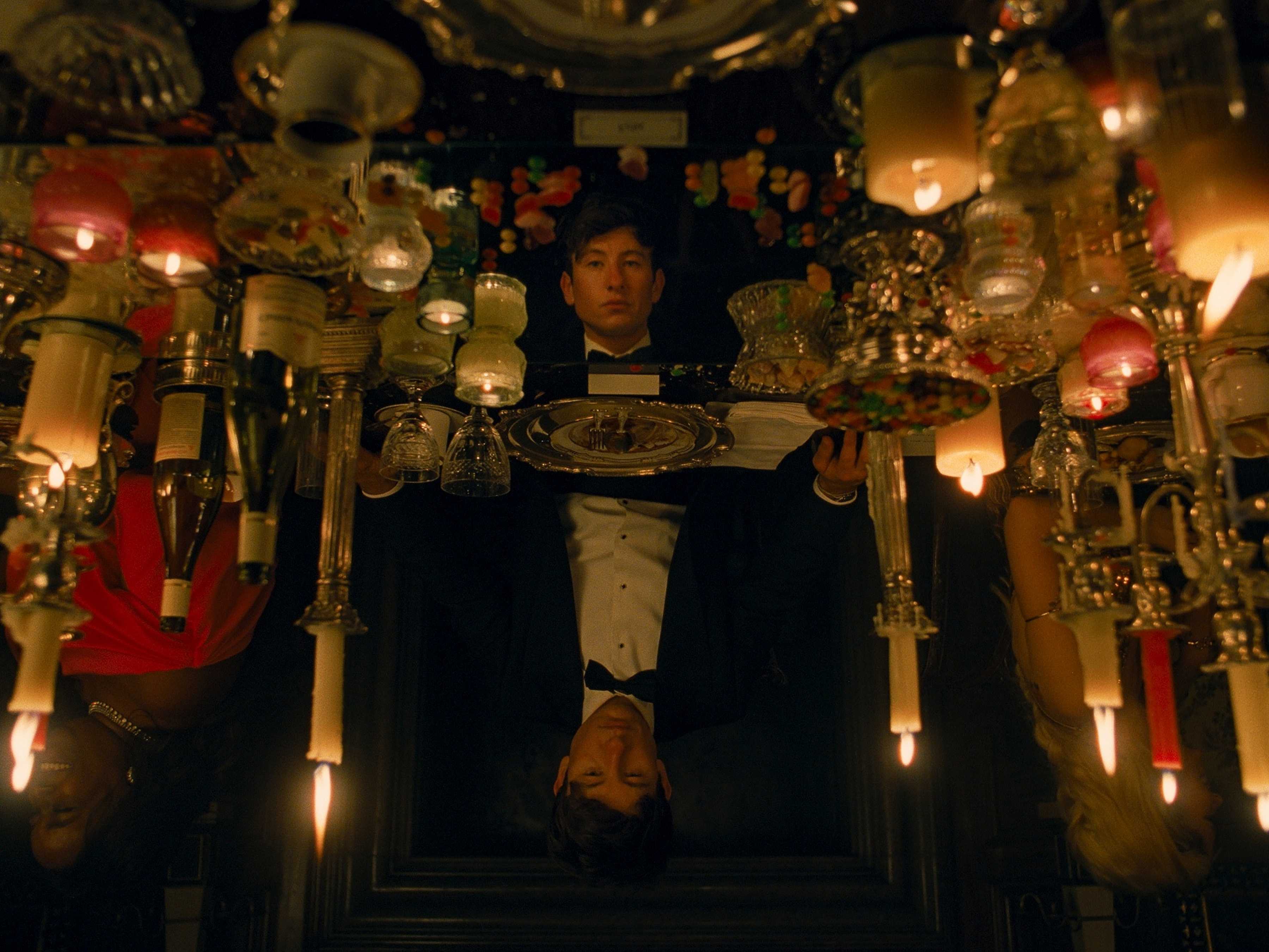 Saltburn had its world premiere at the 2023 Telluride Film Festival, generating plenty of buzz for Fennell's direction and screenplay, Keoghan and Pike's performances, the production design by Suzie Davies, and Sandgren's masterclass in cinematographic framing and lighting.
Sandgren had never met Fennell before and says his introduction to her came from none other than actress Margot Robbie, who he framed so sensationally on Babylon (2022, dir. Damien Chazelle) using 35mm film, and who acted as a producer on Saltburn, alongside Fennell and Josey McNamara.
"I really enjoyed the tonal, storytelling shifts, from forgiveness and vengeance, from light to dark in Promising Young Woman, and recognized Emerald has a strong and singular voice as a filmmaker. I absolutely loved the script for Saltburn – how it was funny, outrageous and grotesque all at the same time, and the way the story built slowly," says Sandgren.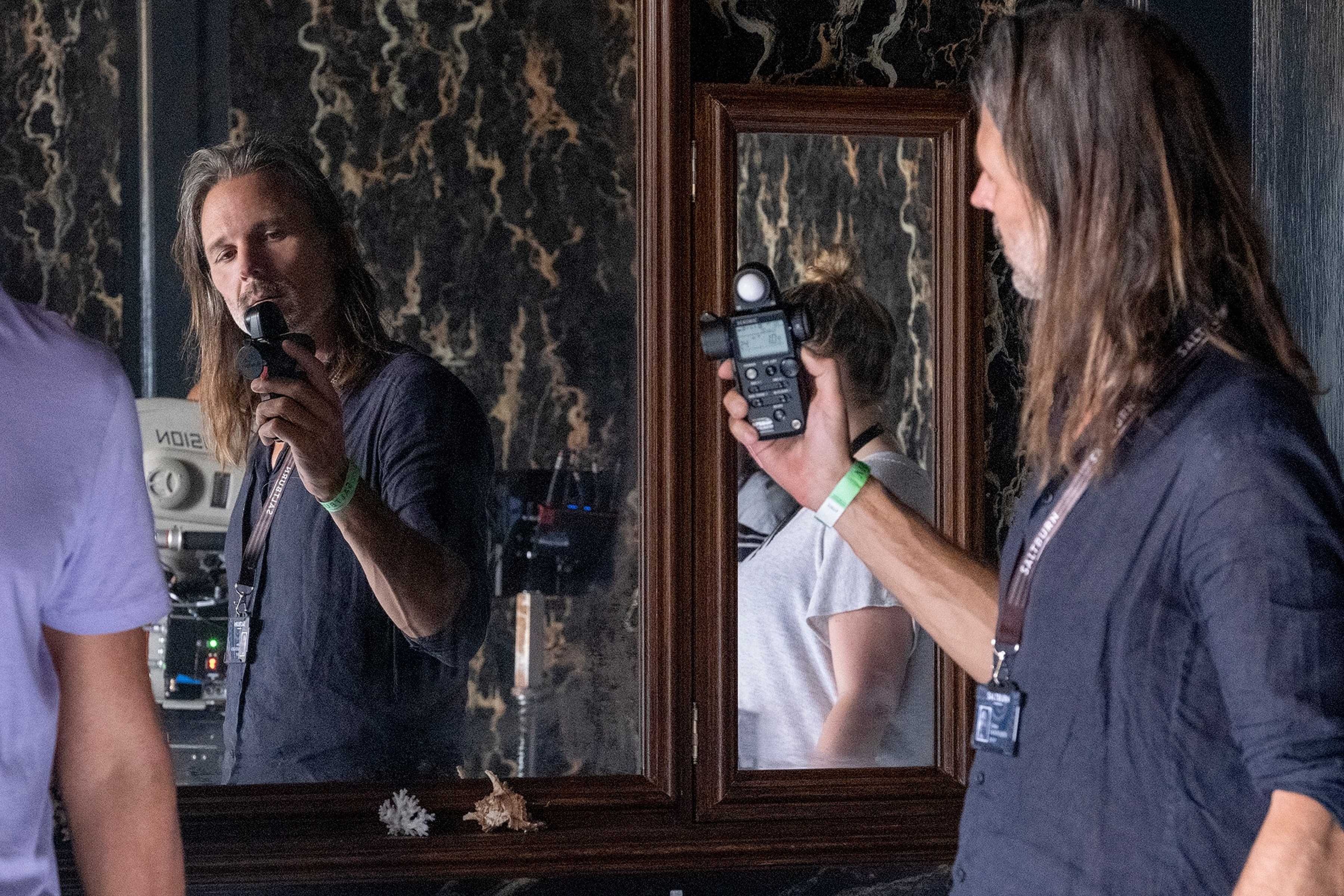 "To me, this was an original take about a range of interesting subjects and was certainly quite different to anything I had shot before. From the visual descriptions Emerald had written into her script – which you could say were disturbing, but in a good way – I saw it as a kind of gothic vampire story, but not one that descends into the tropes and stereotypes you would normally associate with those sorts of movies, but a film that was very much alive and in the real world."
During his early discussions about the look for the film with Fennel, Sandgren found their thoughts concurred. "She showed me paintings with Caravaggio-style dramatic lighting, such as Judith Slaying Holofernes and Salome with the Head of John the Baptist by the female Italian-Baroque painter Artemisia Gentilesch, as well as works from the 19th century French illustrator/painter Gustave Doré depicting dark and moody moments from the Bible.
"When it came to talking more specifically about the language for the film, it kind of circulated around voyeurism, so there was a dose of Hitchcock in our bloodstreams. We also discussed the spooky atmosphere in silent movies like Nosferatu: A Symphony of Horror (dir. FW Murnau, DPs Fritz Arno Wagner/Günther Krampf)."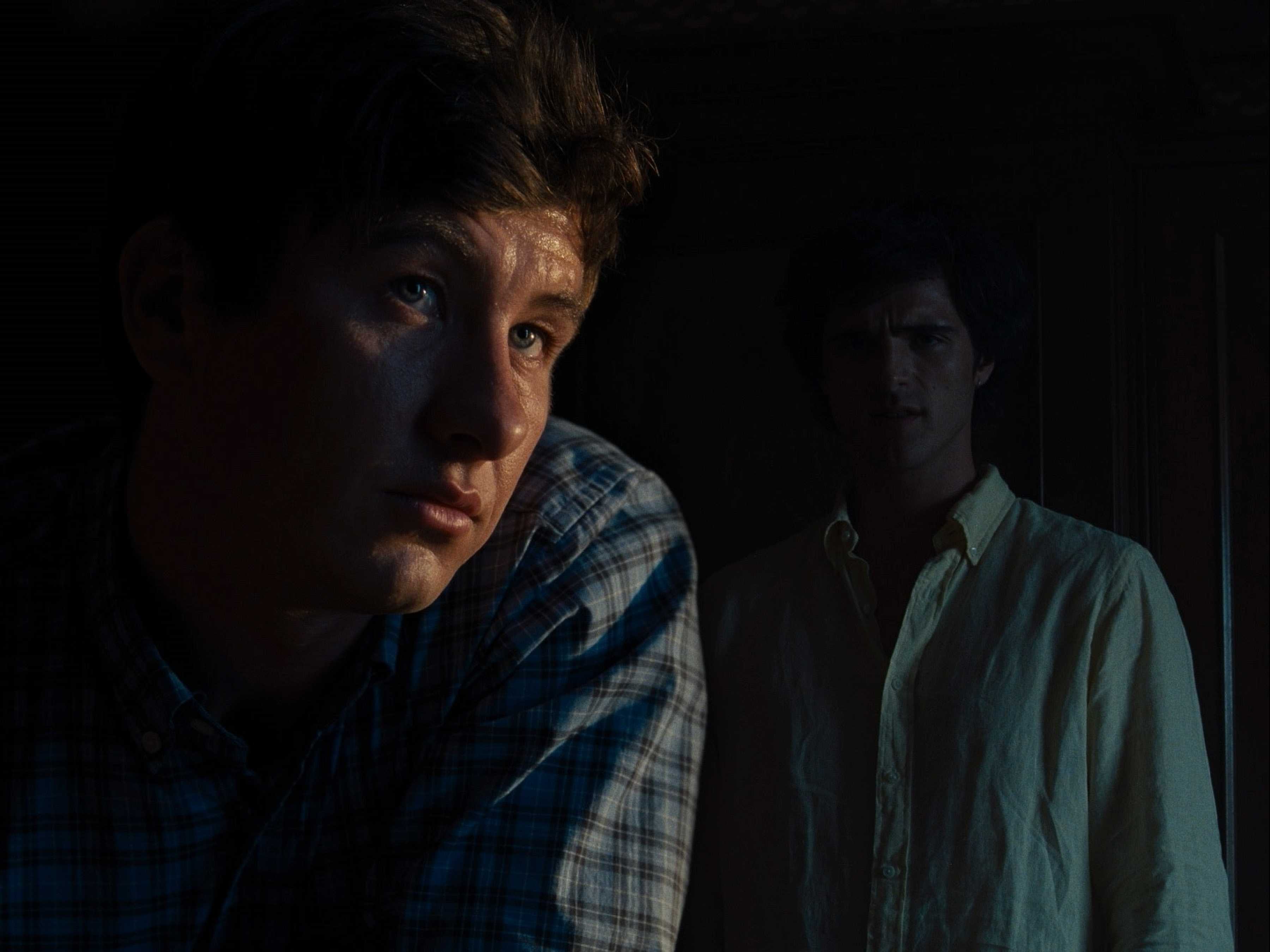 Which brings us to the aspect ratio adopted by Sandgren and Fennell. The near-square-shaped frame is in fact 1.33:1, the standard format for early motion pictures, one well-suited to genre films, especially horrors flicks and thrillers.
"Emerald had this idea that she wanted the audience to feel as if they were peeping into a doll's house," Sandgren recalls. "As we discussed things like the historic family portraits hanging on the walls of the Catton's ancestral home, we realized just how good the boxy form of 1.33:1 would be, in combination with evocative lighting, for evocative portraiture – on isolated close-ups of faces, or even tighter shots of lips, eyes and sweat, as well as singles where you can just detect the presence of another person.
"Emerald wanted the camera to be with Oliver, to see what he sees, and the square frame would confine the viewing experience to create a sense of tension and claustrophobia. It also lent itself to all sorts of other interesting image compositions, and I knew it would be just wide enough to capture landscapes and establishing shots."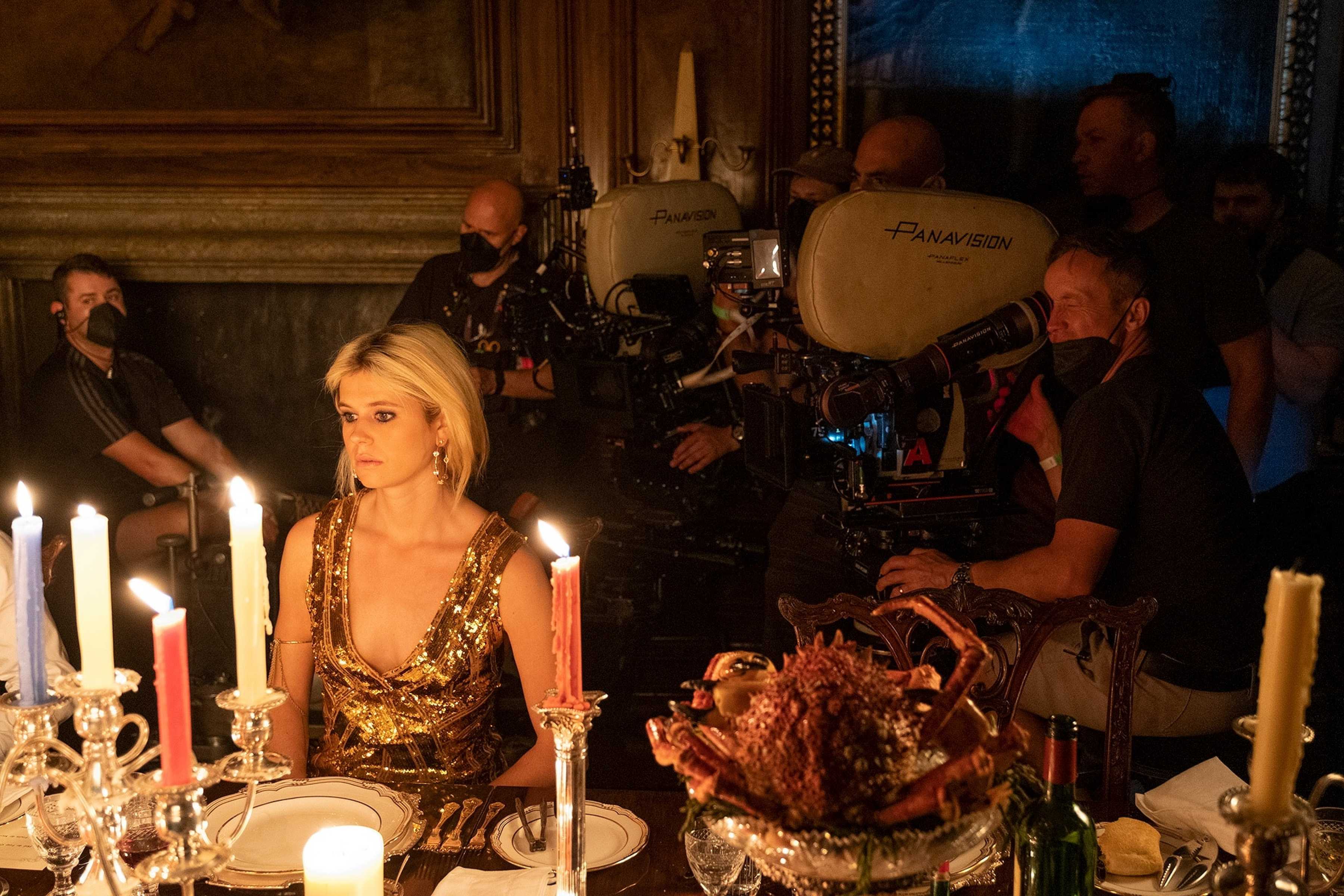 Sandgren also reveals that the decision to shoot Saltburn on film was initiated by Fennell, encouraged by Robbie and, when he signalled his own approval, became rubber-stamped. Sandgren's impressive list of credits, all shot using film, include American Hustle (2013), Joy (2015), La La Land (2016) for which he won an Oscar, Battle of the Sexes (2017), First Man (2018), The Nutcracker and the Four Realms (2018) and No Time to Die (2021) and Babylon (2022).
"There was no debate about digital. Emerald wanted to shoot on film, as did Margot, and I was in complete agreement that film was a great choice," he remarks. "Of course, we could have gone with 16mm, but it was pretty clear that 35mm would deliver more beautiful and much crisper images, rich and juicy looking with deep contrasty blacks. To me 16mm would have been too naturalistic and too close to human emotions. Shooting 35mm, with its finer grain, would allow us to heighten the luxurious elements of the set and costume design, while framing and lighting would bring an uncanny, unsettling emotional detachment."
Filming began on July 15, 2022, before wrapping 48 shooting days later days on September 16. Production took place around landmark locations in the university town of Oxford, UK, before decamping to Drayton House, a country pile in Northamptonshire, where filming was aided by a long spell of warm and sunny weather.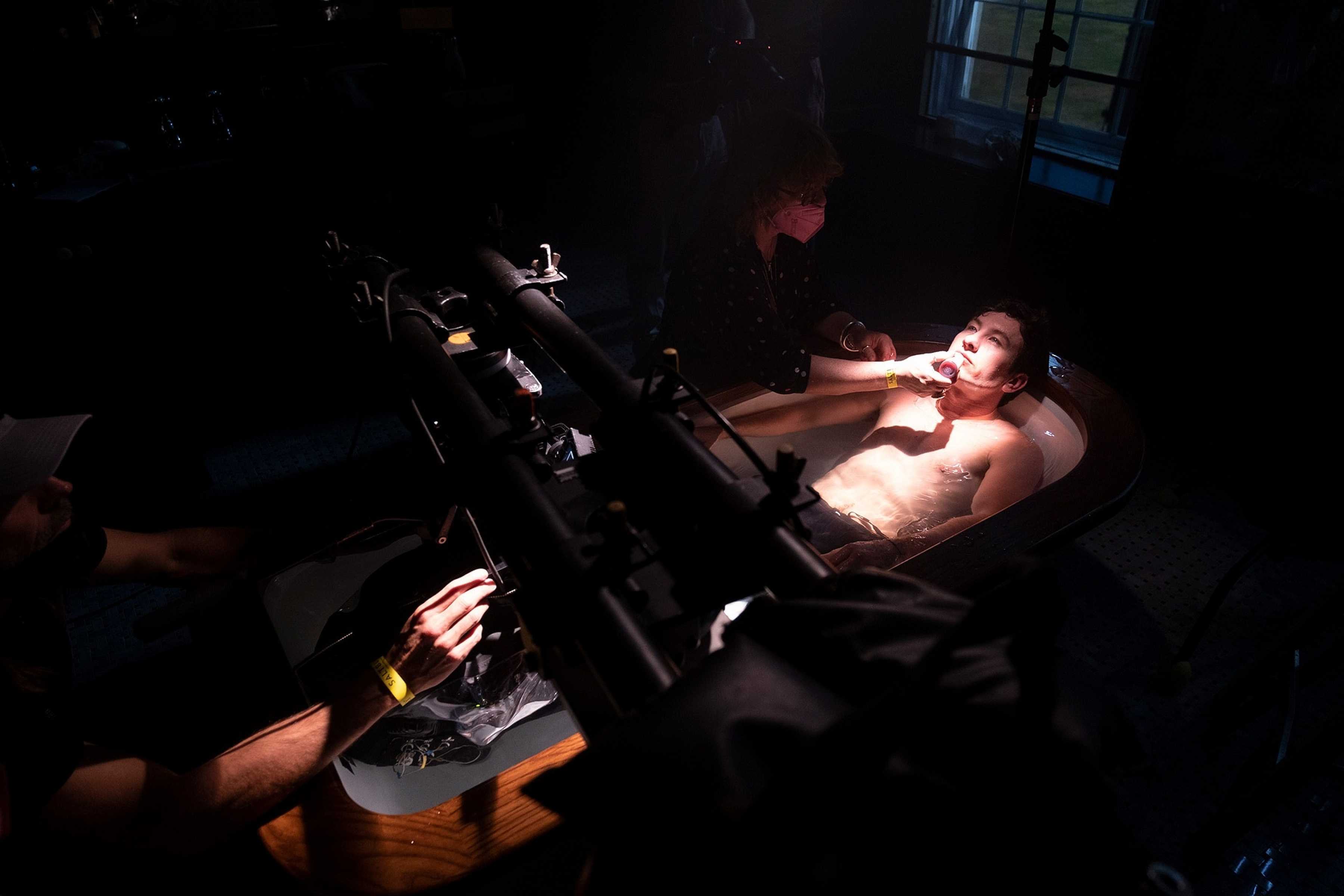 Sandgren's main camera on the production was the 35mm Panavision Millennium XL2, with an ARRIFLEX 435 Xtreme 35mm camera on-hand for underwater work, speed-ramped shots and second unit time-lapse photography. Lenses were Panavision Primos, with the camera package provided by Panavision in London.
"When you shoot spherical 1.33:1, you have a lot of lenses to choose from, for sure," Sandgren muses. "I looked at the Kowa Prominars, although they're very yellow with extremely yellowy flares, and they felt too cold. Master Primes would have been too sharp, clear and real, although vintage Canon K35s had some interesting properties.
"Out of all the lenses I considered, I loved the Panavision Primos the most. I first used them on The Nutcracker and the Four Realms, where the requirement was for a luscious and visually spectacular aesthetic and knew I could tame those properties down a little for Saltburn.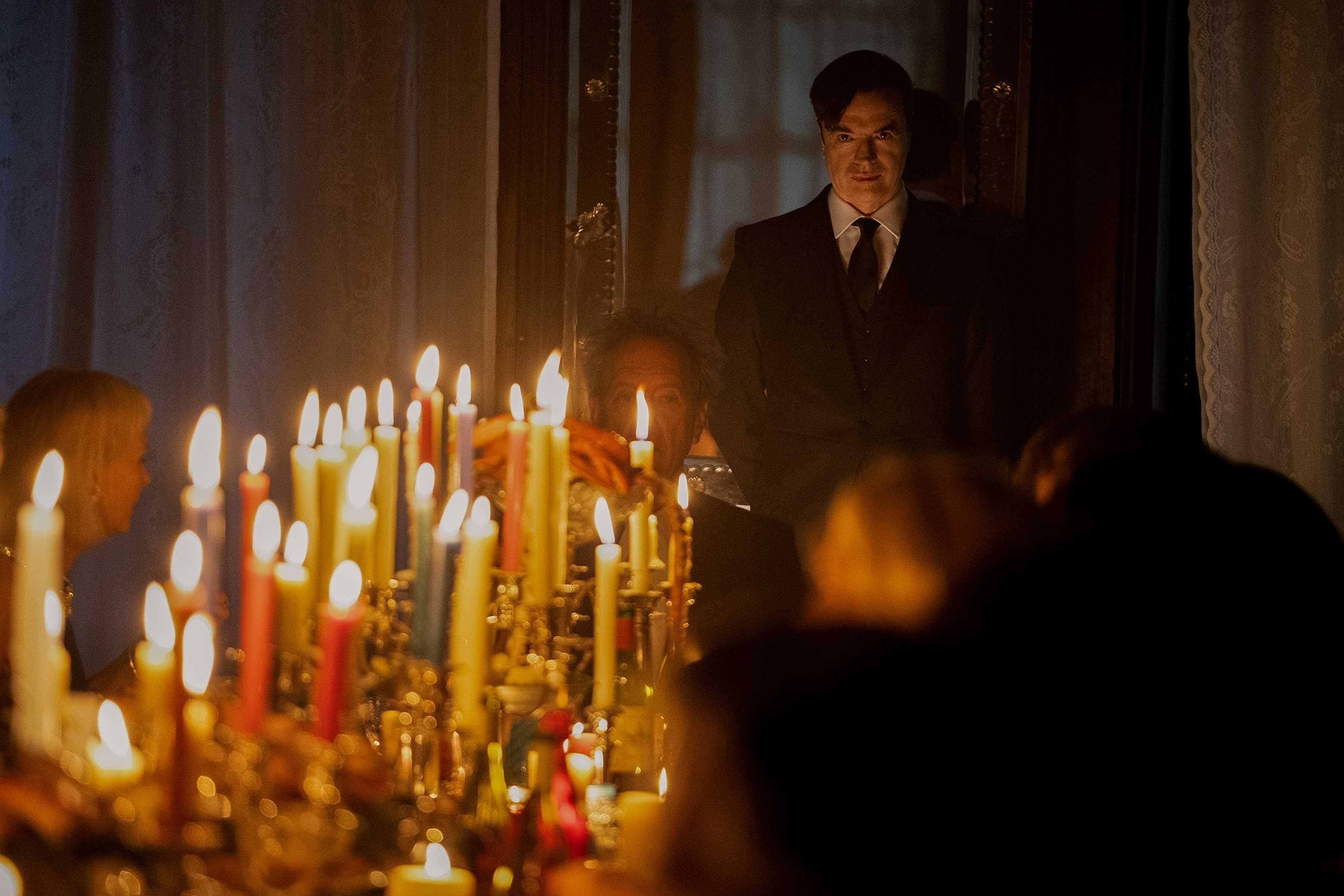 "Along with being colorful, the Panavision Primos have great contrast and blacks, plus slightly funky aberrations that make the image less naturalistic and very subtly stylised. I did not want flares in the image, and the Primos are much easier than others when it comes to controlling that.
"In combination with 35mm film they gave exactly that juicy richness I envisioned. We had the full range at our disposal. We use the 10mm for wides, but close-ups could vary between 35mm, 40mm, 85mm or up to 100mm depending on how we needed to tell the story at a particular moment."
Sandgren's 35mm film stocks-of-choice were KODAK VISION3 500T Color Negative Film 5219 for low-light scenes and night interior/exterior shots, KODAK VISION3 200T Color Negative Film 5213 for overcast days, and KODAK VISION3 50D Color Negative Film 5203 for day exteriors. The exposed negative was processed and 4K-scanned at Cinelab in the UK, with dailies overseen by Matt Wallach at Company3, who also performed the final grade.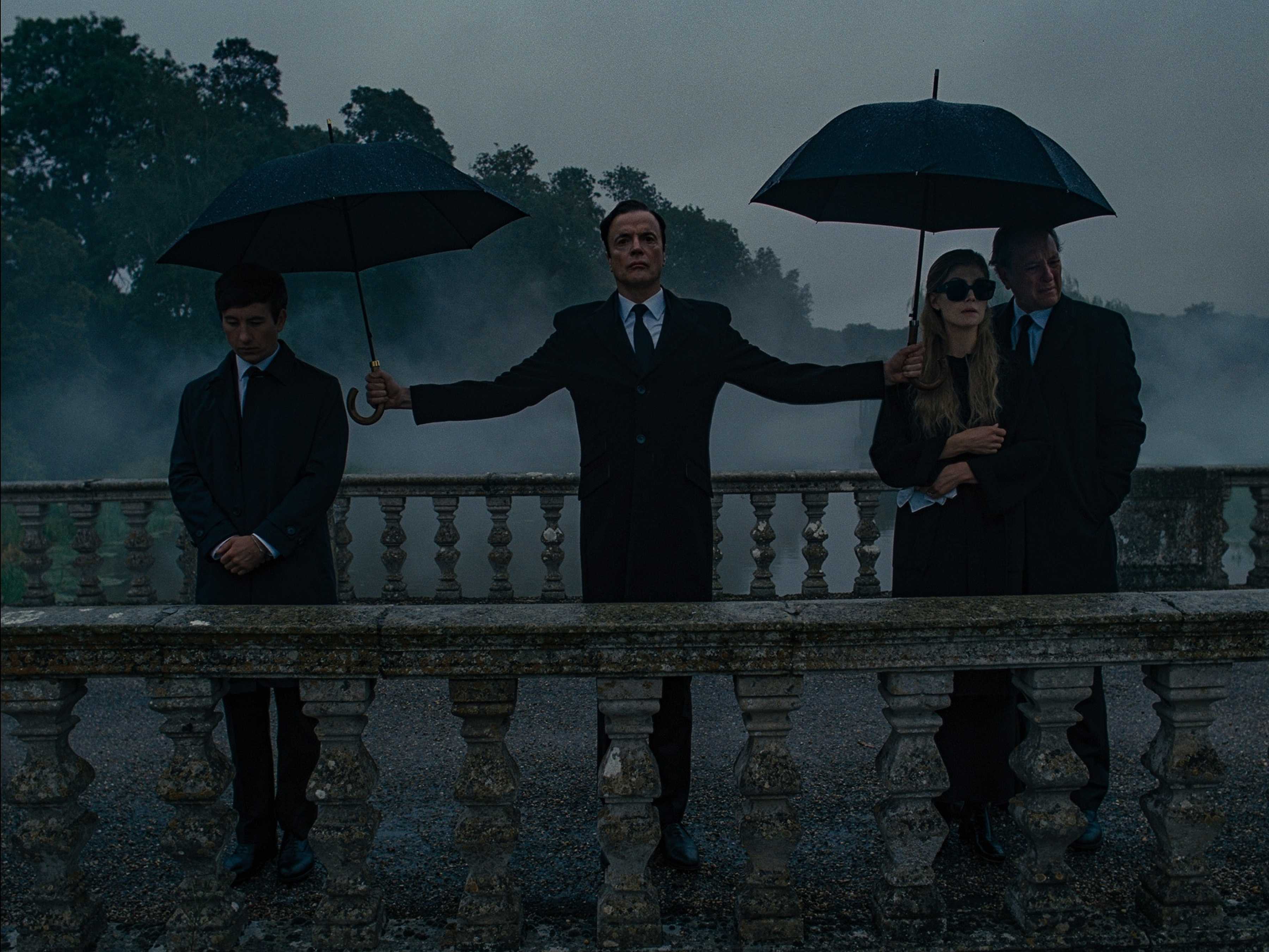 "The 200T and 500T both have a lovely natural look and match very well together, while the 50D has great color rendition," he says. "However, before we shot, I conducted push, pull and normal processing tests at the lab, along with simple over-exposure of the different film stocks in the camera. Assessing these tests with Emerald, we ended up liking over-exposure of the film in the camera, followed by a normal lab process.
"For the night interiors/exteriors I rated the 500T at 320ASA and shot the exterior sunny days and sunsets on 50D rated at 32ASA. Overcast days and the foggy exteriors, which generally accompanied someone dying, were similarly over-exposed using the 200T.
"Working this way helped to sharpen the grain and accentuate the color, contrast and intricate details in our wide shots, was well as the details in more shadowy, nuanced moments. The pictures on the shots when the youngsters are lounging around the pool, playing tennis and lying naked in the corn field, all looked really nice. The more disturbing shots and portraiture looked all the more beautiful."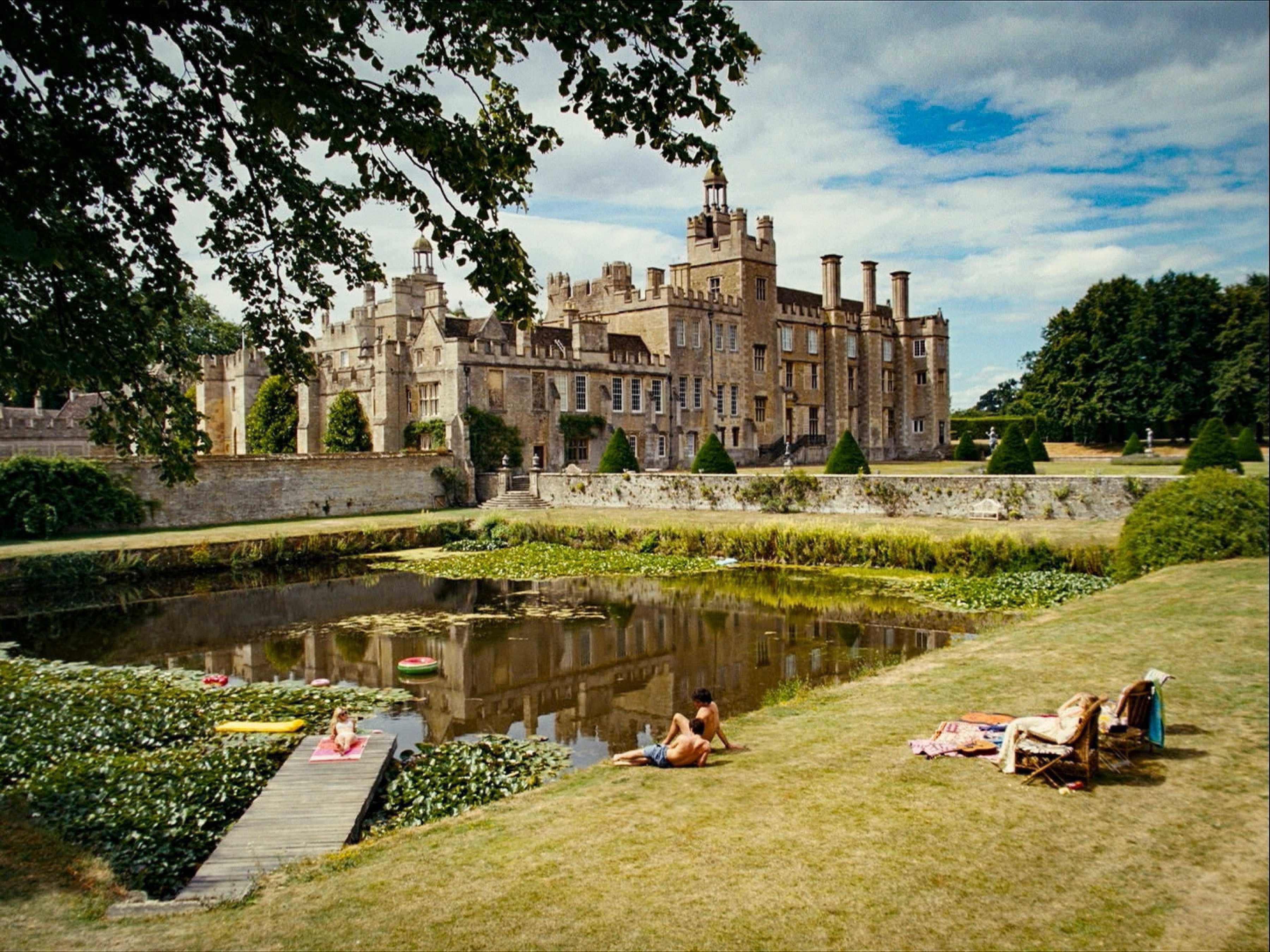 Ossie McLean operated the camera for much of the production, with framing instruction to be precise, but for image composition to be as aesthetically appealing as possible. Sandgren freely sings the praises of his Saltburn camera and lighting crew and their collaborative efforts to deliver a distinctive-looking result.
"We planned, choreographed and executed a number of long takes, including one following Oliver at the very start of the movie, as he heads along the streets and into the college courtyard. These oners were expertly done using Steadicam by Ossie and Jason Ewart, supported by our focus puller Jorge Sánchez, second AC Chloe Harwood, and the grip team led by David Appleby, and their work behind the camera really set the scene every time.
He also singles out his gaffer, Ian Sinfield as being especially resourceful.
"I worked with David Sinfield, Ian's brother, when he gaffered for me The Nutcracker and the Four Realms and No Time to Die, with Ian working as best boy. They are a great electric family, always working closely together, with clear communication to me and a positive attitude. When David was pre-lighting a set for me, Ian would step-in by my side and there would be no difference for me whatsoever. David worked on Saltburn for a couple of weeks initially, but had to leave for a previously-booked production elsewhere. So Ian took over as gaffer, and the transition was seamless."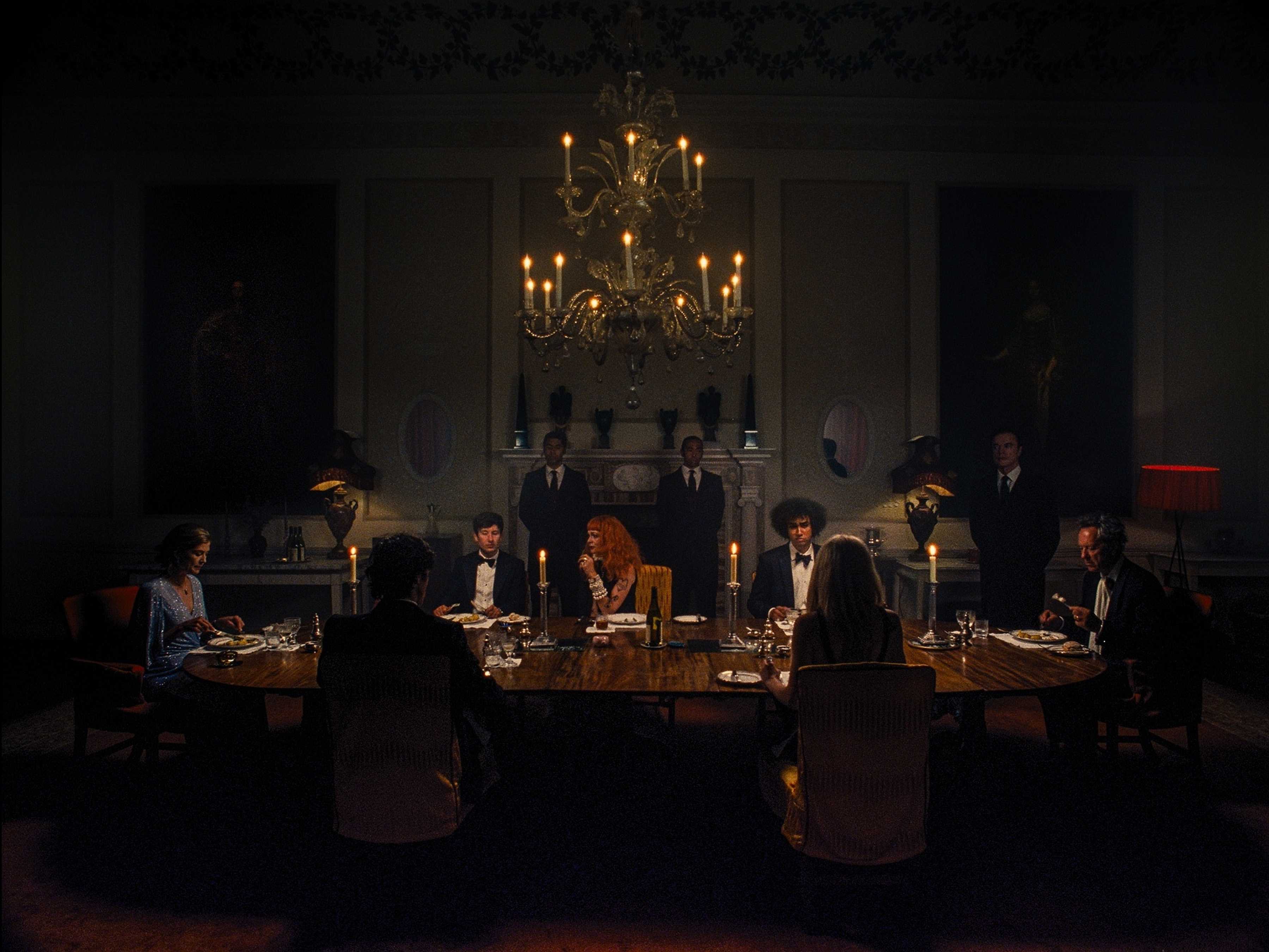 Sandgren says that shooting in Oxford chambers, and especially at the historic ancestral house, meant having to be very careful about the lighting being used, especially the latter where protection of the home and its furnishings, together with the environmental impact of filmmaking, were key concerns to the estate owners.
"To mitigate risks and emissions, we powered many of the setups with gear from GreenVoltage – their 100kW E-Gens, 5kW Voltstacks and 2kW Voltstacks – and lit as much as we could with LED lighting instruments," Sandgren explains.
"Of course, I do like the quality of Tungsten as a warm key light, and sometimes mixed-in LEDs as a cooler fill and to bring color separation to the image, such as some the intimate and suggestively homoerotic scenes, between Oliver and Felix in Oxford. Sometimes we just had to push-in daylight from traditional HMIs."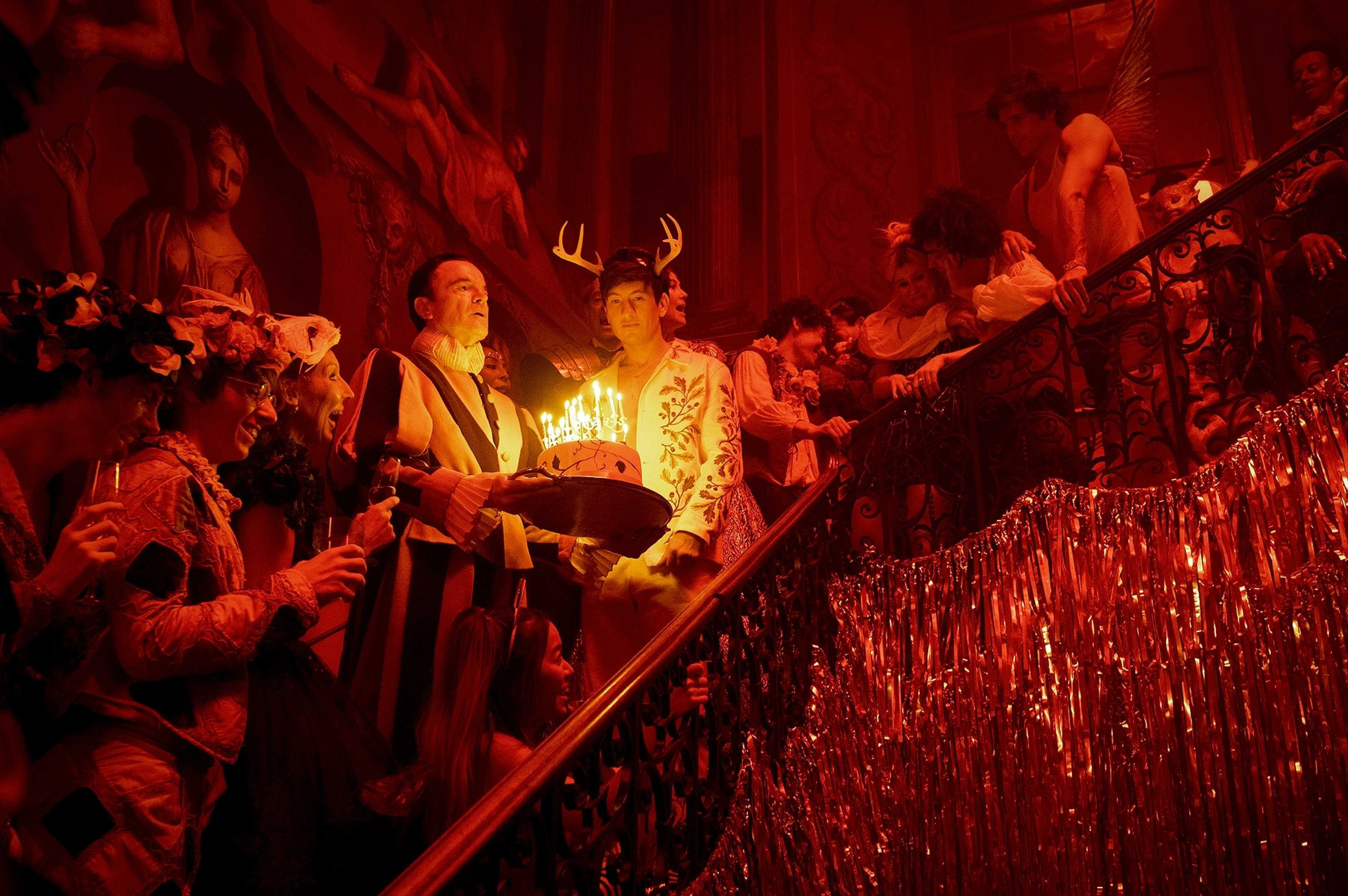 He adds, "We had a lot of fun lighting this film, with hard, directional, noiresque front-light on faces and mid-shots of the actors, as well as the super-colorful scenes at the disco. The karaoke scene was essentially just flame bars.
"The moment when Oliver receives his birthday cake on the staircase was pretty special. We shot that on 500T, and blanketed the entire lobby in a deep, devilish, blood-red, using an array of Creamsource Votex8s and a ridiculous number of real candles on the cake to illuminate his face."
Looking back at his time on the production, Sandgren says, "It was a wonderful experience. Emerald is a super-visual person, never afraid of saying what she thought, but she was always encouraging and welcomed ideas."
On learning that there was much praise for Saltburn as 'a piece of art', along with acclaim for its direction, performances and design, Sandgren modestly replies, "It's always fun to do different things."