Filmmaker Stories
Shooting on Kodak, DP Mike Gioulakis visualized a holiday-from-hell for M. Night Shyamalan's 'Old'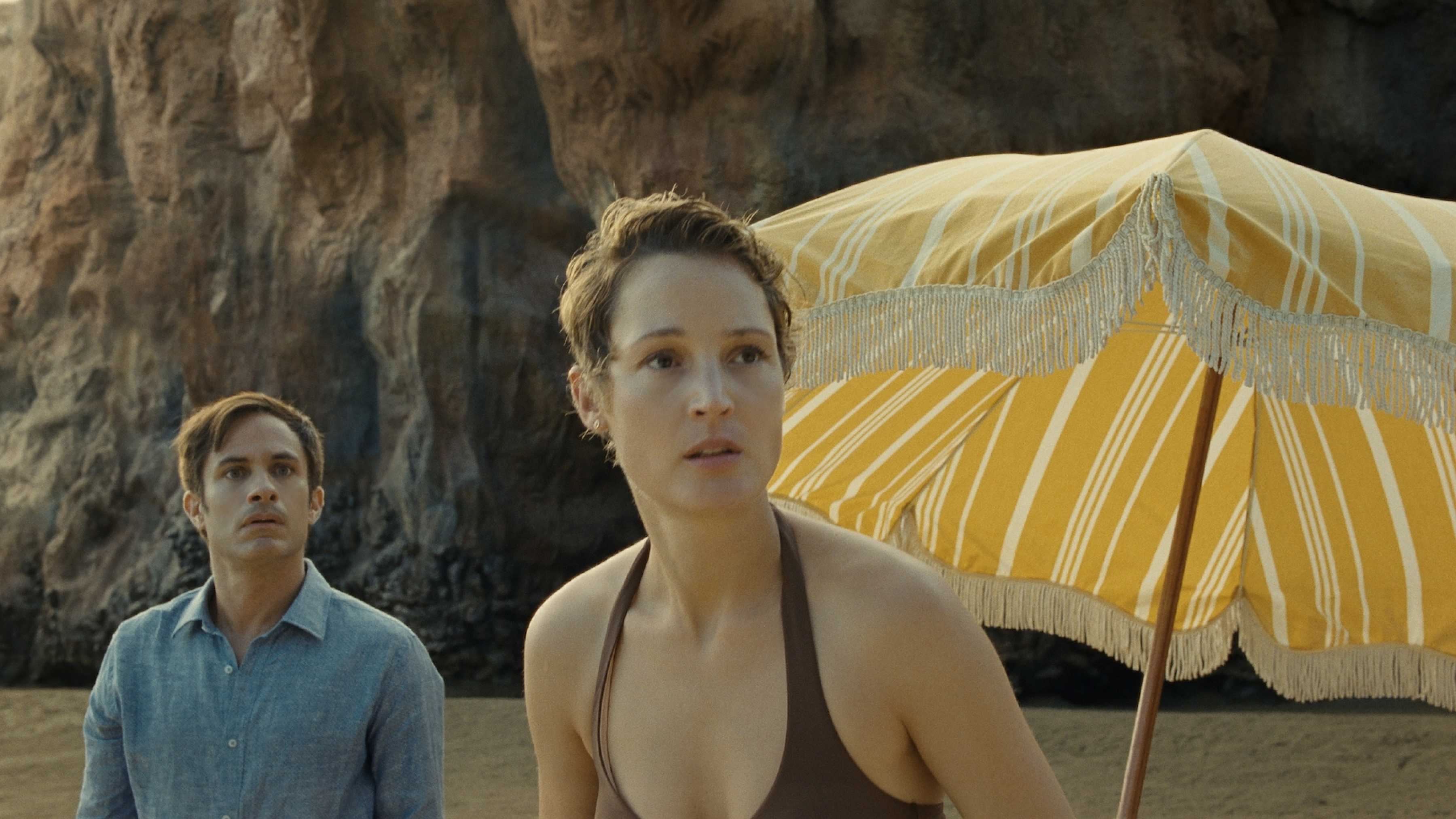 Shooting on KODAK VISION3 filmstocks, combined with some inventive camerawork, cinematographer Mike Gioulakis played with perception to conjure up a sense of the supernatural, suffused with tension and terror, for director M. Night Shyamalan's acclaimed beachside horror movie Old.
Written, directed, and produced by Shyamalan, the five-star rated film is based on the French-language graphic novel Sandcastle by Swiss creators Pierre Oscar Levy and Frederik Peeters, which the director decided to adapt into a feature film after receiving it as a Father's Day gift from his three daughters.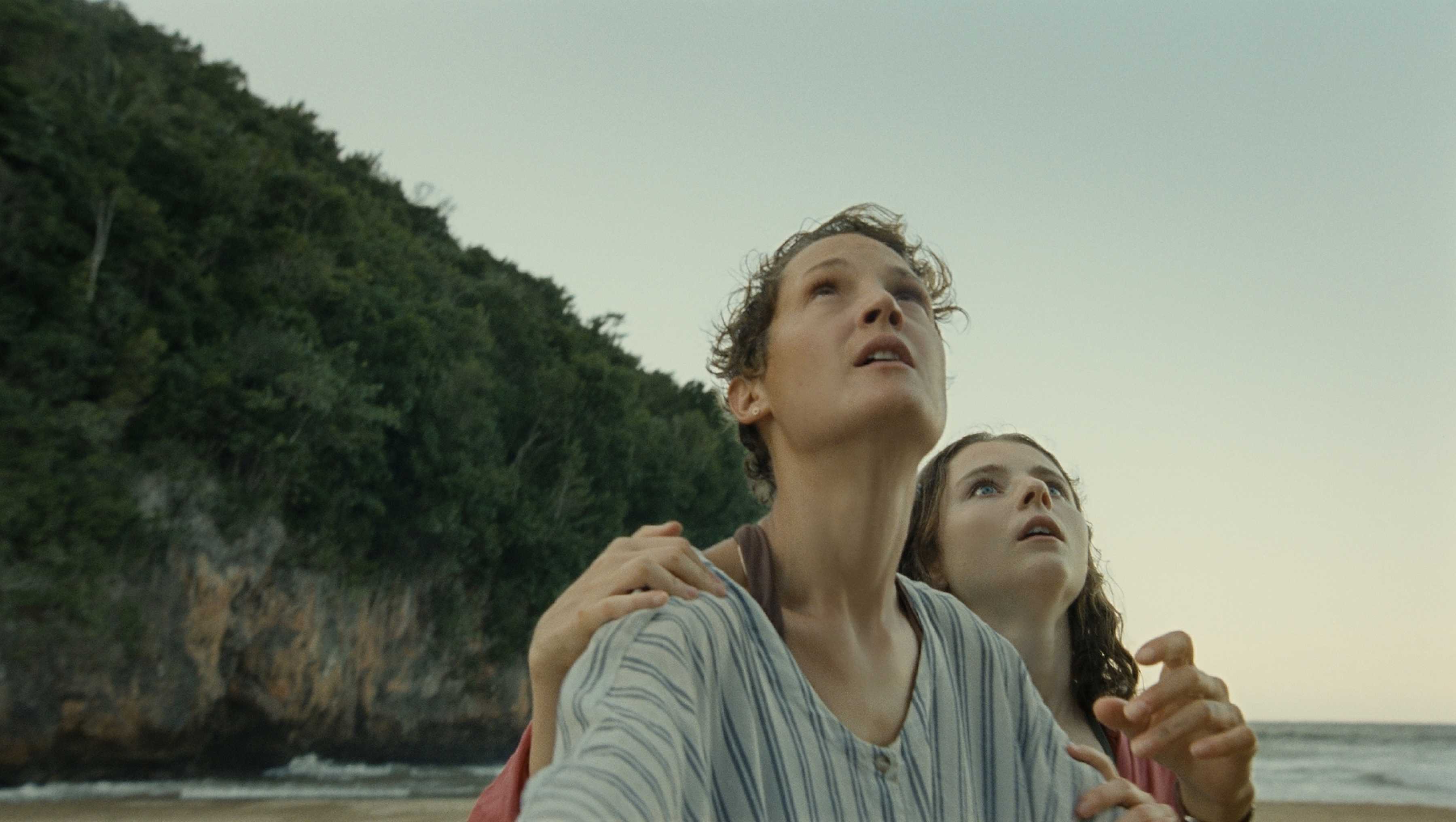 The storyline for Old follows a vacationing family who, together with a handful of other hapless holidaymakers, discover that the secluded cove where they aim to relax for a few hours somehow causes them to age with frightening rapidity, shrinking their entire lives into a single day. Set against the natural beauty of the beach but where the steep stone cliffs and roaring ocean feel increasingly menacing, the film muses on people's dysfunctional relationship to the passage of time and the mysteries of ageing.
The $18M Universal Pictures production, which has taken over $85M at the global box office, features an ensemble cast including Gael García Bernal, Vicky Krieps, Rufus Sewell, Aaron Pierre, Alex Wolff, Emun Elliott, Thomasin McKenzie and Embeth Davidtz, plus a brief cameo appearance by Shyamalan himself.
Among the praise from film critics, Gioulakis' cinematography has been particularly noted for its visual vibrancy and dramatic storytelling. Gioulakis is known for his striking work on David Robert Mitchell's It Follows (2014) and Jordan Peele's Us (2019). Old represents the DP's fourth production with Shyamalan following their feature collaborations on Split (2017) and Glass (2019), and the Apple+ TV series Servant, although this was their first celluloid originated production together.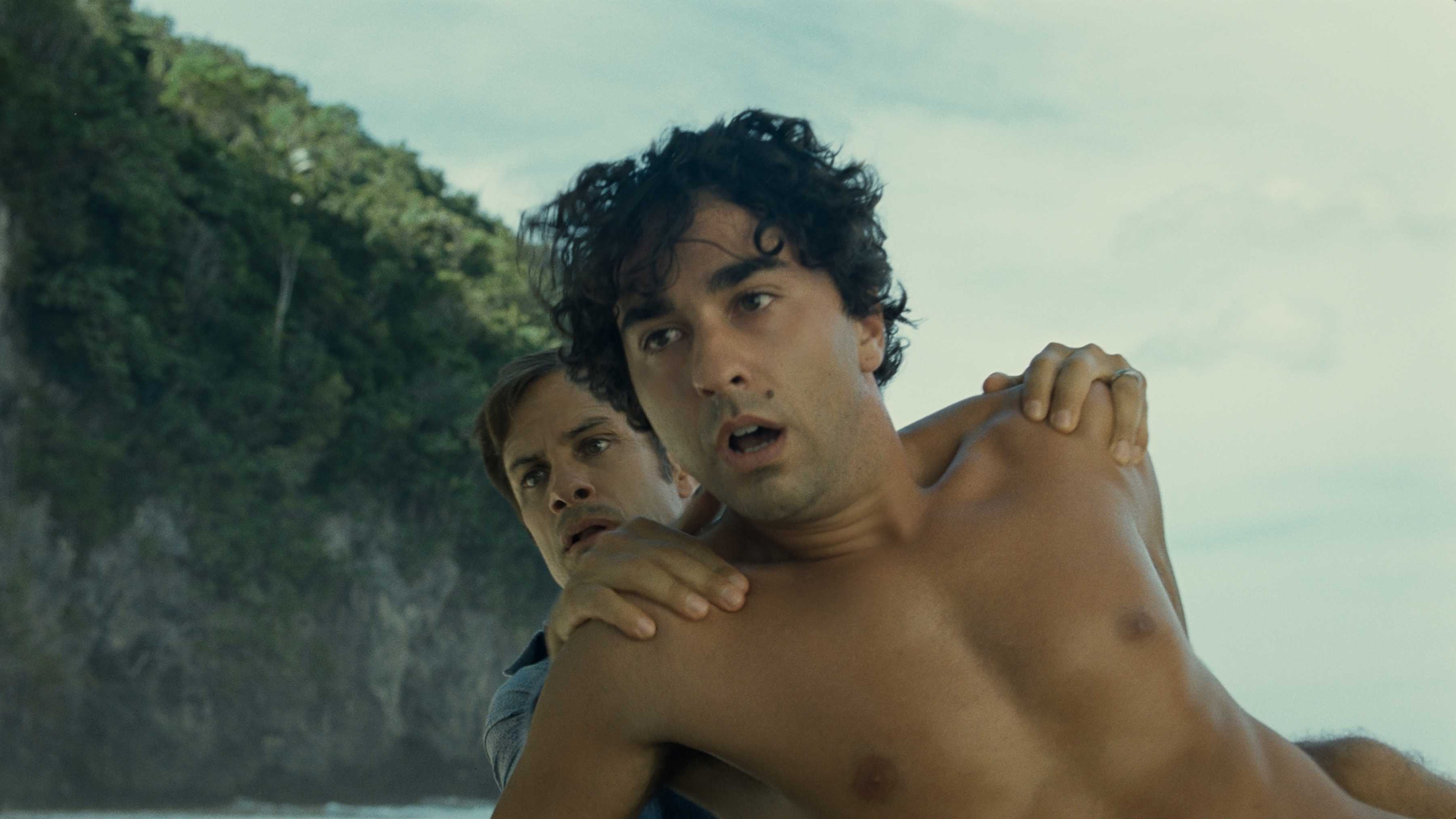 "While I frequently shoot commercials and shorts on film, Old was the first longform production I had shot on celluloid since filming The Book of Caleb (dir. Matthew von Manahan, 2008) on 35mm," remarks Gioulakis. "I absolutely loved the experience of coming back to film, chiefly because you are able to focus more on how the camera tells the story, rather than getting drawn into continually nit-picking the look of the image on set in a digital environment.
"I am very lucky to work with Night. He is a great director of incredible renown and is very pragmatic and precise during production. As 90% of Old was set on the beach, we tested different flavors of digital and film formats on the ocean shore in LA during pre-production, and 35mm film gave us such a lovely look right from the start.
"Despite all of the softening and grain tools you can use in post-production, the detail in the wave crests and the water on our digital test footage was still way too sharp and crisp. Film automatically softens those sorts of things right out. The filmed test footage looked beautiful, and Night was determined to shoot Old on analog 35mm celluloid."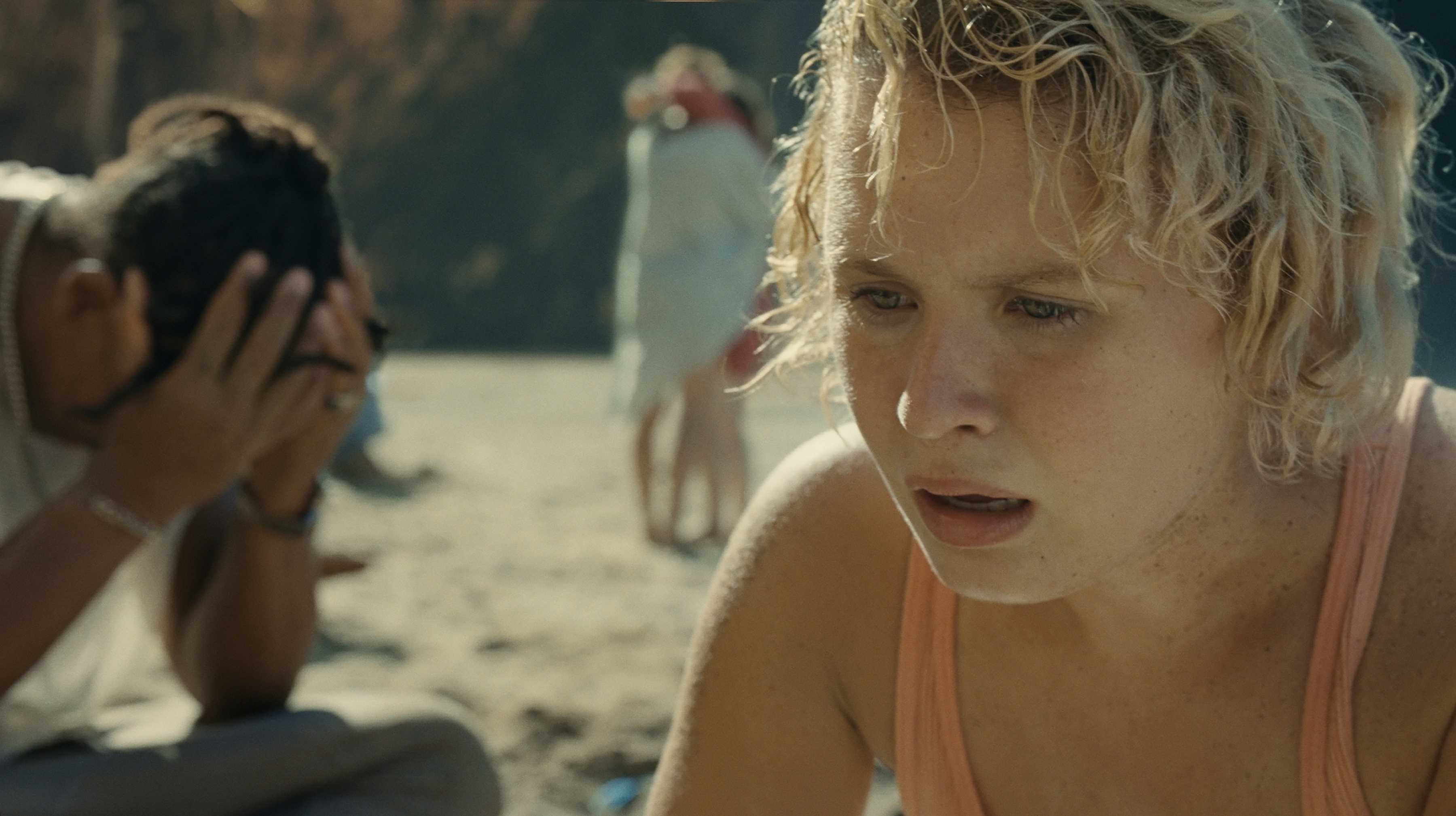 Physical production on Old took place in the Dominican Republic, across 40 shooting days from September to November 2020, under strict operational protocols due to the Covid-19 pandemic. The chief location was Playa El Valle beach, located between two mountains on the north coast of the country's Santa Bárbara de Samaná municipality, where the cast and crew had to endure sweltering working conditions.
Additional filming took place on sets constructed at Pinewood Dominican Republic Studios for the movie's cave and laboratory scenes. The production also used the studio's Caribbean Horizon Water Tank, where a 40-foot underwater coral reef tunnel, plus entrance and exit sets, were constructed under the auspices of production designer Naaman Marshall.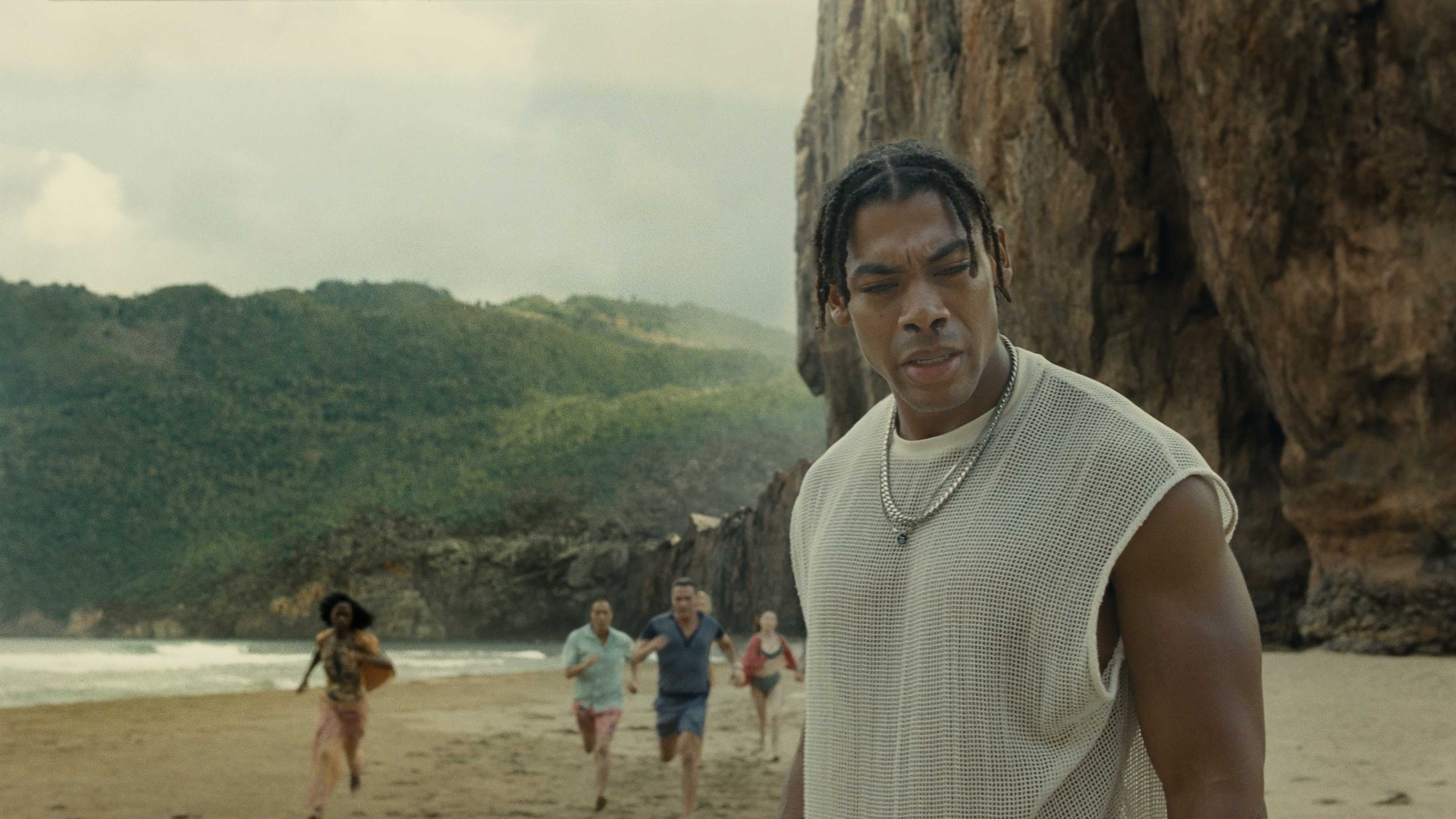 Gioulakis says films created during the Australian New Wave, including Walkabout (1971, dir/DP Nicolas Roeg BSC) and Picnic at Hanging Rock (1975, dir. Peter Weir, DP Russell Boyd ACS ASC), helped to inspire the emotional look-and-feel for Old.
"Walkabout was one of the movies that made me want to become a cinematographer," says Gioulakis, "and both were particularly important to us for Old, as they are largely based outdoors, where the natural environment can be beautiful, but also harsh and hostile.
"Typically, Night and I start by boarding production in sequential/chronological order, working with Brick Mason, his long-time storyboard artist. Through that process we discover our approach to the visual language scene-by-scene` and refine that further via subsequent passes through the script."
Indeed, it was this extensive exercise that helped the DP and director to design the beguiling juxtaposition of the luscious shoreline location with the growing frenzy taking place on the beach. The result was knowing where and when to combine make-up and subtle VFX to age the actors with gliding camera moves, sudden whip-pans, close-ups, forced perspectives and use of look-alikes in Texan Switch routines – all to ramp-up the tension and credible dramatic effect for the audience. For example, the framing catches the side of a character's head before suddenly revealing they are now being played by a different and more aged performer.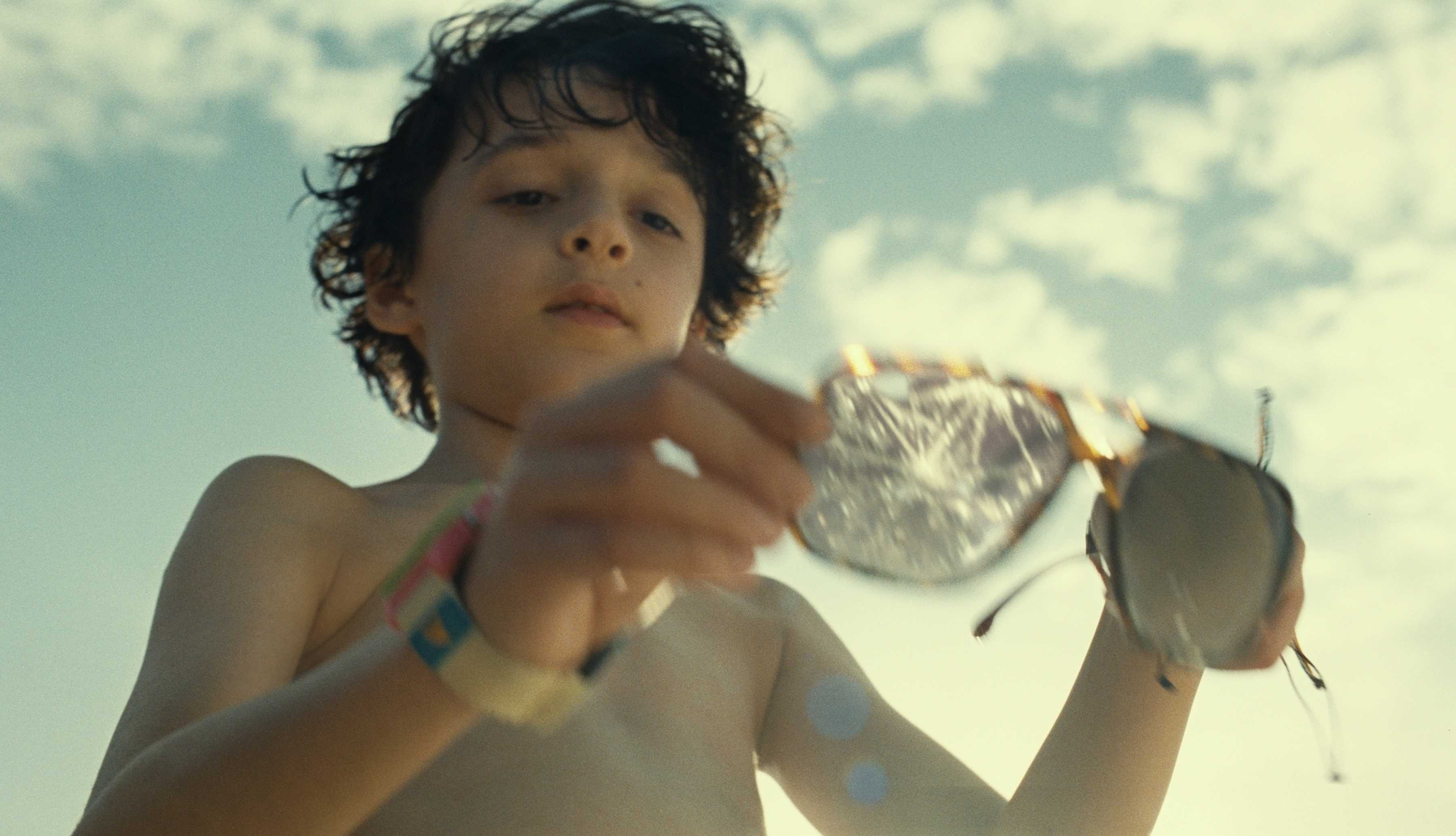 For the shoot, Gioulakis went with ARRLICAM LT cameras plus spherical Master Primes lenses, framing the action in widescreen 2.39:1 aspect ratio. The camera package was supplied by Panavision, Woodland Hills, California.
"As we frequently had multiple characters on screen, set against the landscape of the sea and the horizon line, it made a lot of sense to go widescreen," Gioulakis explains. "Although I love Anamorphic, shooting spherical gives less of a photographic imprint and feels a little more immediate and immersive for the audience. I went with the ARRICAM LT as it is a wonderfully maneuvrable camera that I knew would help as we switched between shooting in handheld, crane and Steadicam modes."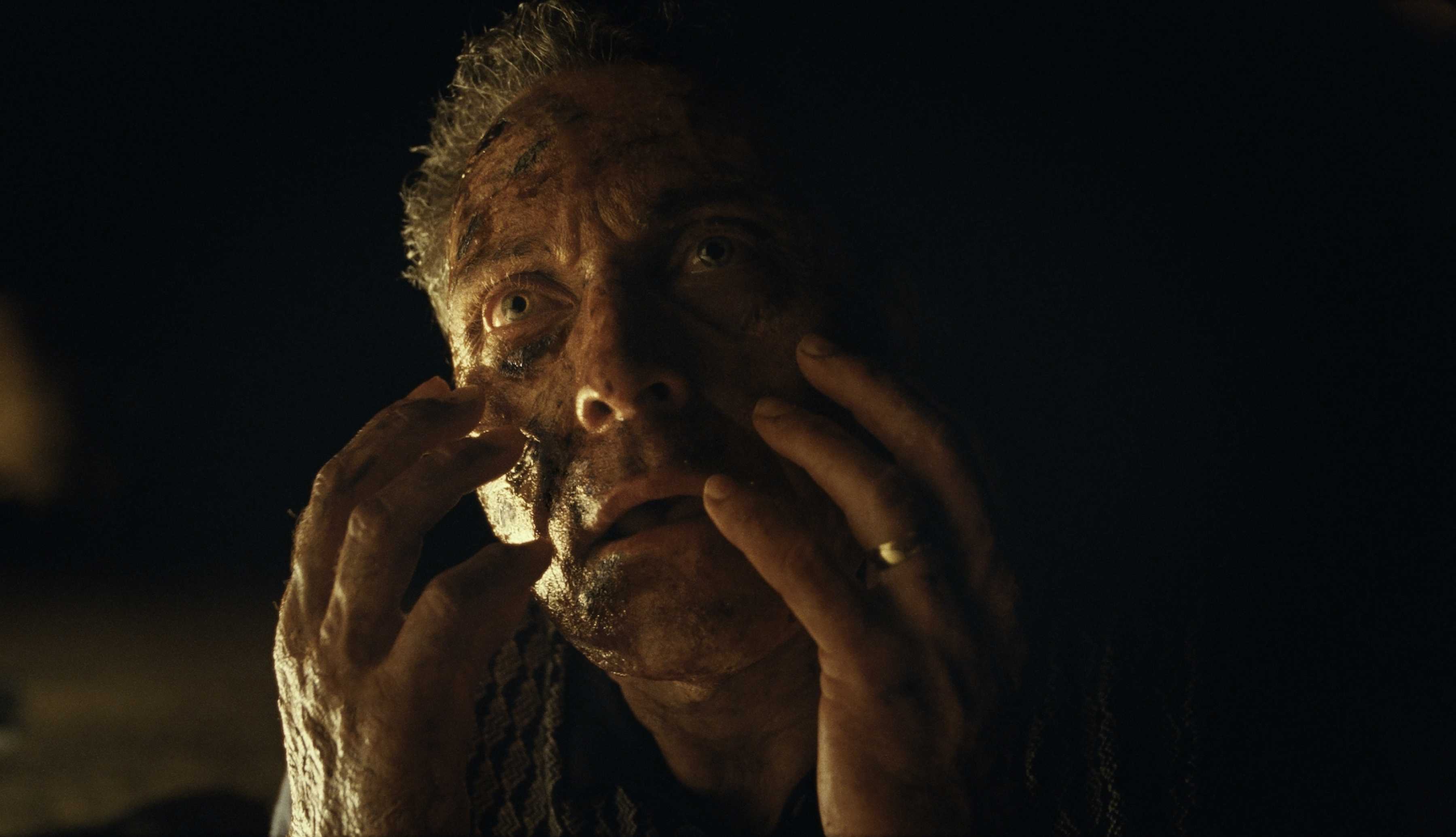 KODAK VISION3 250D Color Negative Film 5207 was Gioulakis' choice for the movie's daytime beach exteriors, brighter day interiors, plus dawn and dusk scenes, with KODAK VISION3 500T Color Negative Film 5219 used for low-light and night-time sequences.
"I thought about including KODAK VISION3 50D 5203 in the mix for our day exteriors, as it is has luscious color, but only wanted to carry two stocks to keep things simple logistically, especially as my camera crew were under pressure to switch between different shooting modes in uncomfortable heat while wearing face masks the whole time.
"But the 250D has lovely color rendition, too, and it is wonderfully versatile in that you can shoot in broad daylight and at both ends of the day. The 500T brings beautiful warmth to the image and is similarly versatile in low-light situations. Both stocks have very nice texture from the grain. We had a lot of bare flesh in this film, and there is something about the contrast and color of skin tones that is so real, natural and visually appealing when captured on film and so hard to replicate when you shoot digitally."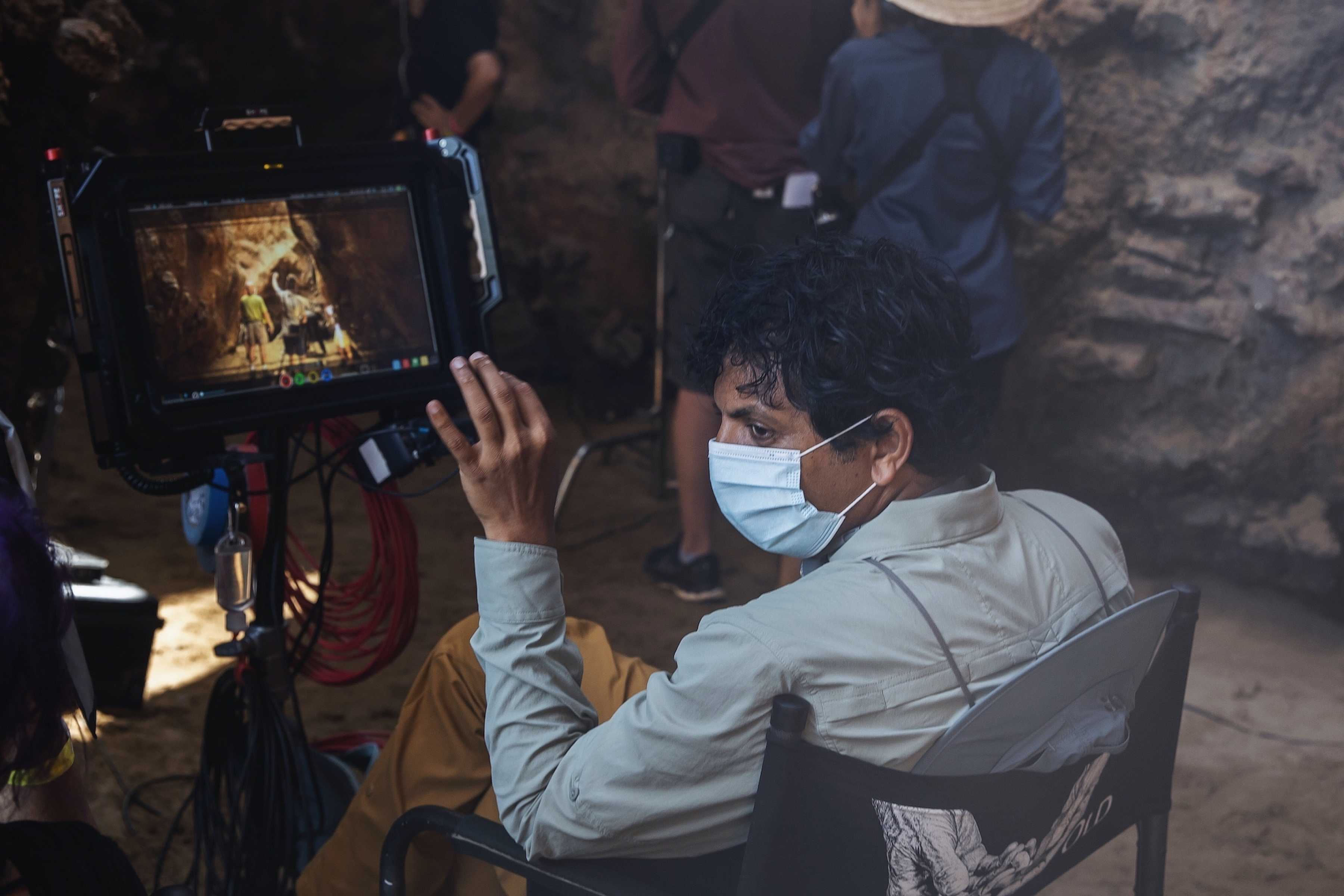 Old was predominantly a two-camera shoot, with additional cameras added for certain action scenes. Gioulakis shared camera operating duties with A-camera/Steadicam operator Benjamin Verhulst, plus Nick Müller who participated for the last couple weeks of production. Respected underwater camera operator Ian Seabrook shot the movie's sub-aqua sequences. The key grip was Ben D. Griffith Jr., with Ryan 'Sparks' Lynch working as the gaffer. To film footage of the surrounding nature, Shyamalan's daughter, Ishana, served as the film's second unit director, with Francisco Adolfo Valdez working as second unit DP.
Film processing and graded 2K dailies were done at Kodak Film Lab in New York. 4K finishing scans were provided by Technicolor LA, now Picture Shop, where the final grade was performed by colorist Mike Hatzer. This saw the application of a specially modified Technicolor ENR process emulation LUT to increase image contrast, deepen the richness of the blacks and effect the color saturation so that some hues would be desatured while others were more explosive.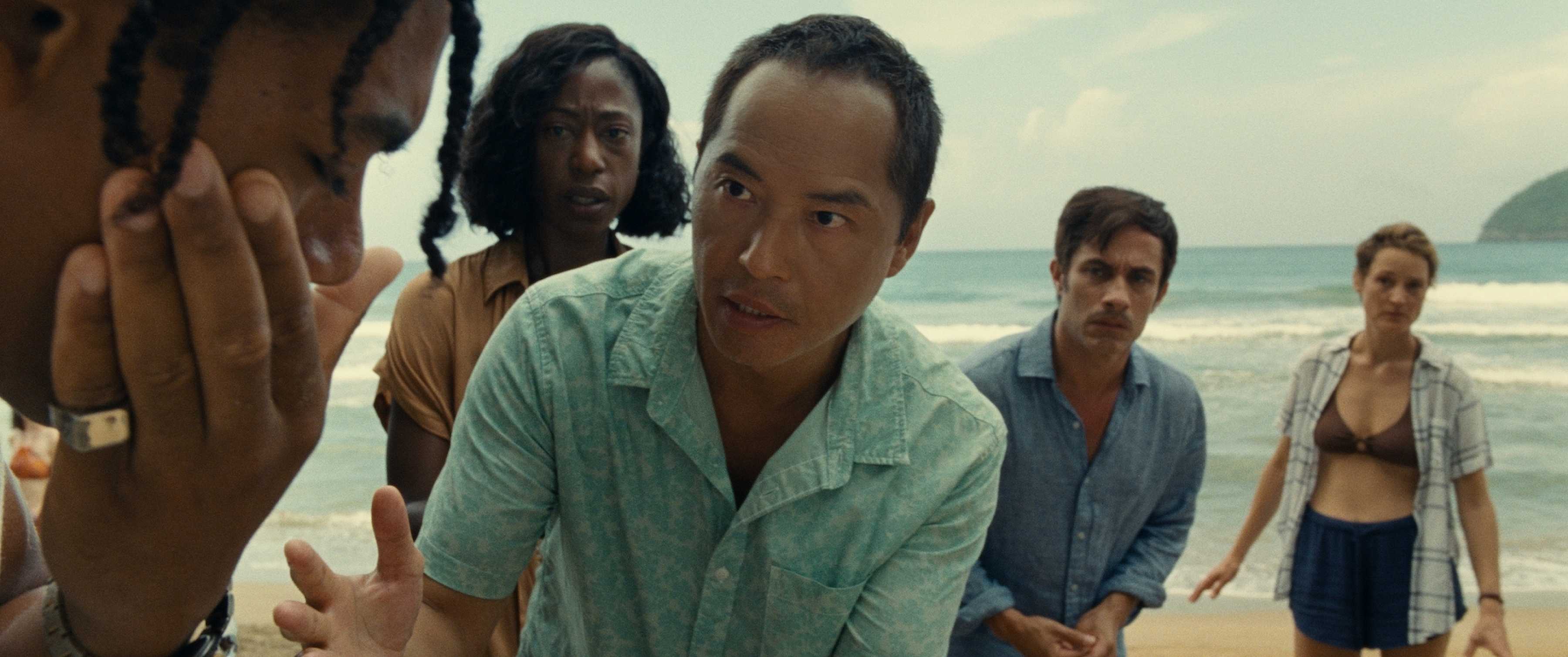 "Having shot digital for many years – where you prep LUTs and continually adjust the image on set with a DIT on a monitor, all with the aim of seeing everything pretty much as it will exist in the finishing suite – shooting on film let's you breathe a bit more," says Gioulakis. "By putting your trust in the ability of film to faithfully handle exposure, contrast, color and highlights, you can concentrate much more on the image you see through the eyepiece and the storytelling with the camera – which this film was all about.
"Having learned to shoot on film as a student, coming back to celluloid so many years later for a longform feature was a very special and refreshing experience. I absolutely loved it and would love to do more."