Filmmaker Stories
John Mathieson BSC/'Pokémon Detective Pikachu'
John Mathieson BSC, demonstrates that it's both eminently feasible and financially profitable to shoot a VFX-laden, CG character-led film on celluloid.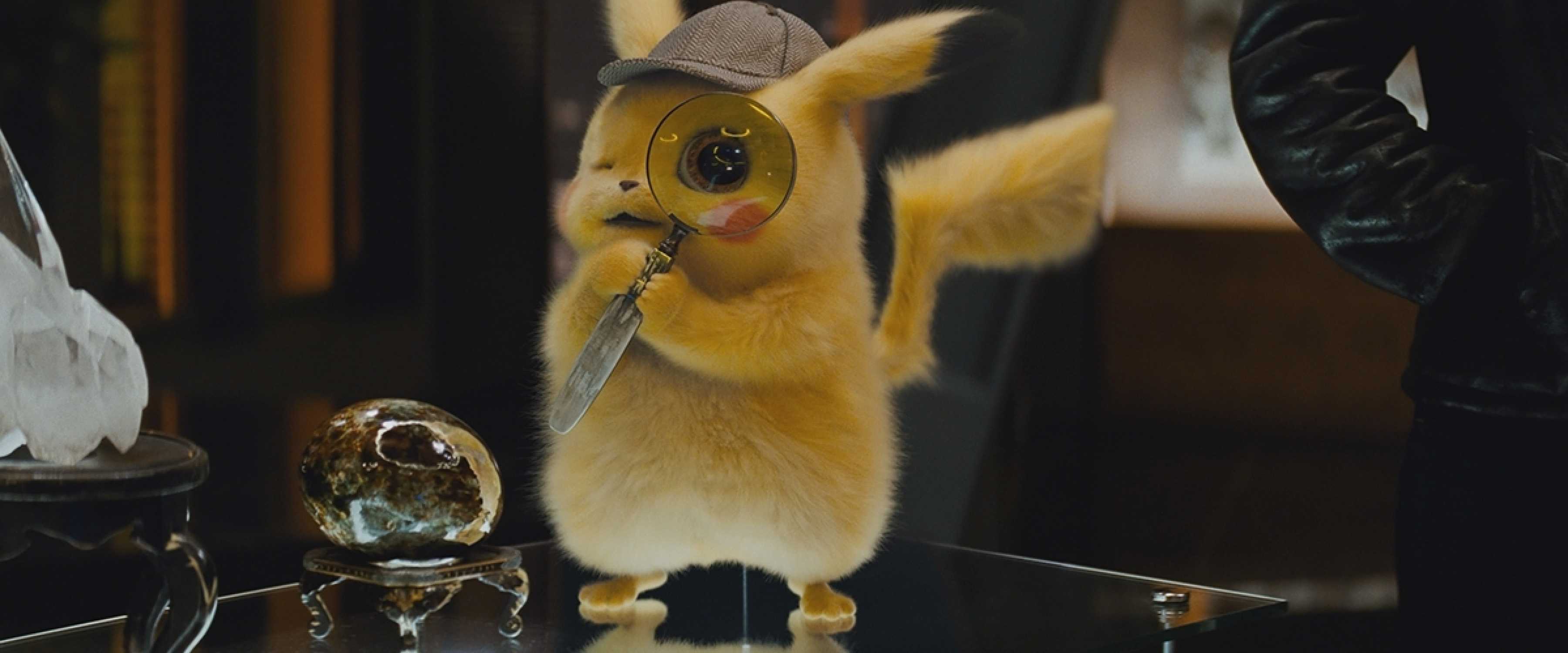 Captured on Kodak 35mm film, Pokémon Detective Pikachu, directed by Rob Letterman and shot by British cinematographer John Mathieson BSC, demonstrates that it's both eminently feasible and financially profitable to shoot a VFX-laden, CG character-led film on celluloid, as opposed to the now commonplace binary alternative.
Along with earning a host of positive reviews, with many critics noting its noir, Blade Runner-esque looks, Pokémon Detective Pikachu also became the biggest-grossing videogame movie ever in North America soon after its release and, at time of writing, had taken over $425M at the global box office.
"There's a perception that movies like this – with big, colorful animated characters or even super-heroes – should be shot digitally," says Mathieson. "But there is absolutely no reason why you should not shoot on film. In fact, there are a whole host of very good reasons why shooting on film can be much better than shooting on digital, and I think Pokémon Detective Pikachu is a great example of those. The use of traditional film helps the end result to look more realistic.
"And, crucially, shooting on film gives the cinematographer the chance to stamp their artistic credentials on a production, to create something distinctive in a world of increasing visual mediocrity."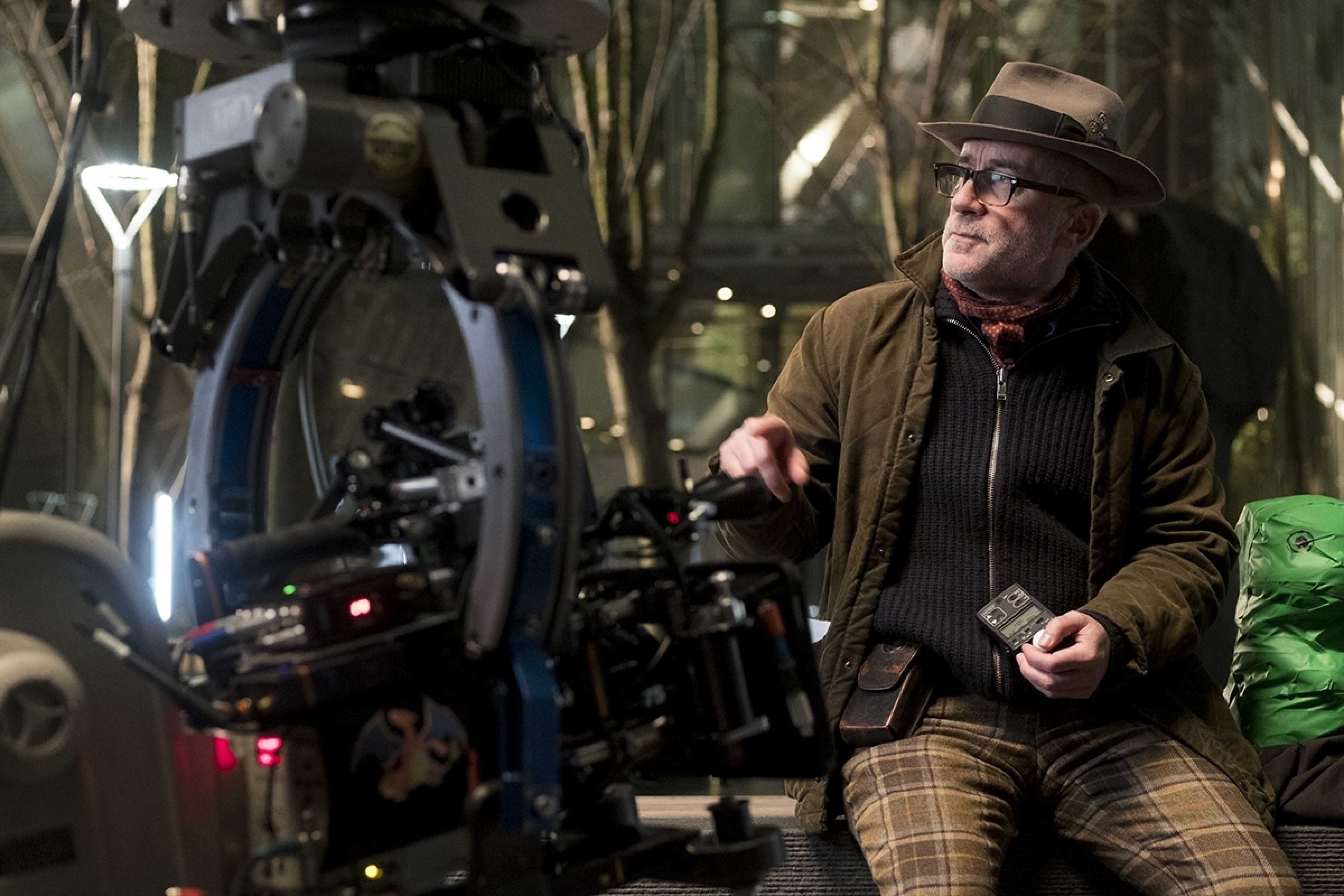 Following the colossal success of the Pokémon Go augmented reality game, which launched in 2016, Japanese gaming and media franchise The Pokémon Company (a consortium between video game developers Nintendo, Game Freak and Creatures) went for a Hollywood makeover for Pokémon Detective Pikachu.
Based around the video game of same name, the $150M urban mystery movie is set in the fictional metropolis of Ryme City – a neon-lit cauldron of bustling activity, sizzling street food, dark alleys and high-tech offices – where humans and Pokémon live together as equals, although they cannot understand each others' languages.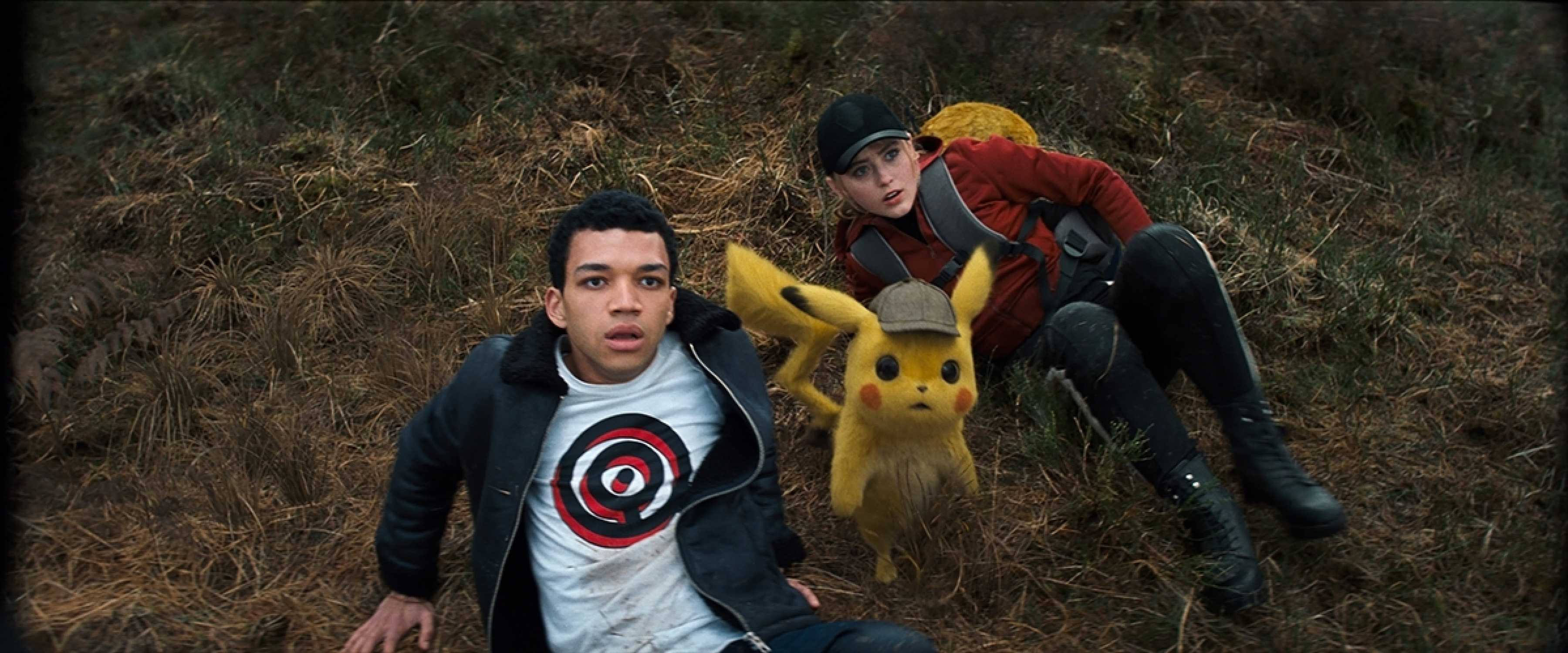 When ace detective Harry Goodman goes missing in mysterious circumstances, his 21-year-old son, Tim, is prompted to find out what has happened. Aiding in the investigation is Harry's former partner, Detective Pikachu, a small, yellow, furry, wise-cracking super-sleuth, who is capable of delivering powerful electric shocks when his cuteness is called into question. Finding that they are uniquely equipped to work together – Tim is the only human (apart from the audience) who can understand Pikachu – they join forces to unravel the tangled mystery.
The film was produced by Legendary Pictures in association with Japanese film, theatre production and distribution company, Toho. Ryan Reynolds stars as the voice and facial motion capture of Pikachu, with Justice Smith as Tim, and Kathryn Newton, Suki Waterhouse, Omar Chaparro, Chris Geere, Ken Watanabe and Bill Nighy in other live-action roles.
Mathieson was engaged on the production after finishing his work on Mary Queen of Scots, in early November 2017, and immediately commenced a seven-week prep period.
Filming took place from January to May 2018 on large and elaborate sets of Ryme City at Shepperton Studios and Warner Bros. Studios, Leavesden, along with physical locations in London and Chatham Docks, plus rural locations, such as Minley Woods in Hampshire and the highlands of Scotland. Production also encompassed a stint in Hollywood, with the cinematography supervised by Salvatore Totino AIC ASC on Mathieson's behalf. The production designer was Nigel Phelps.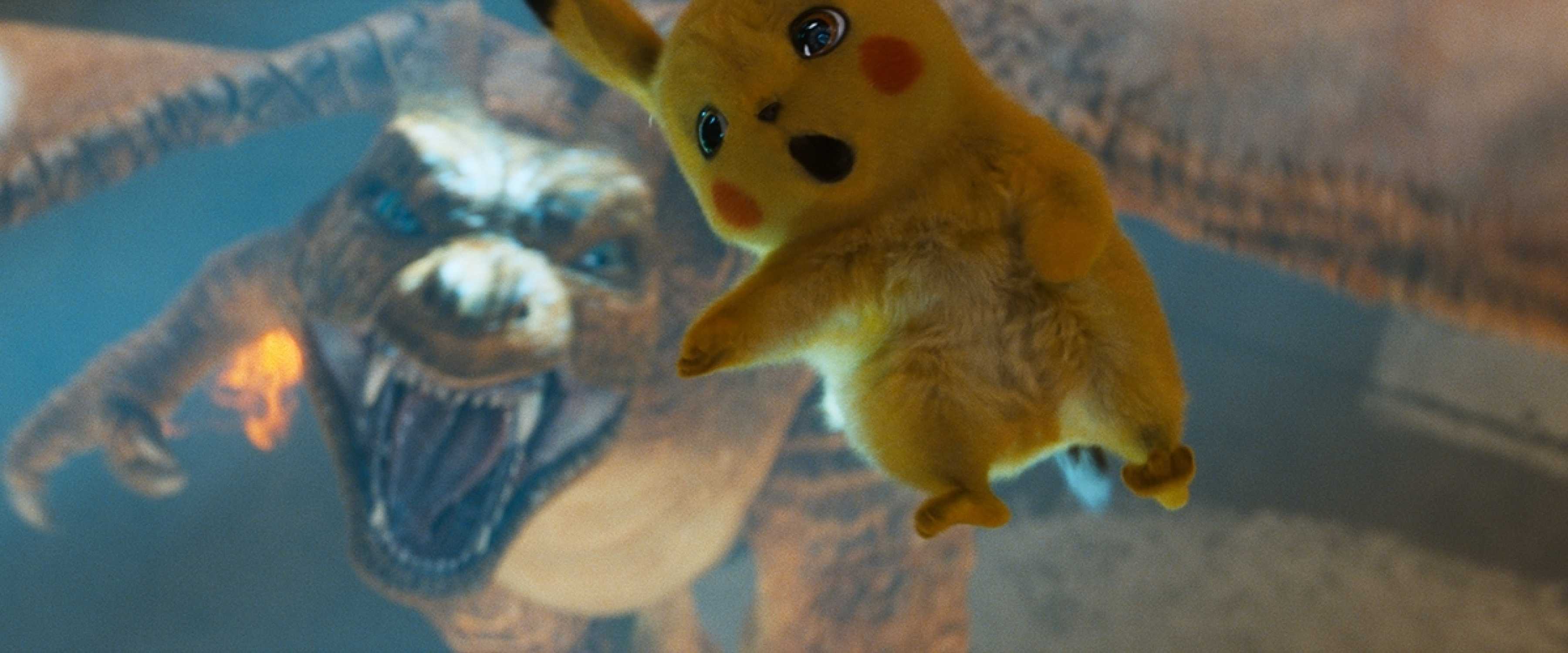 The film's photorealistic CG animation and visual effects – comprising of some 1,550 shots – were overseen by VFX supervisor Erik Nordby and delivered by multiple VFX companies, including the Moving Picture Company (MPC) as the lead vendor, along with Framestore, Image Engine, Rodeo FX and Instinctual VFX.
Rather than undergoing a formal interview for the production, Mathieson's initial acquaintance with Letterman took place at Mathieson's pub, The Cleveland Arms, near Paddington, London.
"Ron, Erik and a mime artist they had found for the production, rolled into the pub one evening, and we got talking about the project, during which Rob and Erik were clearly championing the use of film. It was a bit of an odd request when they asked me, but I said, of course, that I would love to shoot this production, especially if it was to be on film."
That said, a little further down the line, Letterman, Mathieson and Nordby had to make a strong case to the movie's producers for shooting on celluloid, especially to assuage concerns about costs.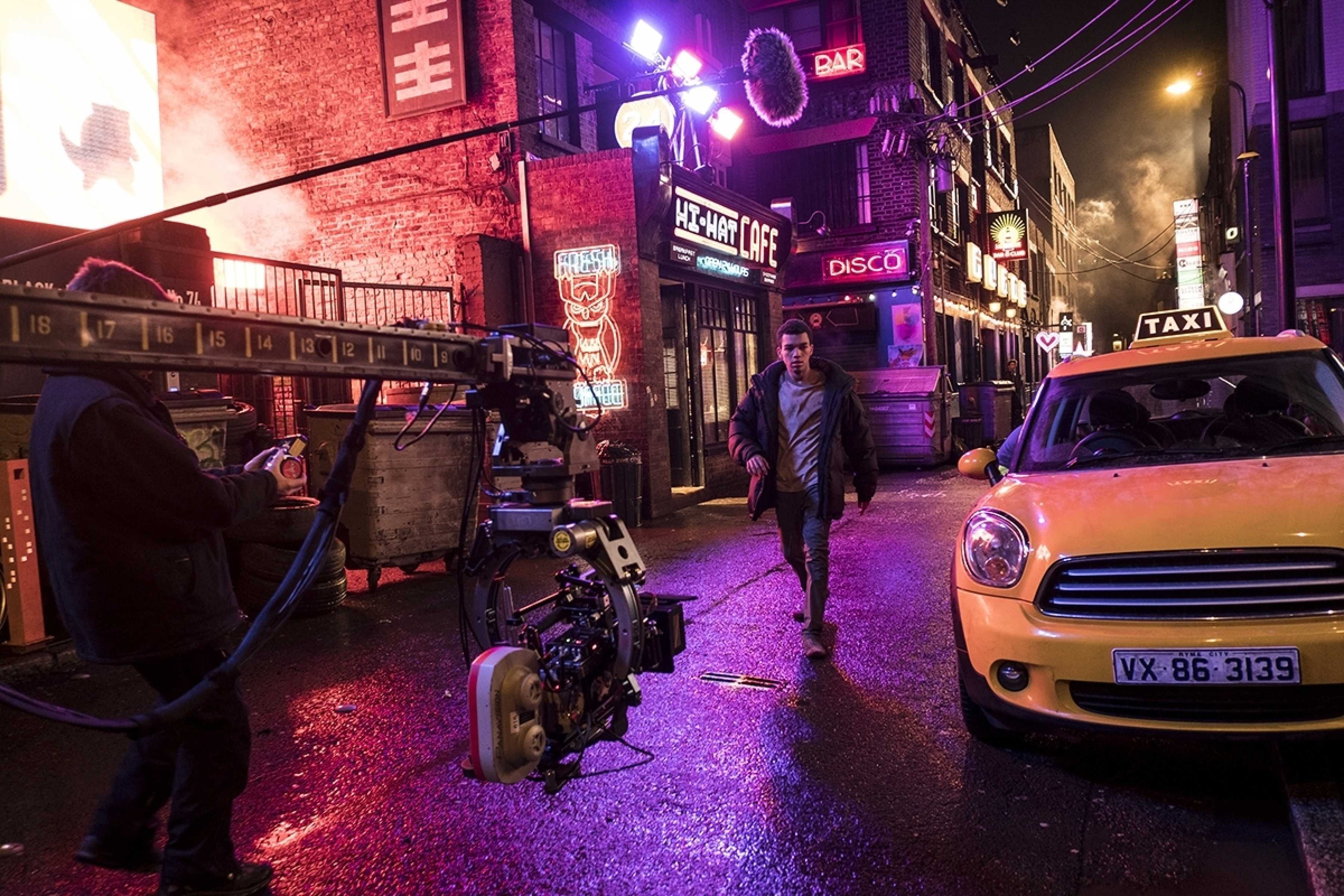 "They were principally concerned that the shooting ratios using film would make it too expensive," says Mathieson. "I explained that when shooting film on set there's a particular discipline – you roll sound, roll camera, come up to speed and if something goes wrong you cut – unlike in digital where there's a tendency to just keep the camera rolling and to do takes again and again.
"When I worked with Ridley Scott on 35mm films such as Gladiator (2000) and Kingdom of Heaven (2005), even on a multi-camera shoot, we might typically shoot only 45 or 50 minutes of film rushes per day. With digital you can easily produce twice that amount of footage, or more, even with a disciplined crew. In my experience, this results in significant overtime costs for the crew over the course of a production, not to mention the hidden dollar costs spent on transcoding, quality control and back-ups. There's the pricing argument about film versus digital blown straight out of the water.
"The feedback from our producers was that, so long as we didn't go crazy then, yes, it was OK to shoot on film. As it turned out in practice, our shooting ratios went way down – down to those levels that I shot with Ridley – and it proved perfectly cost-effective to shoot Pokémon Detective Pikachu on film."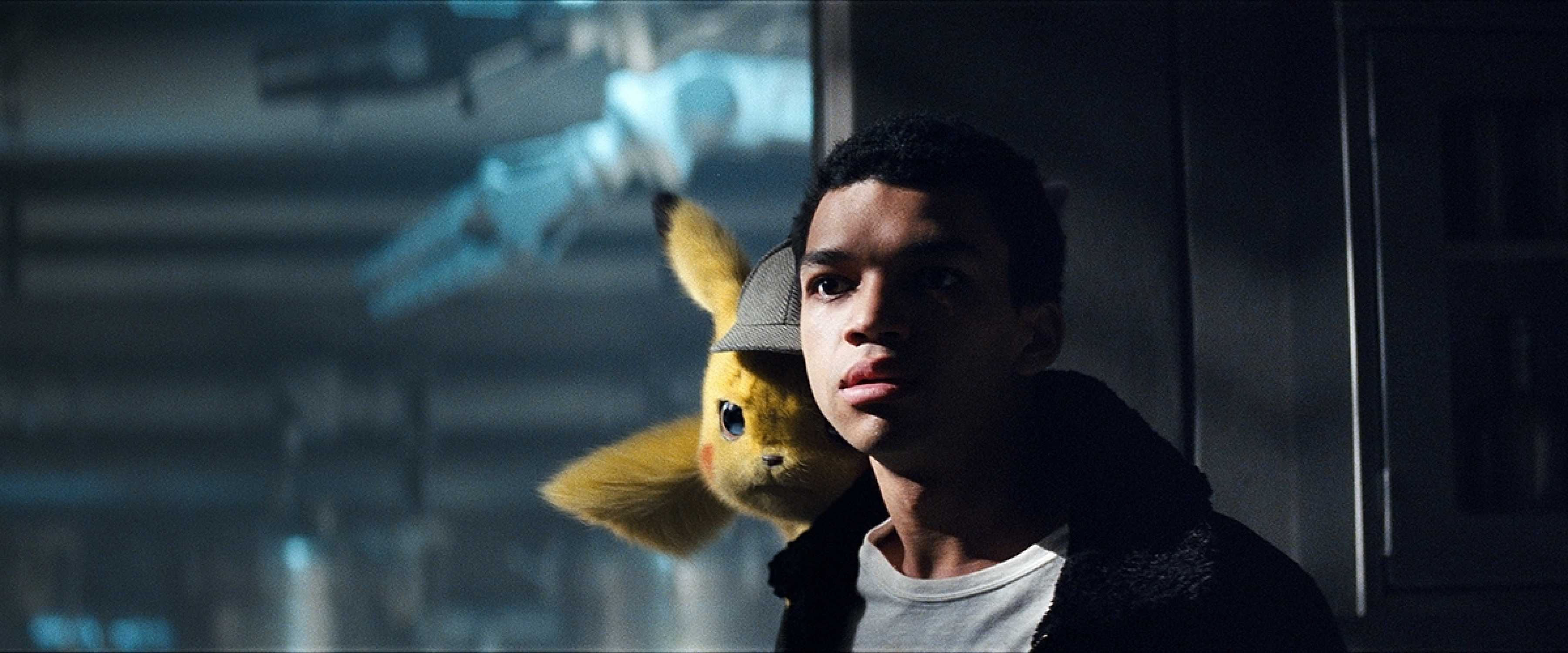 Regarding the look of the film, Ridley Scott's dystopian, neo-noir, sci-fi epic Blade Runner (1982, DP Jordan Cronenweth ASC), proved a significant visual touchstone. As Mathieson explains, "Whilst this was a family romp, that does not mean you can't make it intriguing and mysterious. In a sense, Pokémon Detective Pikachu is a futuristic detective story, based in dodgy areas of town – dark alleys and dank docksides – with deep, smoky shadows, backlit silhouettes and rich exposures. Take out the little yellow fella and it's not a million miles from a movie such as Blade Runner, nor from some of the feature films I have shot before."
Mathieson framed Pokémon Detective Pikachu in Anamorphic 2.40:1 aspect ratio, using Panavision Panaflex Platinum 35mm cameras. These were fitted principally with Panavision E- and Anamorphic lenses but supplemented with Anamorphic Wide-Angle (AWZ T2.8, 40-80mm) and Anamorphic Telephoto (ATZ T3.5, 70-200mm) zooms, as well as spherical Panavised Cooke 10:1 and long Russian Elite zooms.
"The thing about all of these lenses is that they have lovely fall-off and are all pretty much fast enough for shooting a night-time city street scene when you don't have lots of light. With some of the longer lenses, I might put some brightness behind the actors to get silhouettes and, with a bit of atmos and the depth-of-field, achieve a lovely veiling around the characters, with fogging into the shadows and beautiful, slightly-halated street lights. Using film I knew I could point the camera straight at any neon lights or bright reflections and not get any clipping in the image as you would expect with a digital camera."
As for the 35mm filmstocks, Mathieson selected KODAK VISION3 500T Color Negative Film 5219 for the mainstay of the film's studio-based scenes, and VISION3 50D Color Negative Film 5203 to capture the day exteriors on location-based shoots, especially the rural ones.
During the test and prep period Nordby shot a range of grain patterns of those stocks under different lighting conditions, which were scanned at 2K and used in post production by the different VFX vendors to help create a seamless blend between the live-action, synthetic CG and VFX elements. Film processing was done at Kodak Film Lab London, with Pinewood Digital providing 2K scans of all footage.
"During the shoot, I rated the 500T 5219 at 400ASA but didn't correct it in daylight as I wanted to encourage the slate grey, corporate look in the film's office sequences," says Mathieson. "The 5219 is a robust stock with great latitude, so you don't need to worry too much about overexposure at the top end or underexposure in the dark below. But even if I did, I knew I was in much better shape shooting on film as it can take that sort of punishment far better than digital. Also, neon lights, especially red and blue, as well as flesh tones and highlights, render much better on film – you get proper colors, compared to digital.
"The 50D 5203 is a lovely, rich and velvety stock, whose roots you can trace back down a long, direct line of great daylight stocks of yore, and right back to the ones I used on the Colosseum scenes in Gladiator, and also in Morocco on Kingdom of Heaven. Its emulsion must be as thick as marmite, as you really can push it by several stops, up to 200ASA, and it will still look fine. On this film though, I rated it normally and used it as often as I could on exterior shoot days, such as the woodlands of Glencoe in Scotland."
Mathieson's crew on Pokémon Detective Pikachu included Peter Cavaciuti as A-camera/Steadicam operator on the main unit, with Lewis Hume working as 1st AC, and Archie Muller as 2nd AC. Rodrigo Gutierrez was the main unit B-camera operator, with Leigh Gold working focus as 1st AC, supported by 2nd AC Simon Dunn. Chris Cavanagh operated the video assist. Ashley Bond was recruited when a third camera was required. Tim Wooster was the DP on the second unit, with Stefan Stankowski working as A-camera operator, and John Gamble working as B-camera operator. Andrew Dunn BSC shot some additional UK material. The production's gaffer was Chuck Finch, with David Appleby working as the key grip.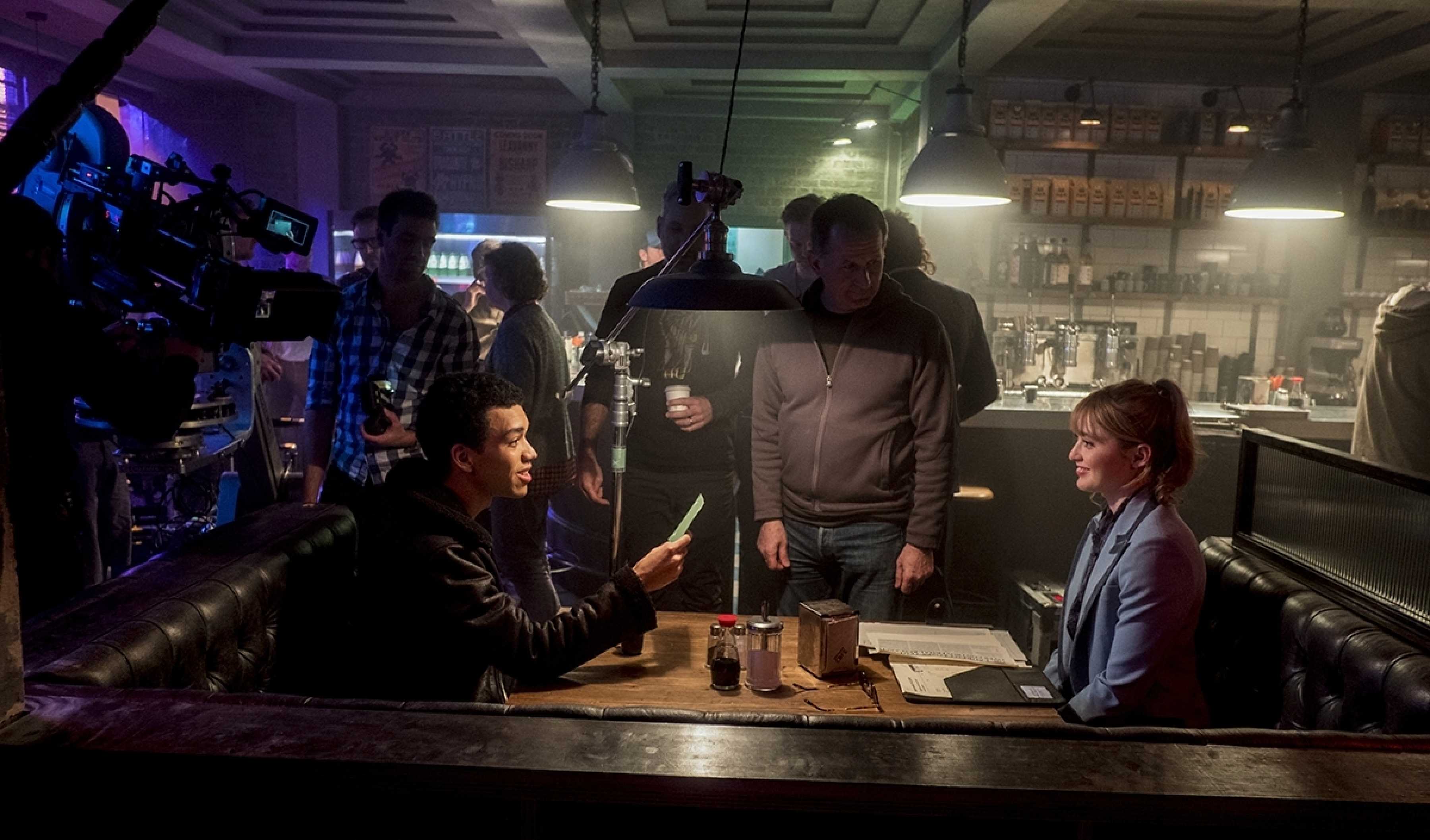 "As this was essentially a classic, noir detective story, we purposely kept the camera movement quite steady, crafted and solid, rather than flinging it around. We avoided too many massive close-ups and preferred the camera framing and lensing to create a sense of depth and distance," Mathieson says.
"There was a small degree of greenscreen to shoot, but not nearly as much as you might expect, as a lot of the time we shot in real locations. Normally on these types of films you might have a performer on a rostrum or on a wire against an enormous expanse of green for a background composite later in post. But here, I lit the set and we shot various passes, with and without appropriately-sized stuffies, or with mime artists and puppeteers helping to coordinate eyelines. On the odd occasion, we even used my dog, Juno, as she provided a great eyeline for Justice, far better than having him looking at ping-pong balls dangling from a mime artist's groin."
Mathieson adds, "I have to say that throughout production, Erik was always very clear and direct about what he needed for the VFX and encouraged me to light as I wanted to light. I like people who work like that, as you know where you stand."
In terms of lighting Mathieson says he used, "pretty standard stuff," including space lights, 18Ks to throw in atmospheric shafts of light or to illuminate an exterior, and 2Ks to shape the light around the characters to create the modern noir look.
Depending on the scene, he also employed a preponderance of LEE Filters and Rosco gels to develop the general ambience – ranging from lavenders and purples, to peacock and summer blues, smoky pinks, plain reds, emeralds, moss green and chrome orange, to name but a few. The lighting package was provided by Pinewood MBS and Warner Bros. Studios Leavesen.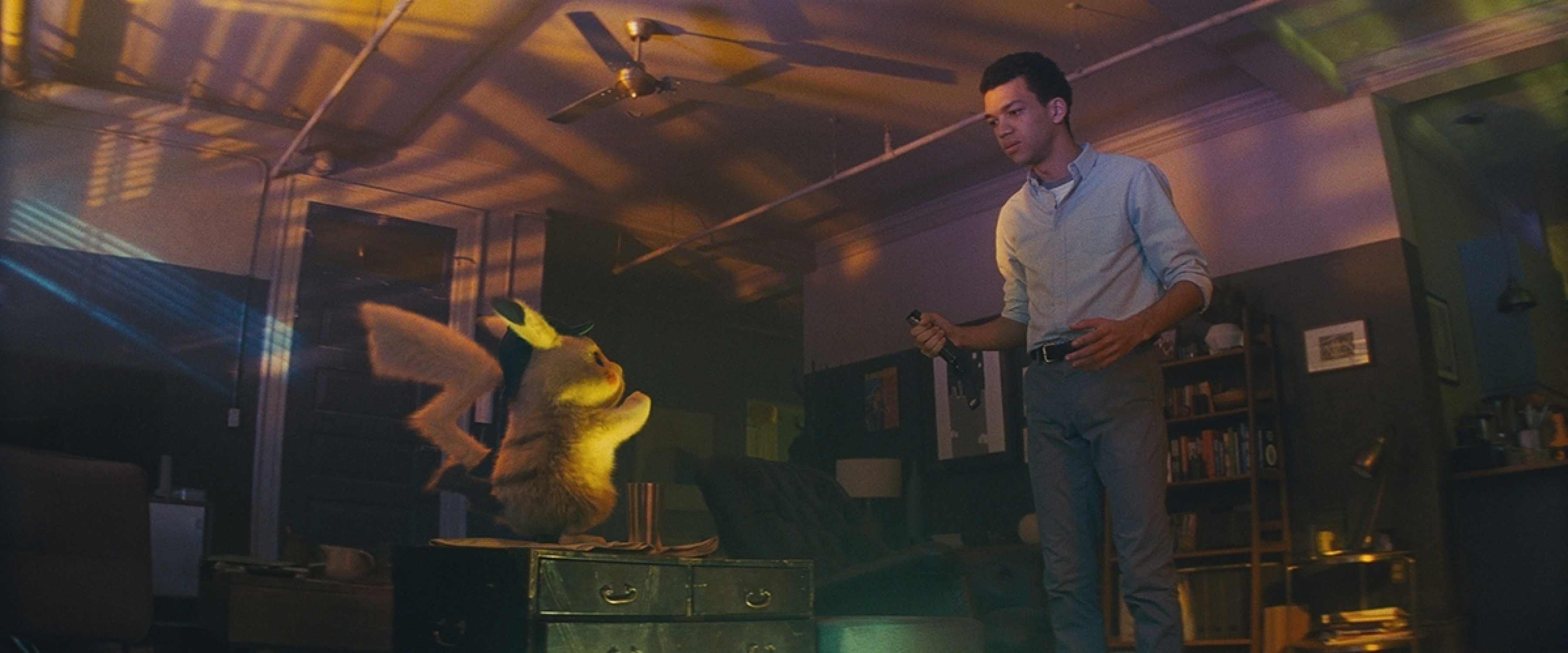 "Colorwise, this film wasn't a fruit salad, but it was rich, often with complementary opposites of tonal range in the picture – purple versus yellow, cyan against magenta and ambers – which film, of course, captures nicely.
"One of the beauties of working this way is that you create your look there-and-then as you shoot – it is baked-in on- set. There's no fiddling and changing the whole damn picture in a DIT tent or video village. No mediocrity by committee as other people slip in over your shoulder – I am not so fond of all that. You are not just spraying off shots as you might on a digital production. Using film, you are the chef, and it's down to you, the cinematographer, to trust your eye and your light meter, stay sharp and get it right for every scene. The look is yours and you own it."
Along with the aesthetic qualities of film, Mathieson is also bullish about its properties to deliver the very highest level of visual effects. "What the VFX and post people can get out of film these days, is great. Technically, we had some of the most high-end visual effects in the world in this movie, and the results look alive and completely photorealistic. The new and improved film scanning machines are faster than ever before and talk better to film emulsions. They can really pick up the subtly of colours, detail in highlights and shadows, and the inherent texture from the different grain structures."
The DI on Pokémon Detective Pikachu was performed by colorist by Skip Kimball at Deluxe/Efilm in LA, with Mathieson joining in the proceedings remotely from Company 3 in London.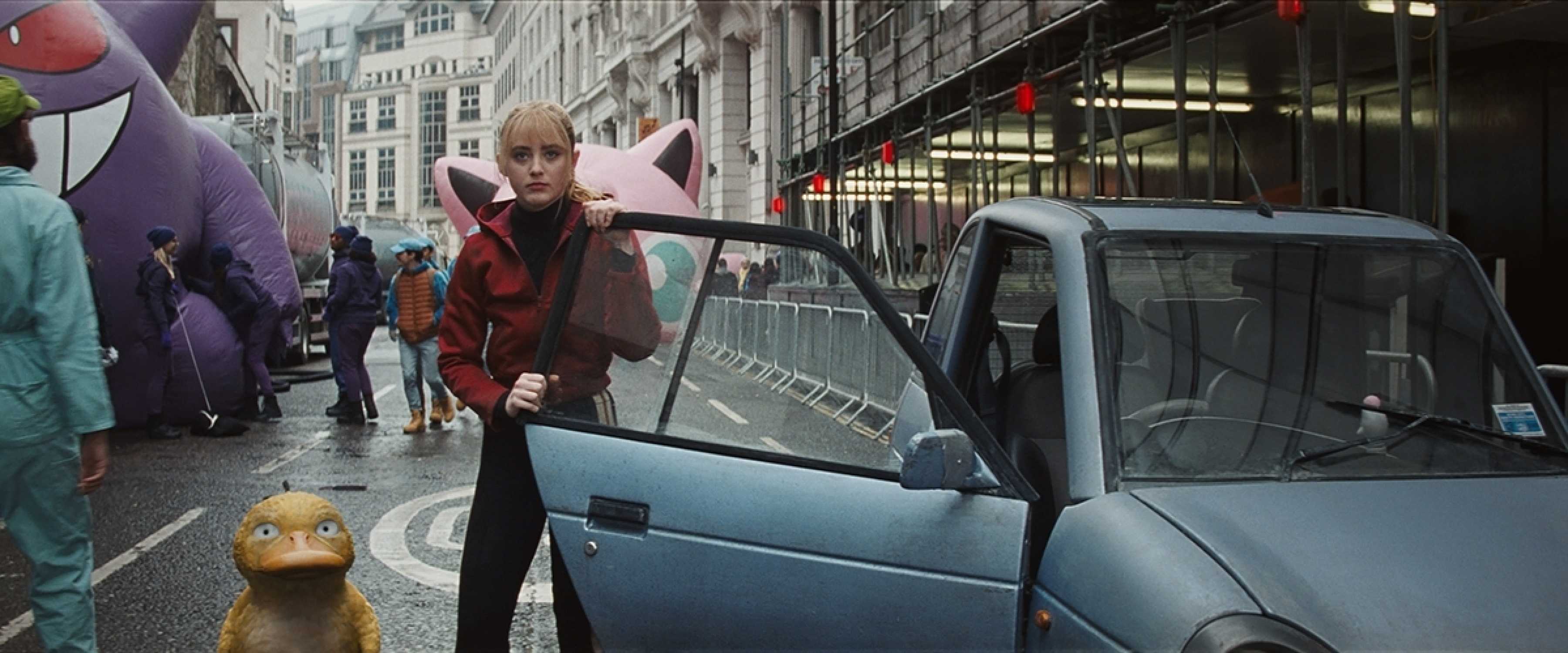 "Skip is an extraordinary talent and the fact that he was doing the DI, together with the fact that we had shot on film, made me feel very relaxed. Film has its LUT baked in, meaning that the looks we shot on set were all there in in the DI. I really didn't have to do much work, apart from some beauty work and a bit of shot balancing.
"Also because of the work done by the different VFX vendors, particularly the use of the film grain samples that Erik had shot, the CG and VFX elements blended so well with the live action and really supported the dirty, gritty detective look of the story."
Mathieson concludes: "Pokémon Detective Pikachu turned out to be a really fun production to work on. Rob, Erik and I really fought to shoot it on film, and I am very glad we did that. It looks different, distinctive and audiences have reacted positively to that.
"For cinematographers film provides a great way for DPs to regain control and make their mark. It's creative and challenging. You arrive on to a set everyday with a bit of an adrenaline bounce. I really do hope and wish that we get more directors and DPs demanding to shoot on film."