Filmmaker Stories
Laurent Dailland AFC created a sumptuous visual feast for Maïwenn's 'Jeanne du Barry' using Kodak 35mm film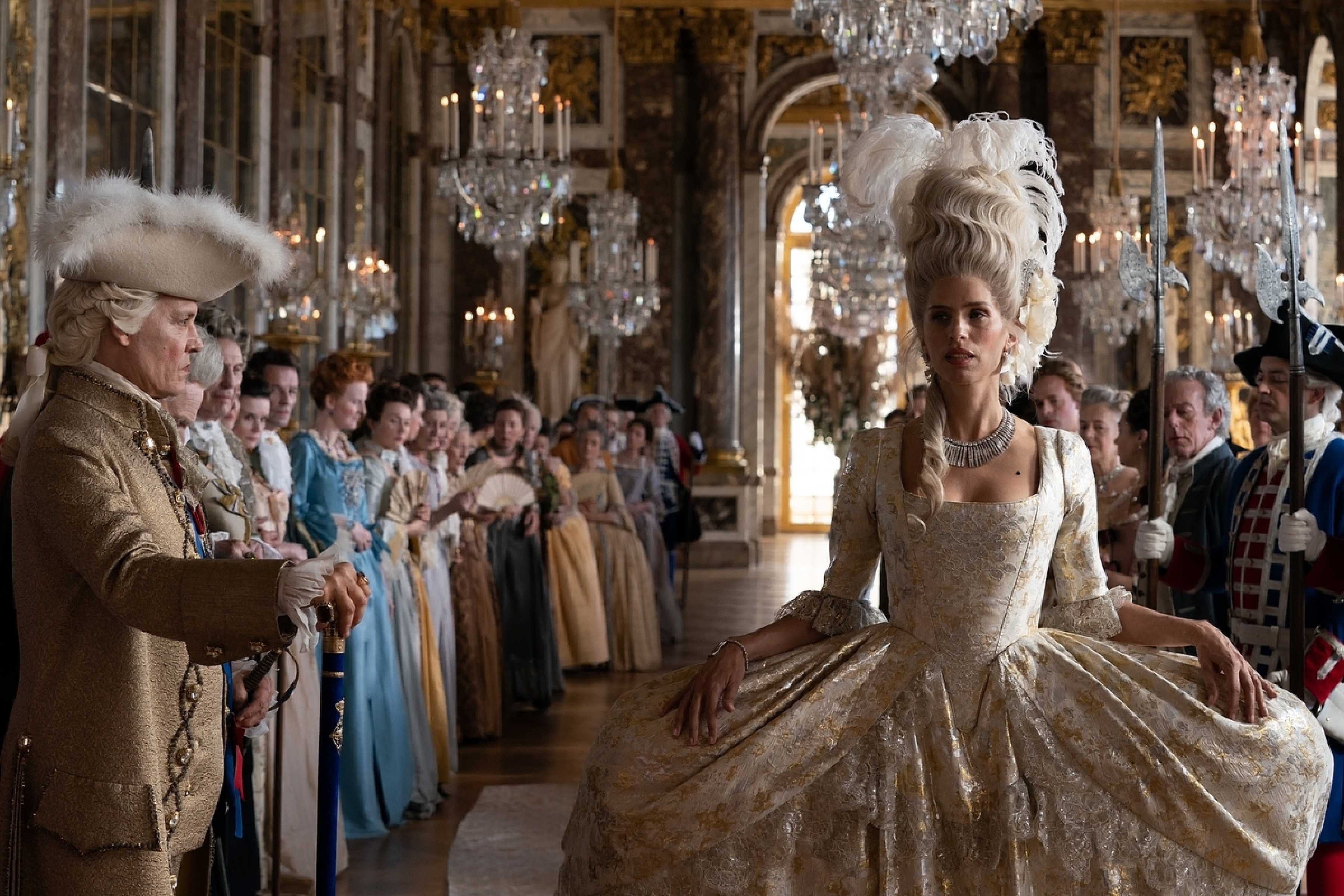 When it came to shooting her sixth feature, Jeanne du Barry, in which she also stars, director Maïwenn turned to the talents of veteran French cinematographer Laurent Dailland AFC and his expertise in shooting on 35mm film, albeit after a ten-year absence of capturing in analog format.
The historical drama, also starring Johnny Depp, follows Jeanne Vaubernier, a commoner of lowly birth who uses her wit and charismatic charms to climb the social ladder and become chief royal mistress to King Louis XV. Against all propriety and regal etiquette, Madame du Barry moves to Versailles, where her relationship with the king scandalizes the court.
The movie had its world premiere as the opening film of the 2023 Cannes Film Festival, where it was acclaimed for its central performances, and where Dailland's sumptuous cinematography was declared "a feast for the eyes."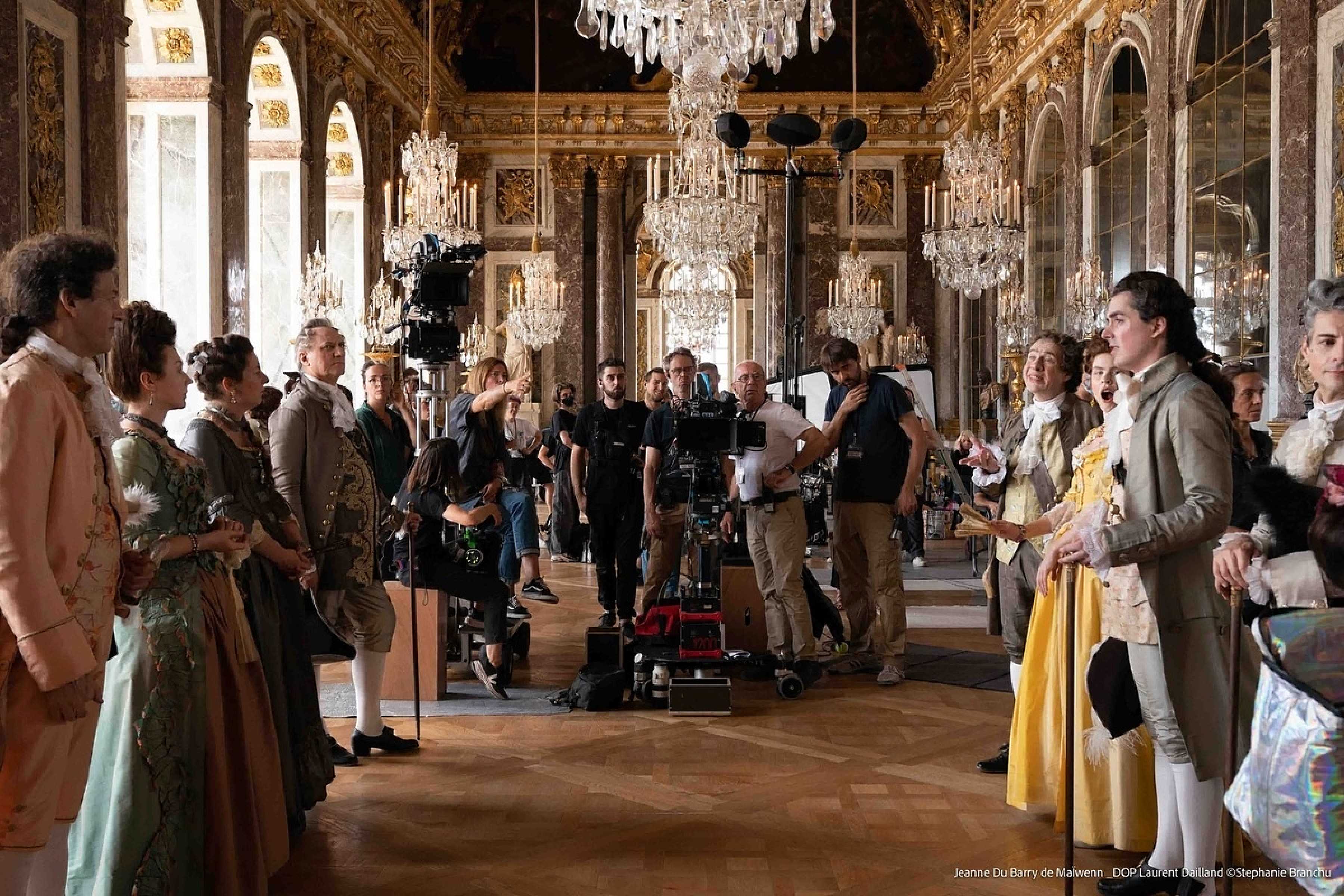 Principal photography on Jeanne du Barry started on July 26, 2022, before wrapping some 50 shooting days later in mid-October. Production took place at mythical locations around Paris, such as Le Château de Versailles, Le Château de Vaux le Vicomte and Le Château de Champs sur Marne. The royal bedroom, plus the king's and Madame du Barry private apartments were filmed on sets constructed at Transpaset Studio in Saint-Ouen, Paris.
Speaking about his initial conversations with Maïwenn about the look of the film, Dailland recalls, "Jeanne du Barry was radically different in style compared to her previous films – she wanted a calm and relatively aesthetic visual universe. Also, although her other films were shot digitally, Maïwenn always imagined this film on 35mm.
"When she suggested I work with her, I think it was a way to reassure herself about this change in style. She must also have seen me as having a certain academic stature, and as someone who had the right experience with film and film cameras. However, as I was to learn during production, she pushed me out of my comfort zone and into different visuals and lighting set ups."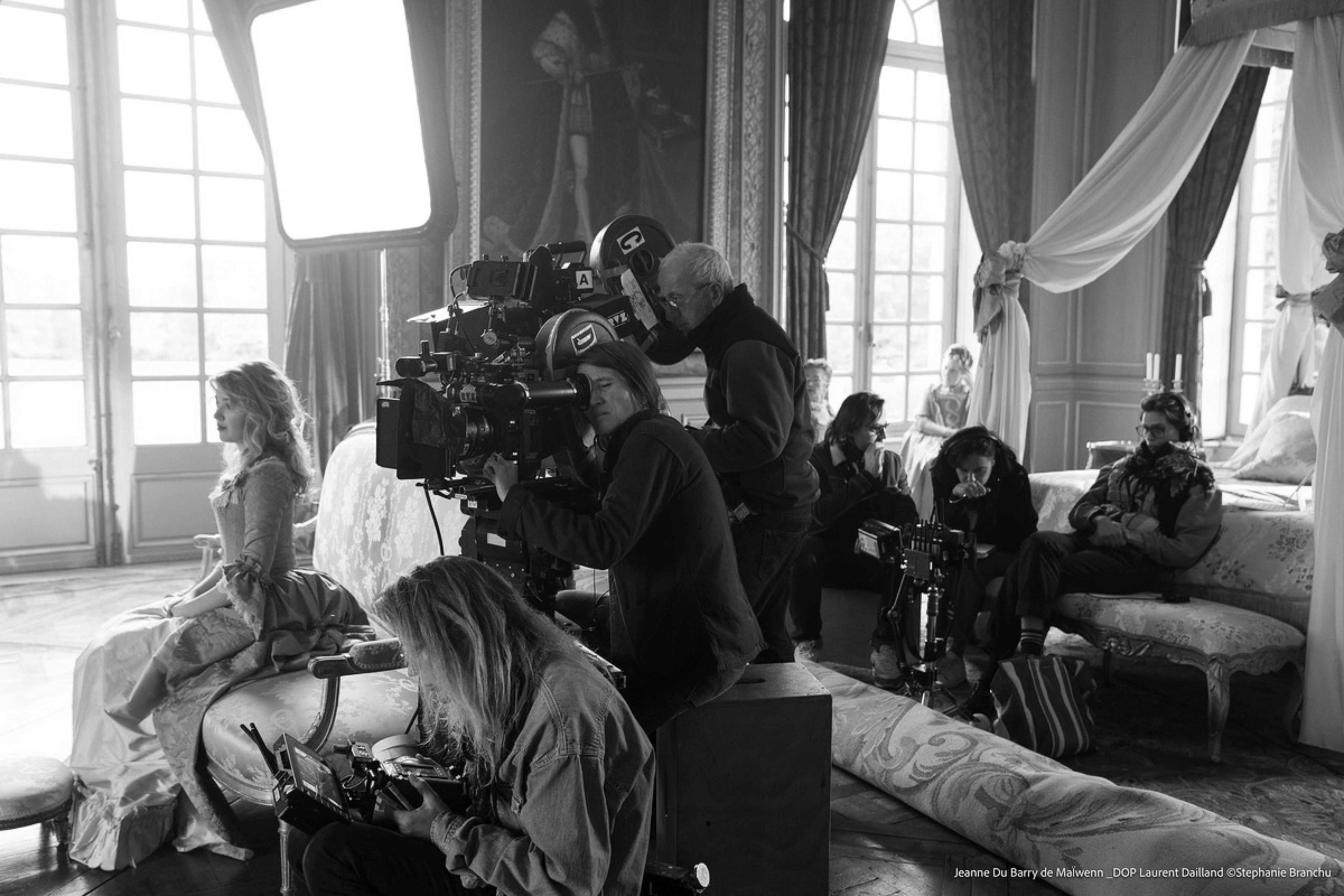 Dailland adds, "Preparations for the film essentially took place in an open plan space where we had one panel for each sequence, on which Maïwenn placed photos of the sets, the actors and objects. She also hung up pieces of costume and fabrics. She has very good taste, and this mosaic of objects proved very efficient in creating connections between the heads of department – the costume and set designers, make-up and hair, and, of course, the cinematographer – and these gave us all inspiration and ideas for the atmosphere and the color tones of the different scenes and shots."
Dailland's on-film credits are extensive and include Place Vendôme (1999, dir. Nicole Garcia), plus Welcome (2010, dir. Philippe Lioret), both of which earned him prestigious César Award nominations for best cinematography. He also shot Est/Ouest (1999, dir. Régis Wargnier), Le Goût des Autres (2002, dir. Agnès Jaouï) and Le Concert (2009, dir. Radu Mihaileanu) on film, which all earned international recognition and multiple awards.
Before working on Jeanne du Barry, the last movie Dailland shot on film was Jamais le premier Soir (2012, dir. Melissa Drigeard), filmed on 35mm in 2-perf using an Aaton camera.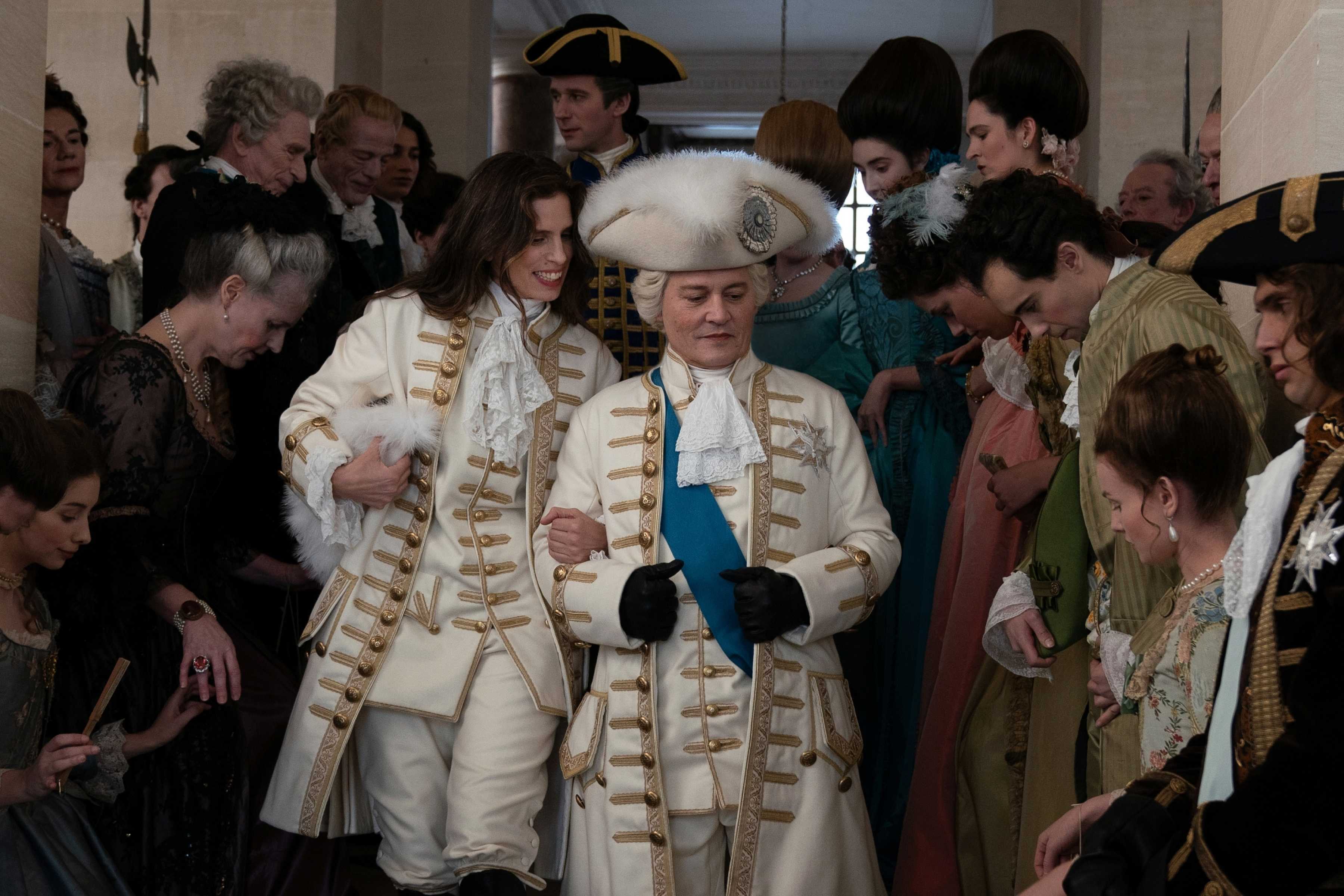 On returning to shooting on 35mm film once again, Dialland remarks, "During my career I have shot 65 features – 16 of those were with digital cameras starting in 2012, all of the rest were on film. Having shot so many fiction narratives on film, I know the limits of film, and also the limits of digital. Film is both humble in the way it respects everyone's work and also generous in how it improves and transcends this work. This ounce of mystery belongs only to film, and it will always seduce me.
"I had absolutely no need to do comparative film vs. digital tests for Jeanne du Barry – I knew I would get a better result by shooting on Kodak. I knew the colors of the decorations and the fabrics would be there to my and Maïwenn's satisfaction, and that the images would retain details in the shadows as well as in the highlights."
In terms of creative visual references, Dailland remarks, "We looked at a lot of paintings from that period by artists such as Fragonard, and his assistant Marguerite Gérard, Gainsborough, Boucher, Vernet, Reynolds and Élisabeth Vigée Lebrun, who became Marie-Antoinette's official painter.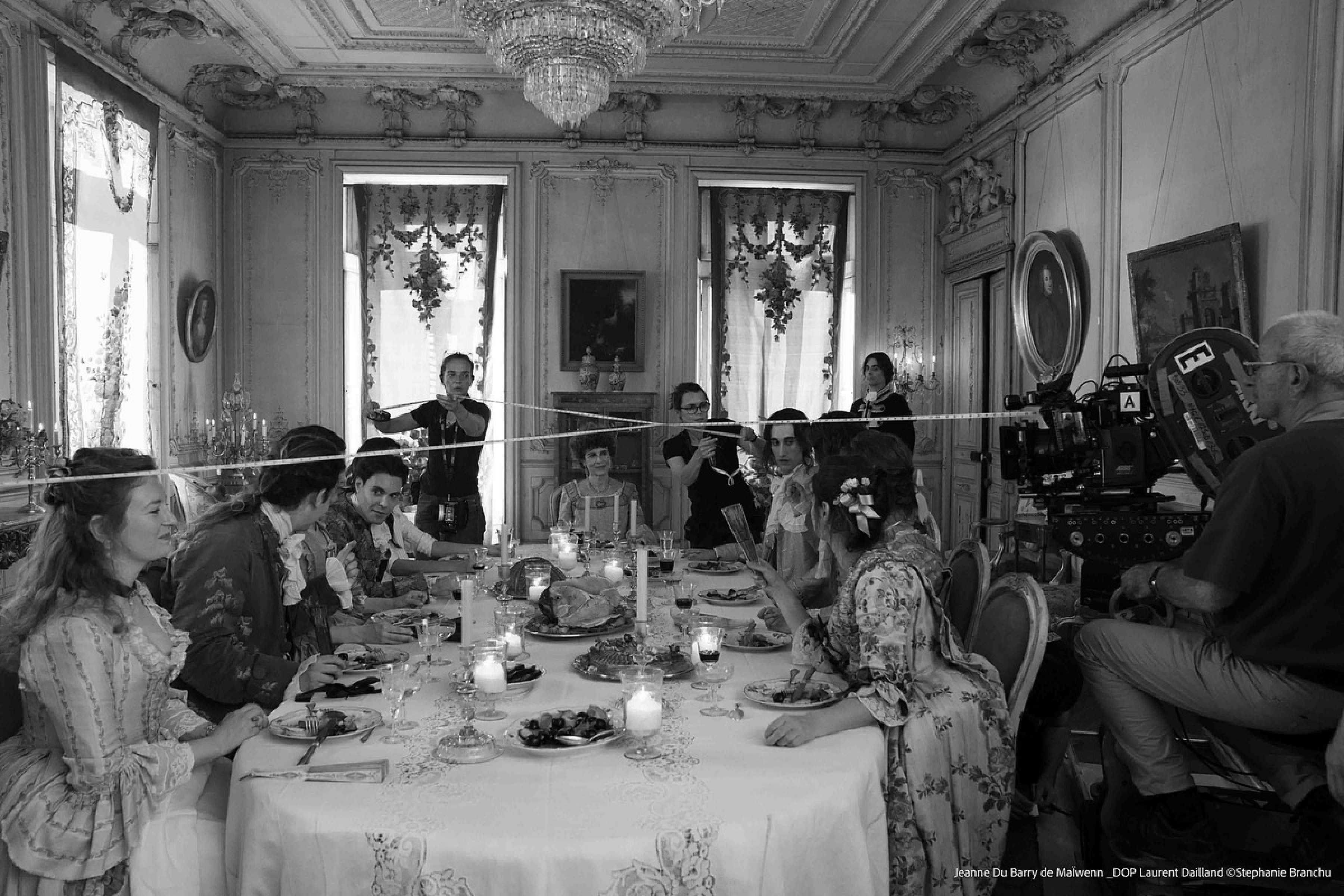 "Our main film reference was Stanley Kubrick's Barry Lyndon (1975), photographed by John Alcott BSC, especially for its legendary use of candlelight, a technique that Maïwenn and I both wanted to harness for several big sequences in our film.
"Alain Corneau's Tous les Matins du Monde (1991), shot by cinematographer Yves Angelo, was also an inspiration, although that film is more related to the 17th century. Maïwenn liked the slow pace and the wide shots in which you see the action unfold. However, these were only references, sources of inspiration for us to go towards, or perhaps to turn away from, and certainly never to copy."
When it came to selecting cameras and lenses for the production, Dailland explains that Maïwenn was fully supported in her decision to shoot on 35mm by producer, Pascal Caucheteux. This entailed Dailland finding a rental company he trusted, one with good experience in 35mm, and one that the production team would be satisfied with.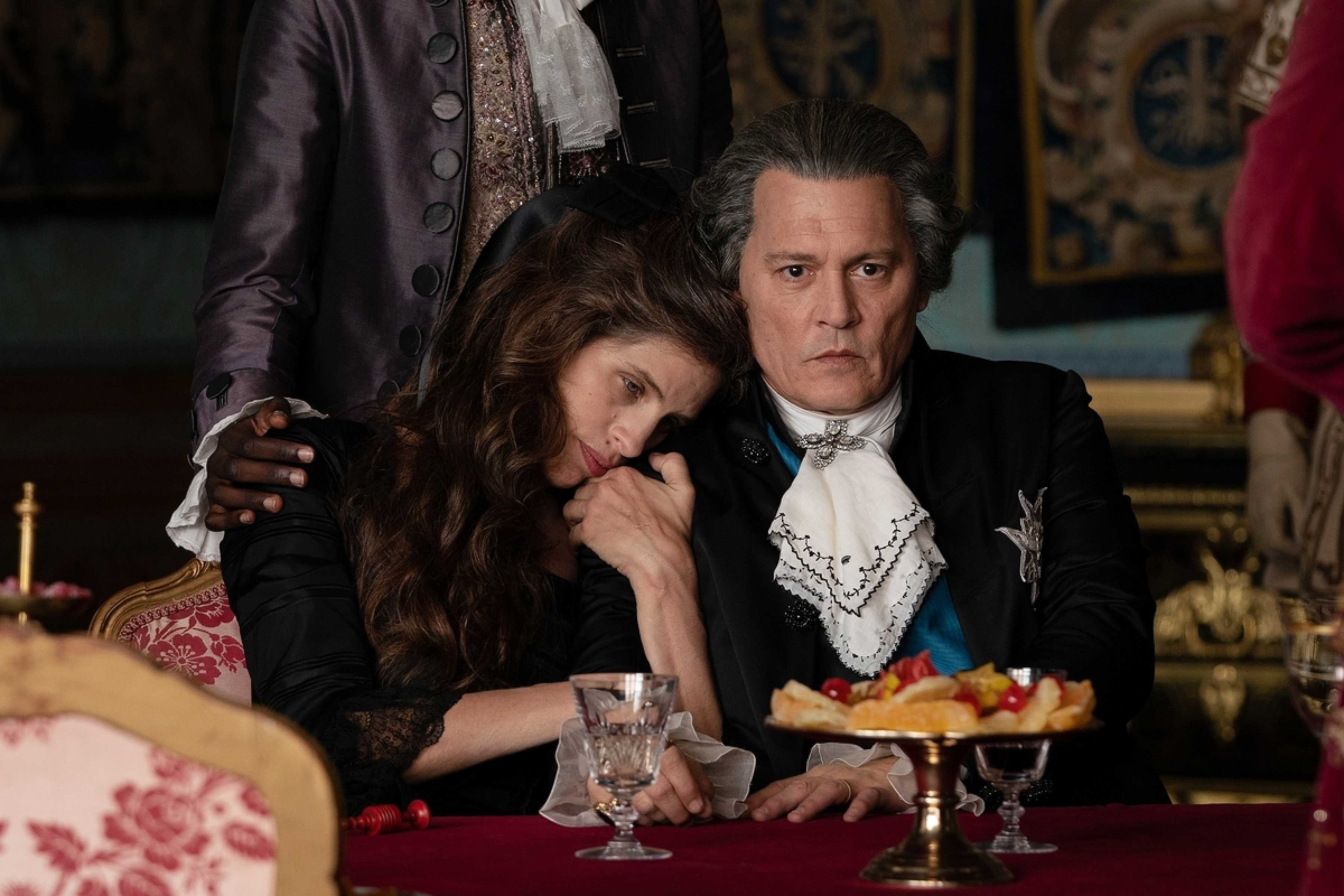 "I researched films that had recently shot on 35mm in France and was very happy to get the two ARRICAM LT cameras used by Robert Yeoman ASC on Wes Anderson's The French Dispatch (2021) from the RVZ team in Paris," he says.
"I tested a lot of lenses, including Cooke Panchros – the same as used on Barry Lyndon – and a lot of modern lenses that are not made for 35mm. The results from the Zeiss Supreme and Supreme Radiance were amazing, but they created color imbalances and brought a precision that did not fit the film's aesthetic.
"More traditional lenses that I really liked were the Cooke S4s (my favorites, ever), but they were limiting, as their maximum aperture is T2.2. I needed to open to T1.3 for our candlelight sequences and I did not have budget for two sets. So, in the end I chose the Zeiss Master Primes, and was careful not to go beyond T4, sometimes T5.6, when we shot, even on the exterior day scenes."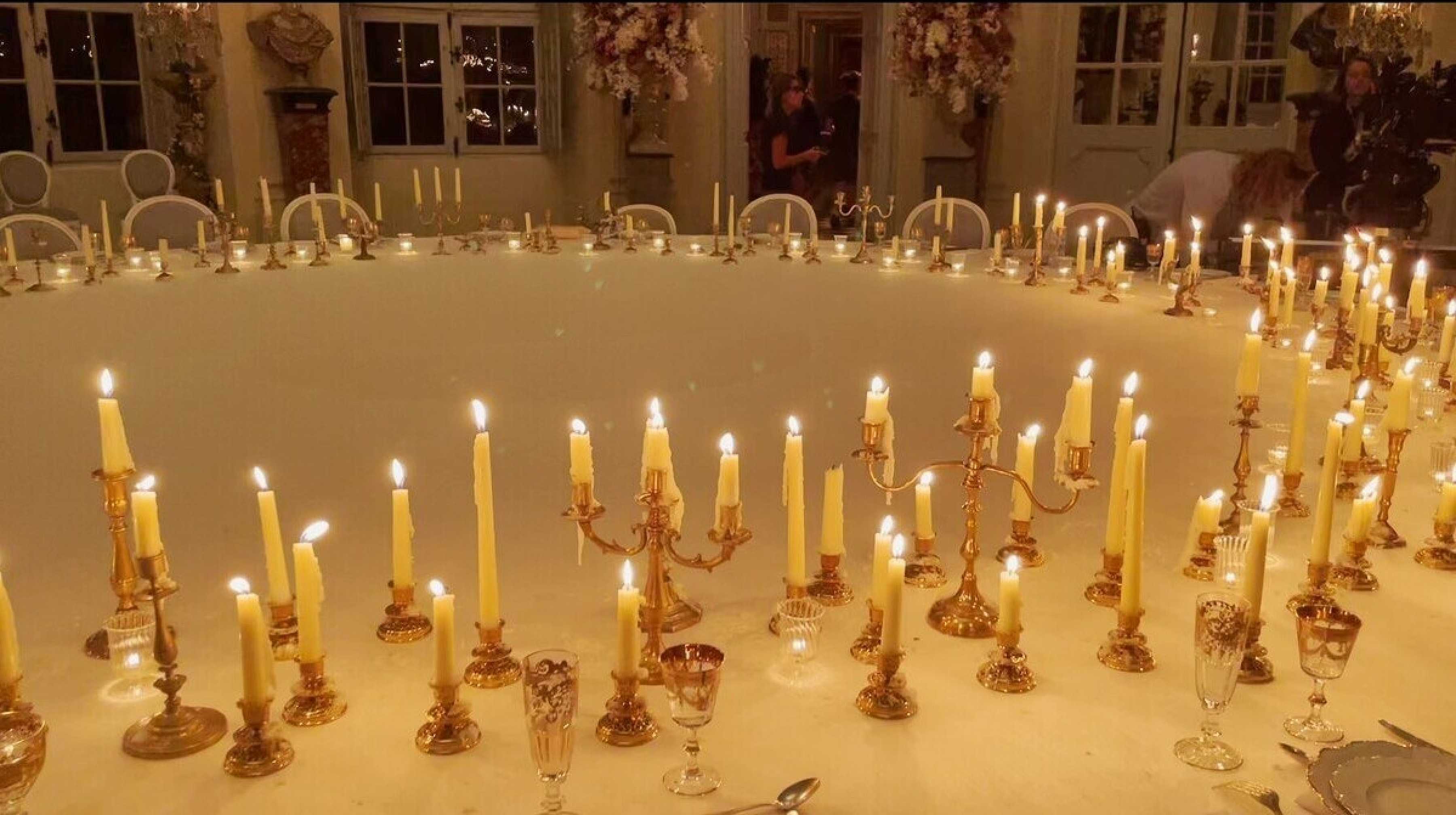 Dailland shot Jeanne Du Barry using three film emulsions KODAK VISION3 Color Negative Films 500T 5219, 250D 5207, and 50D 5203. Film processing and 4K scanning was conducted at Hiventy in Paris.
"One issue, which I shared with Maïwenn, was how to shoot the candlelit scenes using just candlelight. At 500ASA on the 5219 I found myself a bit narrow in terms of aperture, especially for the wide shots. So I conducted different waves of push-processing/over-development tests using the 500T 5219 filmstock, followed by 4K ARRISCANs, with our excellent French laboratory Hiventy.
"I also worked with my colorist, the famous Isabelle Julien, to develop a protocol we would adopt later in the final grade that would remove excess grain from that push-process, with different settings on wide shots and close-ups – the reason being that I did not want to shock viewers, who only see smooth digital images, by having too much texture in the image.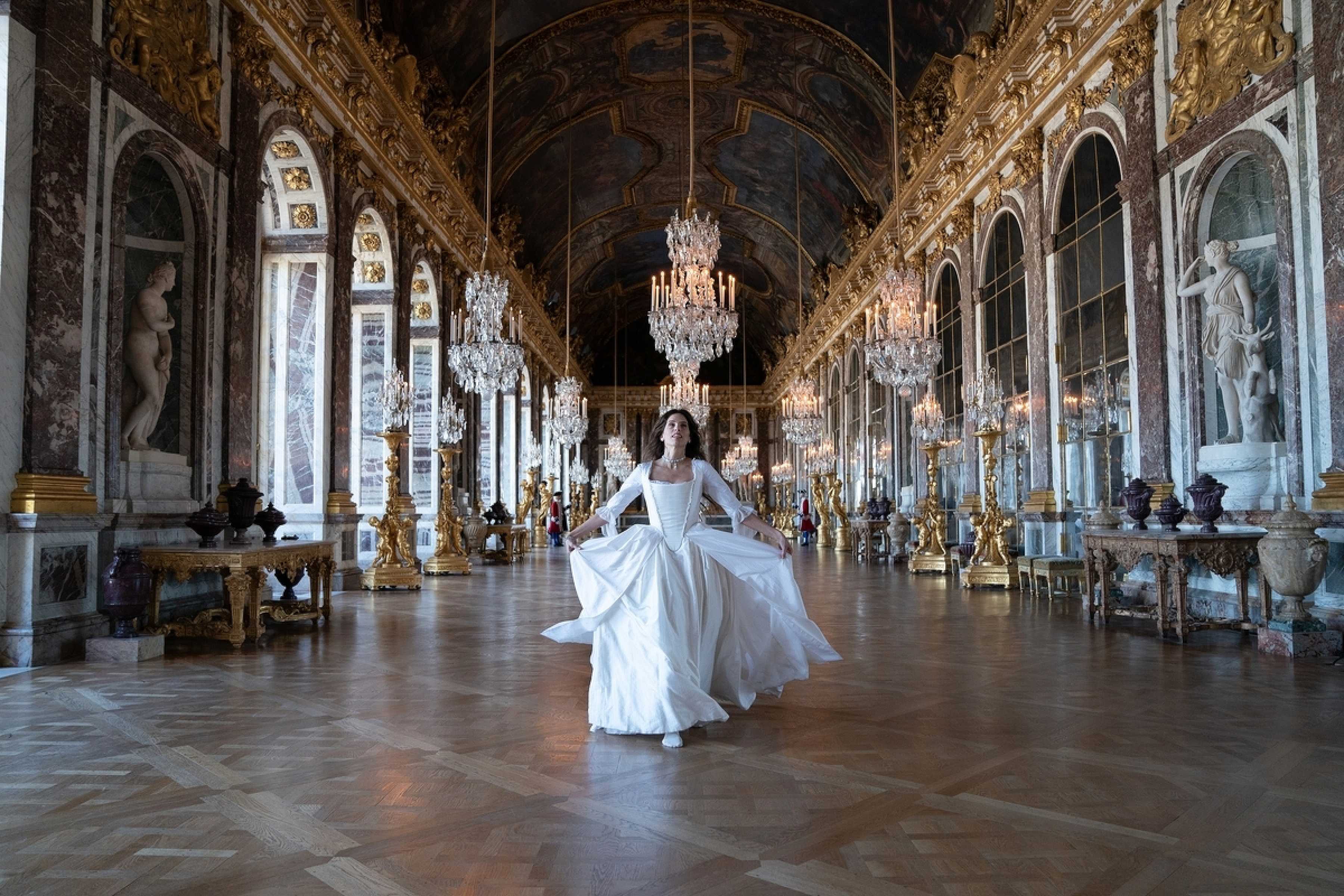 "I have to say, the color contrast from a well-exposed negative on 500T 5219 rated at 1000ASA, which was then push-processed at the lab and slightly de-grained during the color grade, looked absolutely majestic. These tests convinced me what a great choice it was to shoot those scenes in candlelight on 35mm."
Dailland enthuses this was especially true when he came to shoot those scenes for real and then corrected the reference dailies at home in the evening after the day's shoot.
"We shot several sequences with candles, most with classic warm candlelight, but one of them in near-total darkness, barely golden. Maïwenn was wearing a big white dress, and Johnny Depp was in a blue suit. You can guess their presence in the image more than you can actually see them. Maïwenn encouraged me to go towards what I thought was somewhat risky lighting, and I intentionally left parts of their faces in the dark.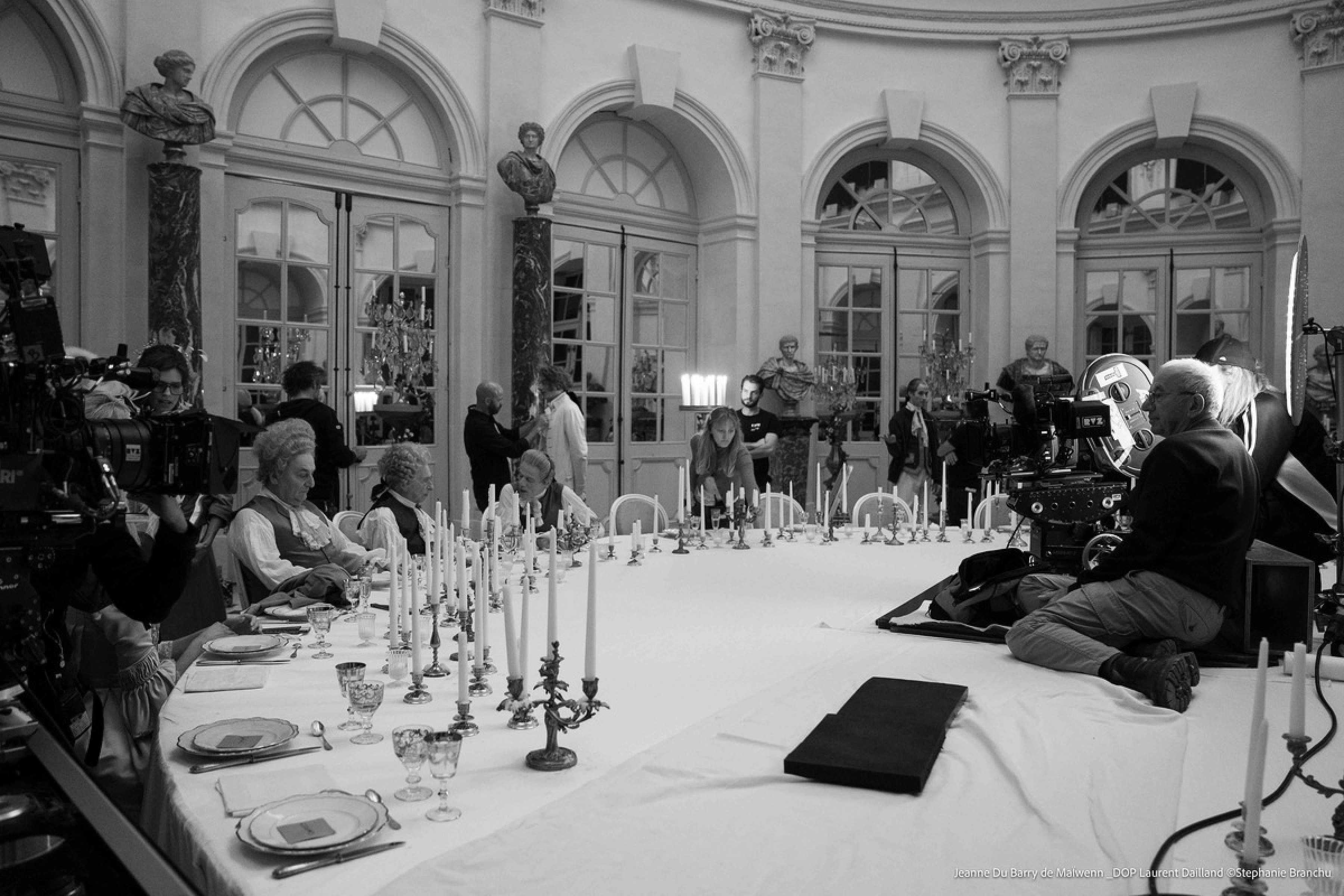 "When I corrected those dailies after the day's shoot, I had, in a corner of my computer, two photos from Barry Lyndon that I had found on Shotdeck. In all modesty, the shadow, or rather the light, of John Alcott's work was imbued in our scenes. It was some of the best lighting in the film, and that reassured me a lot.
"Also, the quality of the filmed and calibrated dailies earned me the support of all the most important people in the team, which is always appreciated when you're making a difficult film."
Dailland says that shooting in the Hall of Mirrors at the Château de Versailles, proved quite a technical and bothersome challenge, as there were many constraints around shooting at this historic location, particularly after the 2019 fire which severely damaged Notre-Dame cathedral in Paris.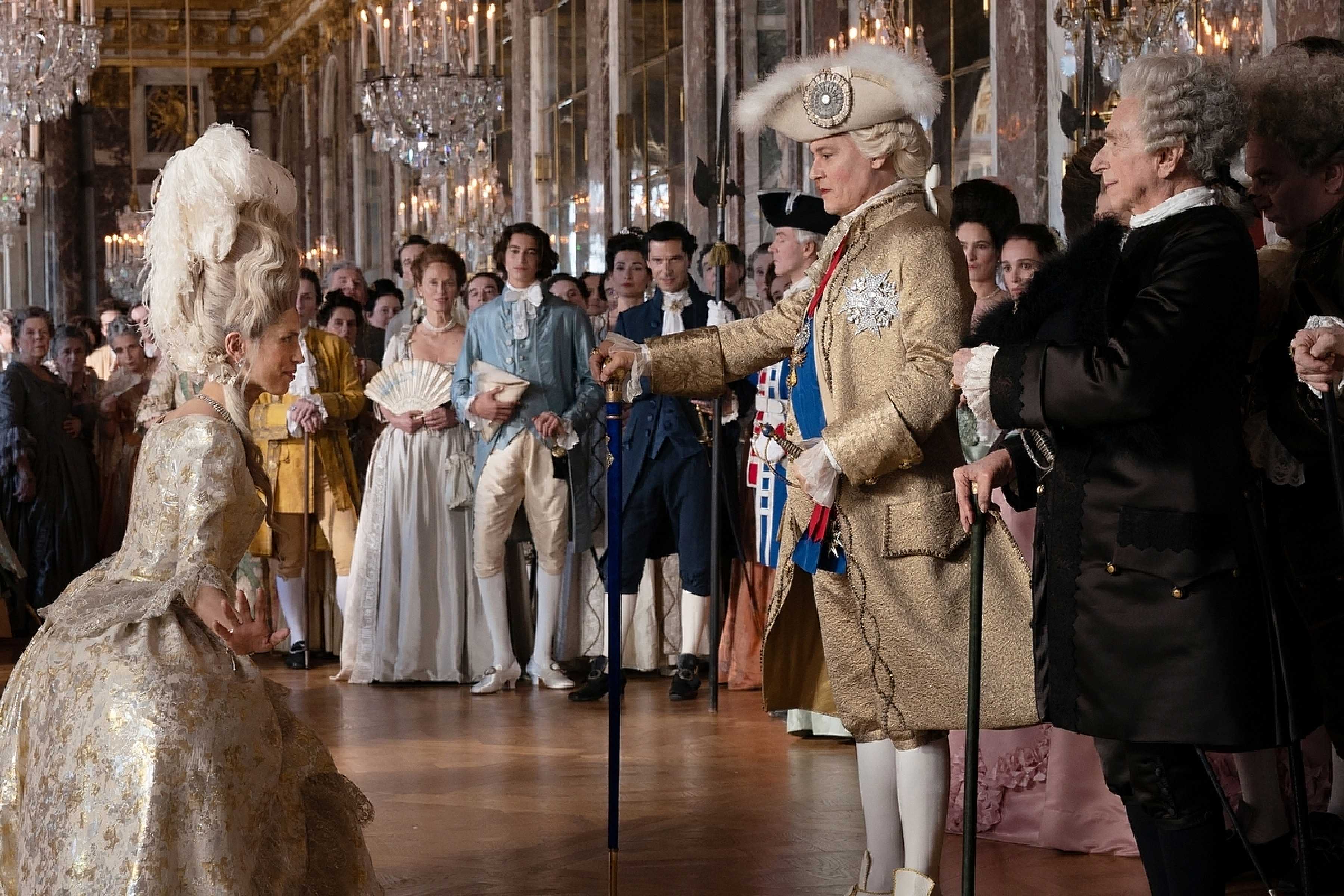 "We were on the 10th day of the shoot. There was no way we were allowed to have real candles or even smoke for a key scene in which Jeanne is presented to the king and the court. Faced with these constraints and budget, I decided with my gaffer, Michaël Wallet, to shoot in natural light using the 250D 5207.
"We had 150 extras made-up and dressed-up, as well as our main actors, but only one day to film 30 shots. I knew the different filming axes in relation to the inclination of the sun and its effects on the decor. Although the natural light was sublime, there were many decisions to be made, and there was an air of anxiety about not finishing on the most expensive day of the production.
"Luckily, we managed to do everything, except for a few close-ups that I lit with LED spotlights on a column in the background. However, I noticed that my color temperature had gone from 5600K at around 3 p.m. to less than 2000K around 8:30 p.m. I was devastated, and worried I was going be replaced. When I got home, I sent an alarming and dramatic email to my dailies colorist, Thomas Ditech, explaining the situation and asked him to call me back as soon as he had seen the scans.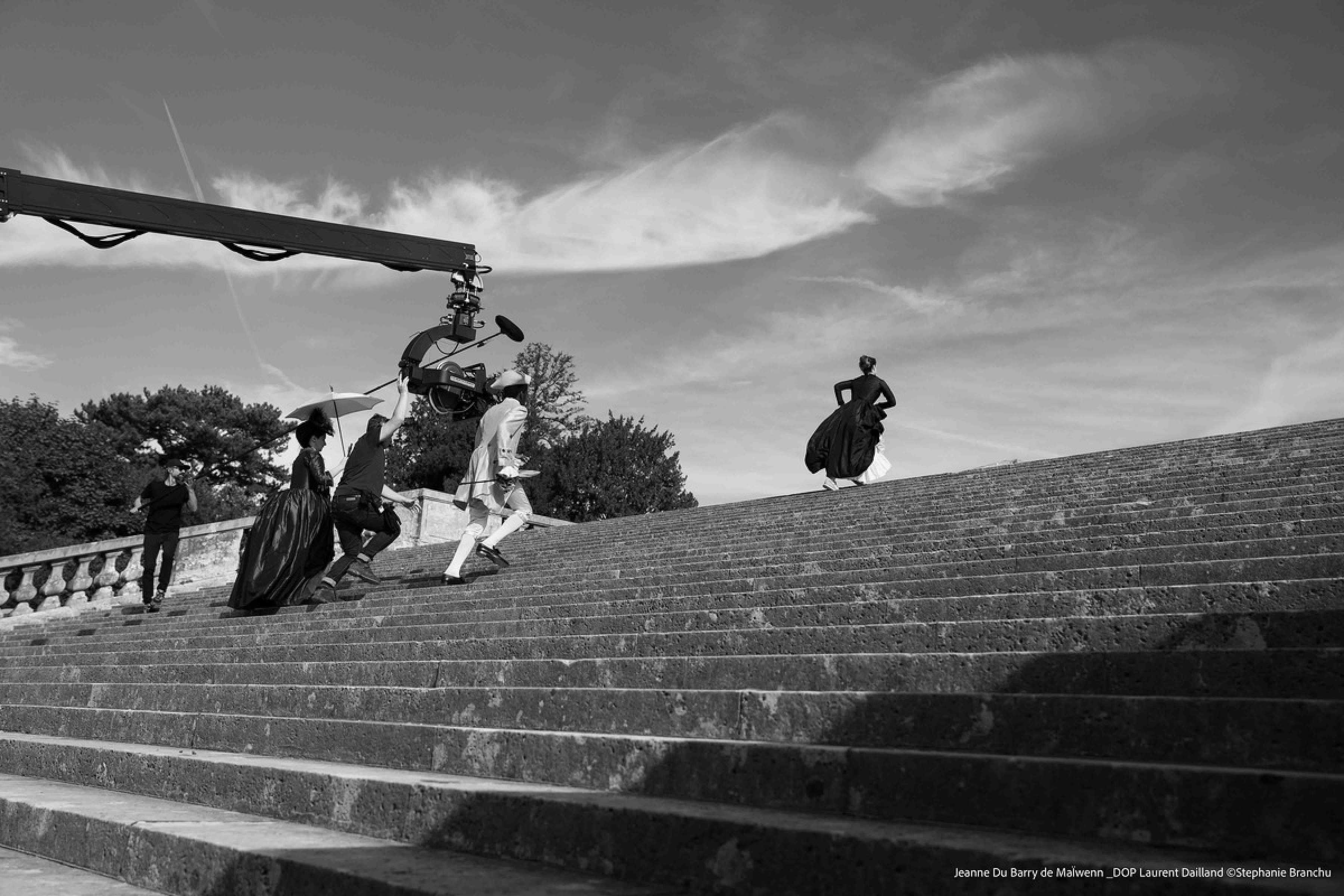 "I started the next day with butterflies in my stomach, until he called to say everything was fine. Not only could he line up the first and last shots very easily, it looked beautiful too. It was August 11, 2022, my 66th birthday, and analog film gave me the best birthday present ever."
The DP adds, "In digital, this situation would have been unmanageable and catastrophic.
I would have needed to grade this sequence in monochrome to save it. But there, with the Kodak 250 daylight stock, all the colors were recorded, from blue to red, at 5600K as well as at 2000K. I didn't get replaced, and Maïwenn actually asked for a special edit of this sequence to show the team, the financiers and friends what the final film was going to look like."
Dailland concludes, "I loved shooting on 35mm again, even though it put a lot of pressure on me at first because I hadn't shot on film in over ten years, and, frankly, because I thought that wouldn't happen to me anymore.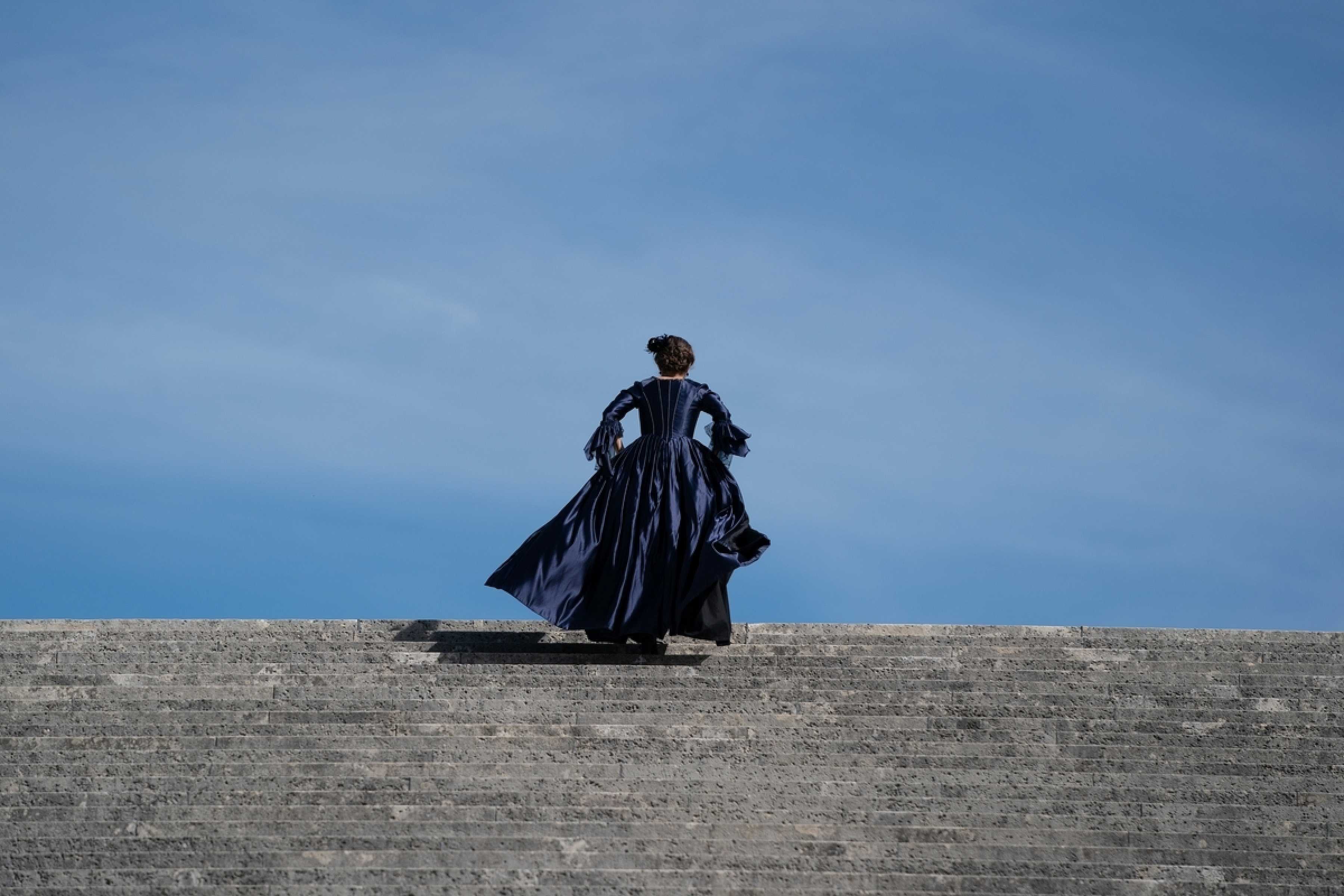 "Often in digital we search for a look that will compensate for the lack of respect the sensors have in delivering the colors we want, and this all-too-often leads to the same image from the beginning to the end of a film. It can be very restrictive. On Jeanne du Barry I felt free to have the image I wanted for each sequence. A rainbow of colors, in fact. The result: happiness."