Filmmaker Stories
Using Kodak 35mm film, DP Maria Von Hausswolff DFF created a landscape of breathtaking beauty for director Hlynur Pálmason's test-of-faith movie 'Godland'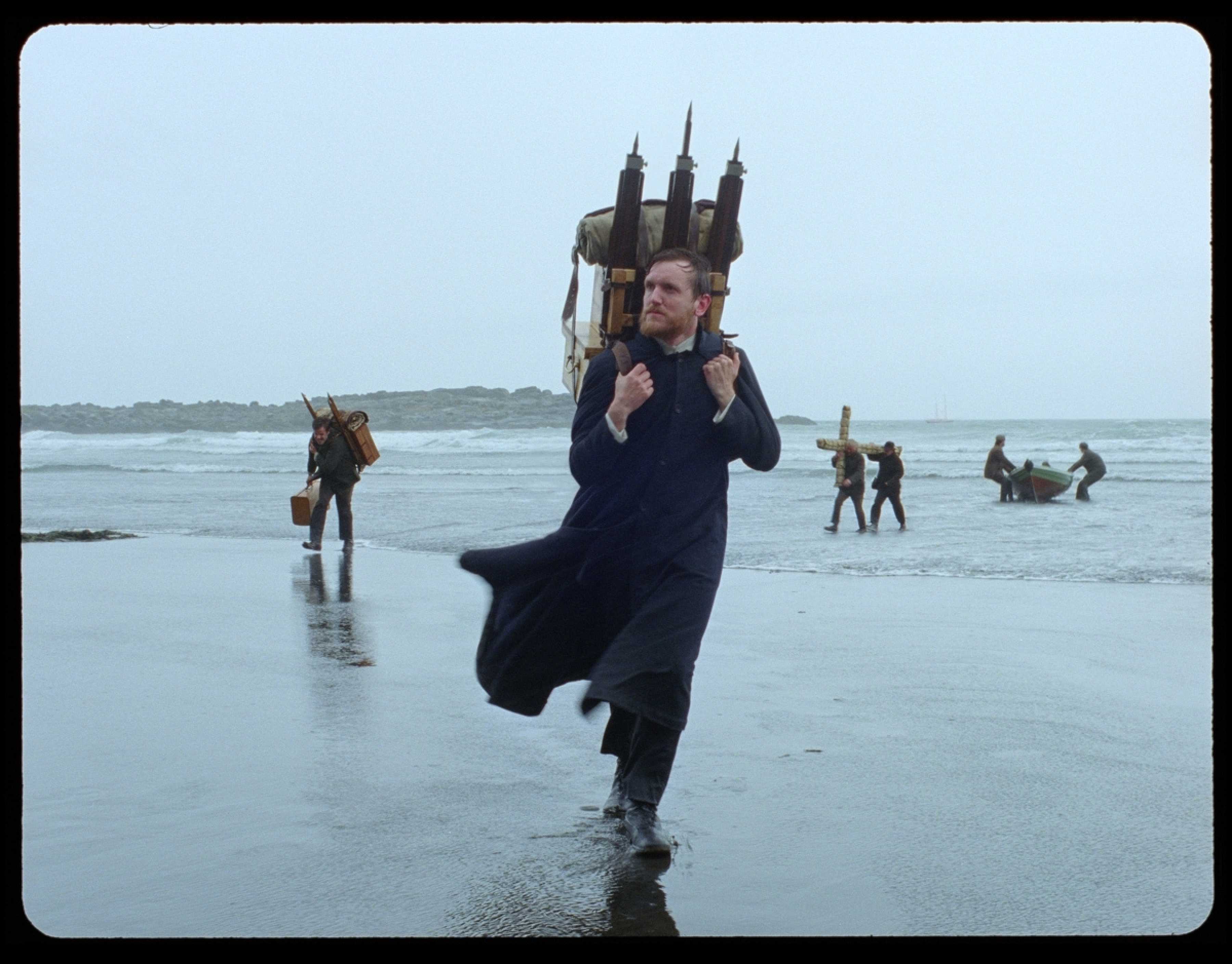 In the late 19th century, Lucas, a young Danish priest, armed with his Lutheran faith and a wet-plate camera, is dispatched on an evangelizing mission to a remote part of Iceland to build a church and photograph its people. But the deeper he goes into the unforgiving landscape, on his cross-county expedition to establish a new parish in a foreign land, the more he strays from his purpose, the mission and morality.
Examining how faith and nature shape cultural identity, the bilingual historical drama, spoken in Danish and Icelandic, premiered in the Un Certain Regard section of the 2022 Cannes Film Festival. Godland has been particularly praised for the way in which the cast inhabit their performances, along with its stunning 4:3 cinematographic canvas, taking in character portraits amid misty landscapes, precipitous waterfalls, austere glaciers and rumbling volcanoes, along with atmospheric 360-degrees shots, making the audience feel part of Lucas's journey.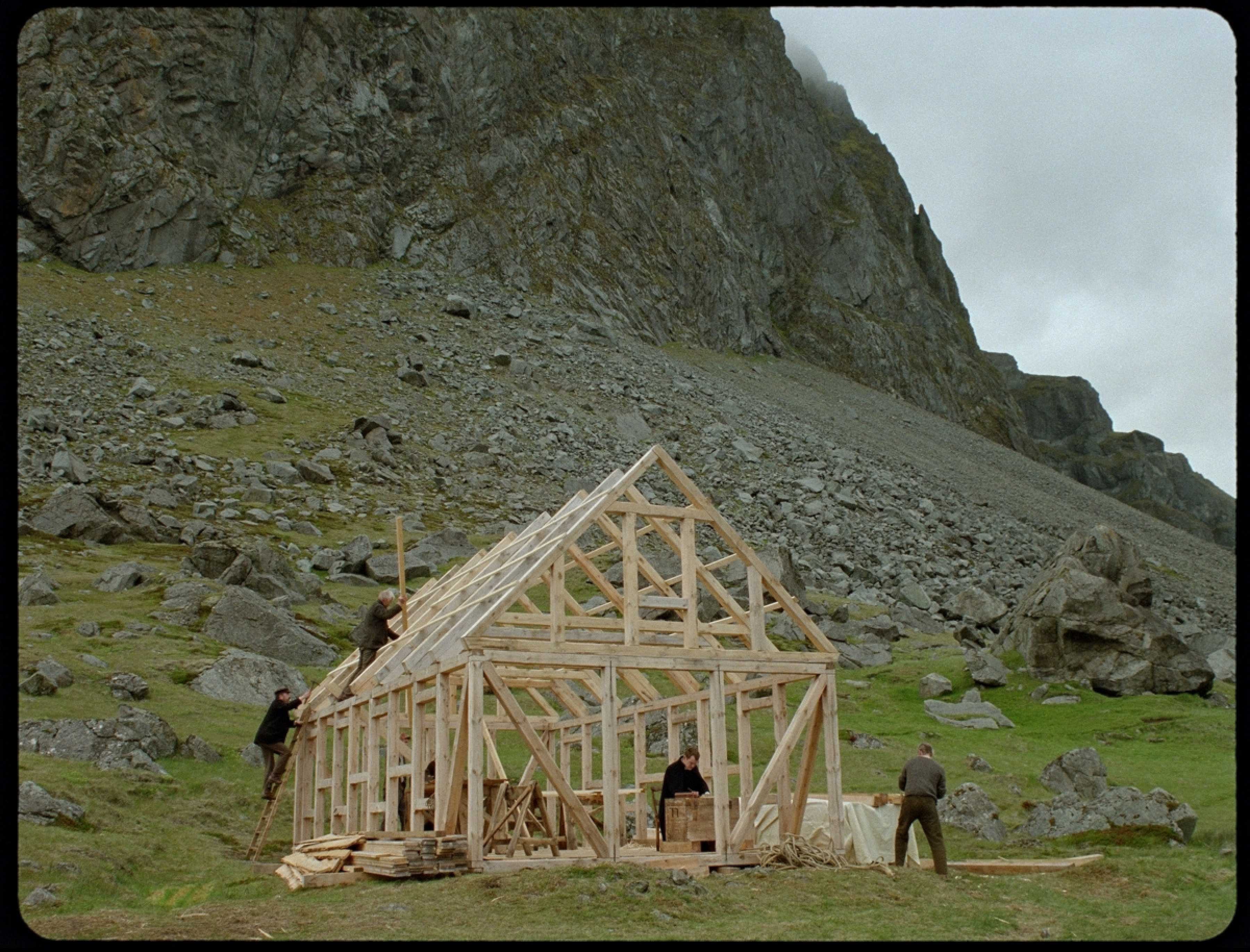 Godland represents the third long-form partnership between Icelandic director Hlynur Pálmason and Swedish cinematographer Maria von Hausswolff DFF, who resides in Copenhagen, Denmark, following their collaborations on Winter Brothers (Vinterbrødre) (2017), shot on Kodak 16mm film, and A White, White Day (Hvítur, Hvítur Dagur) (2019), captured in 2-perf on Kodak 35mm film. Pálmason picked up awards at many film festivals around the world for Winter Brothers, and von Hausswolff won the Camerimage 2017 Best Cinematography Debut Award for her work on the film.
"Hlynur and I were contemporaries at film school, where I shot his short films. I knew about Godland as early as 2014, when I received a script from him just after I had graduated," she says. "We talked on-and-off about this film during our time together filming Winter Brothers and A White, White Day. What I like about working with Hlynur is that the visual language we built together during our film school days is the language we continue to work with. Our goal is always to try to find a simple, truthful way of expressing the story, and each film takes on its own temperament, look and sound, as we slowly work our way into it.
"But you also want to evolve with each project in new ways and contexts, such as the 360-shots for example. We always aim to take a new step towards even crazier and more demanding setups than our previous films."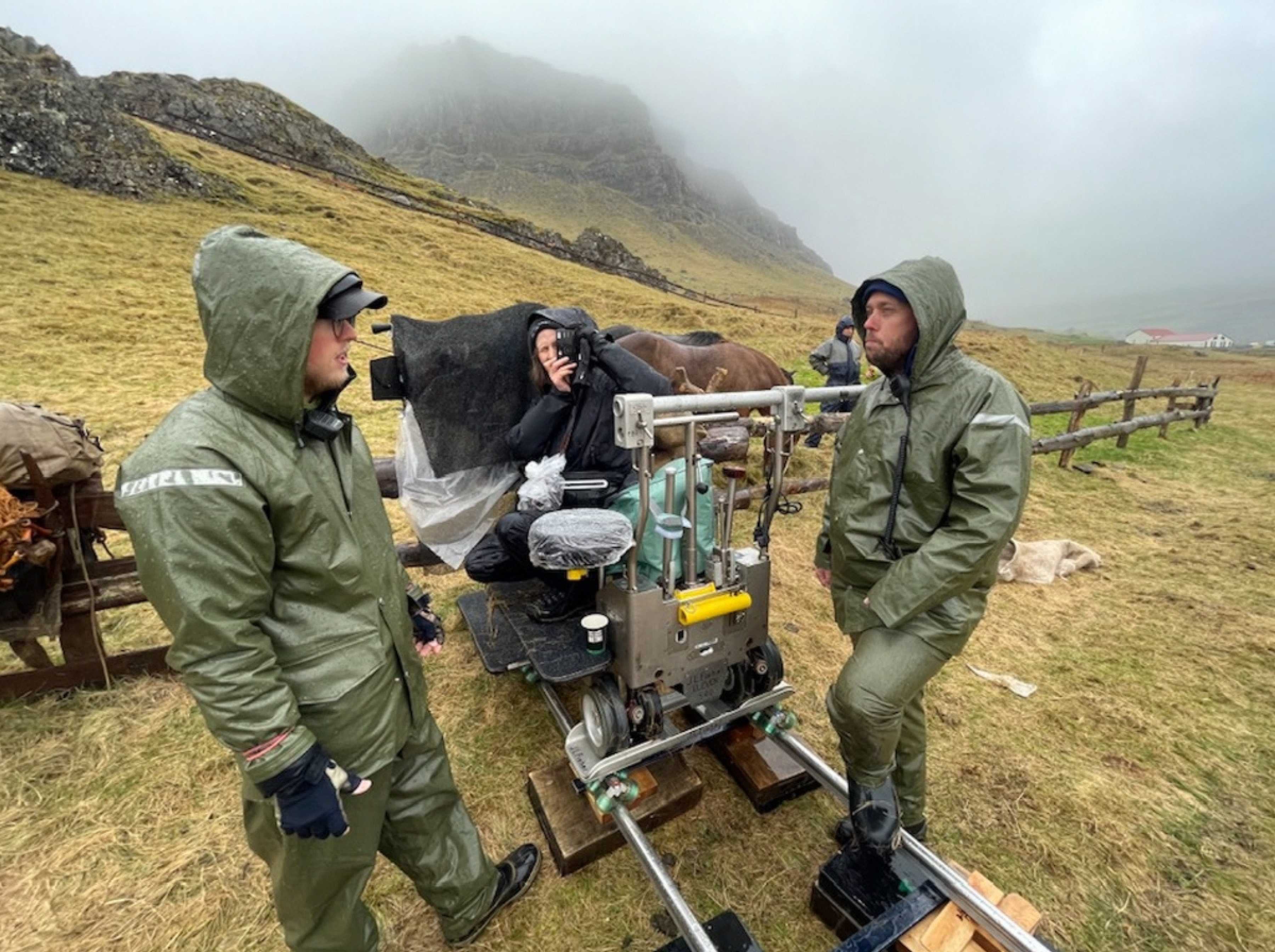 Von Hausswolff says there were no particular filmic references for the visuals. "We had references from paintings, plus historic photographs and old documentaries about hiking in the Icelandic mountains. For me, however, the main inspiration was about spending time with Hlynur, observing the mood and atmosphere at our locations, doing camera tests and discussing what we wanted to achieve from the landscape and portrait photography. During prep, we got the chance to shoot the volcano erupting. It was a powerful experience, feeling connected to the center of the Earth, and a beautiful beginning of our adventure."
She adds, "Shooting on celluloid film again was never in doubt. We both felt that framing Godland in 4:3 aspect ratio on 35mm film created a real connection to the landscape and the portraiture of the people, whilst also resonating with the photographs that Lucas takes with his wet plate camera."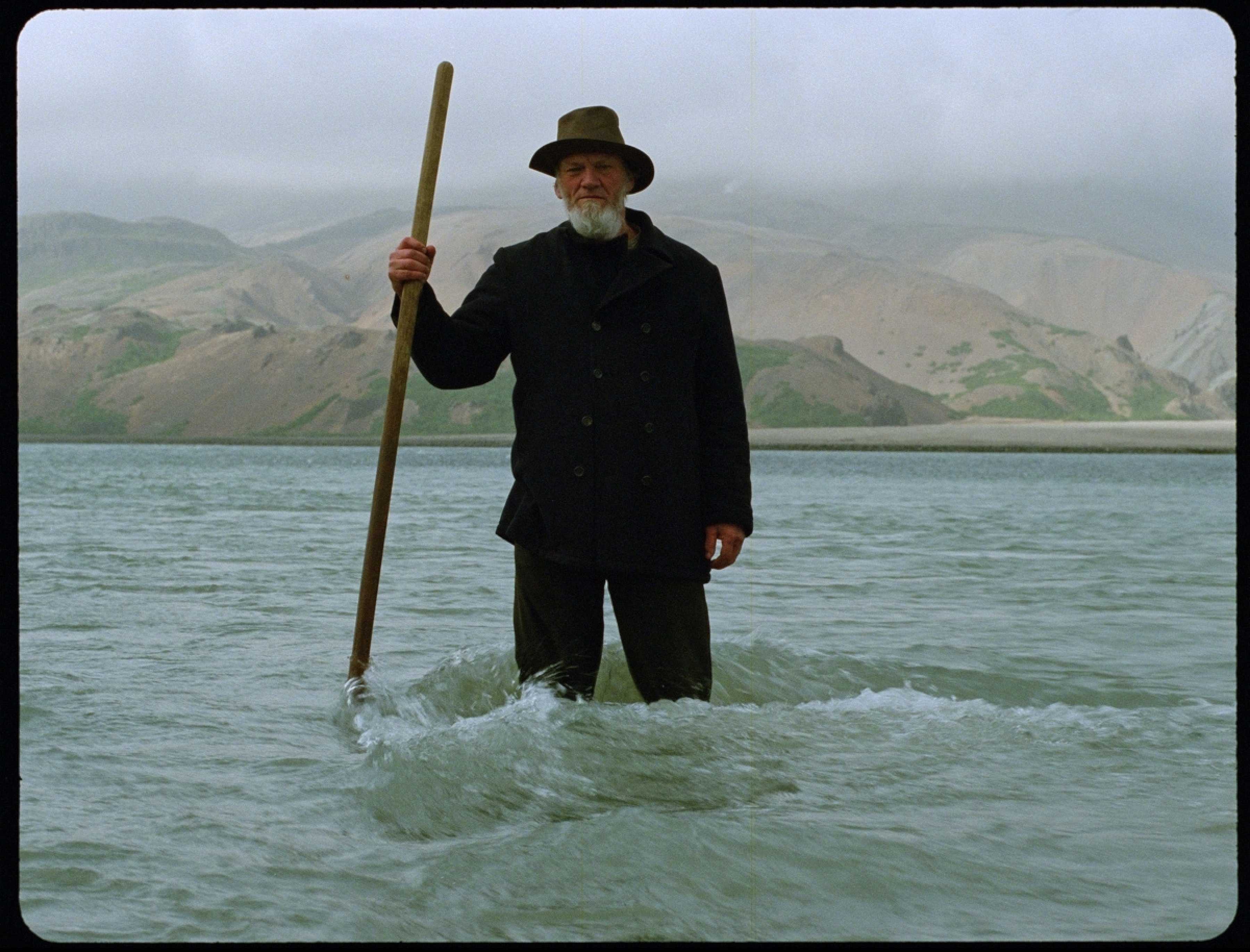 Principal photography on Godland took place over 40 shooting days between June and early August 2021 around the Icelandic fishing town Höfn in the southeastern part of the country, close by the Hornafjörður fjord which is noted for its scenic views of Vatnajökull, the largest ice sheet in Europe by volume.
Von Hausswolff arrived two months before cameras turned over, and was able to secure daycare for her young child – then aged just one-and-a-half – for the duration of what turned out to be a five-month long production period.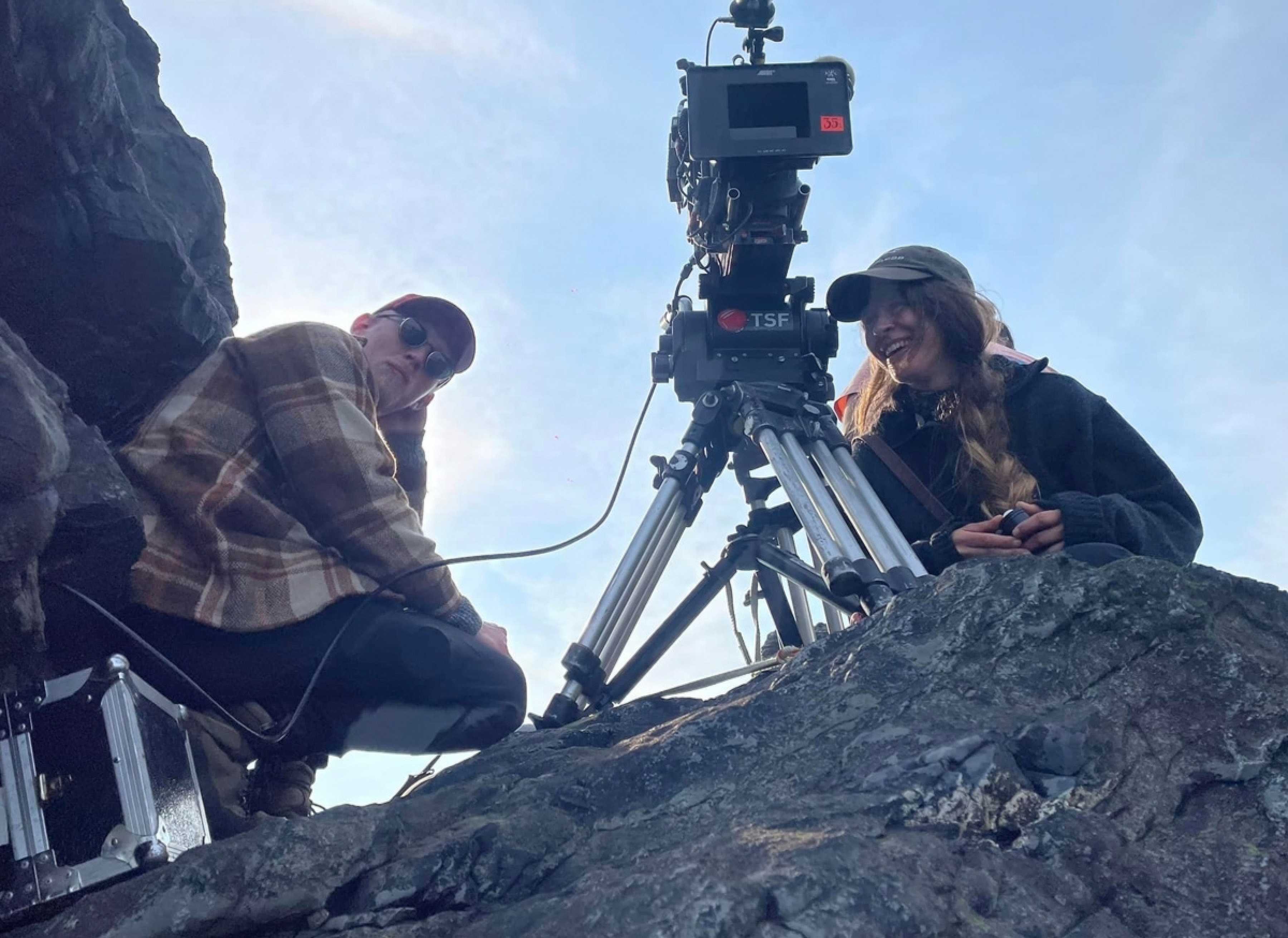 Shot in narrative order, the DP reports that filming Lucas's voyage across the wilds of Iceland often required burdensome and physically demanding hikes with filming equipment in brutal weather conditions. Consequently, the cast and crew were given a week's rest before photography resumed at the main location where the wooden church was being erected.
Von Hasswolff operated the camera throughout the production, supported by 1st AC Julian Lalinde and 2nd AC Marta Natoli. The key grip was Haraldur Hrafn Thorlacius, with Dagur Benedikt Reynisson working as gaffer. The wet plate camera photographer was Hördur Geirsson. Pálmason operated some of the handheld shots, and also filmed timelapse sequences that feature at the end of the film.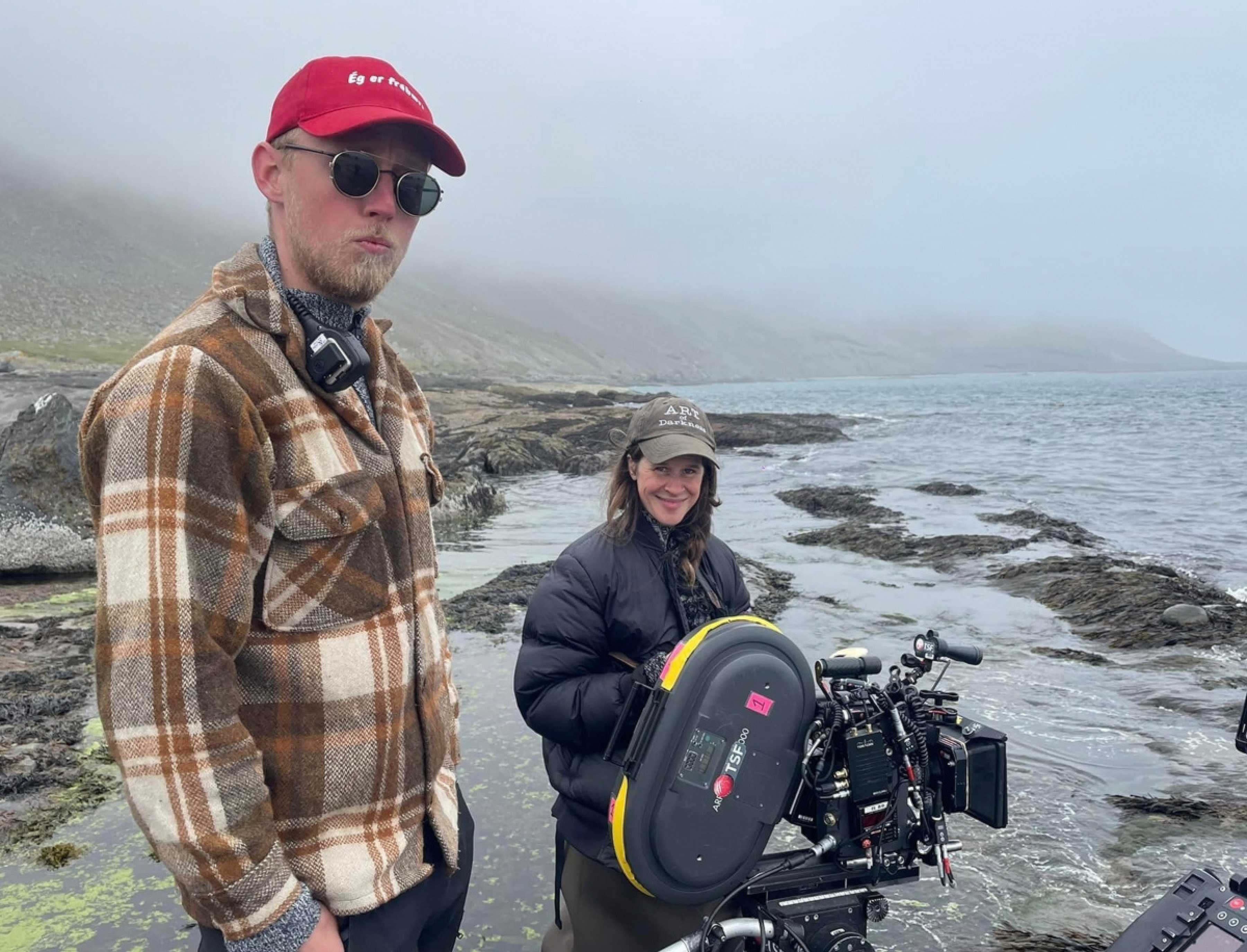 Following the camera and lens tests, Von Hausswolff filmed Godland using ARRICAM ST and ARRICAM LT cameras, fitted with Zeiss Superspeed optics, plus an Angénieux 25-250mm HR zoom, shooting mainly on sticks and dolly, except for a small clutch of scenes where the visceral energy in a scene required handheld coverage. The camera package was provided by TFS in France and KUKL in Iceland.
Having a good handle on the challenges to come, the DP selected KODAK VISION3 50D Color Negative Film 5203 for daytime exteriors, KODAK VISION3 250D Color Negative Film 5207 for overcast day exteriors and daytime interiors, plus KODAK VISION3 500T Color Negative Film 5219 for all of the nighttime scenes. Film processing and 4K scanning was done at Focus Film Lab in Stockholm, and the final DI grade was completed by colorist Nikolai Waldman at Can Film in Gothenberg.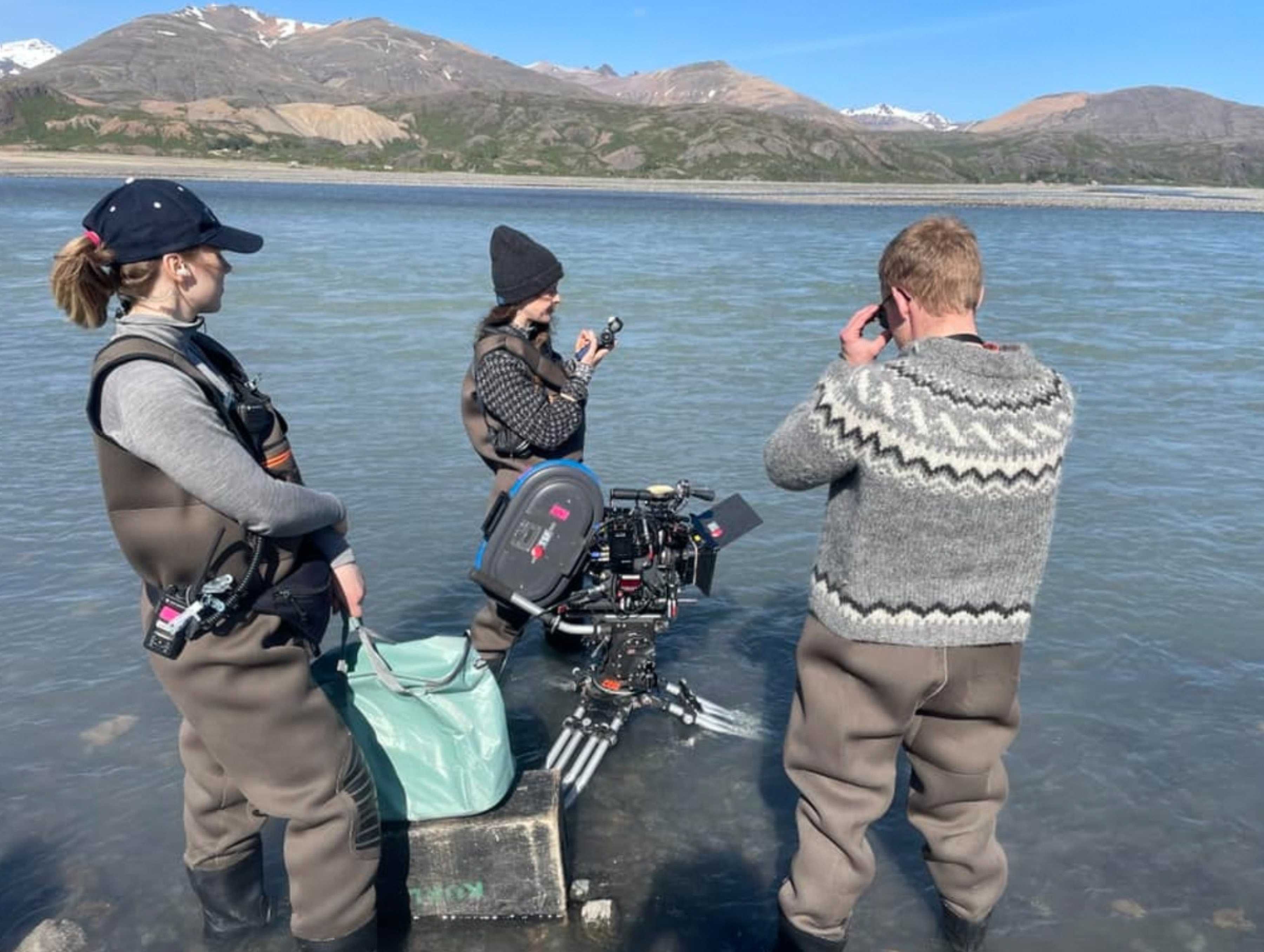 "The weather in Iceland is unpredictable, sometimes with rain, snow, sunshine and wind on the same day," says von Hausswolff. "The colorful nature of the 50D and 250D gives an incredible connection to the landscapes, with lovely rendition of skin and faces in the portraiture. I knew they would blend well together in terms of texture and grain across the changeable lighting conditions we were going to face during the shoot.
"Using the 250D we could film indoors, whilst also capturing excellent detail and color in the landscape thorough windows, which I am not sure you could achieve so easily if you shot digitally. The 250D was excellent in the misty, foggy exteriors we encountered, which also helped to elongate the shooting day. At that time of year, it does not get truly black at night, so there was often enough available light to get good exposures as the dark closed in around us.
"Although I tended to use the 250D for most of the day interiors, I switched to the 500T for the scenes inside the wooden church. The natural daylight was extremely limited there, and I could only introduce a small number of lighting fixtures, so the extra stops that the 500T gives were really useful."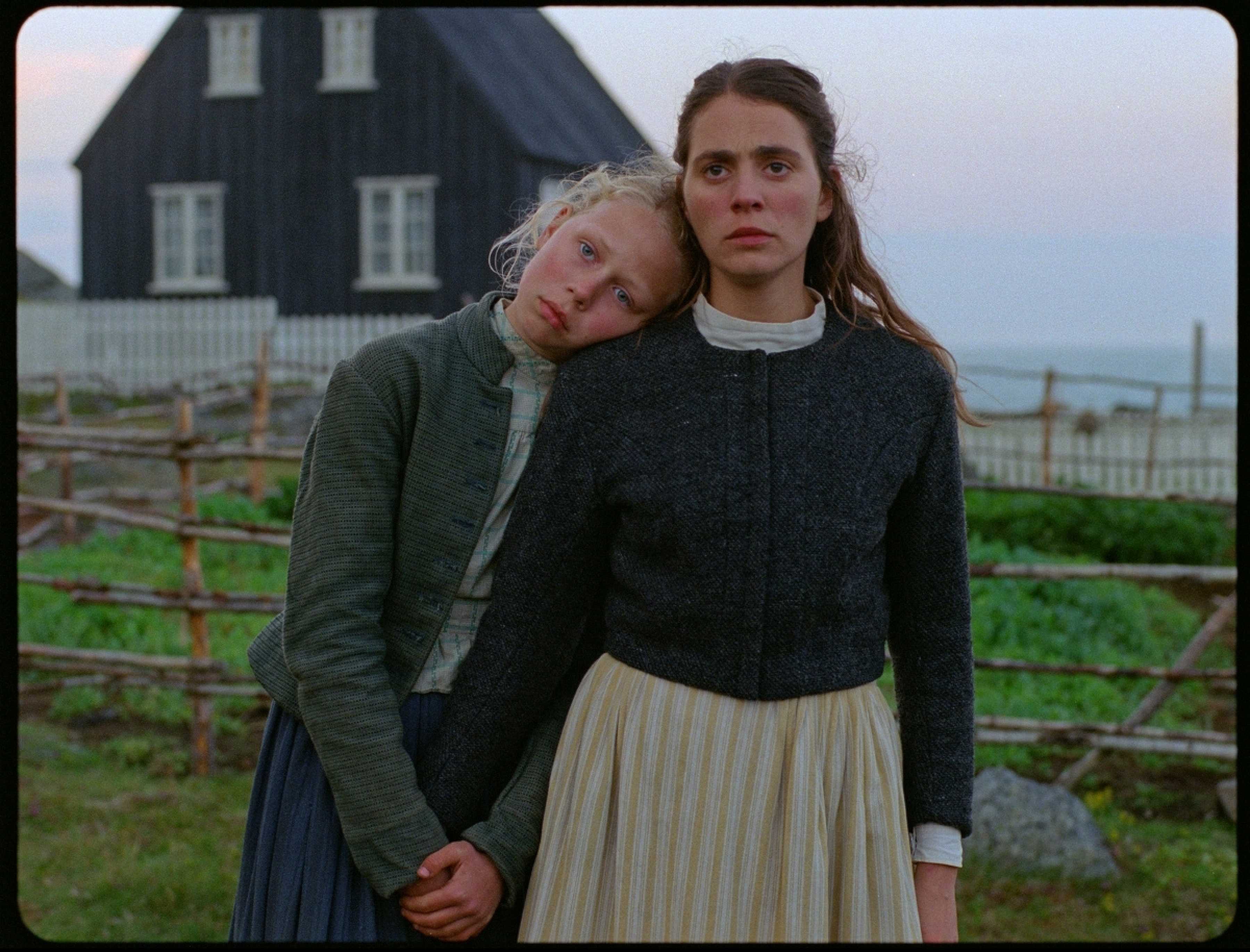 Center-framing is somewhat of a stylistic signature of von Hausswollf's work with Pálmason and proved an enticing proposition once again, across the variety of static, panning and tracking shots, as she explains, "I'm a very intuitive person. I love simplicity and have always tended to lean towards the balance and symmetry of center-framing. It opens up a lot of interesting possibilities for strong compositions, and you can use it to draw the audience's attention to a particular subject. It also helps with the visual storytelling, as eyes don't need to shift across screen to find the point of interest in the next frame."
Von Hausswolff also designed two notable 360-degree shots for Godland – one in which the camera observes the evening light as Lucas lies bruised and vulnerable in a grassy valley, the other a portrait of community Lucas has come to evangelize, as they gather for a summer celebration, to the tunes of an accordion band.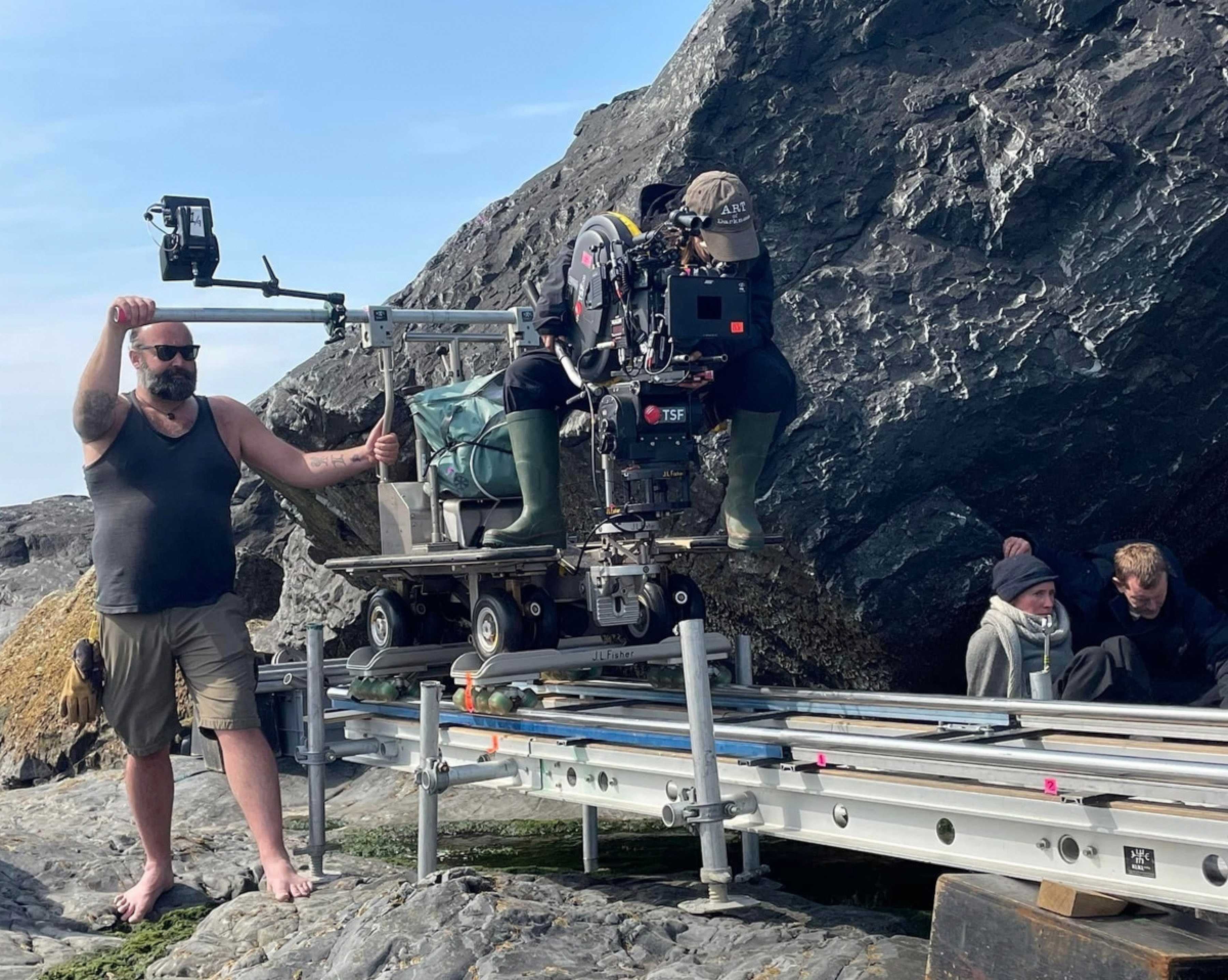 Perhaps the most striking visual of all is a slow, downward camera tilt, framing the course of a huge waterfall over several hundred feet of precipitous rocks from top to bottom.
"I remember the day we shot that scene very well," recalls von Hausswolff. "It was extremely wet, windy and cold. To get the shot, we had to hike up a huge hillside with the camera gear to a cliff opposite the cascade. I had the camera on a tripod with the Angénieux 25-250mm HR zoom, and practiced the move over and over again – partly to learn where to frame, as it was sometimes hard to see the course of the water, and partly to get a nice gentle pace to the take.
"The tripod head was not motorized, and it took a lot of effort to perform the move by hand. We had to wrap because the actors got really cold, and [I] was really upset afterwards because I felt it was not as perfect as it could have been. But I was much happier a few days later when I saw the dailies, as that shot had become really abstract, uncanny and dark, almost like a painting."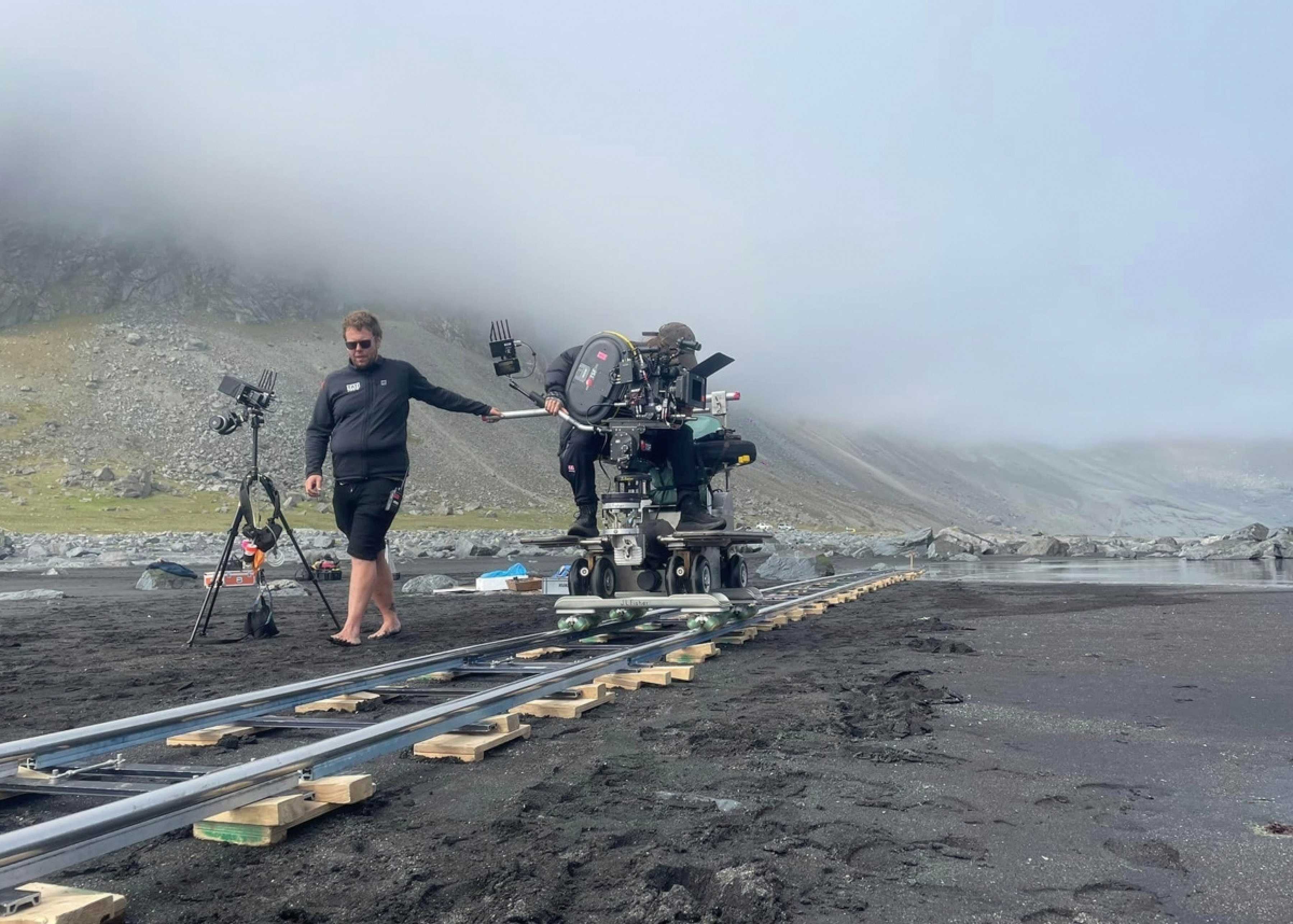 When it came to lighting, von Hausswolff remarks, "Dagur, my gaffer, was incredibly helpful in keeping an eye on the weather and how this might affect my exposures as we shot. On exteriors we worked mainly with natural, available light and controlled the aperture with ND filters on the lens, overhead frames or diffusion silks. If we needed light on a face, or negative fill, we generally used reflectors.
"The lighting package itself was limited to SkyPanel S60s, M18 and M40 HMIs, a small number of ARRI Fresnels, plus real candles and oil lamps. The interiors were generally very dark, and along with oil lamps, fire and candlelight, I had to bounce in light to bring volume and shape and lifted the key lighting with Fresnels."
In conclusion, von Hausswolff says, "It was great to collaborate once again with Hlynur. I'm glad to work with a director who constantly pushes the vision and my limits in difficult situations. It's stimulating, frustrating and challenging, but most of all very rewarding.
"At times it was an incredibly tough and physically demanding shoot, but the cast and the crew were always willing to dedicate themselves to it with love and passion, and it felt like a family, with a real sense of togetherness, as we carried props and cameras up hills in challenging weather."