Filmmaker Stories
Charlotte Bruus Christensen shines a light on 'The Banker'
The drama directed by George Nolfi ('The Adjustment Bureau') is based on the true story about African American business partners Bernard Garrett and Joe Morris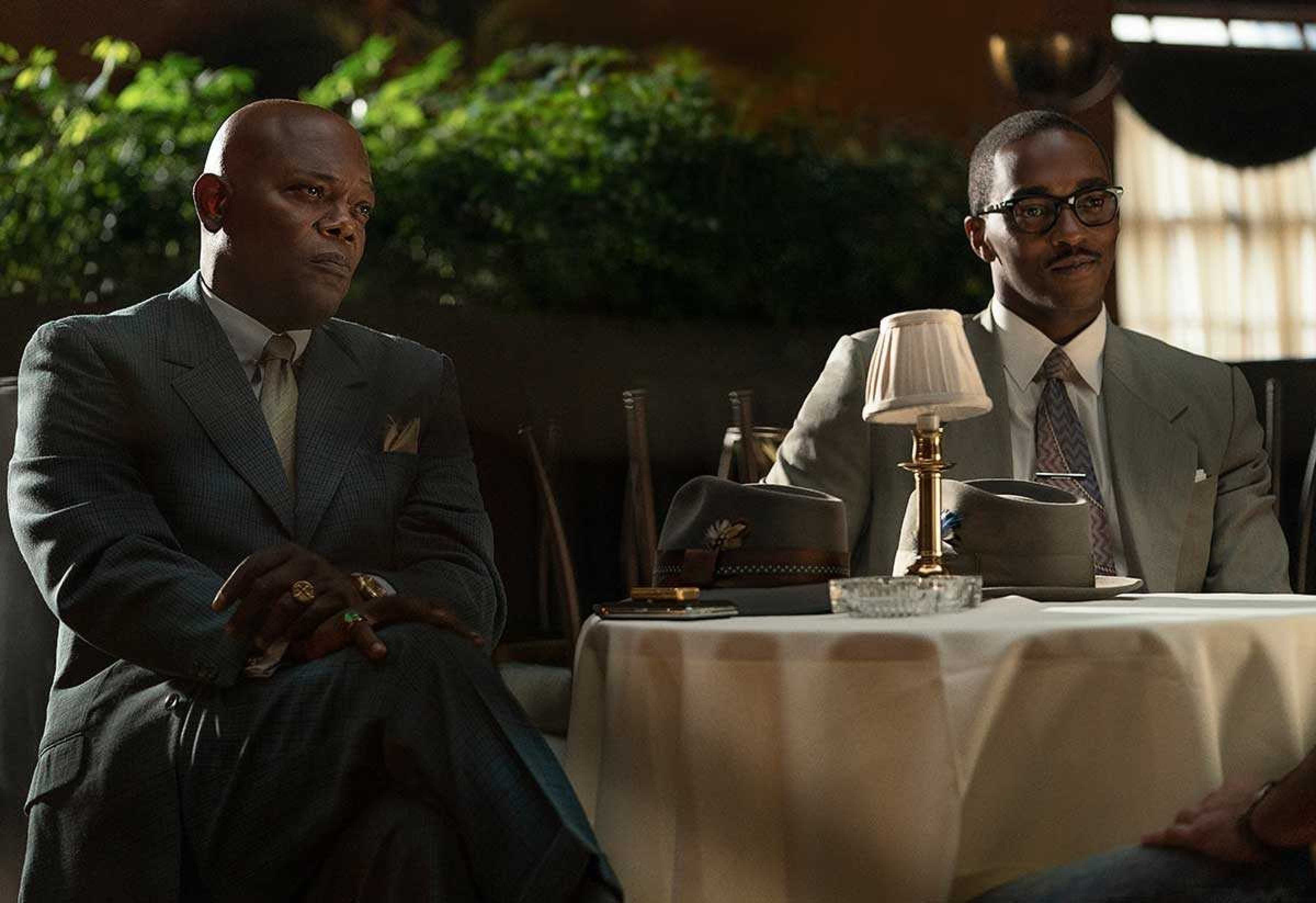 A career breakthrough occurred for Charlotte Bruus Christensen with the awards circuit success of The Hunt, which brought her international recognition; she has gone on to make a series of English language movies that include The Girl on the Train, Molly's Game, and A Quiet Place. While sequestered in London with her family because of the coronavirus pandemic, Christensen took a break from homeschooling three daughters and directing the miniseries Black Narcissus to speak via Skype about The Banker, which is currently streaming on Apple TV+. The drama directed by George Nolfi (The Adjustment Bureau) is based on the true story about African American business partners Bernard Garrett (Anthony Mackie) and Joe Morris (Samuel L. Jackson) upending the American financial industry in the 1960s by buying two Texan banks.
"It was a solid script and story," states Bruus Christensen. "George Nolfi is a specific and precise human being. He briefed me on the status of African Americans back in Texas at that time and was obsessed with buildings, in particular what a room does to a person. For example, in the court case, George said that a lot of light was put on these people's faces because they wanted them to feel in the spotlight. We did this thing of front lighting people when they're supposed to be confronted. There's also some huge rooms like an office space halfway through the movie, and we wanted to photograph it so you get this whole status element. It's so much about status. People, money and color. Bernard Garrett and Joe Morris messed up the rules about being black and wealthy which is what makes the story."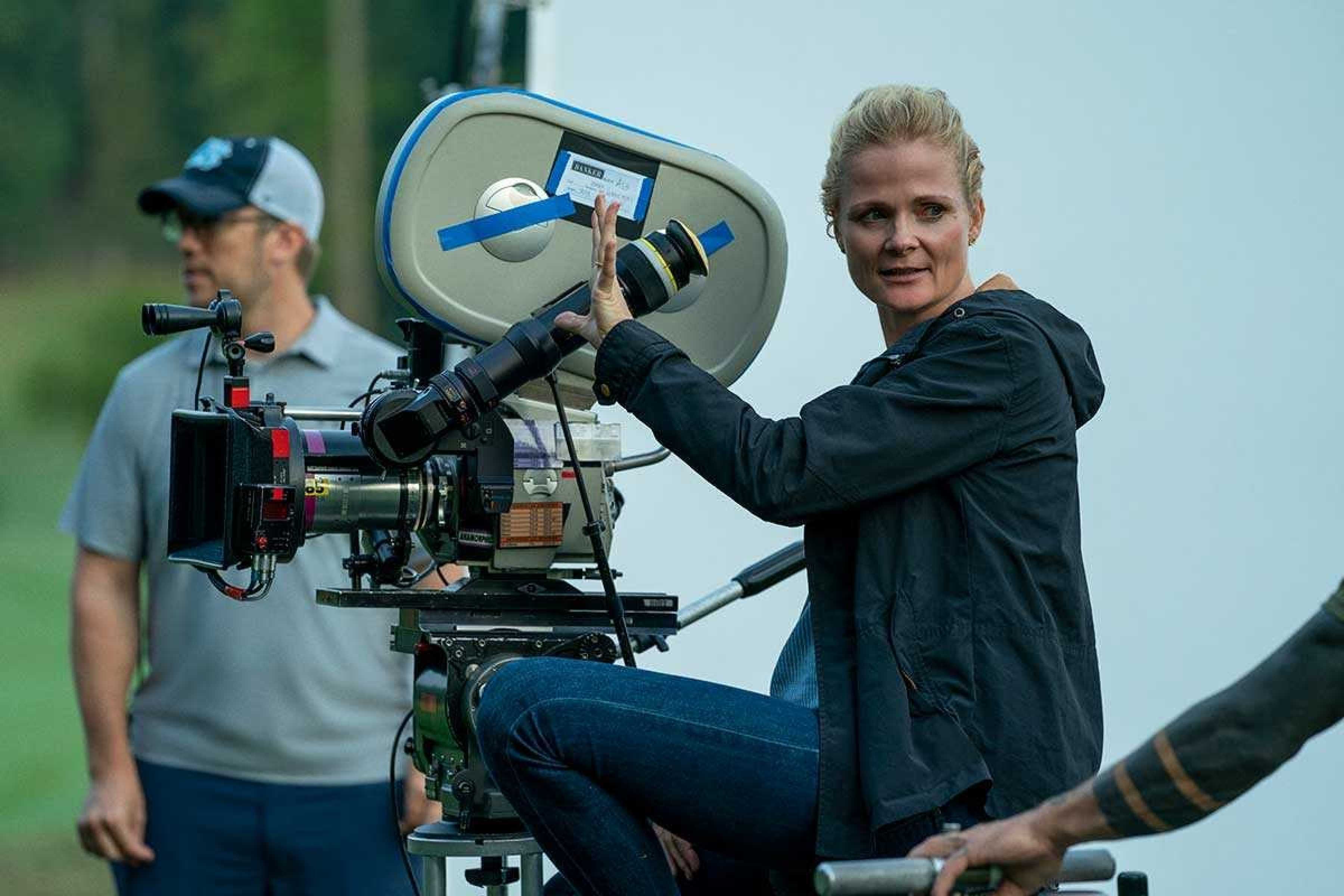 As to the visual language, a point of reference was the classic lighting in the paintings of Edward Hopper. "More than paintings we looked at spaces and photographs of the real buildings," states Bruus Christensen. "Preproduction was eight weeks and then we shot for seven weeks." Principal photography took place in Atlanta, which doubled for California and Texas. "It was an organic process in terms of framing the story. George would brief me as to what he wanted from a space and how important it was to be wide. There were locations in Atlanta that weren't quite what he wanted so we would try not to see so much. We had so many locations. George and I would talk beforehand about what shots were needed. He would rehearse and block a scene, and from that we would come up with the shots." Some scenes had a specific idea. "There is one where the main character gets the idea of buying this bankers' building, and George wanted Bernard to see a sign, turn around through the space and find the camera again. We were countering him as he was turning around."
There was not the opportunity to do advance rehearsals in every location which meant that one had to keep an open mind to what was happening on the day rather than rely entirely on shot lists. "Samuel L. Jackson would always look at it from his character's perspective, which is totally cool," remarks Bruus Christensen. "You learn quite quickly that you're better off having a good solid idea when it comes to the feel of the scene. Once they had the scene, I would break it up into close-up shots." Smaller locations were lighted 360 degrees. "In the bigger spaces, we didn't have lighting package to be able to light things higher. For when Bernard and Joe come into the bank and see this big hall, we had to hire in some 18Ks. The same for the big office that they buy. We could only really look in one direction but managed to look the other way by scrambling everything together. We have a number of scenes where Bernard and Joe sit by a table and they were lit just above the table with no stands in the room because of tight scheduling and having to move around quickly." In several locations lighting rigs were not allowed on the walls. "In the court room there was no touching anything whatsoever. We couldn't even have the stands close to the walls. The windows went out onto a massive street. We couldn't even have a balloon. We found period pieces and decided to have lamps in shots [with help from production designer John Collins]."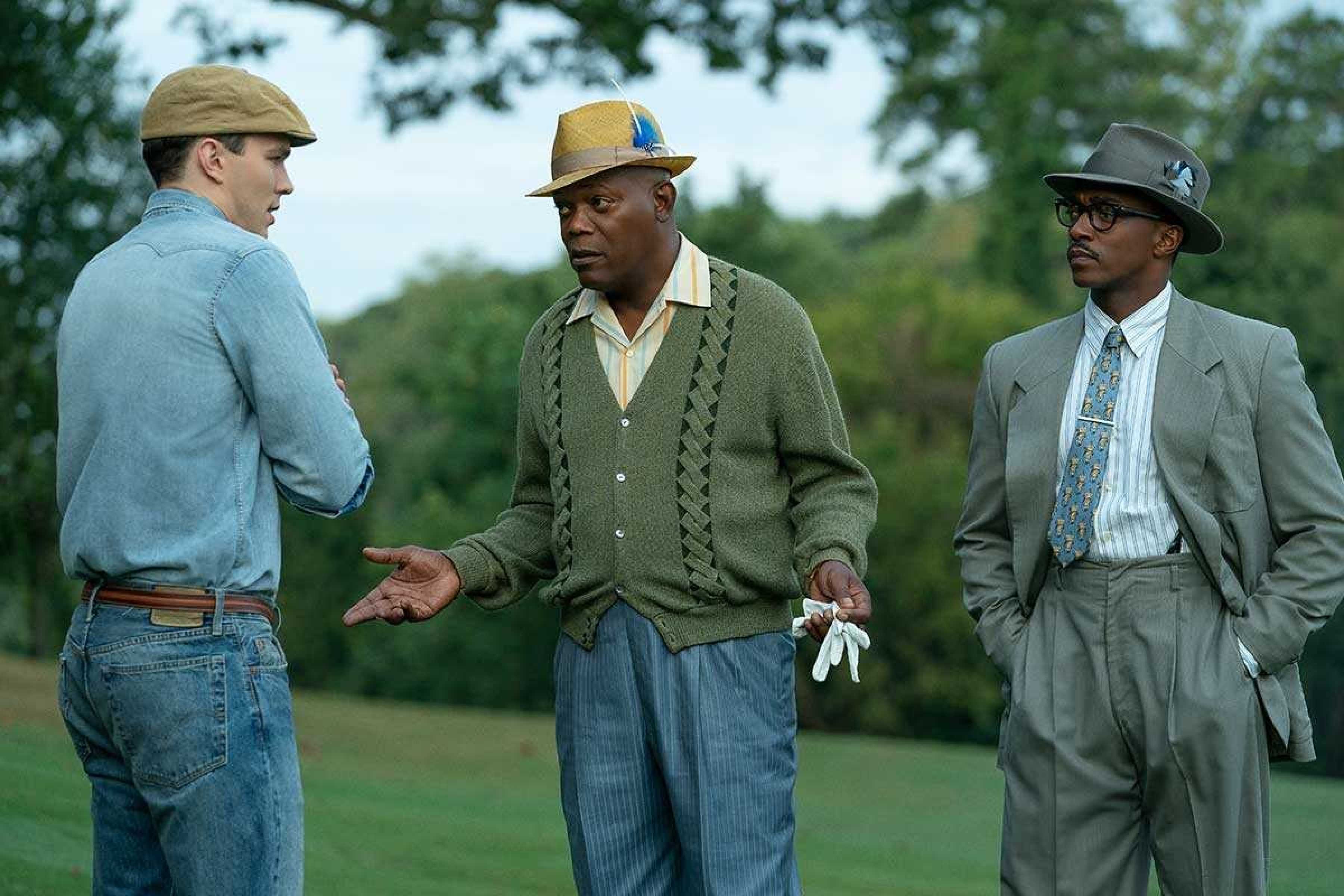 Bruus Christensen advocated shooting The Banker on film. "First of all, I love film. It's in my genes! There were a lot of concerns with it being a low budget movie. But shooting on film made sense to me. The Banker is a period piece and George wanted to make it look like film." When it comes to lighting, film is actually cheaper than digital. "With 800 ASA to make contrast, I need more lights to create shadow. I did a lot of back and forth with Kodak and Panavision. Both companies were extremely supportive. We had three film stocks. KODAK VISION3 500T 5219 Color Negative Film for any night work for both interior and exterior. Then I had KODAK VISION3 250D 5207 Color Negative Film and KODAK VISION3 50D 5203 Color Negative Film. 50D is such a beautiful stock and I love working with not too many NDs. In Atlanta you get that hot burning sun. I like to have the 250D for overcast days for interior daylight. We had to shoot three perf in order to make the budget and managed for some of the exterior scenes to go anamorphic but had to change that for various reasons later on."
"We had a lot of smaller places so most of it was shot with one camera," reveals Bruus Christensen. "But when on the bigger sets or exteriors, because of time, we did work with two cameras. It worked well with the Panaflex Millennium XL2. Certain scenes were shot anamorphic like the exteriors of the golf course and bigger spaces. For that I love a 75mm and that was the Panavision C Series. I had 40mm to 180mm. We also shot with spherical lenses which were Zeiss Super Speeds." Minimal LED lights were utilized. "I had some SkyPanels but other than that it was old fashion tungsten and HMI lights. We had a Technocrane out for a couple days. There are a couple of driving shots when they arrive in Los Angeles which was on the Russian Arm. We did three days in Los Angeles. There was also a Russian Arm for the end shot when they drive, and we go into the sun. It was mainly Steadicam or a dolly."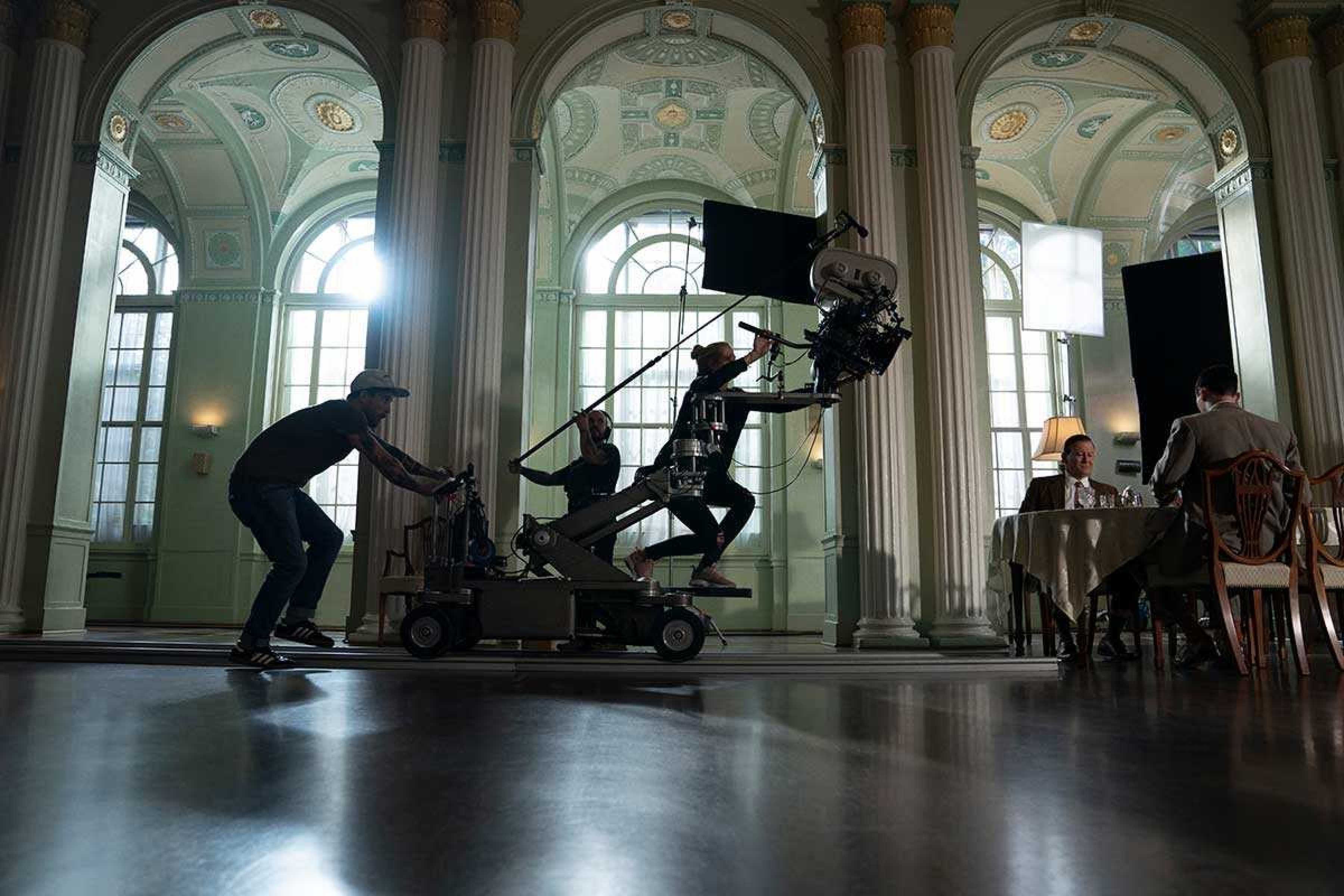 Key crew members were gaffers Mike Tyson and John Lewis, key grip Chris Birdsong, first AC Michael Dzailowski, and B camera/Steadicam operator Jarrett Morgan. "They're all people I hadn't worked with before. The wonderful thing about working with local people is that they've got their teams. The cast was amazing. I knew Anthony Mackie from Sundance. First time working with Samuel L. Jackson who brings a lot of energy. In his own way, he keeps people on their toes. I was blown away by the performance of Nicolas Hoult. Nia Long was great." The most difficult aspect were the locations. "There were 50 to 60 locations and when you're doing period on low budget you can't hire them for three days and do things the morning before. You turn up in the morning and everybody has to work. That's a big challenge when you want to make it grand."
"I love the Texas montage when you're walking down the streets, and that was all shot in Newnan, which is south of Atlanta," states Bruus Christensen. "All of those Texas sequences, even though we weren't in Texas, became powerful in their own way. Also, feeling this person who went away, made it somewhere else, and return seeing his childhood area and dad from a different perspective." The Danish cinematographer is appreciative of the support of Kodak and Panavision. "It meant so much because it would have been devastating for me to shoot this on digital when everything was pointing at film. They're two great mediums. The most important thing is that there is a choice."