Press Releases
Kodak and Uteco are excited to announce the shipment of the third Sapphire EVO M Press for digital flexible packaging printing
ROCHESTER, N.Y.
July 23, 2020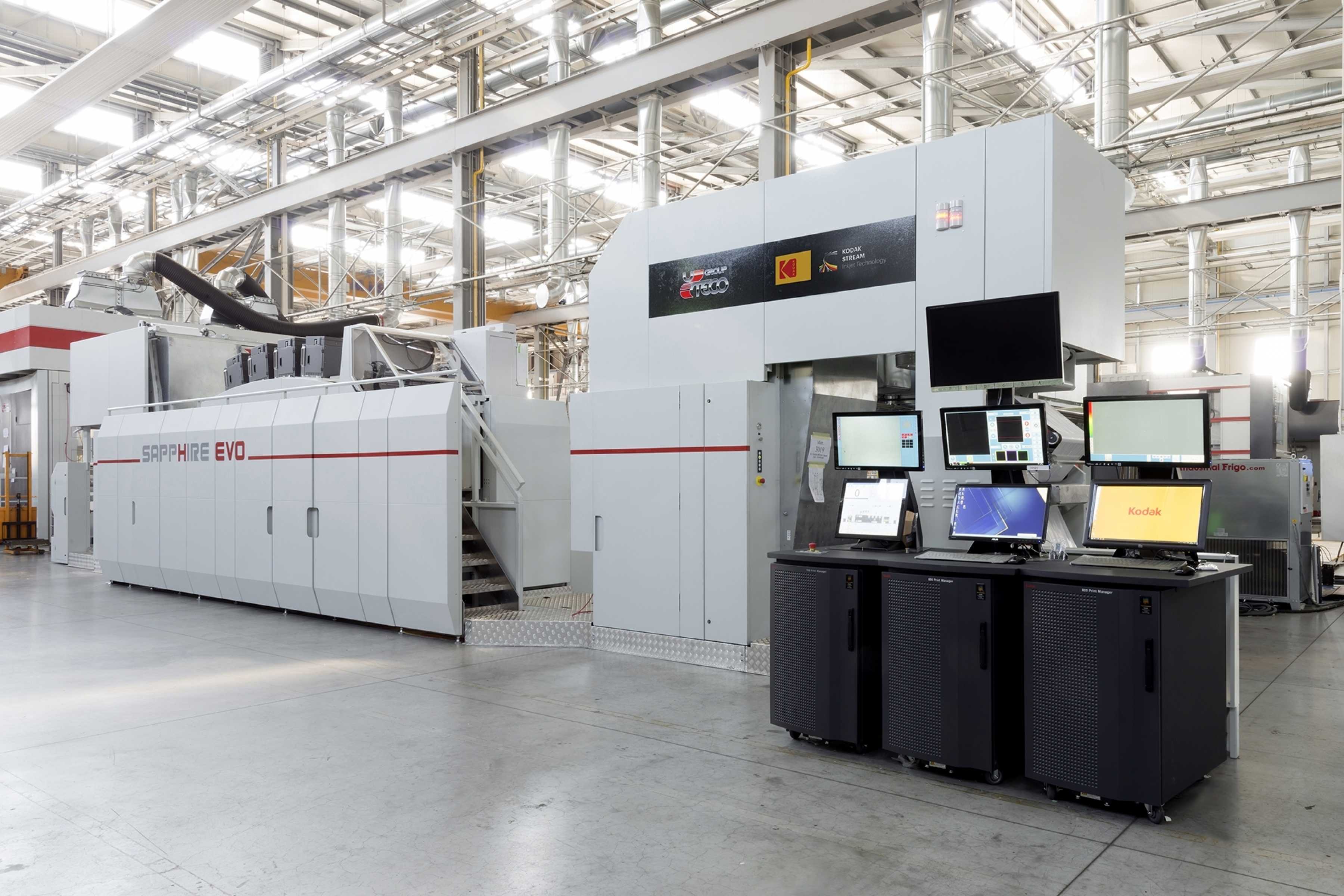 The third UTECO Sapphire EVO M Press for the production of flexible packaging began its journey to the customer a few days after passing the factory acceptance test. This inkjet web press is destined for a company in North America, where it will be used for applications requiring large quantities of short run jobs. Other Sapphire EVO M Presses are already up and running very successfully at flexible packaging printers in Italy and Japan.
The Sapphire EVO M Press was developed jointly by the Uteco Group and Kodak. The mid web digital press lets flexible packaging printers migrate jobs from traditional printing processes to digital and achieve high quality results along with tremendous time, makeready and cost savings. Utilizing KODAK Stream Continuous Inkjet Technology and economical water-based pigment inks from Kodak, the digital press delivers excellent CMYK print quality on a variety of plastic film materials and papers. Sapphire EVO M supports a maximum web width of 650 mm and a print width of 620 mm. With production speeds of over 150 meters per minute, it is faster than any other digital solution for flexible substrates.
The new customer chose the Sapphire EVO M Press because it offers the best duty cycle of any mid web digital press and enables more cost-effective production of volumes up to 20,000 sqm compared to analog processes. Another key benefit of the Sapphire EVO M from the customer's point of view is that it improves their time to market enormously. Whereas production using conventional analog processes typically takes two weeks or more, it is estimated that jobs will be turned around on the new inkjet press in as little as two days.
"This latest sales success is clear evidence that Sapphire EVO Presses featuring Kodak's high-speed continuous inkjet and water-based ink technology are all set to become one of the leading solutions worldwide for digital flexible packaging printing," said Randy Vandagriff, Senior Vice President, Print, Eastman Kodak Company.
Aldo Peretti, President and CEO of the Uteco Group added: "We're delighted that our Sapphire EVO M Press will soon be in action in different flexible packaging applications on three continents. It provides an efficient way for packaging printers and converters to meet brand owners' increasing need for fast, cost-effective and high-quality production of short and medium runs."
About Kodak
Kodak is a global technology company focused on print and advanced materials & chemicals. We provide industry-leading hardware, software, consumables and services primarily to customers in commercial print, packaging, publishing, manufacturing and entertainment. We are committed to environmental stewardship and ongoing leadership in developing sustainable solutions. Our broad portfolio of superior products, responsive support and world-class R&D make Kodak solutions a smart investment for customers looking to improve their profitability and drive growth. For additional information on Kodak, visit us at kodak.com, and engage with us on Twitter @KodakPrint and on LinkedIn at Kodak Print.
About Uteco
Uteco Group is a leading manufacturer and supplier of equipment in the field of flexible packaging that consist of flexographic, rotogravure, coating and laminating and high-tech machines with special configurations. Established in 1985, Uteco Converting SpA has grown to become the largest Italian manufacturer of flexographic presses. Innovation has always been a key-point at Uteco Group, not only in the design and creation of leading-edge equipment, but also with the ability to tailor machines to the specific needs of converters in any corner of the world. Designers and production executives are constantly looking for new ideas and manufacturing processes to exceed customer's expectations. For additional information on Uteco, visit us at uteco.com and engage with us on LinkedIn at Uteco Group
Media Contacts
Gill Beard
Worldwide Public Relations Manager, Eastman Kodak Company
gillian.beard@kodak.com
+44 (0) 1923 652727
Sabrina Tomba
Uteco Group
mktg@uteco.com
+39 (0) 45 6174555