Press Releases
KODAK SCANZA Digital Film Scanner converts film to JPEG file
Bring film into the digital age while preserving precious memories with the KODAK SCANZA Scanner
ROCHESTER, N.Y. and EDISON, N.J.
January 30, 2018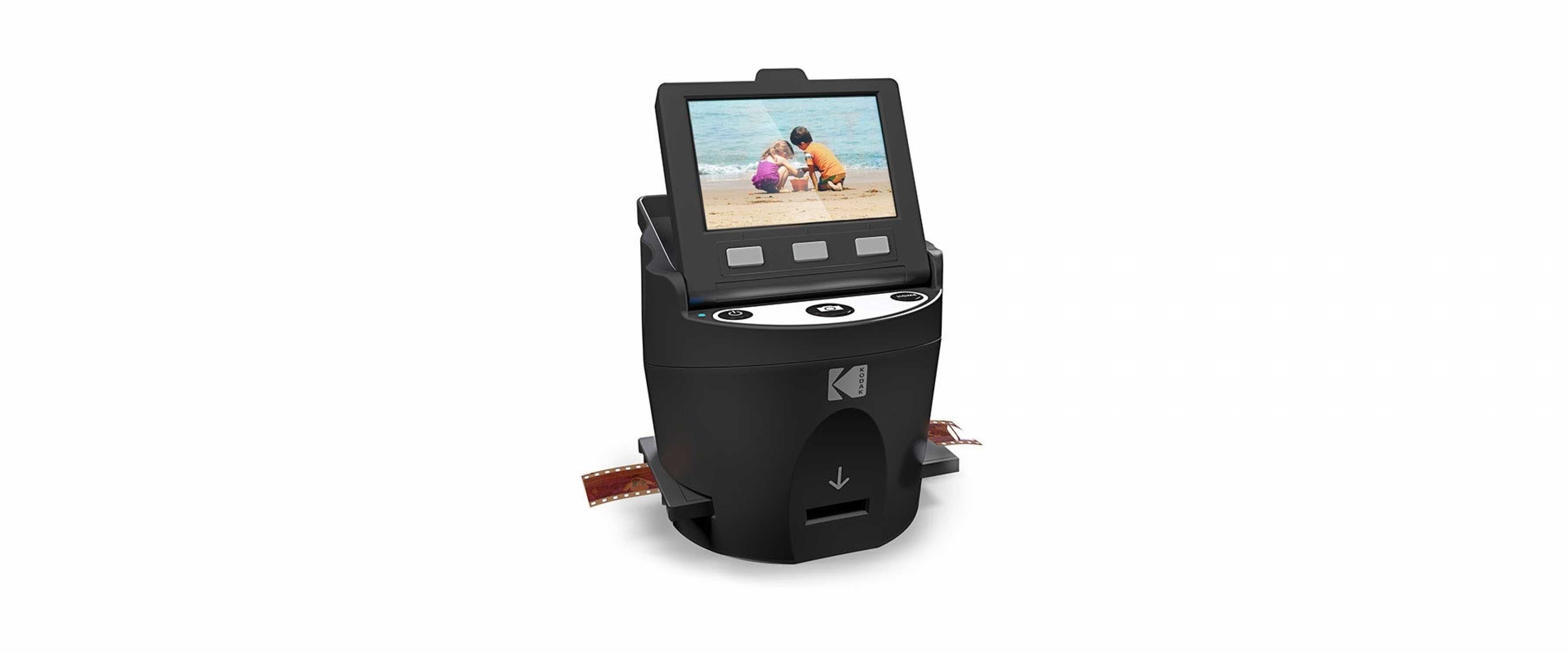 Today Eastman Kodak Company announced the availability of the KODAK SCANZA Digital Film Scanner available from its North American brand licensee, C+A Global. The versatile film-to-JPEG converter digitizes a variety of formats including 35mm, 126, 110, super 8 and 8mm negatives and slides into optimized 14-megapixel or interpolated 22-megapixel digital files. Images can then be transferred to any Mac or PC via an SD card for saving, sharing, printing and editing. The all-in-one package comes ready to go with everything needed to start scanning slides and negatives: various film adapters and inserts, a built-in LCD color display, an exceptionally easy-to-use operational interface, plus multiple cables for device hookup.
"Kodak has a steep heritage in film and, perhaps more importantly, helping people preserve life's precious memories. Many folks have boxes filled with KODAK film ready to be given new life, with no means of doing so," said Joel Satin, VP Brand Licensing at Eastman Kodak Company. "With the KODAK SCANZA digital film scanner, reliving these moments and bringing them into the digital world is as easy as scan, save and share."
The KODAK SCANZA Scanner features an intuitive user interface that allows users to enhance the image quality of their film, including the ability to adjust RGB levels and brightness for ideal image coloring. With the scanner's gallery mode, users can display images in a slideshow, then rotate, flip and delete images as they see fit.
KODAK SCANZA Scanner Highlights and Benefits:
Convert Film to JPEG in Seconds – The SCANZA scanner's powerful 14-megapixel sensor captures images from 35mm, 126, 110, Super 8 and 8mm negatives and slides in stunning HD clarity, while its optional integrated interpolation setting enhances images up to 22-megapixels.
Large 3.5" LCD Screen – The high-definition built-in LCD color display features adjustable brightness and convenient tilt for easy operation and image viewing, allowing users to easily edit images using the scanner's various settings.
An Adapter for Everything – The KODAK SCANZA scanner ships with multiple film inserts and adapters for converting various negatives and slides for fast and flexible operation; it's large one-touch buttons allow for one-step scan and save.
Intuitive User Interface – Displayed on the scanner's clear, bright LCD screen, the user interface includes a helpful tray and insert directory, as well as simple-to-navigate image editing capabilities and a gallery for browsing through saved images.
HDMI/Video Cables and More Included – The KODAK SCANZA scanner comes with everything needed to start scanning images, including HDMI/video cables for viewing images on a television, an AC adapter, USB power cable and a film cleaning brush.
Pricing and Availability
The KODAK SCANZA scanner is available now for $169.99 USD on Amazon and comes with a 1-year limited warranty. More information is available at amazon.com.
Request a Media Review Kit
To request a media review kit of the KODAK SCANZA digital film scanner, please contact Alexis Isaacs at alexis@zazilmediagroup.com.

About Kodak
Kodak is a technology company focused on imaging. We provide – directly and through partnerships with other innovative companies – hardware, software, consumables and services to customers in graphic arts, commercial print, publishing, packaging, entertainment and commercial films, and consumer products markets. With our innovative solutions portfolio and highly trusted brand, Kodak is helping customers around the globe to sustainably grow their own businesses and enjoy their lives. For additional information on Kodak, visit us at kodakphotoplus.com, follow us on Twitter @KodakPlus, like us on Facebook at Kodak Plus, and follow @KodakPlus on Instagram.
About C+A Global
C&A Marketing, Inc., is a Kodak brand licensee, doing business as C+A Global, is a leading manufacturer, distributor and online reseller of consumer products, electronics, cameras and photographic equipment. Headquartered in Edison, N.J, C+A Global is a major consumer electronics manufacturer and retailer which operates several e-commerce platforms, including RitzCamera.com, RitzPix.com and Skymall.com, and has a robust presence on the amazon.com marketplace platform. With over two decades in business, the depth and breadth of C+A Global's inventory is constantly expanding as is its presence and reputation in the consumer products marketplace.
The Kodak trademark, logo and trade dress are used under license from Kodak.
Media Contacts
Alexis Isaacs
Instant print products, Zazil Media Group
alexis@zazilmediagroup.com
‭+1 773 816-7944
Nicholas Rangel
Director of Communications, Eastman Kodak Company
nicholas.rangel@kodak.com
+1 585-615-0549