Press Releases
Kodak Branded Instant-Print Consumer Product Line Grows with the Addition of the KODAK Mini 2 Instant Photo Printer
With BLUETOOTH and NFC connectivity, high-quality, eye-popping prints from an iOS or Android device are seconds away.
SUWON, South Korea and EDISON, N.J.
January 03, 2018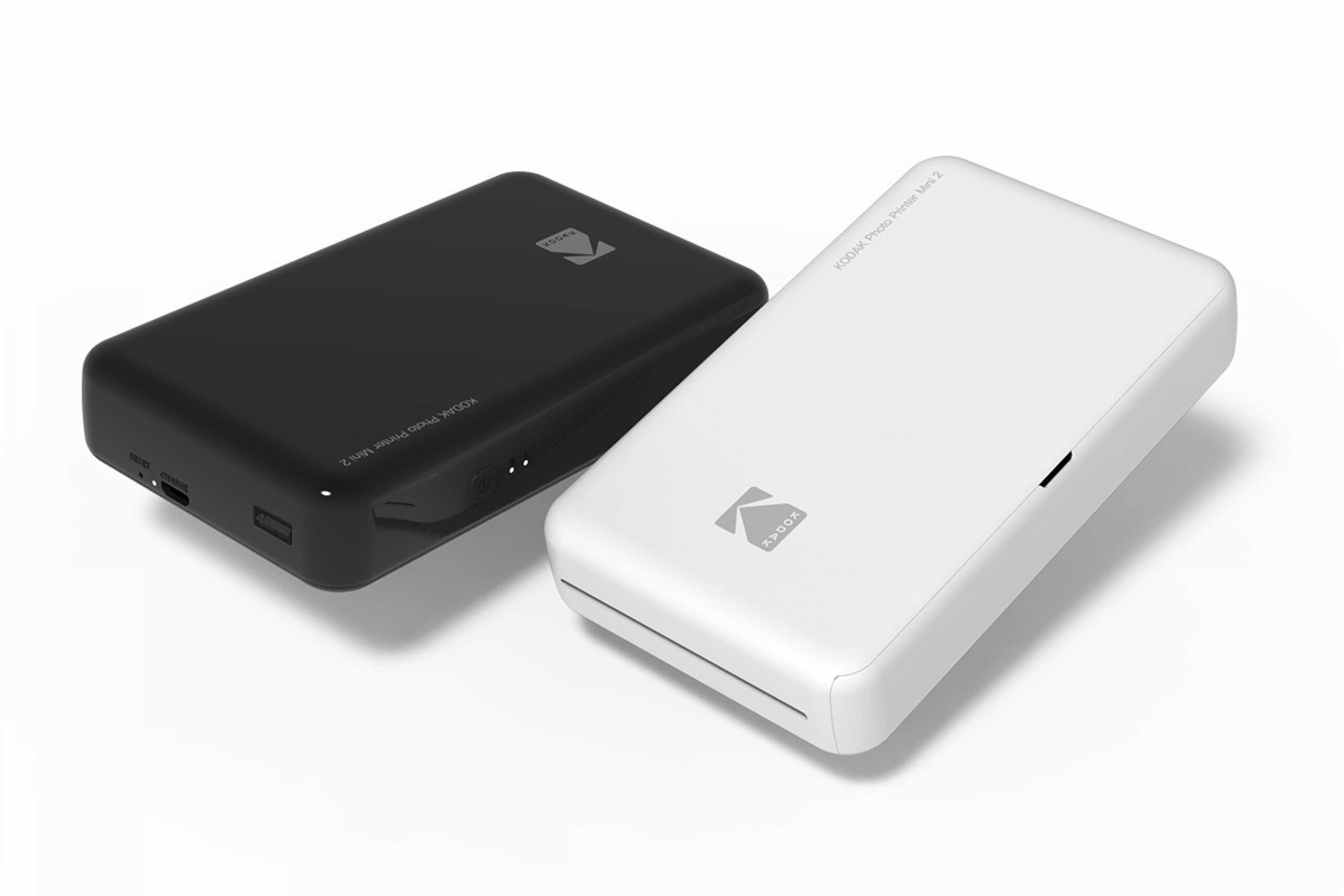 Eastman Kodak Company and Prinics Co., Ltd announced the availability of the new KODAK Mini 2 Instant Photo Printer through its North American distributor C+A Global. The next generation of its mini mobile photo printer and the latest product to join the growing line of Kodak branded instant-print products, the KODAK Mini 2 is even more compact than the original and prints credit card-sized (2.1"x3.4") photos using its high-quality 4Pass (dye-sublimation) printing technology. The world's smallest dye-sub photo printer, the portable KODAK Mini 2 comes in glossy black or white models. The KODAK Mini 2 supports iOS devices wirelessly via BLUETOOTH and ANDROID based devices via NFC One Touch or BLUETOOTH. Using the free KODAK Mini Shot app, smart phone photographers can access and print photos from their phone's camera roll, social media platforms, GOOGLE images, or even video screen grabs.
The KODAK Mini 2 special printing technology layers each color onto high-strength photo paper, resulting in gorgeous, long-lasting color photos anyone can take home to commemorate the special moments of the holiday season. A must-have accessory for any celebration, the KODAK Mini 2 Photo Printer works with the free, complementary KODAK Mini Shot Application in APPLE App Store and GOOGLE Play Store, which features a variety of filters, cropping options, stickers, card templates and more for further editing and enhancing photos. Also, classic black and white 2.1x3.4" photos can be printed in less than a minute and dry instantaneously. Available on iOS or ANDROID devices, anyone can connect at a holiday gathering or other event to print and share photos.
KODAK Mini 2 Photo Printer Highlights and Benefits:
The world's smallest dye-sub photo printer at just 3.0" W x 5.2" L x 1" D (78.2 x 132.4 x 25.4mm)
Print directly from your mobile phone or tablet via BLUETOOTH and NFC technology
Compatible with iOS and ANDROID devices
Print credit card-sized (2.1"x3.4") photos
High-quality waterproof, fingerprint-proof photo prints with extra protective layer for preserving image quality and color integrity
Prints in less than a minute
Complimentary KODAK Mini Shot Application in APPLE App Store and GOOGLE Play Store for adding filters, stickers, card templates, ID photo print, cropping and more
All-in-one ink and paper cartridge
Available in gloss black or white
Pricing and Availability
The KODAK Mini 2 Instant Photo Printer is available for $99.99 USD. The printer package includes a Micro USB cable, a Quick Start Guide, and an all-in-one 8-pack 4Pass photo print cartridge.
KODAK Mini 2 Photo Printer's all-in-one 4Pass photo print cartridges are available in 20, 30 and 50 packs (2.1" x 3.4"), and are sold separately.
Request a Media Review Kit
Members of the media are invited to review the KODAK Mini 2 Photo Printer. To request a media review kit, please contact Alexis Isaacs at alexis@zazilmediagroup.com.

About Kodak
Kodak is a technology company focused on imaging. We provide – directly and through partnerships with other innovative companies – hardware, software, consumables and services to customers in graphic arts, commercial print, publishing, packaging, entertainment and commercial films, and consumer products markets. With our world-class R&D capabilities, innovative solutions portfolio and highly trusted brand, Kodak is helping customers around the globe to sustainably grow their own businesses and enjoy their lives. For additional information on Kodak, visit us at kodak.com, follow us on Twitter @Kodak, or like us on Facebook at Kodak.
About Prinics Co., Ltd
Prinics Co., Ltd is a Kodak licensee. It is headquartered in Suwon, South Korea with R&D and manufacturing facilities. The executive team is comprised of experienced professionals with extensive backgrounds in marketing and sales of digital printing products. Prinics is ready to service its powerful KODAK Photo Printer line-up worldwide. For more information, visit www.kodakphotoprinter.com.
About C+A Global
C&A Marketing, Inc., doing business as C+A Global, is a leading manufacturer, distributor and online reseller of consumer products, electronics, cameras and photographic equipment. Headquartered in Edison, N.J, C+A Global is a major consumer electronics manufacturer and retailer which operates several e-commerce platforms, including RitzCamera.com, RitzPix.com and Skymall.com, and has a robust presence on the Amazon.com marketplace platform. With over two decades in business, the depth and breadth of C+A Global's inventory is constantly expanding as is its presence and reputation in the consumer products marketplace. Most recently, C+A Global added brand-licensing agreements with Stanley, Gold's Gym and Kodak to its expanding portfolio of brand partnerships.
Media Contacts
Alexis Isaacs
Instant print products, Zazil Media Group
alexis@zazilmediagroup.com
‭+1 773 816-7944
Nicholas Rangel
Director of Communications, Eastman Kodak Company
nicholas.rangel@kodak.com
+1 585-615-0549