Press Releases
KODAK Industrial X-Ray Films Leverage Legacy in Materials Science
ROCHESTER, N.Y.
May 06, 2019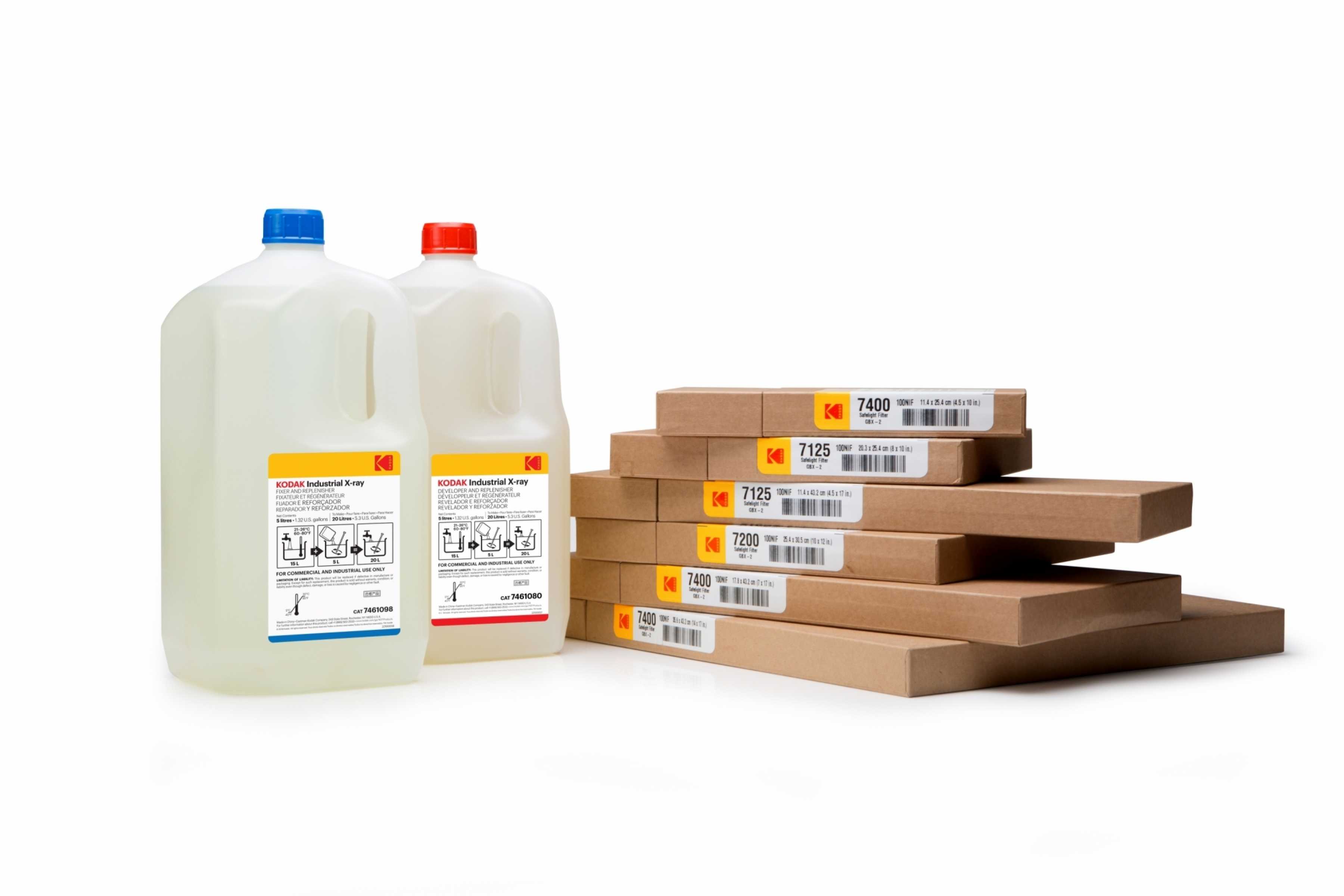 Today Eastman Kodak Company announced the introduction of the KODAK Industrial X-Ray Films and Chemicals for non-destructive testing (NDT). Film radiography is an NDT technique used to check internal integrity when inspecting parts and assemblies in the aerospace, oil, and automotive industries. The ruggedness and flexibility of film make it ideal for use in harsh conditions.
Kodak has partnered with MPM Products and Test Equipment Distributors (TED) to distribute their new line of industrial X-ray films and chemicals. The products are available for sale in the US now.
The reintroduction of non-destructive testing X-ray film products highlights Kodak's ongoing commitment to and investment in film. Kodak's reintroduction of EKTACHROME film is a recent example of the resurgence in demand for analog film.
"We are excited to announce a strong return to the NDT space," said Eric-Yves Mahe, President, Consumer and Film Division, Kodak. "Film continues to find applications in many spaces by leveraging our legacy and expertise in materials science."
KODAK Industrial X-Ray Films are ASTM E 1815 certified with a rugged durability for high demand applications. Kodak's T-Grain Emulsion delivers technology that maximizes contrast and minimizes noise. Customers can expect great attention to detail for each speed range with a powerful image quality and tone. Offering excellent processing flexibility, Kodak industrial films are effective in long and short cycles. They are static-resistant, heat-resistant, and incredibly sturdy.
"Kodak film products have earned a long-standing reputation as a leader in quality," said Nagraj Bokinkere, General Manager, Commercial Films, Kodak. "We are excited to offer what we expect will be market-leading KODAK Industrial X-Ray Films and Chemicals at an attractive price".
Proudly manufactured in Rochester, NY in the USA, Kodak now offers an optimized product range and competitive pricing.
For more information, visit the KODAK Industrial X-Ray Films and Chemicals webpage.

About Kodak
Kodak is a technology company focused on imaging. We provide – directly and through partnerships with other innovative companies – hardware, software, consumables and services to customers in graphic arts, commercial print, publishing, packaging, entertainment and commercial films, and consumer products markets. With our world-class R&D capabilities, innovative solutions portfolio and highly trusted brand, Kodak is helping customers around the globe to sustainably grow their own businesses and enjoy their lives. For additional information on Kodak, visit us at kodak.com, follow us on Twitter @Kodak, or like us on Facebook at Kodak.
About MPM Products
MPM is an award-winning supplier, representing over 30 NDT manufacturers. In addition to being one of the largest distributors of X-ray film in the United States, we also inventory 1000's of other NDT products and equipment, including digital and computed radiography. In-stock products are shipped from our 8 U.S.-based warehouses with delivery to most parts of the United States within 1 to 2 business days. Additionally, our well-trained calibration, equipment repair and preventative maintenance service team is well respected in the industry for their reliability, equipment knowledge, and service efficiency.
About Test Equipment Distributors, LLC
For over 45 years Test Equipment Distributors (TED) has served the equipment and supply needs of Nondestructive Testing (NDT) professionals in diverse industries throughout the world. We have endured because we care about our customers. Thousands of companies have come to rely on us again and again for a complete line of inspection and testing equipment. Our sales representatives and customer care staff are veteran NDT professionals who can help you solve tough inspection problems. They are backed up by a logistics team that is focused on timely and accurate order fulfillment. We truly value your business. We know you have many choices when it comes to your NDT needs and we must continually provide enhanced value and superior service to earn your trust.
Nicholas Rangel
Director of Communications, Eastman Kodak Company
nicholas.rangel@kodak.com
+1 585-615-0549