Press Releases
Forever 21 Celebrates Kodak's Iconic Brand with New Apparel Collection
Shirts, outerwear and other clothing to be sold in more than 600 stores globally
ROCHESTER, N.Y.
September 13, 2018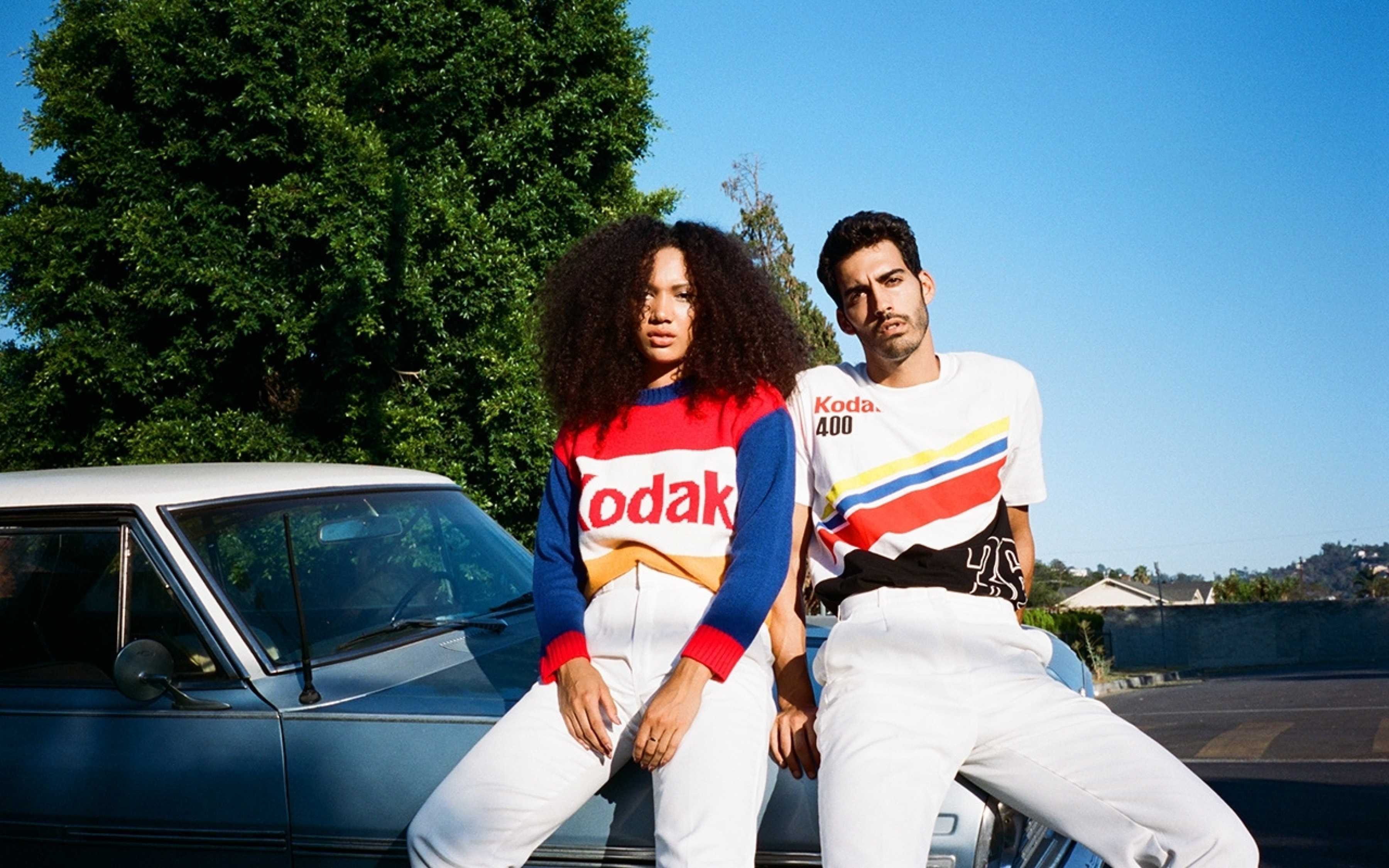 Kodak and fashion retailer Forever 21 have teamed up on a new apparel collection for the Fall 2018 season featuring some of Kodak's many logos and designs from the Kodak brand's storied history.
The bright and vibrant apparel uses many of the original colors from Kodak branding and packaging from the 90's and draws inspiration from Kodak's days as a standout NASCAR team sponsor.
The collection offers women's t-shirts, crop tops, jackets and lounge wear; the men's line includes tees, polos, pullovers and jerseys. Altogether twenty-six different items will be available in 600+ stores globally and are available in men's, women's and junior sizes.
Kodak has been working on collaborations to drive brand awareness and advocacy with new audiences.
"Rather than be a fad or trend, we want to retain an aspirational product aimed at our core audience and those that they influence," said Dany Atkins, Chief Brand Officer, Kodak. "What could be better for a brand transformation than everyone wearing your logo on a t-shirt?"
The collection was produced with Hybrid Apparel, a Kodak Licensee who works closely with Kodak on brand licensing efforts in the apparel space.
"Kodak has always been synonymous with our life's best memories, including past, present and even future aspirations," said Bonnie Segall, EVP of New Business Development, Hybrid. "We were able to capture this by leveraging the current streetwear trend and creating a new 'KODAK MOMENT' for a new generation of enthusiasts."
Additionally, by teaming up with Forever 21 and Hybrid, Kodak is expanding its reach and aligning itself towards future possibilities.
"We are excited to further increase our brand visibility with industry leading partners like Forever 21 that will uniquely leverage our imaging history to further build opportunities and growth into the future with the Kodak brand," said Joel Satin, Vice President, Global Brand Licensing.
Forever 21 is enthusiastic about the collection and its call-back to the days when the Kodak logo was seen virtually everywhere.
"We are so excited to announce our collection with Kodak," says Linda Chang, VP of Marketing for Forever 21. "Kodak is such an iconic brand that so many people love and respect, and we were excited to bring our customers a fun and unique way to celebrate photography."
The line will be available in US stores today. Learn more.

About Kodak
Kodak is a technology company focused on imaging. We provide – directly and through partnerships with other innovative companies – hardware, software, consumables and services to customers in graphic arts, commercial print, publishing, packaging, entertainment and commercial films, and consumer products markets. With our world-class R&D capabilities, innovative solutions portfolio and highly trusted brand, Kodak is helping customers around the globe to sustainably grow their own businesses and enjoy their lives. For additional information on Kodak, visit us at kodak.com, follow us on Twitter @Kodak, or like us on Facebook at Kodak.
About Forever 21
Forever 21, Inc., headquartered in Los Angeles, California, is a fashion retailer of women's, men's and kids clothing and accessories and is known for offering the hottest, most current fashion trends at a great value to consumers. This model operates by keeping the store exciting with new merchandise brought in daily. Founded in 1984, Forever 21 operates more than 815 stores in 57 countries with retailers in the United States, Australia, Brazil, Canada, China, France, Germany, Hong Kong, India, Israel, Japan, Korea, Latin America, Mexico, Philippines and United Kingdom. For more information please visit: newsroom.forever21.com
About Hybrid Apparel
Founded in 1997, Hybrid Apparel is a full-service design, development, sourcing, production and apparel distribution company based in Cypress, California. Hybrid has a world-class sourcing and global supply chain infrastructure, with expertise in customer delivery and service across a wide-range of apparel categories and geographies. As the industry leader in brand and licensing management, Hybrid supports the best global and national brands as well as entertainment and licensed properties. For more information, visit hybridapparel.com.
The Kodak trademark, logo and trade dress are used under license from Kodak.
Kodak and Kodak Moments are trademarks of Kodak.
Media Contacts
Nicholas Rangel
Director of Communications, Eastman Kodak Company
nicholas.rangel@kodak.com
+1 585-615-0549