Press Releases
Kodak ventures into the automation of business processes with the introduction of a cloud-based solution for Accounts Payable
An invoice processing solution built to maximize the AP workflow
ROCHESTER, N.Y.
December 13, 2018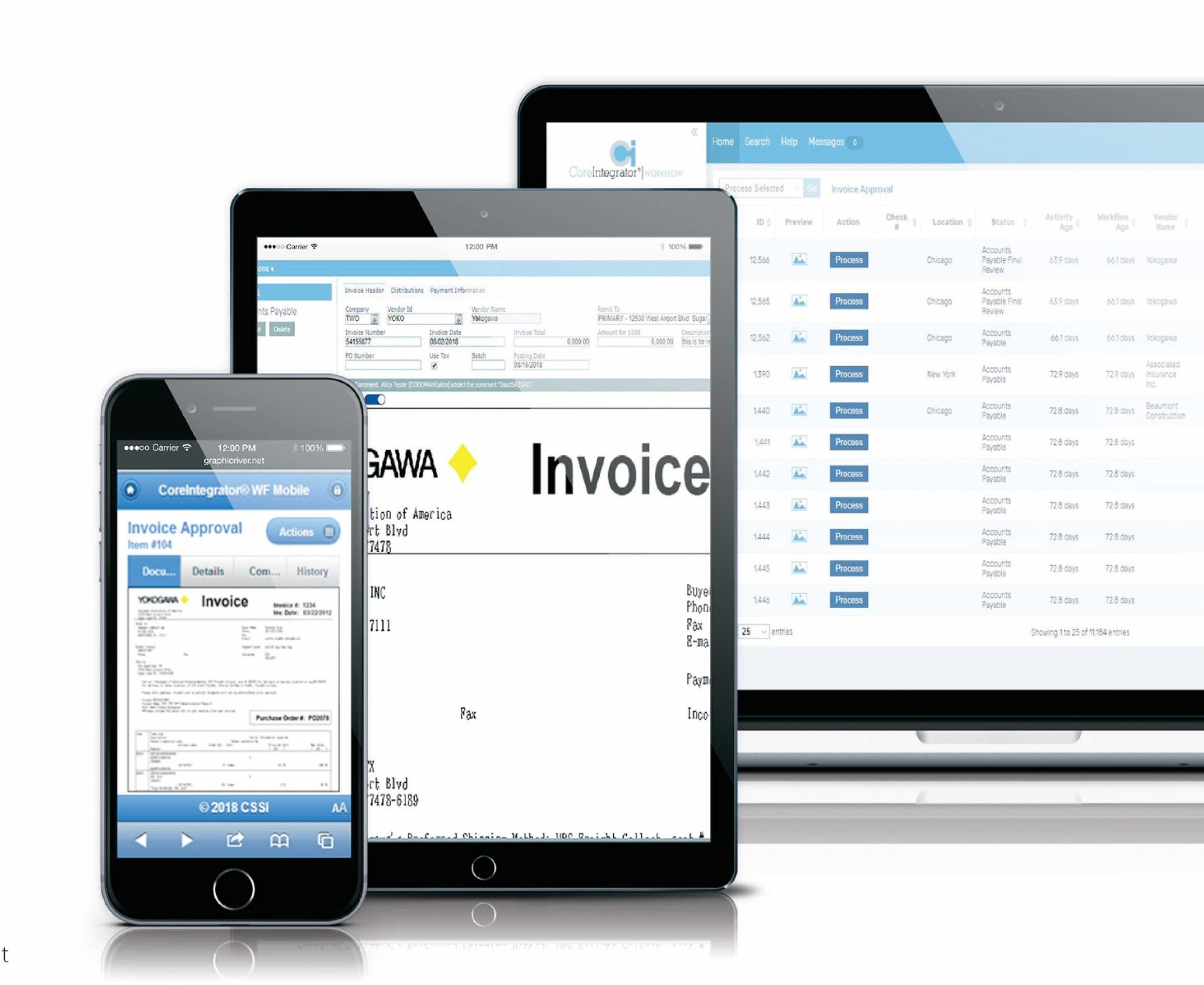 Kodak, through its division KODAK Services for Business, is announcing today the introduction of a premier invoice processing service that can help streamline and automate the Accounts Payable process. The Accounts Payable solution is part of a full range of solutions from Kodak to digitize and automate business processes.
KODAK Services for Business is a business process outsourcing and consulting organization that integrates with partners customized solutions to improve business processes for government and private sector customers. KODAK Services for Business has partnered with CoreIntegrator, LLC, an industry leading business process automation software company, to create an innovative solution to automate the workflow for receiving and processing invoices.
The key benefits to customers include a complete end to end cloud-based solution, a transaction-based subscription tiers, significantly reduced hardware or other infrastructure costs, no user license fees, customized approval workflow, reduced errors, reduction in late payment fees, reduced operating expenses and the elimination of paper archives.
"Kodak has a long history of innovation in the imaging space, helping customers master technologies for business from microfilm to cutting-edge scanning technology. The Account Payable solution is the next step in the evolution of Kodak's commitment to helping businesses with turnkey solutions that combine the historic strength of Kodak with their partners' specialized expertise" said Iván M. Bou, Director, KODAK Services for Business.
Vendor invoices are received by a cloud-based solution which automates the invoice capture, data entry and validation process. Within 24 hours, you can access a digital image of the invoice, with key data pre-entered into the workflow application. Users can code each invoice and route them for approval in the application. After approval, the application transfers the information into your accounting system to trigger vendor payment.
"Companies can be operational in days, not weeks or months like with most AP Automation Solutions" said Ron Machamer, Executive Vice President of Business Development for CoreIntegrator, LLC.
Learn more about KODAK Services for Business and their solutions at www.kodak.com/go/ksb

About Kodak
Kodak is a technology company focused on imaging. We provide – directly and through partnerships with other innovative companies – hardware, software, consumables and services to customers in graphic arts, commercial print, publishing, packaging, entertainment and commercial films, and consumer products markets. With our world-class R&D capabilities, innovative solutions portfolio and highly trusted brand, Kodak is helping customers around the globe to sustainably grow their own businesses and enjoy their lives. For additional information on Kodak, visit us at kodak.com, follow us on Twitter @Kodak, or like us on Facebook at Kodak.
About CoreIntegrator
CoreIntegrator is an innovative software development company and solution services provider based in central Pennsylvania. Since the late 1990's, CoreIntegrator Workflow has been an industry leading software platform for Accounts Payable and Business Process Automation solutions. The versatility and ability to 'Automate Virtually Any Business Process' has allowed CoreIntegrator Workflow to be adopted globally by thousands of users in both large and small organizations in almost every industry. CoreIntegrator, LLC is focused on delivering the best possible solutions, services and support to their customers with software that truly make a difference in their day to day lives.
CoreIntegrator, LLC
130 Buffalo Road
Lewisburg, PA 17837
(570) 964-5380
www.coreintegrator.com
Kodak is a trademark of the Eastman Kodak Company
Media Contacts
Nicholas Rangel
Director of Communications, Eastman Kodak Company
nicholas.rangel@kodak.com
+1 585-615-0549