Press Releases
Cannes 2023 selection features 34 productions shot on KODAK film
Wes Anderson, Alice Rohrwacher, Aki Kaurismaki and Ken Loach compete for the Palme d'Or with their shot-on-KODAK film titles.
ROCHESTER, N.Y.
May 15, 2023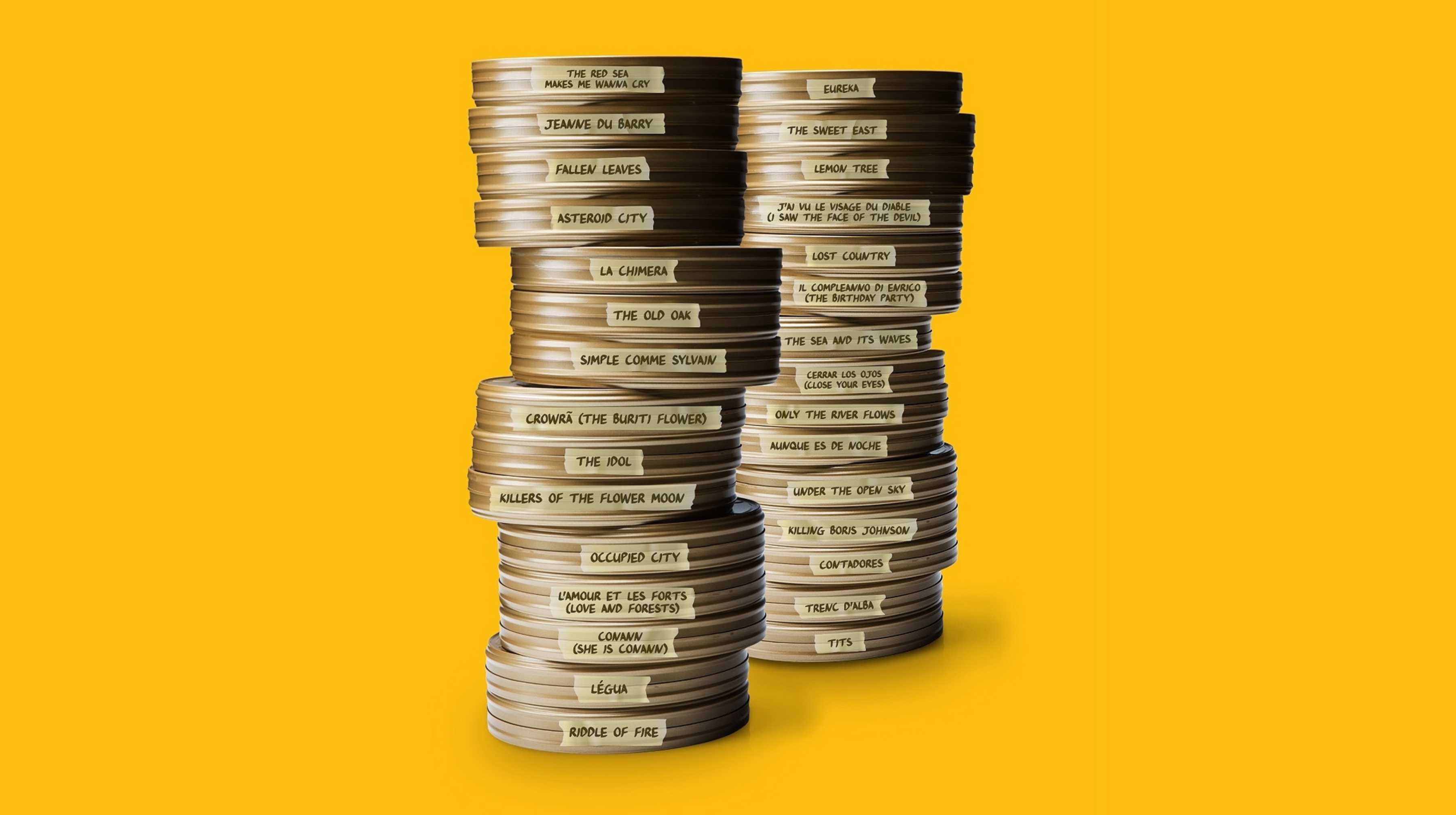 Kodak Motion Picture and Entertainment is celebrating thirty productions shot on film at the 2023 Cannes Film Festival. Four on-film titles, Asteroid City, Fallen Leaves, La Chimera and The Old Oak, will compete for the Palme d'Or, with an additional three titles featured in Un Certain Regard and ten titles across Directors' Fortnight and Critics' Week captured on film. 2023 also marks the centennial of 16mm film, and as proof of the format's continued relevance and popularity, eighteen of the on-film titles at the festival chose 16mm as their capture medium.
Out-of-competition productions Maïwen's Jean du Barry, Sam Levinson's The Idol, Martin Scorsese's Killers of the Flowers Moon and Steve McQueen's The Occupied City were each captured on KODAK 35mm film.
"Congratulations to all of the motion picture artists whose work has been selected for Cannes 2023," said Vanessa Bendetti, Global Managing Director of Kodak Motion Picture and Entertainment. "To have so many shot-on-film productions screening and competing at the festival this year is undeniable testimony to the intrinsic value of the film medium and those who create with it. It is Kodak's distinct honor to partner with these filmmakers to help bring their artistic visions to the screen."
Shot-on-film productions competing or screening as part of the Official Selection at the Cannes Film Festival 2023 between 16 – 27 May include:
Official Competition
Jeanne du Barry - Maïwen (35mm) *Opening Film Out of Competition
Fallen Leaves - Aki Kaurismaki (35mm)
Asteroid City - Wes Anderson (35mm)
La Chimera - Alice Rohrwacher (16mm/35mm)
The Old Oak - Ken Loach (35mm)
Un Certain Regard
Simple Comme Sylvain - Monica Chokri (35mm)
Crowrã (The Buriti Flower) - João Salaviza & Ranée Nader Messora (16mm)
Only the River Flows - Wei Shun (16mm)
Out of Competition
The Idol - Sam Levinson (35mm)
Killers of the Flower Moon - Martin Scorsese (35mm)
Special Screenings
Occupied City - Steve McQueen (35mm)
Premieres
L'amour et les forêts (Love and Forests) - Valérie Donzelli (16mm)
Cerrar Los Ojos (Close Your Eyes) - Victor Erice (16mm)
Eureka - Lisandro Alonso (35mm)
Directors' Fortnight - Long Features Competition
BLAZH (Grace / La Grâce) - Ilya Povolotsky (16mm)
Conann (She is Conann) - Bertrand Mandico (35mm)
Légua - Filipa Reis & João Miller Guerra (16mm)
Riddle of Fire (Conte de Feu) - Weston Razooli (16mm)
The Sweet East - Sean Prince Williams (16mm)
Directors' Fortnight - Short Films
Il Compleanno Di Enrico (The Birthday Party) - Francesco Sossai (16mm)
J'ai vu le Visage du Diable (I Saw the Face of the Devil) - Julia Kowalski (16mm)
Lemon Tree - Rachel Walden (16mm)
The Red Sea Makes Me Wanna Cry - Faris Alrjoob (16mm)
Critics' Week - Long Features Competition
Lost Country - Vladimir Perisič (16mm)
Critics' Week - Short Films
Contadores - Irati Gorostidi Agirretxe (16mm)
Krokodyl - David Bodzek (16mm & 35mm)
ACID Selection
La Mer et Ses Vagues - Liana & Renaud (16mm)
Official Selection
Court Métrage/Short Films
Tits - Eivind Landsvik (16mm)
Aunque es de Noche - Guillermo García López (16mm)
Nada de Todo Esto - Pato Martinez & Francisco Canton (16mm)
Cinef Selection
Killing Boris Johnson - Musa Alderson-Clarke (35mm)
Trenc d'Alba - Anna Llargués (S8mm)
Catalogue Marche
Under the Open Sky - Pavel Buryak (16mm)
Focus WiP 2023 Program
New - Zhenia Kazankina (16mm)