Press Releases
Cannes 2018 Line-up Premieres 13 New Films all Shot on Kodak
Spike Lee, Hirokazu Koreeda and Alice Rohrwacher, all shooting on KODAK Film Stock
ROCHESTER, N.Y.
May 10, 2018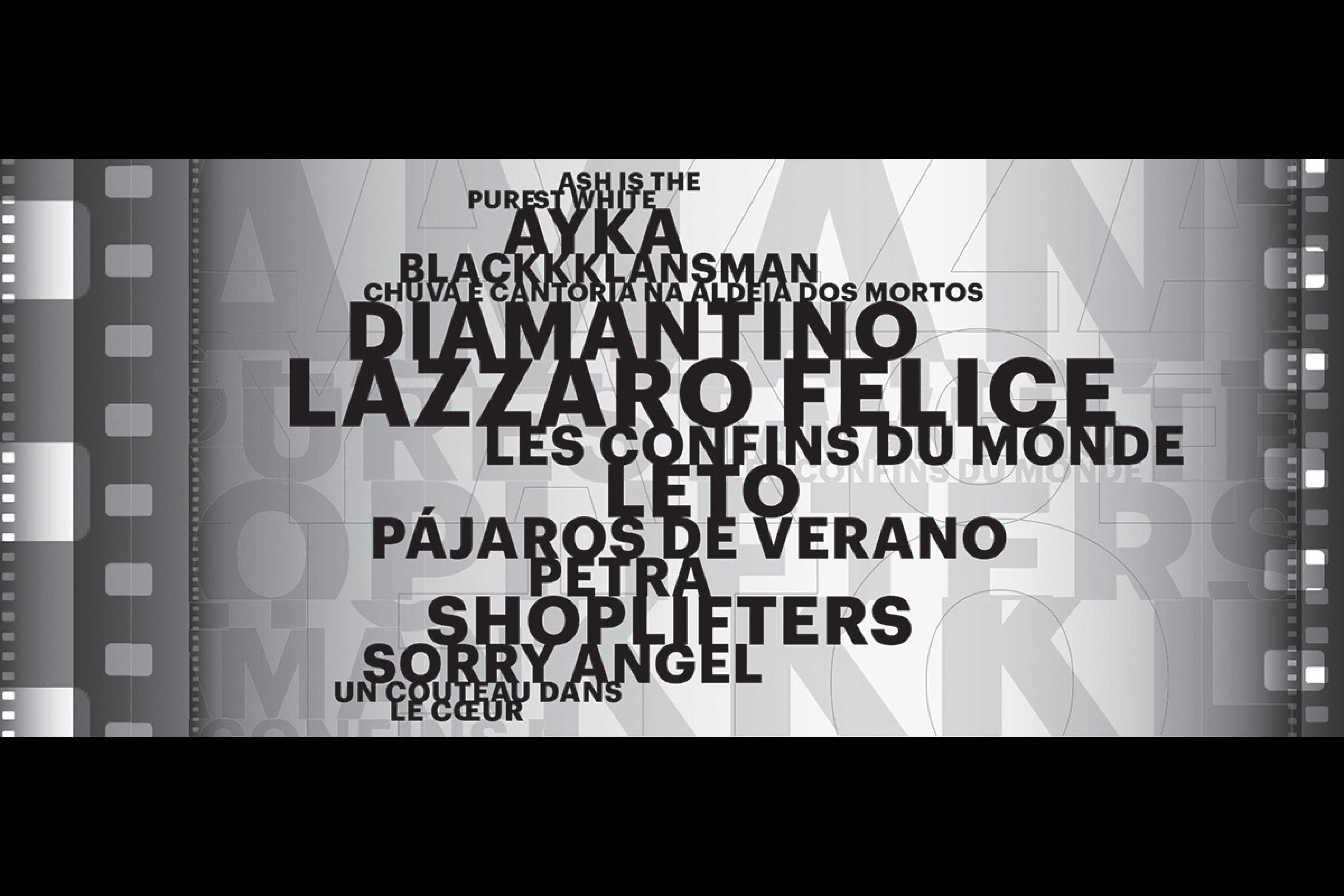 Spike Lee, Hirokazu Koreeda, and Alice Rohrwacher, among others, will compete for the Palme d'Or at the 71st annual Cannes Film Festival. Their latest films, all shot on KODAK film, will make their debut at Cannes. A total of thirteen films--captured on KODAK 35mm or 16mm Motion Picture Film stock--are in the Official Selection category this year.
The Official Selection--Films Shot on Film at Cannes 2018
In Competition

"Ash is the Purest White" (35mm/ hybrid), directed by Zhangke Jia, produced by Shôzô Ichiyama and Nathanaël Karmitz, DP Eric Gautier
"Shoplifters" (35mm), directed by Hirokazu Koreeda
"BlacKkKlansman" (35mm), directed by Spike Lee, DP Chayse Irvin
"Lazzaro Felice" (Happy as Lazzaro) (16mm), directed by Alice Rohrwacher
"Leto" (16mm/ hybrid), directed by Kirill Serebrennikov, produced by Liza Chalenko
"Sorry Angel" (35mm), directed by Christophe Honoré, produced by Philippe Martin and David Thion, DP Rémy Chevrin
"Un Couteau Dans Le Coeur" (Knife + Heart) (35mm), directed Yann Gonzalez, produced by Charles Gillibert, DP Simon Beaufils
"Ayka" (My Little One) (16mm/ hybrid), directed by Sergei Dvortsevoy
Un Certain Regard
"Chuva E Cantoria Na Aldeia Dos Mortos" (The Dead and the Others) (16mm), produced by João Salaviza
International Critics' Week
"Diamantino" (35mm), directed by Gabriel Abrantes, and Daniel Schmidt, produced by Maria João Mayer and Justin Taurand, DP Charles Ackley Anderson
Directors' Fortnight
"Les Confins Du Monde" (To the Ends of the World) (35mm), directed by Guillaume Nicloux, co-produced by Benoît Jaubert and Nicholas Simon, DP David Ungaro
"Pájaros De Verano" (Birds of Passage) (35mm), directed/ produced by Cristina Gallego, produced by Katrin Pors, DP David Gallego
"Petra" (35mm), directed by Jaime Rosales, produced by Antonio Chavarrías, Jérôme Dopffer, Bárbara Díez, and Katrin Pors, DP Hélène Louvart
Additionally screening at this year's festival are Cannes Classics, "2001: A Space Odyssey," which will be displayed on 70mm (directed/ produced by Stanley Kubrick), and "Be Natural: The Untold Story Of Alice Guy-Blaché" (directed/ produced by Pamela B. Green), which utilized archived footage.
This further proves that shooting on KODAK film remains a strong and achievable option for independent movie-making. The recognition of features shot on film at Cannes 2018 follows this year's total accolades of 31 Academy Awards nominations, 23 Golden Globes nominations, 24 acceptances at TIFF, 12 Gotham Awards and 22 Indie Spirit Awards nominations, all captured on KODAK Motion Picture Film stock.
"On behalf of the team at Kodak, congratulations to all the motion picture artists whose work has been selected to screen and compete at the 2018 Cannes Film Festival," said Steve Bellamy, President of Kodak's Motion Picture and Entertainment. "It is our tremendous honor to be your continued partner and support you throughout your artistic endeavors. Thank you for understanding the aesthetic and emotive value of using real film as your canvas. To have so many masterpieces captured on film in this prestigious festival is a testament to the medium, your commitment to the arts and invaluable talent! We look forward to bringing visual storytelling to the big screen."

About Kodak
Kodak is a technology company focused on imaging. We provide – directly and through partnerships with other innovative companies – hardware, software, consumables and services to customers in graphic arts, commercial print, publishing, packaging, entertainment and commercial films, and consumer products markets. With our world-class R&D capabilities, innovative solutions portfolio and highly trusted brand, Kodak is helping customers around the globe to sustainably grow their own businesses and enjoy their lives. For additional information on Kodak, visit us at kodak.com, follow us on Twitter @Kodak, or like us on Facebook at Kodak.
Media Contacts
Emily Lowe Mailaender
PMK*BNC
emily.lowe@pmkbnc.com
212-373-0109
Michael Scher
PMK*BNC
Michael.Scher@pmkbnc.com
310-854-3260