Press Releases
KODAK Portrait 3D Printer is now available in North America and Europe
ROCHESTER, N.Y.
November 13, 2018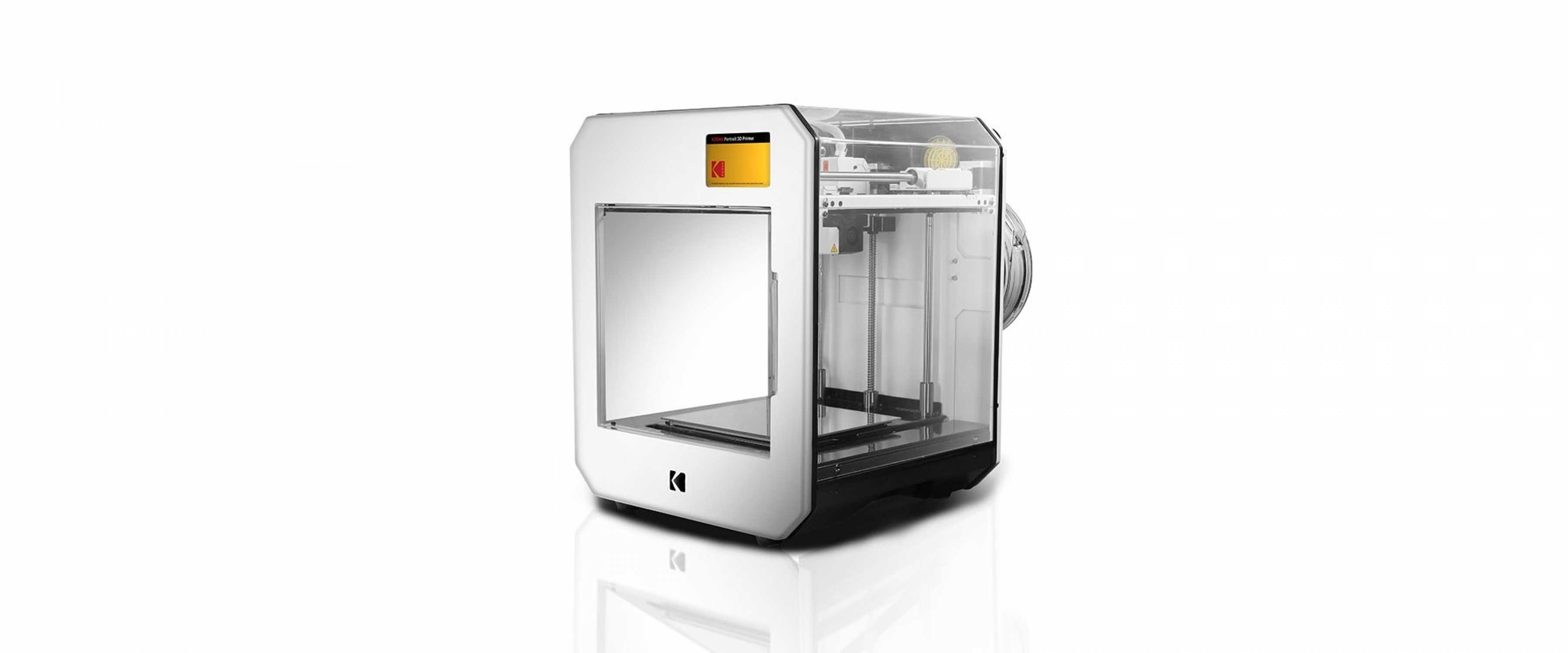 Kodak and Smart International, the authorized global brand licensee of 3D printing, are pleased to announce North American and European availability of the KODAK Portrait 3D Printer. In conjunction with this announcement, The KODAK Portrait 3D Printer will be on display at the Formnext industry tradeshow in Frankfurt, Germany, November 13th – November 15th.
Positioned for the 3D desktop professional market, the KODAK Portrait Printer consistently delivers accurate results and remains user-friendly. The KODAK 3D Printer will approach this growing arena of imaging with distinctive features such as the dual extrusion system and a fully enclosed all-steel structure, allowing high-temperature builds, and is complemented with enabling software and a wide range of high-quality materials.
The dual extrusion system features automatic nozzle lifting and swappable PTFE and all-metal hotends for optimal material compatibility. Featuring an intuitive touchscreen, automatic leveling and calibration, and preset print parameters for every material, the KODAK Portrait 3D Printer is ready to use straight from the box for those already familiar with the technology or newcomers with creative needs.
With free access to the KODAK 3D Cloud, an IT-compliant printer management software created by 3DprinterOS, it is now possible to manage a print farm for any number of machines, in any number of locations, from anywhere in the world. Users can access via Wi-Fi or LAN port and slice online, monitor their prints and receive over-the-air updates.
Using the 3D printer, environments ranging from classroom, laboratory, office or studio, users can print highly-precise creative designs. The KODAK Portrait 3D Printer has a fully-enclosed print chamber with HEPA and activated carbon filter, reducing unwanted odors and keeping fingers away from hot moving parts. The wide range of filaments are not limited to different grades of PLA, but also offer ABS, Flex 98, HIPS, PETG, water soluble PVA and two grades of Nylon. They are specially manufactured and packaged to ensure low moisture and high dimensional accuracy, and come in a wide color palette, including, of course, Kodak's Trade Dress Yellow.
The KODAK Portrait 3D Printer will be shown at Formnext in Booth J71 in Hall 3.1, where there will also be a press conference in Room Fragment on Thursday 15th November at 4:00pm.
"We are looking at the future of 3D printing and manufacturing, and our KODAK Portrait 3D Printer has been designed to be best-in-class, with capabilities that have the potential to disrupt the traditional manufacturing systems, leading to cost-effective solutions which can reduce environmental impact, with printers speaking to each other across the globe. We are very happy to have collaborated with Kodak and look forward to many future endeavors.'' said Roberto Gawianski, CEO, Smart International.
"We are delighted to launch the new 3D printer with Smart International and build upon our excitement about this growth industry and the impact that it can have on professional 3D printing and imaging overall," said Joel Satin, Director of Brand Licensing and Vice-President, Consumer and Film Division, Kodak.
To learn more about the printer and its capabilities, go to www.kodak.com/go/3dprinting.
And watch the full-length video of the printer in action here: https://youtu.be/9mHo-2Moar0.

About Smart International
Smart International has developed an ecosystem of solutions for professional 3D printing. Years of collaboration with engineers, designers, architects, artists, educators, have set the bar high. Only accurate and reliable technology with materials developed for a wide range of applications will help their creations endure and shine. Visit smart3d.tech for more information and Twitter @Kodak3dprinting, Facebook and Instagram.
About Kodak
Kodak is a technology company focused on imaging. We provide – directly and through partnerships with other innovative companies – hardware, software, consumables and services to customers in graphic arts, commercial print, publishing, packaging, entertainment and commercial films, and consumer products markets. With our world-class R&D capabilities, innovative solutions portfolio and highly trusted brand, Kodak is helping customers around the globe to sustainably grow their own businesses and enjoy their lives. For additional information on Kodak, visit us at kodak.com, follow us on Twitter @Kodak, or like us on Facebook at Kodak.
Specifications
| | |
| --- | --- |
| Technology | Fused Filament Fabrication (FFF) |
| Build volume | 200 x 200 x 235 mm (7.9 x 7.9 x 9.3") |
| Structure | Steel |
| Print head | Dual extrusion with automatic nozzle lifting |
| Print core replacement | Swappable |
| Hotend material | 1 all-metal, 1 PTFE |
| Nozzle diameter | 0.4 mm |
| Nozzle Temperature | Up to 295ºC |
| Build plate | Glass attached by magnets |
| Build plate temperature | Up to 105ºC |
| Calibration and leveling | Automatic |
| Filament diameter | 1.75 mm |
| Layer resolution | 0.4mm nozzle: 20 - 250 micron |
| XYZ accuracy | 12.5, 12.5, 2.5 micron |
| XY motion | Linear bearings, 16mm |
| Z motion | Precision ballscrew, 12mm |
| Air filtration | HEPA and activated carbon |
| Display | 5" 800x480 color screen |
| Print controller | 32 bit |
| Processing unit | Raspberry Pi 3 |
| Connectivity | Wi-Fi, LAN, USB drive |
| Monitoring | Live camera |
| Light signals | Indicating printer status |
| Physical dimensions | 455 x 435 x 565 mm |
| Dimensions with spool holders | 455 x 530 x 565 mm |
| Net weight | 24.4 kg |
| Shipping weight | 35.1 kg |
| Shipping box dimensions | 560 x 530 x 730 mm |
| Power requirements Input | 110/230V - Auto Switching, 50-60Hz 320W max. |
| Power requirements Output | 14 V DC |
| Operating ambient temperature | 10 - 30 ºC |
| Supplied software | KODAK 3D Cloud, KODAK 3D Slicer |
| Supported OS | MacOS, Windows, Linux |
| File types | 3DS, 3MF, AMF, OBJ, and STL |
| Supported materials | KODAK 3D Printing Filaments ABS, Flex 98, HIPS, Nylon 6, Nylon 12, PETG, PLA+, PLA Tough, PVA and third-party |
| Accessories | 2 filament cases, toolkit |
Media Contacts
Criz Guerra
criz@publicize.co
1-646-480-0356