Print Perspectives
KODAK Professional Services help Knight Abbey boost print automation and efficiency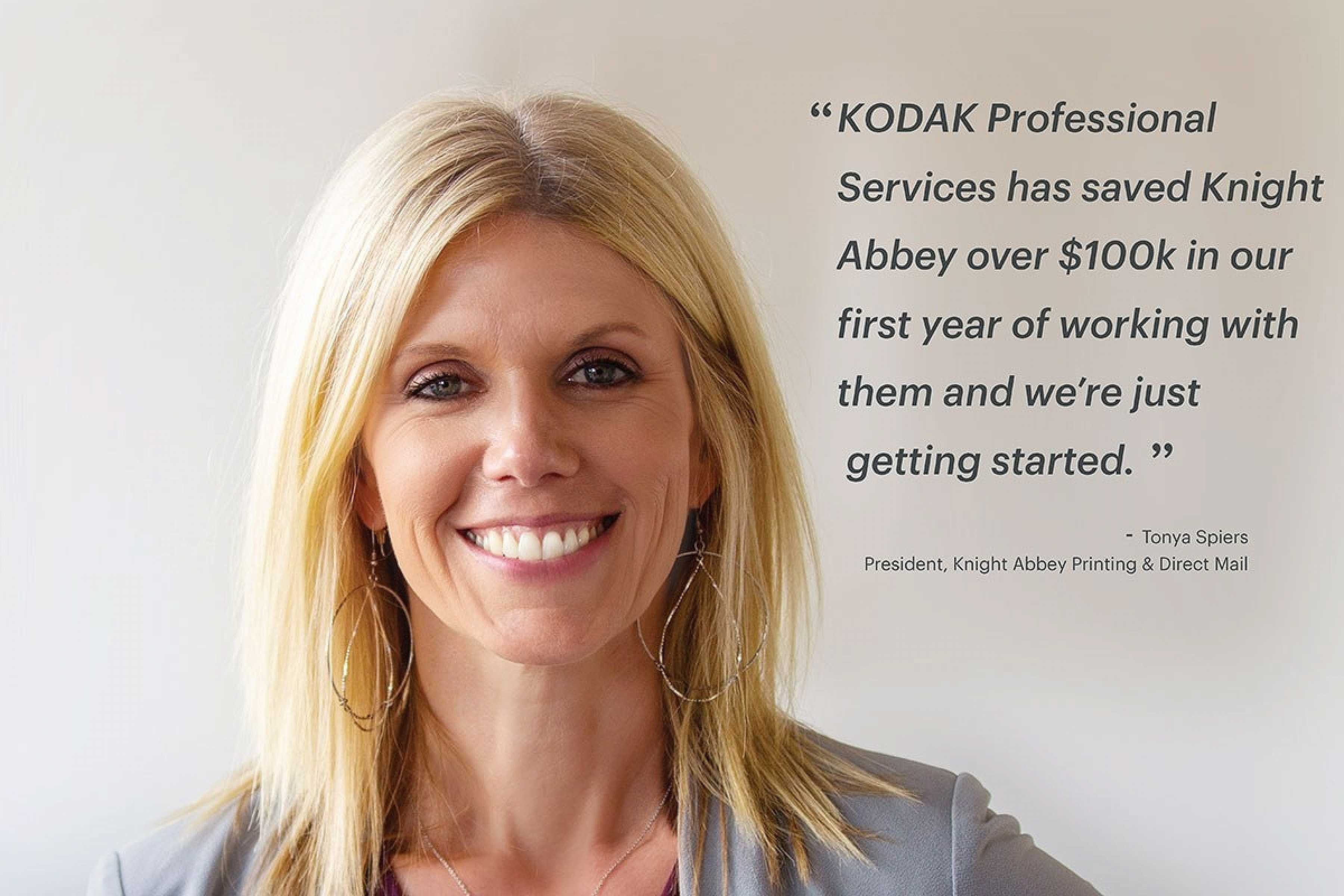 The experts at KODAK Professional Services can help printers unlock the profit potential of their investments by providing customized workflow optimization tailored to their individual business and operational needs. Knight Abbey Printing and Direct Mail of Biloxi, MS, has experienced this first-hand.
Hurricane Katrina (2005) was a defining moment in the company's history. The use of innovative technology had long played a major role at Knight Abbey. The company had continuously invested in technological advancements and also implemented a KODAK PRINERGY Workflow to secure a competitive advantage. Shortly before the natural disaster occurred, Knight Abbey installed a new management information system (MIS) and the KODAK INSITE Prepress Portal (PDF).
Then Katrina struck with devastating results and the premises were eight feet under water. Yet in spite of the enormous damage, loyal customers insisted on having their projects produced at Knight Abbey. "We didn't have a clue what to do back then. We were left with literally nothing. All our printing and production equipment was destroyed – we didn't even have any files anymore," says Tonya Spiers, owner and President of Knight Abbey since 2010. "But we did have INSITE. Unbelievably, when I logged in, we really were able to access customer files and jobs. I thought to myself, 'We're in business!' That was when I realized how impactful that technology was on our business."
Knight Abbey has grown rapidly over the last ten years, and today employs around 70 people on 47,000 square feet of floor space. There came a point when it was blatantly clear that the workflow had ceased to be efficient. "We were running the risk of losing key accounts including a million-dollar client because we couldn't get information to them quickly enough. It wasn't that we didn't have the people or the technology. We just weren't using the technology to its full advantage," Spiers explains. "We needed help fast. We contacted KODAK Professional Services because Kodak had already been an excellent partner for more than two decades, and because they promised to solve our problems for us and wouldn't charge us until the system was up and running. The bottom line was that they saved Knight Abbey over $100,000 in our first year of working with them, and we're just getting started."
KODAK Professional Services – how we solve print automation problems fast and efficiently
Kodak's specialists began by implementing custom Rules-Based Automation (RBA) routines within PRINERGY that were specific to their business, so that customer service representatives (CSRs) could upload jobs and see at a glance whether there were any problems with the files or whether the preflight was successful. Next, the generation of proofs for clients was automated using INSITE. "Our customers are thrilled that a process that often used to take days is now completed in a matter of seconds," Spiers confirms. Job archiving, retrieving jobs for reprints, and faster turnaround of jobs received on a daily basis from a casino operator are among the other processes which KODAK Professional Services automated and optimized.
"The automation implemented by KODAK Professional Services has helped tremendously with our day to day operations", comments Brittany Newbaker, CSR. "It has saved me anywhere from 25 to 30% of my time each week, which in turn gives me more time for focusing on my customers." And the prepress department's Laura Morgan adds, "Since we put automation into the system, we probably save a couple of hours a day just creating jobs. Now we can use that time for working closer with the CSRs if they need to address something with a customer." She is also pleased that, thanks to the customized automation, about 15% of all jobs in prepress no longer have to be touched.
"What differentiates Knight Abbey from our competitors is hands-down customer service. We wouldn't have been able to be as strong as we are and empowered with knowledge had we not engaged KODAK Professional Services," Tonya Spiers concludes. "Kodak has been a valued partner of ours for over 20 years and I don't ever see that changing."
Kodak, Prinergy and the Kodak logo are trademarks of Kodak. (c) Kodak, 2021.